It's a busy time of year and a busy week on top of it. MFA and BFA events left and right, writing and grading papers, final presentations, vacation plans, residency plans, devised escape attempts, and closing remarks. That's right folks, summer is almost upon us. #huzza But let's not get too far ahead of ourselves. This week in review —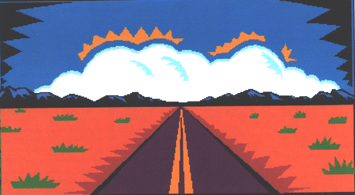 Episode 400 y'all! Duncan and Richard published their road trip. What is estimated to be a five hour drive between St. Louis and Chicago was boiled down into a healthy 45-minute reduction of audio sauce. Get your fill of those fellas here.
Otherwise, some Monday T from our favorite gossip columnist, Dana Bassatt. Bassatt asks after G.R. N'Namdi Gallery's vacated storefront, offers insider reportage about her Dinner Party field trip, and offers a great eye-spy on an easily overlooked building in all its freaky grandeur (shout out to Kokorokoko — this building seems right up your alley, perhaps?). All that and more here.
I reposted a link to The Highlights: an online arts journal who's latest issue presents blog works/art/articles that touch on labor, Marx, and biographical statements while presenting images of honey glazed turkey, black rectangles and to do lists.
One more reason for a road trip courtesy of Kelly Shindler who published a great list of things to look out for art-wise in STLA:
"It's the first of May, which means that it's May Day, International Worker's Day, and you may as well watch the Bee Gees perform this. It also means that lots of art spaces and museums are getting ready to open their first round of summer shows. In solidarity, I present to you my (rather long) shortlist of what's on in St. Louis in the coming weeks…"
Stephanie Burke posts the TOP 10 shows-to-see (obviously everyone has been hard at work all winter, and the fruits of labor are now, this very moment, EXPLODING). Which is to say, all good things are upon us. HERE
Another new columnist arrives at the scene, adding one more reason to open that bottle of champagne. Yes, that's right, Mairead Case published the first post in an on-going series, MAINTENANCE. In her words:
I want this column to be about maintenance, because endings get so much press right now—education is increasingly privatized and teachers are undervalued, slow media is undervalued, pedagogy and art practice and criticism are going weirdo Cerebrus on us—and instead of getting ever-crabbier or just throwing in the towel, I want to talk about how we're living. How we're taking care, how we're keeping the wheels turning. How we're supporting ourselves long-haul. (Why books? I spend most of my time in libraries and classrooms, and reading, so books seem like a good place to start.)

MAINTENANCE will focus on reviewing new publications, but there'll always be older ones in the mix. Again, if there's something you'd like me to cover, please be in touch: mairead dot case at gmail.com. Hi!
So — with that, hope you had a good weekend, and let's plan a day of hooky. Meet me at the beach, noon on Wednesday. Call it a National Day of Wellness and Leisure. Wear your best suits. I'll bring the cold cuts if you bring the beach ball. Maybe we can look as dapper as the old timers downstairs. See you soon.