Because I missed my chance to post last week's "Week In Review," this Sunday is going to be a double whammy. I'm post last week's Week In Review first, here, and then, this weeks directly after…If you're confused now, just hang on to your hat. It'll all make sense in the end. First, I start with the week before last….

Bad at Sports' PODCAST Land featured an interview with "Contemporary Art Museum St. Louis Director Lisa Melandri live and without a net at our opening, in front of a moderately baffled audience."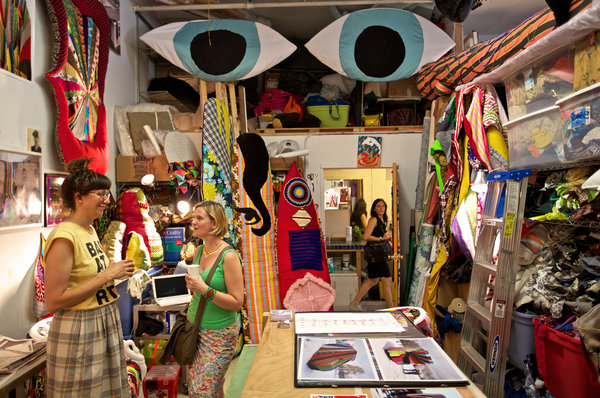 Curious about what Amanda Browder's studio looks like? Now is your chance to see, because she was in the New York Times (again!). #RADÂ 
The week begins and ends with comics, actually — and in this instance we started with Faye Kahn who published a piece called "Comics and the Aesthetic Economy":
While social evidence that the rich is dividing farther away from the poor becomes more & more unavoidable, it seems that at the same time the art world is inversely nudging the them closer together. Traditional distinctions between "high" & "low" art are fading. In his essay "Comrades of Time," discussing the definition of the term "contemporary," Boris Groys states that "…at the turn of the twenty-first century, art entered a new era-one of mass artistic production, & not only mass art consumption." Art-making is no longer restricted to a higher, educated or professional class. With the encouragement of advancing technologies from the ball point pen to the smartphone & increased visibility of the individual creative practice via the internet has reified this notion of art as "mass-cultural practice" ad infinitum (probably to some ad nauseum). To track the currency of art between upper & lower economic & academic classes & attempt to elucidate the creation of connecting middle classes of art, for instance independent comics & publication as well as social media experiments, it may be helpful to recognize the presence of commercial aesthetics in all classes. By following this reciprocal currency of consumerist media to high art & back, there are many significant signs pointing to a possible future of a classless art world. 
San Francisco-based Jeffrey Songco posted an interview with Glen Helfand, a man rumored to be "the only relevant art writer in the city." Songco and Helfand sit down discuss, Proximities, an exhibit Helfand put together at the Asian Art Museum. When asked to describe what the show is about, Helfand replies:
I like to talk about the show from the standpoint of it being a challenge to solve. The Asian Art Museum has been interested in opening up its audience and to embrace more contemporary work. I had to start with the idea of why I didn't feel so connected to the institution. I've always felt a bit of intimidation, not knowing a whole lot about Asian art, not knowing how to pronounce the names of various contemporary Chinese artists. I figure that people probably feel the same about the Contemporary Jewish Museum. Kibbitz. My initial premise was to highlight how artists have some kind of connection to Asia even if it wasn't the expected connection.
Milwaukee resident, Shane McAdams, has begun a new series of posts, and in this particular case, writes about a low-to-the-ground project run by Ashley Janke, Lara Ohland, and Tim Stoelting, called The Imagination Giants:
After a year-and-a-half of writing about more basic cultural differences between New York and Milwaukee, the results of my cultural reconnaissance will now take the form of local art coverage. This being the first piece, I'd like to mention that, unlike NYC where almost everything including what passes for 'underground' are usually pre-dug, locating art culture in Milwaukee has proven to be a little, well, subterranean. So far the digging has been the most gratifying part of being here. Not having the luxury of a media guide dedicated to informing masses of art goers about what is yet undiscovered, is a pleasure. Searching for art in Milwaukee makes me feel feral – it's the art equivalent to hunting and gathering.
Eric Asboe asks some important questions about building local art community in relation to a more global vision of contemporary art:
What role can local artists play in a global museum? MAEP [Minnesota Artist Exhibition Program] exhibitions are far more than an experiment in thinking locally. The exhibitions are dynamic; the artwork is excellent. More importantly, by supporting an artistic peer selection process, the MIA helps build a community of artists, specifically in and with the resources of a major art institution. Alan Brewer's exhibition pushes the question further. When I met with him in his MAEP exhibition, he stopped to talk to a visitor, an older man who had written a description. They discussed his description and possibilities for recreations. The transformative power of that individual conversation and the way Brewer has empowered all visitors to the MIA to engage in completely new ways with its collection demonstrates to me the MIA is not just asking how local artists can shape a global museum, but, more importantly, how we can all shape the museums of the future.
I posted two interviews this week. The first is a result of the Open Engagement Conference in Portland, where I met and interviewed artist, Dillon de Give about his project, 4-6 Dogs at the Museum. I fell in love with idea of an interspecies social practice, though with good reason, DeGive is more practical in his approach (and terminology):
I love that phrase "inter-species social practice." But I guess I would be a bit more conservative in my response. I've observed that dogs in public are always serving as mediators between humans. There's a dog park across the street from my apartment and everyone seems to know each other! I live right there and I don't know any of these people because I don't own a dog. I am interested in other species as a conceptual complement to existing human-based social practices. I think that when we are talking about a given social practice we are implicitly making assumptions of what human-ness is, so having some idea of a non-human present in the discourse is, in a way, almost necessary. Why are cat videos so immensely popular with human viewers on youtube? On the other hand, imagining something like sociality existing between humans and other species is difficult to do in the present, because of our seemingly absolute need to monopolize the environment. In most cases it's just not really a fair playing field where a balanced relationship that you might call "social" could pan out. But maybe in the distant future…

Then I had a great opportunity to interview former SAIC graduate, Jaye Rhee, about her work with the The Merce Cunningham Dance Company, The Flesh and the Book. Among other things, we discussed Rhee's interest in traditions of movement, and whether or not the body can become a unit:
I was more interested in the character and history of individual dancers under the umbrella of Merce Cunningham Company. Cunningham dancer's movements are Mercified but individually they all have different characteristics. We all have different history as individuals, but there are also larger histories which a family shares as a smallest unit of the society, then there are larger groups and larger groups…..and so on. Merce Cunningham dancers make up another kind of familial unit. Even though the dancers' movements were different, a few audiences actually recognized that the dancers somehow evoke Merce Cunningham's style.
TOP 5 courtesy of Stephanie Burke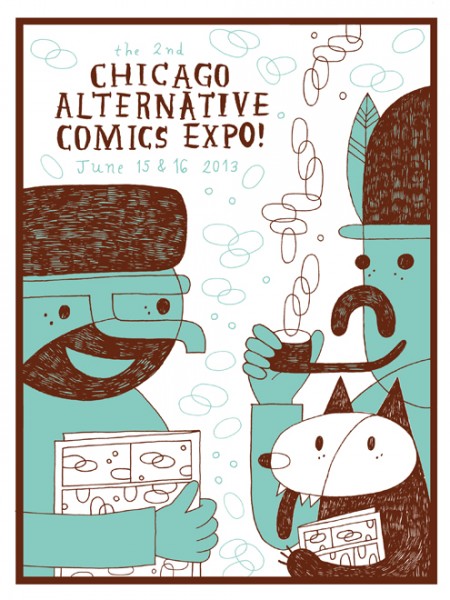 Sara Drake posted a shout out for "the second annual Chicago Alternative Comics Expo, fondly known to comics creators and fans alike as CAKE." (This, incidentally, is where I happened to be last weekend as well). It took place in a massive gymnasium at the Center on Halsted, featuring a huge throng of comic makers, buyers and additional public programming.
Bailey Romain rounded out the week by interviewing Luke Daly about local (and ever magnanimous coop print shop) Spudnik Press' latest programming addition, The Annex:
As more of a "clean" space than the printshop next door, the Annex also provides an expanded exhibition space for Spudnik. Curatorial duties rotate between Spudnik coordinators. The most recent show, Charlie Megna's Lost Tribes of Renni, which opened last night, was organized by Luke Daly – a Spudnik member who has been a driving force in developing the Annex. Luke co-edits and runs the small press arrow as aarow. I also co-teach a class with him at the Annex, which will be running for the third time in the fall. Charlie Megna is the director of the Peanut Gallery and a founding member of the Peanut Collective. His show will be up through early August.
Caroline Picard is the Executive Director of The Green Lantern Press—a nonprofit publishing house and art organization—and Co-Director of Sector 2337, a hybrid artspace/bar/bookstore in Chicago. Her writing and comics have appeared in publications like ArtForum (critics picks), Everyday Genius, Hyperallergic, Necessary Fiction, and Tupelo Quarterly. In 2014 she was the Curatorial Fellow at La Box, ENSA in France, and became a member of the SYNAPSE International Curators' Network of the Haus der Kulturen der Welt in Berlin in 2015. Her first graphic novel, The Chronicles of Fortune, is due out from Radiator Comics in 2017. www.cocopicard.com
Latest posts by Caroline Picard (see all)