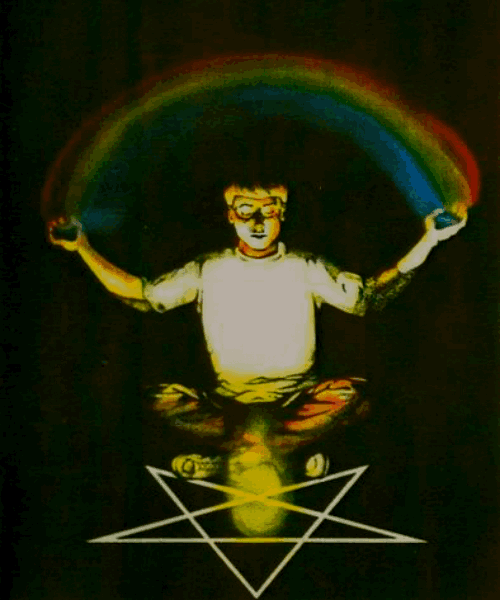 On the podcast this week, Bad at Sports celebrates 8 years, wrapping up the latest season with the Artist as Arbiter panel from CAA 2013. Featuring moderators: Duncan Mackenzie and Shannon R. Stratton, along with panelists: Anthea Black, Laurie Beth Clark & Michael Peterson, E. G. Crichton, Reni Gower, and Philip Von Zweck. That's all right here.
The week began with a great essay by Robert Burnier on the subject of bodies in space, beginning with minimalism, reflecting on Hesse, Samantha Bittman and more as a way to reflect on Burnier's own artistic practice:
As I was walking through the Modern Wing at the Art Institute of Chicago not long ago, I noticed a late Donald Judd, Untitled, 1989, on view. A wall-mounted, boxy, red and black sculpture, vacillating between image and object, I found myself walking around it, going from side to side, taking it apart in my mind. Despite its seeming simplicity, the work drew me deeper into the implications of its facture. From a slight distance, it looks virtually immaculate – by the standard of most artistic mark making, it is. Of course this was typical of minimalist work from this artist and others of the 1960s. The shapes have a certain predictability verging on total blandness, like a Steelcase office desk. One reads about the importance of the gestalt of this experience from artists like Robert Morris, which he believed lead to a more holistic, unified apprehension of the object. "Unitary forms do not reduce relationships," he says. "Rather, they are bound more cohesively and indivisibly together."[1] On the one hand, the rectangles empty out the object, being everything and nothing, though they might lead to some kind of mathematical spiritual reverie. Yet on the other, in this particular work by Judd, we can perceive a distance from aspirations toward a unified experience in a few ways. Looking closer at the surface – the fasteners, the corners, the paint – I feel a certain fascination for its proximity to, and utter failure to join, that virtual phantom world of forms. The "resemblance" to an imagined perfection makes the distance from this realm seem all the greater. 
Paul Germanos posted a collection of his photos, capturing Chicago Art this summer.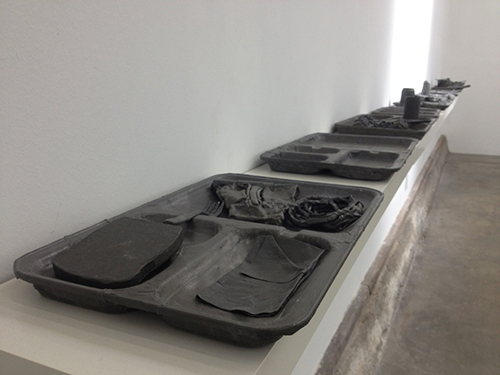 I always think of San Francisco as a place built on idealistic fancy. With its identity still fixed to the 60s, combined with the more recent influence of dotcom entrepreneurs make it a specific site with a specific history. But also, it is simply as far west as one can get before crossing a sea. News from San Francisco via Jeffrey Songco who walks and talks the Mission neighborhood, covering a variety of exhibits currently on view:
Sprinkled throughout this urban grid are several art venues.  From private galleries to non-profit spaces, the Mission is an eclectic mix as diverse as its inhabitants.  The tech folk have yet to share and indulge their economic prosperity with the artistic community of the Mission, but eventually some kind of connection will be made.  Until then, these art venues continue to produce and shape an active voice in the shape of San Francisco's cultural identity albeit in the shadow of technology's spotlight.
Meredith Kooi continues to post on performative movement from her Atlanta roost, thinking this time about Utopia:
This July, I participated in the gloATL Summer Intensive. gloATL is an Atlanta-based dance company that creates physical installations for the public. During the Intensive, there were six of these installations that focused on the concept of utopia for a series of "utopia stations" that was part of its series Liquid Culture: a collection of gestures and sensations from an asphalt perspective that had occurred during the summer for the past few years; this summer was the last of these installations. Lauri Stallings, the choreographer and founder of gloATL, considers these performances installations – physical and public installations; the series is described as "physical installations [that] are unveiled as public utopia stations for arriving, leaving, and staying for awhile." [1]
Thomas Friel writes about his experience at ACRE this week, also in reference to Utopia:
Utopia as a reality is impossible to sustain, as human drama will eventually overcome and surmount a perfect existence. Some asshole always finds a way to get his agenda to the top of our concerns. Instead, what may be proposed here is a part time utopia: a form that allows a brief exposure to a utopian system in a format that seems possible. Likewise, the temporal nature of the system actually allows it to thrive, as human nature never gets the chance to ruin it. Able to geographically remove ourselves from city life we could fit within a more fulfilling life in this part time utopia; a utopian model which recognizes the inevitable failure of utopias. In the span of a two week residency, utopia can exist. We started to get it. Hammering it home was Ukiah, a six person artist collective from the Bay Area, who leave their day jobs once a week to build a cabin out of fallen timbers and mud on a ranch property. What does it mean to have a part time or temporary utopia in the context of art? Does this mimic how art is often made, in spurts of spare time, extracted from the pressures of the real world? Could a model of a part time utopia be sustained on a personal level? Is the idea of utopia important to the creation of art? Is its manifestation proof that art can create social change, or merely a distraction from art making? Do you really want to live forever? Alphaville lyrics reprinted without permission?
Once again, closing out the week with a slew of opportunities waiting to be bestowed upon you.