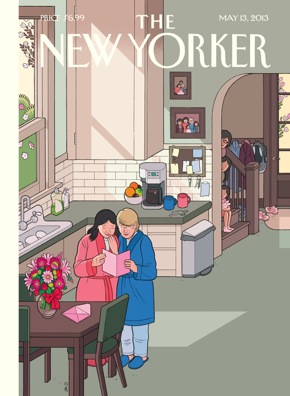 It is Sunday all over again and the world is a flutter with mother's day sensation. The plethora of touching mother/child photographs everyone is posting on facebook, the emails, the phone calls, magazine covers and television advertisements. Even the florist in your grocery store has likely been staffed and stocked to the brim. The week's content seems to resonate with this day, reflecting as it does on the easily overlooked but essential elements of every day life: community, loss, courage, house plants, children in museums, life on other planets, success stories, and why it might be alright to be a vulture after all.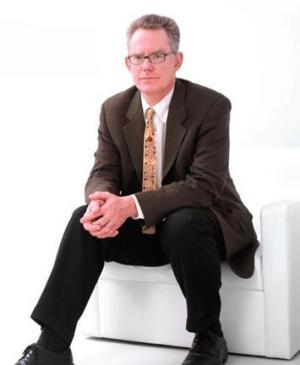 We lost a dear colleague this month —
"A pioneer in green architecture and sustainable development, Kevin Kurtz Pierce, 55, of Chicago, IL, passed away May, 2, 2013, following a "lengthy argument," as he drily referred to it, with glioblastoma multiforme. For the past 15 years Pierce specialized in sustainable design. Memorable projects include the Chicago Center for Green Technology, the city's flagship green building and the first U.S. municipal structure to be certified "Platinum" by Leadership in Energy and Environmental Design (LEED). Additional award-winning structures include Bethel Center and the Chicago headquarters of Christy Webber Landscapes."
Perhaps the only way to answer absence is through bravery and (a perhaps impossible) trust. Anthony Romero happened to post the very next day about courage :
"I don't know how to be courageous. I don't think that I am now but I know, at least I feel, that I must be in order to make it through this moment. Recent months have seen us, as Americans, wrestling with the baseline hatred and oppression that we had so naively believed we had moved beyond, a desire we know now to be a desperate fantasy. I believe Cornel West to be true when he tells us that courage will lead us to other virtues, other strengths that might enable us to not only make it through our time but to imagine a real alternative, a utopian dream no farther than our beds. What I mean to describe here is not a kind of free imagination but, as Žižek has described, "a matter of the innermost urgency", an imagined alternative to a situation whose solution is so far outside the coordinates of the possible that one is forced to imagine an alternative space."
New post on PLANTS! from our new guest contributor, Faye Kahn:
"The houseplant's original intention was for the interior decorator, whose profession hinges on the art of arrangement. Houseplants usually function as decoration in the home to soften our transition from nature to domestic space. It freshens the air, appeals to our aesthetic senses, & reminds us of idealized places we aren't (outside). This relationship to interior decorating is recognized by many plant-wielding artists, including & exemplified by Claire Fontaine in her Interior Design for Bastards show (2009) whose statement immediately admits its awareness of  '[t]he close and ambiguous relationship between art and decoration.'"
Are you interested in more plant convos? Because two more (no doubt of thousands that I am missing) come to mind 1) a great list of indoor houseplant art examples by Corinna Kirsch, and 2) an interview with Claudine Ise and Chicago's own house plant photographer/sculptor Heidi Norton. Conclusion? Plants Are Trending and Kahn wants to know why.

Jeffrey Songco sends word from California by way of a great interview with S. Christopher Kardambikis:
"There are about nine people in the world who can pull off a Clark Kent outfit – you know, the button-down business shirt that is unbuttoned to reveal a giant S. Christopher Kardambikis is one of those people. The Superman reference can point to a number of things: Christopher's dashing good looks, his nerd-level interest in comics, and/or his weakness to Kryptonite."
Eric Asboe talks about the free day at the Walker Art Museum, May Day Parades, and Puppet Theaters in his post "Young At Heart: One View of the Twin Cities":
Every first Saturday of the month, admission is free to the Walker Art Center with family oriented activities throughout the day. The activities not only make use of multiple areas of the museum, they are inspired by and derive from major exhibitions on view in the galleries. This month's Free First Saturday, Some Assembly Required, was inspired by Abraham Cruzvillegas's exhibition The Autoconstrucción Suites, which explores assemblage, local, found materials, and "self-construction," utilizing "improvised building materials and techniques" when "materials become available and necessity dictates." Artist Eric Syvertson guided children through making bird's-eye views of their ideal landscapes, the maps of their ultimately functional worlds. Children were also invited to continue building and adding to the autoconstrucción begun by the Walker Teen Art Council. The changing, expanding structure juxtaposed the teens' collages with children's drawings and minimalist inspired tape paintings. In the most living of the autoconstruccións at the Walker, the structure became a new space of creation with the entrance of each child. The works they left behind continued to shape the space into which others entered and altered for their own needs.
TOP 5 Weekend PICKS courtesy of the ever magnanimous Stephanie Burke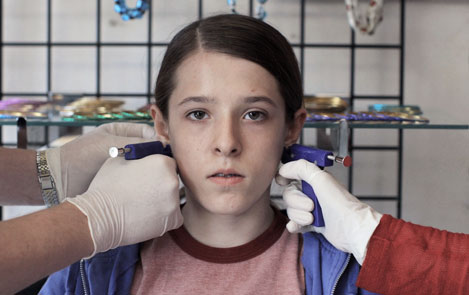 SAIC students' film is nominated for the Cannes Film Festival.
And here I am going to circle back around to the beginning of the week — because I want to end on the comic that Jeriah Hildwine included. Last Monday, Hildwine reflected on the meaning of community in the art world, suggesting we might learn something from Vampire bats:
So what, then, does the concept of community really mean within the context of the art world?  The answers that spring to mind come in the form of analogies:  the art world as ecosystem, the art world as family, the art world as neighborhood.  Any of these metaphors can provide insight into the nature and structure of a subculture, but they can also be misleading, as well as potentially offensive and therefore divisive:  the vulture is an invaluable part of the ecosystems it inhabits, but few would want to be called the vultures of the art world.