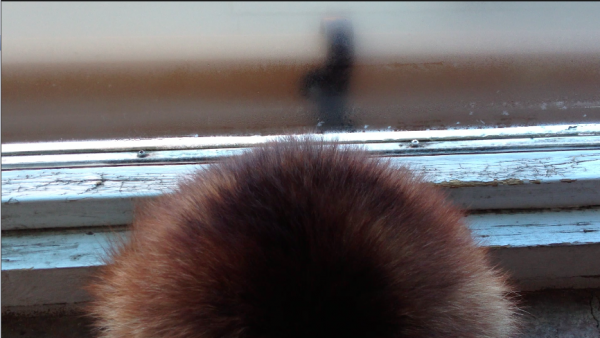 It's been a busy week both on and off Bad at Sports. A number of our contributors were at CAA and I, for my part, took my hat (and new best friend) on the Carl Sandburg train to Macomb, Illinois for an overnight trip to Western Illinois University. I happened to give a talk there about (among other things) transcription and translation which no doubt has colored the way I'm thinking about the last week on Bad at Sports. In looking back and taking stock on what was posted, so we ready ourselves for the new week ahead with its ever lengthening days. My sense of this week is that it was about windows and frames and the transmission of ideas. It's about education and the power that stories have over us, to affect change and muddy whatever assumptions might be otherwise taken for granted.



Tonight, I am excitedly headed to Every house has a door's performance at Links Hall, They're Mending the Great Forest Highway. I've seen an iteration of the piece once already, and am looking forward to seeing it again. Goulish posted an essay about it here last Sunday, including a couple of amazing youtube videos with some excellent dance moves.
In the Absence of Light, Darkness Prevails from Double Trouble on Vimeo.
The week began with Jesse Malmed's interview with contemporary filmmaker Fern Silva. Among other highlights, Silva talks about teaching film. "Experimental films that were made 50 years ago can be as fresh as films being made now in a classroom setting. I like to show films that I found inspiring and share stories about the filmmakers who we're watching. For example, when I show Meshes of the Afternoon, I'll tell the story of when Maya Deren threw a fridge across the kitchen while she was possessed in her West Village apartment that Brakhage writes about in Film at Wit's End." (Reconfirming my perhaps over zealous love for Deren). There is also a lovely moment, so brief as to almost be missed where Fern states that structure, (non-)narrativity and collage are all the same to him. Monday went on with another description of class dynamics from Shane McAdams. There was a subsequent dispatch from Gene Tanta on Tuesday, where he described a performance workshop with Irina Botea and 13 other performers. He asked each of them (and got five responses) "What does your work protest?" I reposted one response
"Our work focused on the impact of this replacement (of old windows with multiple-layer double-glazed windows) on the people who purchase them. In Romania, this transition is advertised and widely acclaimed as being more than just necessary – but the defaultupgrade, perfect for every house. While questioning this widespread idealistic belief that Termopane are the right (almost the only valid) choice, we pursued in deconstructing its "promises". And since you referenced Adorno's claim that art documents history, one of the key aspects this work documented is how the perfect isolation, the safety promised by the Termopane comes with an unexpected turn: isolation means protection, security, intimacy but it also raises questions regarding responsibility and anxiety. These new guidelines of the private space influence people's social and psychological behaviors, by means of a rather unnoticeable slow process of adaptation." Ioana Gheorghiu
The way that windows and cameras and frames tie in together always makes me happy.
Mary Jane Jacobs covered a lot of ground, as she reflected on an a Grant Kester essay in Engagement Party: Social Practice at MOCA, 2008-2012, and interviewed Kyungwon Moon and Joonho Jeon. The biggest moment for me comes at the beginning of Jacobs' post, when she announced that TAMMS Super Max Prison was officially closed on January 4th of this year, in no small part due to the hard work of artist Laurie Jo Reynolds who took up residence at the Sullivan Galleries this past fall. Abby Satinsky goes on to provide a bibliography for "Creative Placemaking," while musing on the complicated scenario artists are faced with as they move into and revitalize depressed neighborhoods, a subject discussed at length in a recent conference, The Art of Place-making.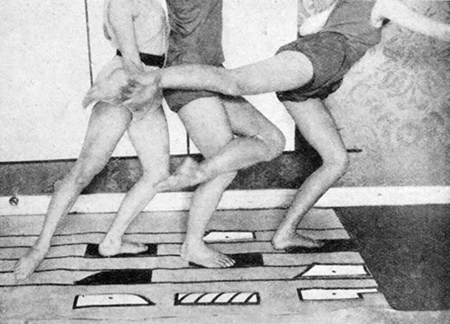 Jeffrey Songco interviewed performance artist Renne Rhodesabout her background in dance (among other things) during which they discuss Rudolph Laban's "Labnotation" — as a means to score dance moves — an image of which you'll see above. As I have been thinking a lot about transcription lately, and since so many of this week posts focused on the transmission of knowledge or experience, this seemed like a particularly lovely moment. The image of those static, abstract footprints(?) have been in my head every since. That they would somehow convey movement in time and space is beyond me. Sam Davis follows suit with a suite of videos that try to articulate what FUNK really is — namely "it's about juicing a feeling."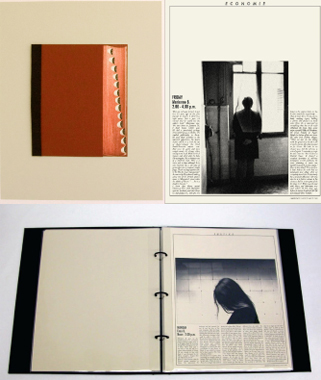 I rounded out the week with a post about Sofie Calle's Address Book (which is now available in English). She seems always to be providing windows into private worlds, activating the aura of an individual, in this case Pierre D. who has recently passed away (thereby enabling her to release her findings about him). It seems like a macabre kind of dictionary in a way, and reminds me of Graham Greene's biographer who was allegedly hired by the author to follow in his rather debauched footsteps, at the expense of the biographer's family. I ended the week with a post about a sound performance at LAMPO by Hong Chulki and Choi Joonyong, — which like so many of LAMPO's events effectively blew my mind. Maybe even more than this little red comb which I purchased for a mere 5cents at a Macomb antique mall.