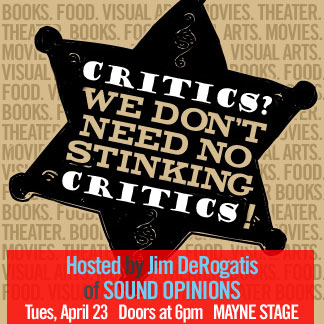 Hey. Duncan (me) is on a panel tonight.
Here are the details.
FREE – Suggested Donation $5
1328 W. Morse Avenue
Chicago, IL 60626
Presenter
WBEZ – Chicago Public Media
312.948.4600
You know what they say about opinions, right? Now more than ever, in this brave new digital world, everybody's got one. But criticism does something more—something vital to all of the arts communities it serves. Join your host Jim DeRogatis and an illustrious panel of local critics as they discuss their role in the new media landscape. We'll also enjoy some dramatic readings of noteworthy critiques by Chicago actors, and you'll have the chance to challenge what the "experts" are saying as the audience is invited to go interactive via Twitter!
Panelists include:
•    Sarah Zupko, editor the Chicago-based Pop Matters Web site
•    Andrew Barber, editor of the hip-hop blog Fake Shore Drive
•    Donna Seaman, who writes about books for Booklist and other outlets
•    LaShawn Williams, the arts editor of the Gapers Block Web site
•    Leah Pickett, who writes about pop culture for the WBEZ blogs
•    Kris Vire, one helluva great theater critic
•    Jim "Tankboy" Kopeny, ace music writer at Chicagoist
•    Duncan MacKenzie, co-founded and contributes to the Bad at Sports art blog
•    Drew Hunt, who reviews movies for the Chicago Reader
•     AND… a special guest who will appear incognito (as many food critics must)
Here is a link… LINKY