Guest Post by Autumn Hays 
Over the last few years within the United States a growing interest has arisen in festivals that specialize in Performance Art, that offshoot of the visual Arts, who's practices center around temporal body-based works. This festival-circuit format for showing performance based art works has already produced a strong development in terms of organizations and events outside of the United States. Often however it's difficult for American performance artists to break into these circuits. Although there have some who have successfully done so, many festivals go years without showing a single American performance artist. This could be for many reasons, but one is certainly the relative lack of funding. Often the diplomatic and cultural establishments of foreign countries, such as embassies and consulates assist artists with expenses so that they can make and show artworks outside their country of origin. In the USA however, we do not invest money in the arts to the extent of other countries and thus American artists often have less accessibility to funds outside of their own pockets.
Performance art festivals are often intensive endeavors, involving a diverse group of international artists. Always on very tight budgets, these festivals often seek to supply food and housing for the artists for the duration of the festival, often lasting from several days to weeks. Unlike showing at a, gallery the festival becomes a sort of community or summer camp. Here artists and curators network and meet performers from all over the world. Viewership is open to the public but there is a community of support at many festivals where artist see each-other's works, often living together and sometimes collaborating on the fly. Festivals are often popular for performance art as spaces willing to show the work, or spaces aware of the needs of exhibiting performance art are often few and far between.
The good news for performance artists is, the USA is starting to develop their own performance art festivals. These festivals seek to bring international artist to the USA while showcasing local talents. It will be exciting to see what other festivals are brewing here in the United States and some in and near Chicago itself. Here are three festivals to look for this year: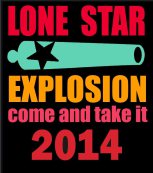 Lone Star Performance Explosion
     Huston, TX
     February 19-23, 2014
This is the second time around for this international performance art      biennale after a successful run in 2012. "LONE STAR EXPLOSION 2014 seeks to showcase performance art that pushes the artists and audience in new ways, especially performance art that questions fundamental assumptions about the way we experience time, space, relationships, the self, society, and sexuality. " As many of our festivals on this list the line up features local, national and international talents in Performance Art. Lone Star Explosion 2014 is curated and directed by Jonatan Lopez and Julia Wallace. Confirmed artists include: Elia Arce (Costa Rica), Marce Sparmann (Germany), Natalie Lovleless (Canada), J. Morrison (NYC), Ryan Hawk (Huston), Roberto Sifuentes (Chicago), and over 25 more artists. http://lonestarlive.org/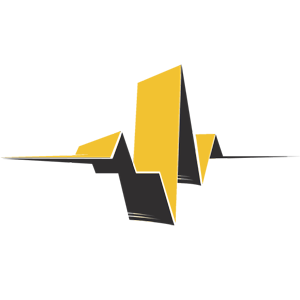 Rapid Pulse International Performance Art Festival
Chicago, IL
June 5-15, 2014
This is year three for Rapid Pulse International Performance Art Festival, taking place here in Chicago. "The RAPID PULSE INTERNATIONAL PERFORMANCE ART FESTIVAL aims to represent a range of styles and forms in order to provoke thought and stimulate discourse surrounding performance art." This intensive festival features performance,  video screenings, artist's talks and panel discussions. It includes a wide range of performance art from durational, public, and digital based works. Unlike the rest of the festivals on this list Rapid Pulse is centered in and around Defibrillator Performance art Space as opposed to being a wide range, multi-venue event. Artists have yet to be announced but the application period is closed and the curatorial process is beginning. Rapid Pulse is curated by: Steven Bridges, Julie Laffin, Giana Gambino, and Joseph Ravens.  http://rapidpulse.org/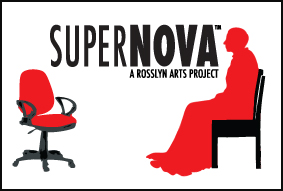 Supernova Performance Art Festival
Rosslyn, Virginia
June ?
Super Nova first took place in June of last year and word is the event will be back again this year. "SUPERNOVA will bring together emerging and established local, regional, national and international performance artists to present an expansive range of positions and approaches to performance art." Though not confirmed Supernova came together well last year showing and they have to potential to continue on this year. Tough mostly national based artists, Supernova has the bones of a strong festival and hopefully they continue. Supernova's 2013 Chief Curator was Eames Armstrong. http://rosslynartsproject.com/
The question that arises with these projects and others like it is one of sustainability. Performance Art festivals are often struggle all year to find funding for the next event. Often performance artists who wish to see this kind of festival thrive in the USA produce these festivals. These factors, and the fact many performance art specific festivals around the world struggle to stay open make the running of an international festival a labor of love, to say the least. Even if these festivals eventually come to an end, the recent creation of these festivals might be pointing to a new trend in performance art exhibitions in the USA. Hopefully the adoption of the festival format international performance festivals will continue to propagate more opportunities in the exhibition of performance art. It will be interesting to see if the new trend in festival production will flourish in the United States and if festivals like these will run strong and multiply in the years to come. Perhaps, the appearance of American Performance Art festivals, and the participation of American artists in them, may lead to an increased interests in American practitioners of performance works both at home and abroad.
_______________________
Autumn Hays is an Artist, Curator, Teacher and Writer. She graduated the School of the Art Institute of Chicago with an MFA in Performance where she received the John Quincy Adams Fellowship. She received her BA in Visual Arts at UCSD. Hays was the recipient of numerous scholarships, grants and awards including two major Jack Kent Cooke association scholarships. Currently she is assistant curator at Defibrillator and Co-Producer of the 2014 IMPACT Performance Art Festival. www.autumnhays.com
---
By Kevin Blake
As Elijah Burgher's solo show at Western Exhibitions comes to a close and he sets his sights on the 2014 Whitney Biennial, he weighs in on his practice. With a 'no stone left unturned' approach to his work, Burgher is tough to stump and shows us why his work merits a bigger stage. 
Kevin Blake:Your recent solo show 'Friendship as a Way of Life b/w I'm Seeking the Minotaur' at Western Exhibitions features an eclectic grouping of work. From intimate representational drawings that appear overtly labor intensive to large abstract paintings on canvas drop cloths that hang from the ceiling, each work demands something different of the viewer. These works interrupt the gallery space in an interesting way and requires the audience to physically adapt to your installation.  Can you talk about how you conceived the schematic for hanging this show and how it may or may not reflect your ideas about ritual? 
Elijah Burgher: Originally, I wanted to install the drawings and drop cloth paintings separately in Scott's two galleries, constructing a labyrinth of sorts with the latter works. I had in mind something like Robert Irwin's installation at Dia's Chelsea space in the late 90s, which consisted of a maze of scrims lit by differently colored fluorescent lights. (I saw that when I was an undergrad, and it left an impression on me, but I hadn't known what to do with that experience in my own work.) Or imagine being able to physically enter a painting by Mark Tobey or Brion Gysin. I was–and continue to be–interested in contrasting the depicted space within the drawings and the real space created by the drop cloths when they are hung as false walls–I am thinking of them more and more as building blocks for a soft architecture. I decided instead, however, to hang the drop cloths among the drawings, and use them to partition the gallery space into smaller rooms. The labyrinth idea is still present, but less literally manifest. I think it is also reinforced by certain of the drawings, like "In the horny deeps below finding," which pictures two figures standing on the threshold of a space, on the walls of which sigils are painted.
The drop cloth paintings have their origin in rituals I was devising and conducting a couple of years ago, around 2011 or thereabouts. I was combining Austin Osman Spare's sigil magic, bits and pieces of European ceremonial magic, and my experience participating in AA Bronson's Invocation of the Queer Spirits project in these rituals. The drop cloths functioned as both portable temples–spaces for conducting rituals–and artifacts of the rituals. I made a video documenting one of these actions with my friend, Tom Daws, three years ago, which was shown as part of an exhibition at Gallery 400 called "Intimacies." That context remains pertinent, although the paintings are no longer, strictly speaking, artifacts of rituals. It's the portable temple part I'm more interested in now–again: false walls, fragments of a soft architecture. And I hasten to add that I do, in fact, live with them in this way. For instance, my studio and kitchen are separated off from one another by two drop cloths hung back-to-back.
KB: I think the essence of Irwin's work is experience–how the work presents itself at the moment you interact with it. Irwin's work was made to transcend the material nature of its temporary existence. It certainly did for you, it seems. In that vein, your work evoked in me the idea of ritual–the ritual of looking at art or the art of looking in the gallery context. As I wandered through the space, I kept thinking about how I was supposed to maneuver, and if I was doing my part correctly so as to understand your intentions. Your work alludes, pictorially, to the occult, but the way the show was hung addressed Irwin's ideas more overtly. For me, this over-arching metaphor for experience and ritual, really tied the show together nicely. Is this happenstance or a strategic move to conflate those ideas?
EB: This is a hard question to answer. It wasn't precisely my intention to draw an analogy between the experience of looking at art and ritual. In fact, I worry about conjuring the look and feel of sacredness in a humorless, worshipful manner. On the other hand, I think that bringing ideas from magick and the occult into art can focus our thinking about art, especially regarding our psychic investments, our expectations and hopes and worries.
The stakes of Irwin's work, generally speaking, are in prioritizing the phenomenological aspect of visual art, enabling a pure experience of looking: "seeing is forgetting the name of the thing one sees." My work does not share this aim. It's invoked in order to be complicated, even reversed. I'm too interested in representation and language. I think that the experience of the show at Western involves toggling back and forth between depicted and real, imaginary and actual. I also hope to make those polarities more volatile. I'm obsessed, for instance, with making something happen by drawing.
KB: The way the drop cloths were hung forced a physical encounter with the intimate scale of the drawings, while simultaneously conveying a sense of being walled in by the paintings. I think this mandates an initiation to the work that is a compelling component to the show. How do you think about the audience in the production of the work, or is it a curatorial consideration post production?
EB: Yes, I wanted the drop cloths to operate in that way–to contrast the scale and sense of touch in the drawings, as well as suggest connections amongst certain groups of drawings by separating them off.
I was going to reply that I do not take the audience into consideration when I work, but that's not entirely true. I suppose I resist the idea of a general or abstract audience. Primarily, I make things that I want to look at and think about (or try to do so, at least). And I also make work with specific individuals or sets of individuals in mind–people with whom I am already in dialogue or wish to engage in dialogue. When I am working, I am thinking about my friends–amazing artists like Doug Ischar, John Neff, and AA Bronson–as well as figures with whom I can only engage in imaginary conversation because they're dead. William S. Burroughs, Jean Genet, and Forrest Bess would be examples of the latter.
But maybe I'm misunderstanding the gist of your question? You're suggesting that I'm molding the viewer's experience through installation decisions, which direct not only the viewer's bodily navigation of the show but their conceptual understanding of the works. I think this is right, although, again, I wasn't really thinking of the audience. I was thinking about the works themselves and the relationships amongst them in the show as a whole. It was important for Lucifer and In the horny deeps, below finding to be in the first room, providing a kind of key with which to approach the other works in the show.
KB: For me the show does much in the way of re-instating the experience of art as something personal if not sacrosanct. Your figurative drawings allude to deeply personal narratives while the spaces in which the figures exist complicate the read.  Those spaces are self referential in a way-suggesting a dialogue with your paintings. It is as if you give the viewer something, but not everything at once–morsels of information laid out in a trail from one work to the next. I'm guessing that you are working on multiple pieces at once, maybe making labored drawings at a desk and when you don't have that kind of patience, you make these large gestural, energy-infused paintings that feel absent of circumstance. Can you say something about the experience of making, dictating outcomes, as it relates to your conceptual framework?
EB: I trust the space and time of my studio–its organization and furniture, its rhythms. From that perspective, I think about working in terms of wrist versus arm, sitting versus standing, stillness versus movement, head and hand versus whole body. I make work from above: it is either on a table or the floor. These physical aspects of making impart a charge to the work, conveying particular kinds of attention and intention. For instance, devotion–in its religious, romantic and sexual registers–is both cause and effect of the exacting care with which the two portraits in the show are drawn.
Right now I am very committed to drawing as a medium, and I'm interested in activating and exploring two of its primary traits or functions. Drawings were historically valued as a form of raw, active thinking: notes, plans, visualizations of paintings to be painted or buildings to be built. They were also valued in terms of pure mark-making–for their autographic nature. (Think of the cliche of a connoisseur being able to distinguish a straight line drawn by Picasso from one by Matisse.) The first has to do with drawing's intimacy with the head, the latter with the hand. The first projects into the future, the second indexes presence. All of this has something to do with desire, its force and movement, but I am still trying to figure that out.
KB: I think you are right about art–particularly art-making–possibly being about fulfilling a desire. A desire to exert, regurgitate, project, exorcise, or summon an idea, dream, or memory. As both are perpetually changing or in motion, how do you think about the relationship between time and desire, specifically as it relates to the act of drawing?
EB: When I think about the experience of desire in relation to time, I think about insistence, rhythm and rhyme, repetition and variation of forms. It might be the case that my drawings embody something about desire's force, form and tempo, but it might also be that I associate desire with these qualities because of the drawings themselves–the repetitive mark; the rulers and compasses I use, etc. We could also discuss the temporality of desire differently, though: the way it shuttles across past, present, and future. Desire retrieves objects from the past–a lost beloved, wishing something might have happened differently, etc–and projects into the future–I want to find my lost ipod, I want that artist's grant, I don't want to die!
Several of the reviews of the show at Western have noted that the drawings are stiff, cold, distant, and that this contradicts the ostensible subject matter of sexuality. I wonder, though, why desire should be represented by messiness, drips, open form, and other painterly effects? I think desire has as much to do with attempts at mastery and control as it does submission, accident, loss of control.
KB: Time and desire will surely continue to play a role in your studio life moving forward, and considering the recent news of your inclusion in the 2014 Whitney Biennial, time specifically, will be at a premium. How do you hope to maintain the integrity of your desires in the work, while fulfilling the desires of your professional demands?
EB: There were pictures I wanted to make for the show at Western that I simply didn't have time to make, and I've begun working on some of those since the show opened. This is a pattern from the past couple of years–there's always some image left unmade, some problem that hasn't been addressed, some loose thread to follow, which keeps me both focused and a little frantic.
I do worry about the integrity of my desires, but that is fairly private and coded–there's plenty of irony, metaphor and other games in my work to ensure that. This work is predicated on the thought experiment of art possessing magical efficacy. Taking that seriously–that artworks cause change to occur in conformity with one's will, to paraphrase Aleister Crowley–results in some serious self-reflection.
In daydreaming fantasies, I'm a totally evil bad ass, I need no one, and I'm flipping a pentagram-adorned middle finger at the world… but when I'm honest with myself about myself and my desires, I end up thinking about other people: human relationality, subject/object, love/aggression, ethics. I say this not because I'm so exquisitely sensitive to the needs of others but because any rigorously rational reflection on desire implicates the social, self and other, etc. I have no qualms admitting I want success–critical esteem from my peers, a livelihood!–but it's these other riddles that I want to think about, and that sustain my work in the studio. Perhaps, though, one day I won't require magic to reconcile art and life, self-determination and sociality, etc? On the other hand, I can't help but think that art itself is always already a thought experiment, always an as-if proposition; which brings me back to magic, arguably the mother of metaphor and salve/lens of contradictions.
---
I love Christmas movies. Really, I do love them. I'm not being ironic or anything. Most Christmas movies are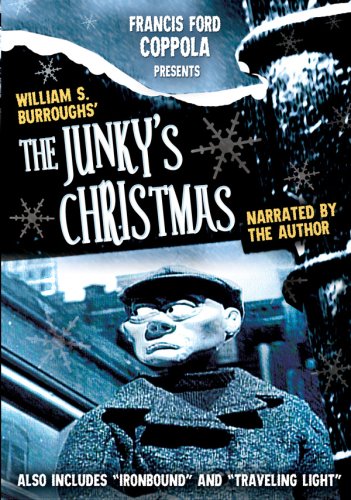 expertly crafted for the sole purpose of making the viewer feel good, to uplift our spirits on these dark, frigid nights. I wrote about some of my favorites in a post a few years back. But sometimes "the season," can be a little much.
The Junky's Christmas is the perfect antidote to this oppression of cheerfulness, while of course, still maintaining that Christmas vibe. This twenty-minute film is short story by William S. Burroughs, produced by Francis Ford Coppola. In Christmas short tradition, the film is claymation, with voice over from Burroughs himself. I have no idea what the intended venue of this film was, but I saw it on Canadian TV way back in the day. I can't imagine this on American broadcast TV, even now all these years later on the film's 20th anniversary.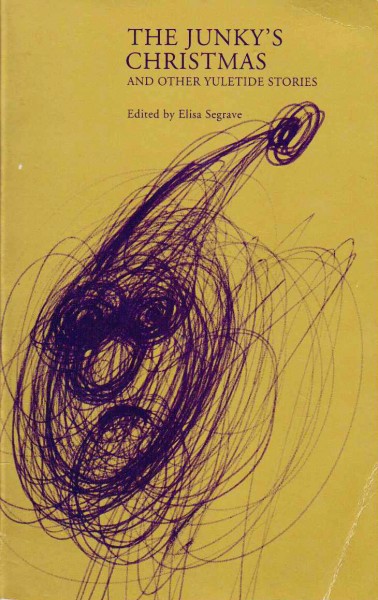 The text for the film comes from the story of the same name from the anthology The Junky's Christmas and Other Yuletide Stores, edited by Elisa Segrave. A quirky book, this anthology collects 18 Christmas tales, more the way Christmas really is than The Lifetime Chanel would have you know. It's an interesting idea, but the reality is lacks. I mean, who really wants to read a whole book of Christmas stories.
So I recommend that if you need a break from all the holiday sparkle and tidiness, you check out Junky's Christmas.  Sit back, relax and let ole Grandpa Burroughs read you a Christmas story:
"It was Christmas Day and Danny the Car Wiper hit the street junk-sick and broke after seventy-two hours in the precinct jail…"

The Junky's Christmas – William S. Burroughs, F.F. Coppola – 1993 short from alexey l on Vimeo.
---
Eric Zimmerman is an interdisiciplinary artist with an interest in the successes and failures of American history. His subjects have varied from Clint Eastwood and Spaghetti Westerns, the Apollo 11 lunar landing, and George Eastman of the Kodak Company—all done with excruciating detail in drawings, sculptures, didactic installations, sound pieces, and more.
The most fascinating part of Zimmerman's practice is the research involved within the making of sometimes six-month long drawings or three-hour collages. He often presents artwork like pieces of evidence, making a visual map to help the viewer see many facets of an event that may or may not have actually happened.
He currently lives in Houston, Texas and is represented by Art Palace Gallery.
You've mentioned the "poetic connections" that often occur in your work — can you explain how that started for you and how you've used/been influenced by poetry to inform your studio practice?
I'm not sure if I can pinpoint that exactly, though on some level its likely something that has always been present in my work. I've always maintained an interest in reading poetry and thinking about the way in which language and text imparts an idea in contrast to visual images and objects. Poetry is a way for me to complicate and undermine some of the conceptual coldness in my work. I want there to be that emotional resonance/dissonance that poetry does so well.
Poetry is one of the last vestiges of radicalism left in the world and I've found myself thinking more and more about how, as a set of working parameters, it might be useful in the studio and when putting together an exhibition. Useful in its uselessness, and I mean that in the best possible way. Outside of the zine 'West of the Hudson', which is a collection of actual poems, it's thinking through this general notion of the poetic that I find myself coming back to most often in the studio.
There is a play on lapsed mythologies and time in your work, but also masculinity as a reoccurring role in history. How do you arc the three things together, or do you feel that they play a very separate part in your work?
Time is something I think about very specifically, in terms of the deliberate speed of production and the ideas that center around history. Mythology tends to enter into the work more organically. Mythologies of the American west, violence, art history, Western capitalism and specific historical figures have each played a part in my work over the past few years. They become linked through the accumulation of evidence (objects, sounds, images, texts, etc.) surrounding a particular event or figure and the broader goals for a particular piece or exhibition. The masculinity aspect is a less conscious choice and comes out of my thinking about the pairing in human history between success and progress with failure and destruction. Men happen to be responsible for a lot of our failings as a species and play central roles in the portions of history I've been interested in thus far.
Your drawings are based off of iconic imagery or snapshot photography, and are painstakingly photo realistic. The Clint Eastwood piece comes to mind specifically. What is your intention behind working with appropriation but by switching mediums to appropriate? How does snapshot photography influence your work?
This goes back to the notion of time and evidence. When I was just starting to make drawings of actual things I wanted to deliberately slow the process down, as a way to really process the source material and as a response to digital speed. I wanted to let images from a variety of time periods operate on a level playing field and drawing was a way to neutralize the sense of time inherent in photographs. The photographic image, as a form of documentary evidence, is important to me but I care less about the actual photograph itself. The drawn illusion, or photo-realism, is a product of that thinking. It's a means to get the kind of images I want. Again, I think the avalanche of photographic images, and snap-shots, is unavoidable so it's interesting for me to think about how 'art' pictures fit into that equation. Drawing is a really stupid way to make a photographic image when we've got so much technology everywhere, but its attractive to me for that reason, which maybe gets us back to this idea of poetry and uselessness. Maybe photography and the photograph are just too damn useful; I haven't figured that one out yet.
In your most recent exhibition, you placed a bobcat skull and a feather as lone objects. They almost seem to me like pauses between your didactic and installation work that can be text-heavy or referential. How did you feel about making a sculptural piece that was seemingly less about craft and more about the relationship to origin/context?
It was a fairly natural progression for me. In some ways it was an inevitability that came directly out of the zines, posters, sound pieces and sculptural objects. These were all pieces that took source materials and plugged them into new contexts that established alternative reference points and often-nonsensical narratives. In thinking about the exhibition as an entire piece, the feather and skull (along with the selenite and petrified wood) were about injecting this notion of physical fact, or proof, up against the drawings, collages, and other works that are far less matter of fact.
At the same time these objects contain a sort of poetry that attracted me to them. I like this notion of these scientific-esque specimens that are reactivated and made poetic through context and their place amongst the other works. They become evidence of something else other than their materiality and origins. They're symbols for old geologic time, flight, life cycles and decay, which suggest a sense of duality and transformation between their original and current states.
I'm interested in your sense of presentation that seems to be intrinsic to the authenticity, or lack there, of an object. [i.e. the Apollo moon landing exhibition]  Do you begin knowing how you want to show it, or does that not factor in until later?  
I typically have a good sense of how I want a particular object to be displayed from the outset. It comes down to thinking about typical museum display strategies; the way they present objects, the context of the institution, etc. and then consciously working to undermine the authority of those devices and the purported 'truth' contained therein. The zines and posters came about from thinking directly about the sense of power and hierarchy inherent in didactics and gallery guides; those things that tell us that there is a right and wrong way to understand art objects, that viewers need to be 'educated.' But it's also about this idea of accumulation and placing things in proximity to one another. I do this in-order to set up different propositions between the pieces in order to question the narratives and authenticity that is built into every image and object. Lately I've been trying to broaden the web of references and potential resolutions offered by a group of works. Productive confusion comes to mind.
There is a lot more to your work, like geometry, collage and archiving—all practices that have deep methodologies by themselves. Is that something that comes to the foreground within your process, or something you directly avoid?
Collage and the archive are things I'm always thinking about. The notion of the archive sent me down my current path and I used to literally keep all these research binders on given topics, a sort of mini-archive, but it became really tedious and constricting so I threw them all away. Really, who cares about what I'm looking up when I go to the library, it's what emerges from that process that is most important. I've become less interested in the literal notion of an archive and the broader ideas they suggest: selection, rejection, context, subjectivity, multiplicity, accumulation, etc. Archives are collages in a way so I've been thinking about that too recently. Practically in how I set up an exhibition, how pieces are displayed and relate to one another and theoretically as a way to think about different types of knowledge and our relentless desire to understand the world.
---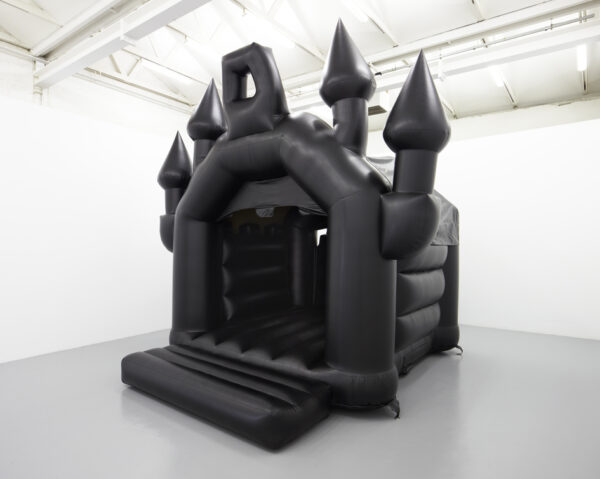 Photos will not prepare you for Department of the Interior by Tom Dale, nor will the description: a bouncy castle made from black leatherette. But stepping round a corner at Aid & Abet, Cambridge, UK, there it was, roaring with the sound of an air pump, trembling slightly, inviting allcomers.
"You can't access this piece," says Dale, "You have to imagine that you're bouncing on it, which is twitching the nerves between the brain and the fingertips." So black leather, as he acknowledges, has never promised so much fun.
This is troublesome. Dale describes the viewing experience as "algebra", in which you gauge your own reaction against those of other people. "What I'm interested in is an examination of yourself as well as what we see before us."
The London-based sculptor identifies two opposing pleasures at work here. Along with the idea of a kids' party, There are he points out "S&M overtones". One is a public activity, the other very private. "What I think is interesting about the work is it traps two opposing forces," he says.
In many ways it is this potential for the tasteless which led to the work's creation. Dale uses the word 'wrong' as if the castle is a moral error: "When something is wrong, we are drawn to engage with it. When things are wrong, we want to put them right," he says. "We want to put the house in order."
And yet bouncy castles are a fine metaphor for our current circumstances. They represent the soft power which governs most lives in the West. Bright colours and shrieking kids tend to obscure this, but in forbidden leather there's no mistaking the work of a hidden hand.
There was nearby another monumental piece in which power was hinted at rather than demonstrated. This was High Noon, a red carpet bearing the footprints of a missile launcher: a cruciform image from the crushed and oily outlines of a very heavy stand.
Research is critical for Dale, and he demonstrates as much with a knowledge of obsolete military hardware. He tells me the imprint of this launcher was for a Thunderbird, developed in the 1950s, the last surface-to-air missile that Britain produced.
The artist compares such technology to the convoluted mechanical fantasies of Victorian artist Heath Robinson. "You would fire it into space and press a button and the nose cap comes off and it throws a chain net over the airplane that it's nearby, which is kind of amazing."
"What working on this scale has taught me is that you need to do your research. You need to go to places. You need to visit people who supply the materials or the vehicles or the objects you need," he says. This lets Dale take resulting decisions on a level he calls, "Very microscopic."
As with Department of the Interior, High Noon invites and frustrates a desire to step on board. "It's kind of like a homeopathic pill," says Dale of his cold war trace. So perhaps what both pieces lead to, in their playful way, is an immunity to fear of power structures.
Armed with a recent PhD, Dale is ready with plenty of theories about the effects and the workings of his chosen art form. But according to this audacious sculptor, what he does relates less to philosophy than it does to knowledge.
"It's about how we organise, how we arrange things, how we fit into these things that we know," he says. "These works here are, if you like, knots or joints of culminations of a certain kind of knowledge, but then it becomes dissolved." So, again perhaps, an apparatus of knowledge cannot always stand up to critical engagement, certainly not to comical engagement.
In conversation with Dale, you find he moves nimbly from metaphor to metaphor, and never without a sense of humour. So he will also describe his works as, "being like a ventriloquist's dummy, but when I take my hand out they're still telling me things".
As for the contest between the monumental works he brings to the gallery, and the virtual realm in which we sometimes occupy, Dale states his intention to, "produce an object that releases ideas or discusses things in a different way at a different speed, with a different currency."
These are left field works from a left field talent. By way of an aside the artist puts forward his latest theory of mind: "I'm beginning to think that our brain exists outside of us as well, that it's almost like we have an invisible unicorn's horn type brain."
"I think there's a brain which only exists when we start to speak or when we start to act," he continues, "Maybe I need to work on the formal construction of that a bit". It does sound like the starting point for another push-me, pull-me sculpture, the visceral brain by Tom Dale.
---