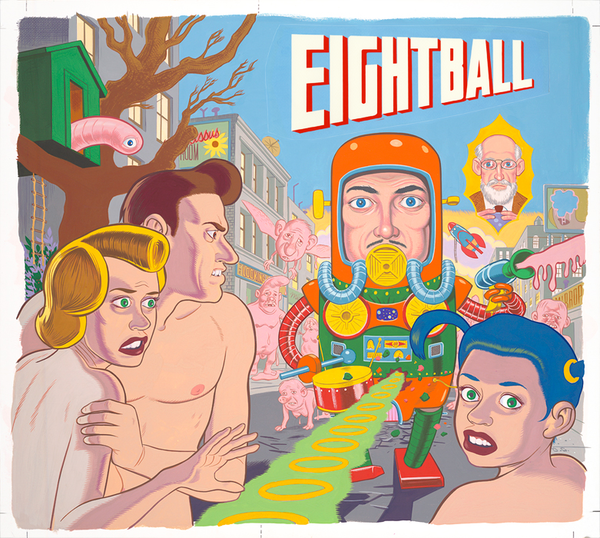 Daniel Clowes
Eightball #18, 1997

Daniel Clowes is one of the artists of his generation associated with bolstering comics' status into the realm of literary inquiry. While Clowes's widespread popularity is not necessarily intentional, it does allow me to assert that Clowes had a hand in making it possible for comics to be considered required reading while I was in college (no really, thank you). His work is haunted by teenagers and adults adrift in a lonely American landscape. All of whom are currently on the loose in Clowes's eclectic, career-spanning retrospective, Modern Cartoonist: The Art of Daniel Clowes, exhibiting at the Museum of Contemporary Art. On view is an impressive collection of originals spanning all of Clowes's publications to-date, including: Like a Velvet Glove Cast in Iron (1993), Ghost World (1997), David Boring (2000), Ice Haven (2005), Wilson (2010), and The Death-Ray (2011).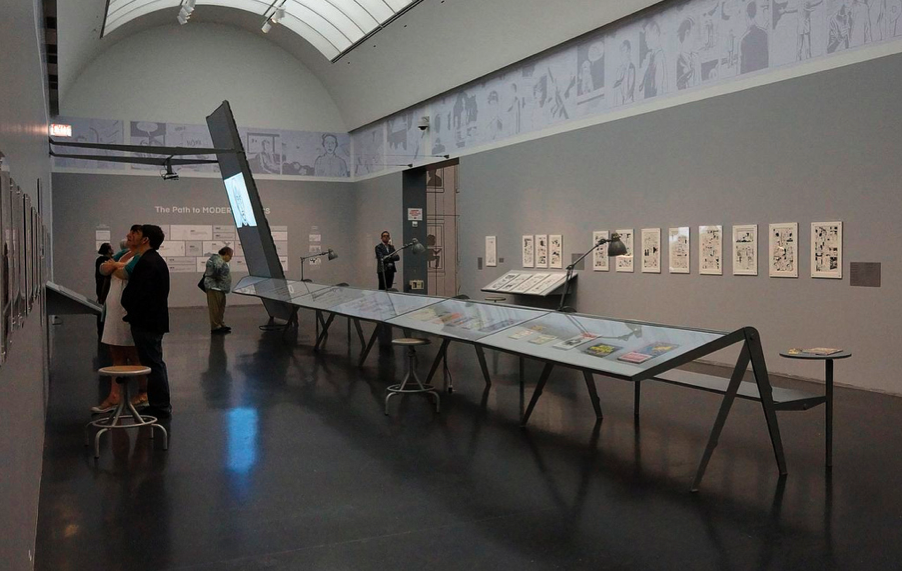 My initial reaction was not towards Clowes's work, but rather an irksome canonical attempt. The show is fronted with a wall wide timeline of comics history by cartoonist, Paul Hornschemeier. The assumption being that the MCA's audience has had little previous exposure to the medium. Even though it's arguable that Clowes's imagery is ubiquitously cross-hatched into American pop consciousness. The effect is awkward; awkward like an overbearing posi-parent who is clearly not comfortable with their teenager's blossoming identity politics, but is supportive nevertheless. While the MCA has hosted comics exhibitions in the past (Chris Ware. 2006, New Chicago Comics. 2011) the timeline epitomizes a friction still present between comics and art institutions' reluctant willingness to accept them as one of their own.
For viewers with no working knowledge of comics, the timeline is unfortunately ineffective in educating. Hornschemeier scripts a stringent and odd history: foregoing women's participation in comics, jumping erratically between different nationalities' connection to the medium, omitting important innovations in print technology, and a puzzling lack of references to Clowes's influences. Clowes's retrospective, in part, celebrates the diverse and rambunctious comic centricity of Chicago and the impact of Chicago on Clowes's work. The city houses a high density of comics creators, enthusiasts, academics, and thinkers – Clowes himself a Chicago native. With so many smart comics folks wandering around you can't spit without hitting one, I'm left wondering why Hornschemeier was selected for the task of canonization and whether the museum curators sought a second opinion. Thematically, Clowes's work trends to showcasing his simultaneous self-protecting cynicism and affection of comics' evolving place within an art context. While the show's introduction is an embarrassing example of the potential root of Clowes's uneasiness – it's certainly not working in his favor.
Comics exhibitions are typically, perhaps even inherently, about process. The work on the walls is unstable and has not yet calcified into it's final form as a work of art. Clowes's comics are intentionally built to be read. The focus is on narrative structure and storytelling, as opposed to the flip-side of playing with the visual richness of the medium. Reading desks and large, upholstered nooks with copies of Clowes's books dapple the space while original pages of his comics span the width of the galleries. The result is claustrophobic in a good way, providing a daunting depiction of the amount of labor involved in comics creation. Clowes's work is more emblematic of illustration than that of a painter or print maker, albeit his skills as a draftsmen almost render the various changes that occur during printing production invisible: penciling or under drawings are rarely present, Clowes's adept brush work meticulously cover the initial draft, Â and the gouache painted covers in the show are breathtaking. The flawlessness of the line work and the confidence embedded in Clowes's drawings almost seem to undermine the self-doubt and alienation present within his stories.
One way of encountering the show as a whole, is through the logic of Clowes's Ice Haven, a comic originally published in Eightball #22. The story follows the lives of residents in the small midwestern town of Ice Haven as they slowly become enmeshed in the kidnapping of a boy named David Goldberg. Each character stars as the lead in their very own comic strip. Each stylistically unique, Clowes occasionally appropriating from comic strip classics with nods to Charles Schultz's, Peanuts and to the Flintstones. The move is a kaleidoscopic one, and serves as a metaphor for the inter-connectivity of the characters' worlds even if the characters themselves are in a constantly tragic state of misunderstanding. Like Ice Haven (sans the kidnapping), the Daniel Clowes retrospective is an intimate microcosm in which each of Clowes's character contain some small conflicting slice of his psyche. From beginning to end, his characters even seem to inhabit his own lifeline: from the bummed out art school graduate, to the cliche misanthropic middle-aged man. Whether the conflict lies between Clowes and the art world, his tumultuous love/hate relationship with alienation, or contained complexly between the characters in his comics, each contender stands ready to duke it out all the way to the disturbing and bitter end, yet secretly smitten for the other.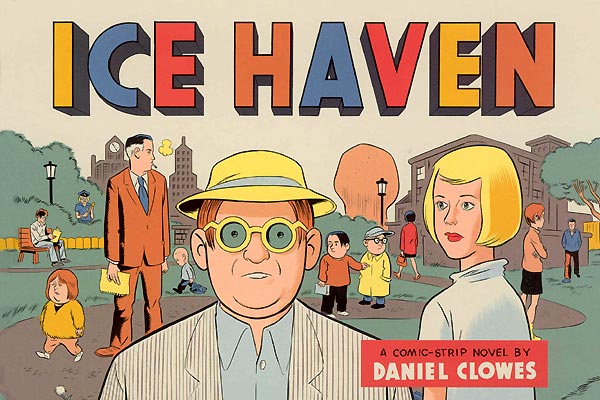 Special thanks as always to comics critic Brian Nicholson for being an all around smart guru.
Modern Cartoonist: The Art of Daniel Clowes
6.29-10.13
Museum of Contemporary Art
220 E. Chicago
mcachicago.org
$12, Tuesdays free for Illinois residents.
Latest posts by Sara Drake (see all)