Guest post by Jamilee Polson Lacy
Kansas City is in the midst of a seasonal transition. It isn't spring—the city got eight inches of snow last weekend—but it's not winter either since everyone wore sleeveless shirts in the 80-degree sunshine less than a month ago. Instead, this transitional time of year is foggy, both literally and figuratively. Literally in that there are fogs and mists and long-lasting dawns and dusks; figuratively in that one can't quite figure out what time of day/ month / year it is, how to dress for the bi-polar temperatures, and whether or not to wear a sundress or take off the snow tires. What's more is the fact that the city is gorgeous and lush with new growth on some days, while on others there is dirty, melting snow and unearthed trash everywhere. (People here seem to recycle only when it's warm out.) Fortunately, when the fog roles in, a kind of limbo takes over for a bit to create a little mystery while we wait out this seasonal transition.
This transition, with the fogginess it ushers in, makes the perfect ambience to read a book like kansas city noir. Edited by local celebrity Steve Paul, senior writer and arts editor for the acclaimed Kansas City Star newspaper, this collection of short stories penned by Kansas City-based fiction writers presents crime literature featuring tough, cynical characters and bleak, foggy settings. My favorite story, Yesterdays by Andrés Rodríguez, remembers Milton's Tap Room, a once iconic Jazz bar which transitioned over the years into to a laidback dive where folks of all stripes could hang before it closed in the late 80s. Garcia uses "smoke and mirrors" to give a fictionalized yet fantastic account of the Easter weekend that the bar's owner Milton Morris mysteriously disappeared. Though the disappearance is an assumed death, Rodríguez writes it as a transition from one season of life to another. The reader never knows Morris in the flesh, but with blurry combinations of stark color, dark shadows and violent gestures, Rodríguez renders Morris and his Tap Room with a dangerous, foggy haze appropriate for this seedy local legend.
Along these same descriptive lines, Yesterdays has a great quote that gets at the essence of the seasonal transition that happens in Kansas City this time of year:
It was nearly Easter. There had been a torrent of rain for two nights, knocking all the blossoms of dogwood and catalpa to the sidewalk in splurges of color that soon turned black and globby. And in the storm sewers, the spring damage and leftover winter leaves lay together seeping like an undrinkable tea. (175)
As indicated in the quote, transitions—seasonal or otherwise—are unruly. Kansas City artists Nicole Mauser and Caleb Taylor make paintings and collages which illuminate the wild, sometimes dark, often whimsical transitions that happen in the studio. Taylor, who currently has a show up at Sherry Leedy Gallery, presents a series of paintings that, like spring's arrival, struggle to emerge through the dense fog of the artist's heavy black brush strokes. But with the collages, Taylor is able to clear out the fog where necessary in order to contrast harsh lines and geometries with soft shadows and dazzling light. Indeed, these compositions read like atmospheric interludes designed for scene transitions in Film Noir flicks like Panique and Kiss Me Deadly.
Mauser mounted two shows this spring: Pressure, Speed, Hesitation, and Drag at Western Missouri State University and Viscosity at the Gladstone Community Arts Center. These two new bodies of work have each been mangled up in a battle between the history of abstraction and the future of materiality. As is evident in the Yesterdays quote above, it's what is left on the battlefield that's so interesting. And these beautifully bad paintings on canvas and collaged works on papers, with their "splurges of color that soon turned black and globby," show just how exhilarating it is to be in transition.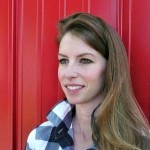 Jamilee Polson Lacy is an artist, curator and writer based in Chicago. For 2012-2013, Lacy is the Inaugural Curator-In-Residence for Charlotte Street Foundation in Kansas City, where she organizes exhibitions, educational programming and publications for Charlotte Street's Crossroads District gallery, la Esquina. In Chicago, Lacy additionally operates as the founding director of Twelve Galleries Project, a transitory, collaborative exhibition experiment. She has engaged in solo and collaborative projects with many creatives and institutions, including A+D Gallery at Columbia College Chicago, The Black Visual Archive, Chicago Artists' Coalition & Hatch Projects, Hyde Park Art Center, Museum of Contemporary Art Chicago, Western Exhibitions, Quite Strong, and the School of the Art Institute of Chicago, among others. In addition to writing for Bad at Sports and numerous catalogue and exhibition essays, interviews, and articles, Lacy has published Color: Fully Engaged, a book of interviews and essays, and written series for Art 21, Flash Art's Umelec Magazine, and most recently Outpost Journal. Lacy holds two undergraduate degrees in studio arts and art history and a Masters of Comparative Literature and Arts from Northwestern University.