Social Practice Queens (SPQ) is a collaboration of the Art Department of CUNY Queens College and the Queens Museum of Art with the goal of developing an MFA pilot program in Social Practice. Â The vision is to serve as a model for education in this field by combining the expertise of a group of artists, administrators, educators, and those engaged with local issues specific to Queens, NYC, one of the most complex and multicultural urban centers in the world. Â 

The first cohort of SPQ students began the program in spring 2012 with a semester-long introduction to the Corona, Queens neighborhood and its newest public space, Corona Plaza.  The Queens Museum and its organizers have been instrumental in transforming Corona Plaza into a programming and organizing platform for the community, and have been actively collaborating with the students in the development of their projects, which are set to launch this summer.

And, plans are afoot for a conference in the spring of 2014 in the QMA's new expansion wing that will emulate aspects of the Open Engagement conference at Portland State University, but with a decidedly NYC flavor.
SPQ collaborators Prerana Reddy and Jose Serrano of the QMA offered some insight into this experimental partnership, and what it means for the collaborating institutions, students, and community stakeholders alike.
Juliana Driever: You chose to name this a "social practice" program, though there is a bevy of other ways of calling this work: new genre art, socially engaged art, relational art, et cetera. Is using the word "practice" a way around using the word "art?" Are you interested in pushing this kind of work beyond a specifically art-oriented dialog?
Prerana Reddy/Jose Serrano: The choice of the words "social practice" was more pragmatic than anything. There was no deliberate distancing from using the word "art." It had more to do with acknowledging the growing community of practitioners that has come to identify with this particular terminology.
What we did spend a lot of time on was discussing what form of 'social practice' we could excel at, and how that might end up in our branding. So there were ideas ranging from 'urban social practice' to 'critical social practice', which would have been intended to highlight the kinds of artist projects that address the complex urban fabric of a place like Queens, or signal a stronger critical-political component, respectively.
JD: There are a handful of other "social practice" (or similarly dubbed) MFA programs in the U.S. The interest in this discipline as a course of study seems to be growing. Do you think this creative interest has something to do with the larger state of social relationships, a shift in the state of art pedagogy, or a conflation of these and other circumstances?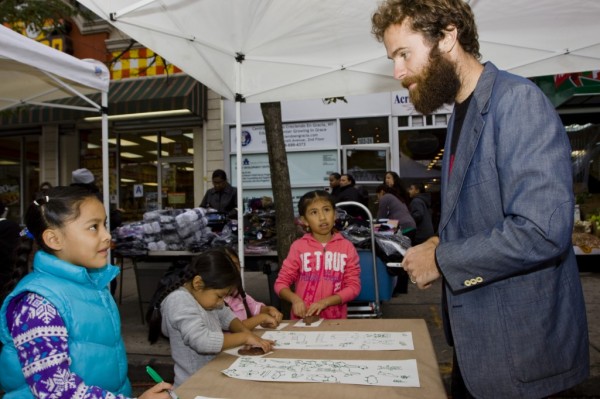 SPQ graduate student Seth Aylmner collaborates with the youngest artists of Corona toward the creation of a bronze sculpture for Corona Plaza. Courtesy of the Queens Museum of Art and Queens College Art Department.
PR/JS: There at least as many answers to this as people involved in the initiative. Â Some might say that the development of these programs has to do with simply fulfilling a need, as more students identify with this type of work and are looking for graduate degrees…
There has been an increased pressure on arts and academic institutions to define the benefits they provide to society at large. In an era of economic crisis, there is always a pressure to think of arts and culture as a luxury that can be cut.  I think there is a genuine belief on the part of those who work in these institutions that art provides not only educational benefits, but a cohesive and inclusive space for a healthy and engaged civic life of the communities that they work in and with. In a time when public space is increasingly privatized and policed, it behooves artists, designers, and public intellectuals alike to work together to strengthen the public sphere. Social Practice emerges at a time in which what practitioners know intuitively must be expressed more concretely and analyzed more rigorously.
JD: Unlike other social practice MFA programs, SPQ is in direct partnership with a major museum, which is a unique set-up for an MFA program to start, but even more so given that much socially-engaged art typically takes place beyond museum and gallery contexts. Does the QMA's investment in this program also signal a shift in the role that museums play in support of such work?
PR/JS: At the Queens Museum of Art, we are constantly striving to examine whether the avant-garde in the realms of art and politics can actually meet. Can an art project simultaneously address aesthetics and concrete social goals in public space? This is a constantly evolving process, one that must be responsive to shifting demographics, economic conditions, political will, unplanned crises, and a constantly unfolding definition of art. Unlike the confines of the gallery or contracted set of artistic services rendered in non-museum spaces, engaging in complicated social relations in the "real world" involves a surrender of control over outcome as well as some amount of risk. This is not something that all museums want to enter into or are well-positioned to do.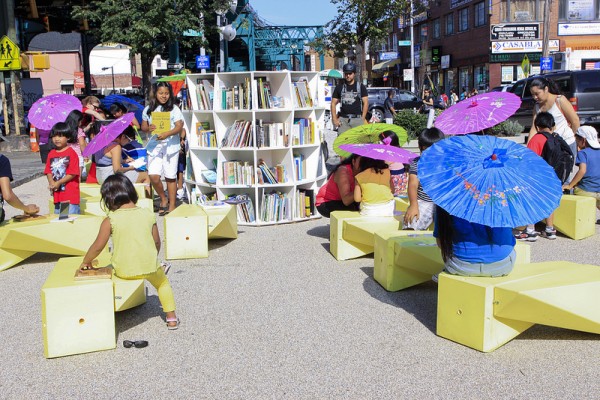 Families read together at the UNI Project's Mobile Reading Room at a Community Celebration at the newly designed Corona Plaza, 2012. Photo by Neshi Galindo.
 However, equally, if one is receptive, such projects provide invaluable input in the context of a long-term, iterative experiment in local knowledge production. It also requires staff with specialized training and social networks outside of or in addition to those found in traditional curatorial or museum administration spheres. For example, the QMA staff includes two community organizers, three art therapists, and more than twenty teaching artists whose backgrounds and language repertoires mirror the diversity of our largely new immigrant neighbors. QMA's exhibition program consistently exhibits artists who work collaboratively with our community members, and our partnerships include municipal agencies, local advocacy organizations, health care providers, urban planners, local business associations, and public libraries.  Furthermore, these staff must be consistently present in community spaces and events, and possess the intuition, social skills, and social capital to overcome communication barriers and historic mistrust of arts institutions.
Participatory public artist projects exist within triangular set of relational dynamics amongst the Museum, the artists' projects, and audiences. Museums have curatorial and social questions that are motivations for commissioning such projects: the development of new species of artists residencies within museums as labs for investigation; mutual education and different modes of interaction; the changing understanding of the mission of museums and their responsibility to the cultural vitality and health of local communities; the visibility (or invisibility) of participatory art practices and their relationship to traditional gallery exhibitions and experiences; and the role of documentation, presentation, and new digital and interactive (web2.0) technology in the life and dissemination of such emerging practices.
JD: Because "social practice" implies an inherent nature as an applied art, is there the desire/need for the equivalent of a "materials and techniques" handbook or something such? In a very practical sense, how does one approach teaching this area of study?
PR/JS: We don't necessarily have a "unified theory" of how to teach this work, because it depends so much on context, but we've been doing a lot of experimenting.  First, nothing is more important than lived experience.  It is important to encourage students to develop projects and actively participate in the initiatives of others, including more experienced artists but also with people and organizations in other fields that align with their interests. The museum provides "these points of access" for students to enter into ongoing projects as they unfold and to meet a wide variety of artists, organizers, and administrators at various points in the process of "social practice." But we have realized that there are important community organizing skills that seem to be relevant to most of the student projects. QMA's Public Events Department is also "on-call" to advise students how to manage permits, navigate city agencies, work with CBOs, find necessary technical services or advice, which are also key components in this type of art practice.
Maureen Connor, one of the lead faculty of SPQ, recently instigated a social practice pedagogy group that is jointly developing an introductory Social Practice syllabus with other NYC and East Coast faculty this Spring. They have been meeting weekly since mid-December and are teaching the course while developing it. In addition to Maureen, the group includes Caroline Woolard, Scott Berzofsky, Robert Sember, Mark Read, Laurel Ptak, Sasha Sumner, Shane Aslan Seltzer, and Susan Jahoda.
JD: Taking human relationships as a medium and a context is an undoubtedly tricky thing. Have you identified/partnered with key figures from Corona to help facilitate projects with the students? What has been the community involvement and response to this initiative and its projects?
PR/JS: That "permaculture" approach has been a kind of ideal for Corona Studio, and into this context we introduced SPQ and the first cohort of students. In the spring of 2012, the first SPQ course was based out of Immigrant Movement International, and was focused on the transformation of Corona Plaza.  It was called: "Corona Studio: Transforming Corona Plaza" and was opened to both graduates and undergraduates in both the Art Department and the Urban Studies departments at Queens College.  Throughout the semester, we invited some of our most valued community partners as visiting lecturers to help the students develop "listening tools" that would help them have meaningful conversation with the stakeholders of the plaza, and in doing so, learn to see the potential for creative interventions in a more holistic community context. Over the course of the last year, the students have remained connected to the community by participating in many of the museum's ongoing public events in the Plaza, and by carrying forward their own creative projects in Corona with the support of the Museum and its partners.  Many of these projects will culminate with public events in Corona Plaza throughout the summer of 2013.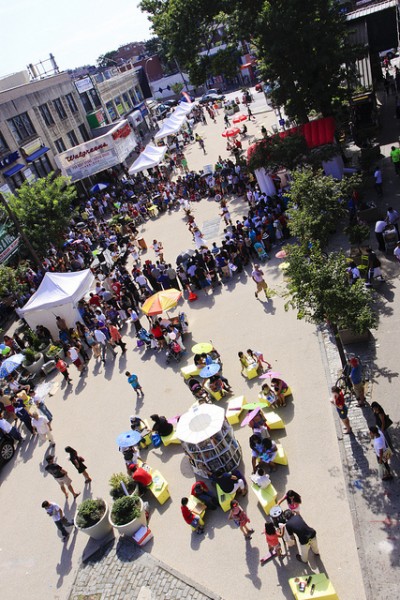 Community celebration at the newly designed Corona Plaza, 2012. Photo by Neshi Galindo.
For example, Barrie Cline and Sol Aramendi, two students in the program, are collaborating on a project with members of the community organization New Immigrant Community Empowerment (NICE), a long-time community partner of the Museum which advocates for the rights of recently arrived and often undocumented immigrant workers in Corona. The first installment of the project will culminate in the launch of a publication showcasing the writing and photography of the members of NICE in collaboration with union tradespeople from the Harry Van Arsdale School for Labor Studies, an institutional connection offered to the project by Barrie Cline.
JD: A criterion common to some of the most successful community-based projects is sustainability: the desire and ability to stick around in a community for an extended period of time. How have you considered encouraging a meaningful, lasting relationship between the students, the college, the museum, and the community?
PR/JS: We've had the opportunity to think about this question quite a bit, as the Museum has invested a lot of time and energy addressing the sustainability and health of our relationships in the community of Corona.
Over the last eight years, we have had an actively cooperative stance in terms of our community relationships, and have developed a strong network of over 40 community partners, some of which participated in creative collaborations we proposed to them — for example, working with one of our commissioned artists, or co-producing a cultural event in Corona Plaza.
Corona Studio was born from a desire to sustain these creative relationships, by committing ourselves to a program of commissioning long-term artist projects that are actively interested in working creatively and cooperatively with our community partners in Corona, and the people of Corona at large.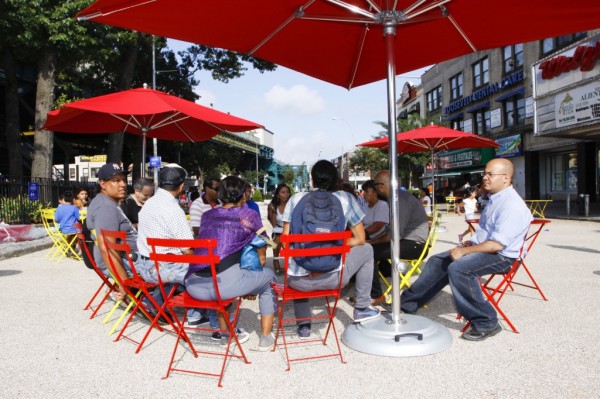 Workshop at Corona Plaza by Change Administration and DSGN AGNC. Courtesy of the Queens Museum of Art and Queens College Art Department.
The first of these commissioned projects was Immigrant Movement International, a cultural space initiated by Tania Bruguera that is going into its third year and has become the de-facto home of many of the local cultural groups that we have been working with throughout the years, like the Corona Youth Music Project. Â We have also developed long-term projects in Corona with the Ghana ThinkTank artist collective, the Change Administration, and DSGN AGNC design collectives in the context of the transformation of Corona Plaza. In the case of each project, our goal was for it to benefit from the relationships developed by the ones that came before, and for it to pay it forward to those that come after.
So for example, Immigrant Movement International became an active partner and the host for many of the gatherings organized by the Ghana Think Tank, and the social projects surrounding Corona Plaza.
We have been thinking about the question of sustainability not simply in terms of each of the individual projects, but also in terms of their fluidity and openness to connect with existing relationships and resources, and their willingness to re-invest their community energy into subsequent projects, as well as other locally-driven initiatives.
Each participatory art project allows new, often unforeseeable, partnerships and projects to emerge based on the skills and insights learned through their interactions both with the community collaborators and the Museum.  The community who participates in those projects might shift their perceptions about what art is and what roles it could play in social life, what types of personal transformations it could bring about in terms of self-perception, new social interactions, and political possibilities. The challenge then becomes one of capacity and commitment: how to continue to build upon these possibilities and to remain accountable to partners beyond the lifespan of a project or a grant cycle that supports it.  On the evaluation side, it is difficult to understand the impact of such projects. Exit interviews, final reports, surveys, and the like represent a very small slice of what takes place in a participatory art project, somewhat like a single frame in a serial scan of a longitudinal social process. Ultimately, we believe the engagement approach of any institution is necessarily situated in both ecological and ethical terrains, in that such endeavors live within a dense, interconnected local environment as well as a set of contested value systems that must be constantly negotiated towards generative rather than reductive outcomes.
Latest posts by Juliana Driever
(see all)