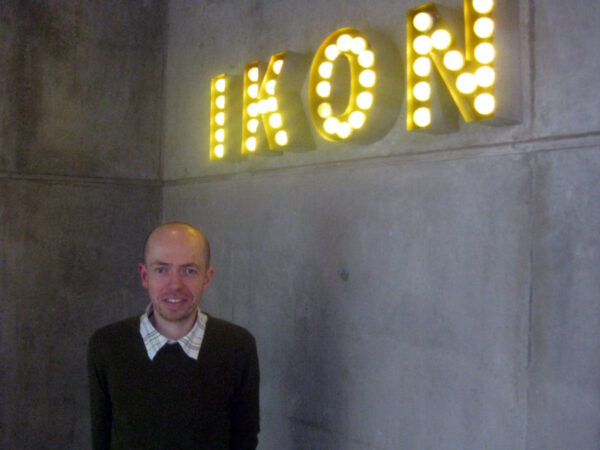 Guest Post by Mark Sheerin
Mark Sheerin is a writer and critic from Brighton, England. He is a regular contributor to Culture24, Frame & Reference and Hyperallergic.
There are at least a million differences between Chicago, USA, and Birmingham, UK, but surely the two cities have something in common. Both are working cities, marked by grit rather than glitz. And both have thriving art scenes, which are often overlooked by media outlets based elsewhere.
Nevertheless, Ikon Gallery, Birmingham, remains one of the UK's most exciting regional spaces – some feat, given its long 50-year history. Speaking with Curator Stuart Tulloch offered a chance to get some insight into what it takes to bring art to the provinces.
"If you're in London, you're still thinking about people who are in London, and in a sense the angle's still provincial," he says. "London will think about what's relevant to be shown or to be seen within London, and in some ways Birmingham removes you from that."
Ikon, as it seems, exhibits more artists from Japan, than from the UK capital. Says curator Tulloch: "Contemporary art allows you to progress ideas or to bring ideas from another place. I think that's the wonderful thing about it; it's very much a global discussion."
But not all discussions run smoothly and Tulloch is a veteran of debate and persuasion. For nine years he was at Grundy Art Gallery, in the cheap and cheerful seaside resort of Blackpool in the North West. Working in a space run by the local council he was forever negotiating with councillors with little interest in and knowledge of art.
By the time he left Grundy, "it got their respect." And the embattled curator now considers one of his best achievements: "convincing them that this artist from that part of the world, doing something which they didn't understand, was very good . . . and was good to have in Blackpool".
If anyone doubts that so many years as curator of a smalltown gallery would be anything but a labour of love, think again. "My wife and I decorated the place," Tulloch recalls, "and I'd clean the place every morning. It was small enough I could do that, but the more ambitious it became, it got harder." Despite these daily trials, he recalls it as "a great time".
But you also sense his relief to be at Ikon, "where the focus is about the art," rather than local services. "This is an amazing place, with an enviable reputation and an international reputation," he says with no hint of spin, "It can say 'This is interesting. Here's something you've never seen before. Let's bring this person from the other side of the world to share something with Birmingham'."
Working in any gallery has its challenges, meanwhile, not least challenges from a coalition government who aren't keen on the public sector. Tulloch speaks of "trying to do the same things, which people have become accustomed to, with the same quality, the same depth, the same ambition, but with less money".
One paradox about visual arts in the UK is that, against the backdrop of ruthless cuts, we have seen a healthy spate of newbuild galleries open in recent years. These pose an added challenge to an established space like Ikon. "People are, like, 'Oh yeah, Ikon is great,' but then it's passed over, because it's 'great'. How do you get that attention? How can people refocus back into it?" asks the curator.
Just as there are more and more galleries, so there are more and more artists to consider. Tulloch says, "Certain countries are opening up to contemporary art," and suggests that, globally, we do have a "shared language".
But at the same time, he is under no illusions that work produced just anywhere will travel well to Birmingham. "It's interesting when you go away to any international art event, like Venice, there's still stuff there that's relevant only to that country. You think, This is very Italian, or, It doesn't quite translate into what's going on here."
In an interesting aside the curator also points out that "Commercial galleries will show different work during Frieze Art Fair in London than they would show at [Art Basel in] Miami." For the record he suggests "very bright fluorescent pink" stuff does better in Florida.
Unsurprisingly, Tulloch is more at home in the public sector where support counts for more than sales. Previous to Grundy, he was at Hayward Gallery in London where the first show he worked on was for Belgian artist Panamarenko: "Here was a man making flying machines, with his own theory of relativity, and I thought, That's amazing. It kind of blew my mind."
There was only an outside chance this artist's creations could ever fly and this has stuck with the curator, "That really appeals to me – trying to achieve that – the hopelessness and eternal optimism that you can find in contemporary art." It reminds him, perhaps, that the odds are stacked against you, wherever you try and get a brilliant show off the ground.
Ikon's current brilliant show features Birmingham artist Hurvin Anderson and can be seen until November 10 2013.