We are in the midst of a Vivian Maier moment. She has concurrent shows around the world. Three lovely coffee table books, one a year since 2011. There's a forthcoming documentary out about her, Finding Vivian Maier. Then there's the Chicago History Museum lecture coming up on April 16 called "The Reinvention of Vivian Maier." And all of this since her death, or more rightly, because of her death.
Since I first saw the exhibit Finding Vivian Maier at the Chicago Cultural Center in 2011, I have had mixed feelings about Maier's work. It is undoubtedly compelling. The images are beautiful and the photographer so clearly loves city life. I pretty much never miss a street photography show. Last year's Film and Photo in New York with Helen Levitt and Robert F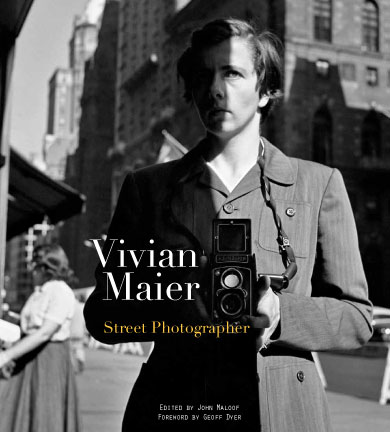 rank among others, as well as Dawoud Bey's Harlem USA, both at The Art Institute of Chicago, were riveting examples of urban photography. But they were different from Finding Vivian Maier. These photographers created work specifically for exhibition. They not only consented to their work being exhibited, they also had a say in the body of work from which the curators had to select. Even if this say came only in the form of editing out images the individual artists didn't prefer. Vivian Maier didn't have this opportunity. Her oeuvre of over 100,000 negatives I am assuming are relatively unedited by her, and they are certainly not edited for exhibition.
Vivian Maier Street Photographer is beautiful. Glossy, nice-sized pages that encourage getting lost in the images. Although all of the images contained are of public space, there is an intimacy to Maier's work that makes me want to curl up on the sofa alone and spend some time with them. This irony of looking at these public images in private does not seem to be lost on the book. While some images are shown on opposing pages, others are allowed a blank page to give the reader time and space to consider the photo.
The book is organized roughly into three sections. The first are the city photos everyone loves—people, buildings, urbanity. Toward the end, there is a cluster of photos of animals dead in the street. These are juxtaposed against images of people sleeping, passed out, dirty children. It is impossible not to read this as "Oh look how these dead city animals resemble our tossed aside urban people." It is here that the book becomes interesting in another way. I couldn't help but wonder if Maier would have edited the book in this fashion. There are no titles to images. No dates. This is not the fault of the editor and rescuer of Maier's work, John Maloof. I spent a lot of time on his website and it is clear that while some of her images are dated, most are not. How does one curate over 100,00 photos? With so much to chose from, is it even possible to allow the work to tell it's own story? And what story would that be? The story Maier wanted to tell with her photographs? The story of Vivian Maier? Maybe it's the story of John Maloof, whose life is now inextricably bound to hers.
After the Acknowledgments, there are more photos, Maier's self-portraits. These are moving and unsettling. All I could think about was what this impossibly private person might think of all this. Looking at her pictures of other people seemed fine, but looking at pictures of Maier herself felt prurient and unseemly. But that is part of what the world loves about Vivian Maier, she is the fantasy of the undiscovered artist. The person who made work just for herself and then after her death is discovered to be a genius. It's like every undergraduate art student's fantasy come true.
This is a lovely book to spend time with and is more thought provoking than I had expected. I highly recommend it.
Vivian Maier Street Photographer, edited by John Maloof
Hardcover, 144 pages
Powerhouse Books, $39.95
Terri Griffith has published fiction and criticism in Art21, Bloom, Suspect Thoughts, and BUST, as well as in the anthologies Without a Net: The Female Experience of Growing Up Working Class (Seal Press, 2003), Are We Feeling Better Yet? (Penultimate Press, 2008), and Art from Art (Modernist Press, 2011). Since 2006, she has been a literary and culture blogger for Bad at Sports. Griffith is the author of the novel So Much Better (Green Lantern Press, 2009) and the co-editor of The Essential New Art Examiner (Northern Illinois University Press, 2012). She teaches writing and literature at the School of the Art Institute of Chicago.
Latest posts by Terri Griffith (see all)