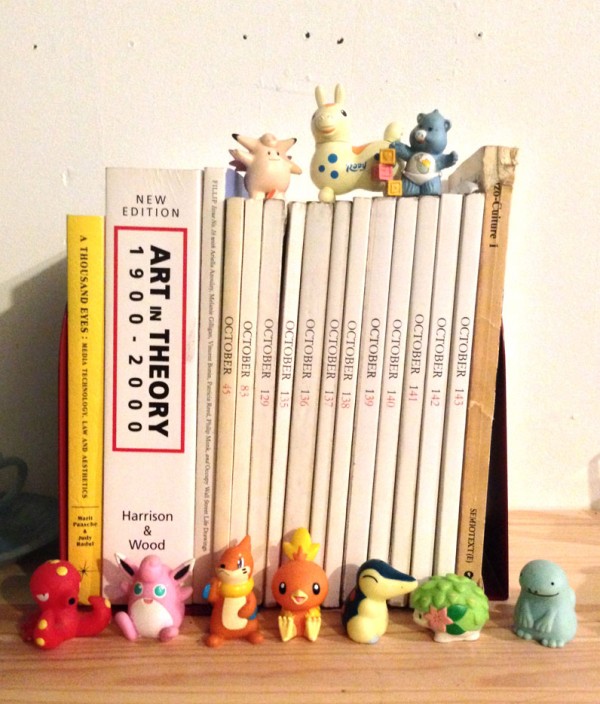 Guest Post by Faye Kahn
Every Sternberg/Semiotext(e)/Verso volume with Yale Design School layout is an impenetrable brick of ostensible magic that's going to save the human race. I really think this for a range of 10 minutes to 10 years per book. Yet even though I have been reading October every day for three years on every NYC Transit route there was only one time I was ever confronted about it & the guy was laughing! Â Still, the mystery of the text is irresistible, though after chatting with other arts writers, there seems to be a concern about the future of art criticism; that it's not as integral a part of the structure & motivational force of the art world as it used to be, & furthermore, there is confusion in identifying an audience. The source of this anxiety is varied & not everyone subscribes to it. Still, through my personal experience with theory I can understand why a frustration exists, both for authors & audience.
Slowness
It's difficult to read art theory & criticism. It's impossible for me to know how other people interpret text, but as an a person of average intelligence I can describe a sensation of mental aimlessness & meandering when trying to parse an uphill paragraph. Putting on blinders & focusing intently on the words the I gradually collect rewarding instances of realization & perspective. This is enough of a carrot to keep me reading. Still, the going is slow. Theory is slow, the contemporary is fast: it's entirely possible that this is the final conclusion. Like most professional fields, the barrier of slowness is a mental hazing method but the rewards here don't seem to pay off enough for large-scale generation-defying fraternities. However, if it's true that it's losing connection or usefulness to its own field, the effort can start to seem myopic.
Barnett Newman famously said that "aesthetics is to the artist as ornithology is to the birds." Birds are not only not interested in ornithology but they are incapable of being interested in it. Such a terse reading of that quote might be a little unforgiving, but it's interesting to revisit this notion from late-Modernist times today in regards to the perceived identity crisis of art writing. All artists are certainly not unaware of it, but it is easier today to be an artist without a knowledge or involvement in traditional art theoretical discourse. Faster modes of communication than text (images) are more conducive to conversation today. Â The image response, as the most expedient & accurate modes of communicating quickly, is a much more handy tool. ASCII, Unicode, & Emoji: day to day communication is condensed (& the phrase "hard to follow" now refers to twitter), alienating the dry over-enunciated walls of text that make up theoretical contributions.
Art-Theory-Genre-Art
As Hal Foster points out, during ArtForum's heyday in the 60s & 70s,"late-modernist criticism made fine distinctions on which the fate of art was thought to depend—the difference, say, between a 'deductive structure' by Frank Stella and a "specific object" by Donald Judd—and often it presented these differences as absolute."[1] This necessity for theoretical discussion is not totally absent today- but art dependent on by critical analysis has become a genre of sorts. Boris Groys says that
"A work of art is traditionally understood as something that wholly embodies art[…]When we go to an art exhibition we generally assume that whatever is there on display–paintings, sculptures, drawings, photographs, videos, readymades, or installations, must be art. The individual artworks can of course in one way or another make reference to things that they are not, maybe to real-world objects or to certain political issues, but they are not thought to refer to art itself, because they themselves are art. However, this traditional assumption has proven to be increasingly misleading. Besides finding works of art, present-day art spaces also confront us with the documentation of art." [2]
Although Groys is referring to the position of the artwork in the exhibition space as the documentation of the art itself, the statement is haunted by the situation of an exhibition space with placeholder artworks that function solely as referents to outside documentation & unstable explanations to be determined by later analysis. Movement away from aesthetic to conceptual merit is now common practice, though certainly more in some cases than others. Aesthetic attractiveness is more often seen now as a measure or capability of capitalist valuation of the object rather than an agent for a deeper social commentary or revolution. Thus, birds interested in ornithology & birds uninterested.
***
Lately I have found art theory exhaustingly cynical. I suppose the word "criticism" has a lot to do with this, however much of it seems to only a self-serving end. Often as a reader I approach the text with wonder & leave it feeling like a fluorescent light has been turned on to reveal all pleasant things have poisonous blemishes. A person can only take so much of this before becoming fed up or hopeless or annoyed that something prescient about how to live life is being ignored because the art community is busy circle-jerking to their exclusive & privileged (negative) perspectives on the world. That said, art theory ensconces beautiful ideas within its heavy labyrinthine walls of referential grandiloquent & excessively punctuated & footnoted jargon ("International Art English"?), & somehow this keeps me (us?) going. However, more & more, it has been exceedingly reassuring to go to the exhibition & realize that art has been growing & still grows around you when you & intellectuals aren't looking.
H. FAYE KAHN is a freelance animator in NYC &  a free-format radio DJ at listener-sponsored WFMU in Jersey City, NJ. She resides in Brooklyn, NY & holds a BFA in Film/Animation/Video from Rhode Island School of Design. 
1.  Foster, Hal. "Critical Condition," Artforum International, Sep2012, Vol. 51 Issue 1, p147-148
2. Groys, Boris. e-flux, December 2009, Issue 11, p1-11