Instigated in conjunction with "The Locational Turn? Reflections from Chicago on documenta in Kassel, Alexandria, Banff and Kabul" panel discussion held November 13 (2013) at the Block Museum on Northwestern University.
by Daniel Tucker
Anyone who tries to generalize about "the art world" owes you an explanation about which world they are describing. While there is undoubtedly overlap between major institutions, mid-sized institutions, high-end commercial galleries, universities, art schools, community colleges, apprenticeships, auctions, internships, craft galleries, non-profit galleries, informal and community-based cultural centers,  residency programs, private philanthropists, collectors, public grants, magazines, theoretical journals, blogs, public art commissions, street art, artist collectives and individual artists – they can still seem worlds apart.
One world that can seem worlds apart is that of the Documenta exhibition, founded in 1955 by Arnold Bode, to occur every 5 years and reconnect post-war Germany to the contemporary art conversations and practices developing internationally. Produced by the documenta and Fridericianum Museum Event Company which provide the ongoing organizational infrastructure to keep the project going, the exhibition is largely guided by a curator. This position is akin to "being the mayor of a small city," according to Michael Rakowitz, a Chicago artist exhibiting in this years show (1). In 2008 the search committee arrived on Carolyn Christov-Bakargiev as the curator, and she began her work on January 1st, 2009 re-inventing what has become over the last 13 incarnations, a crucial node in the intellectual and critical discourse of art around the world – itself producing conversations, catalyzing careers, and generally generating trends that will be talked about in years to come (in Chicago over the last year at the MCA, SAIC's Sullivan Galleries and U of C's Logan Center Exhibitions there have already been three exhibits of re-worked pieces shown at documenta13). In the summer for 100 days, from June 9th to September 16th of 2012, over 300 artists, writers, and thinkers participated in documenta13 in Kassel, Germany.
In 2012 a remarkable number of Chicago artists were invited as participants. Theaster Gates (with John Preus and Rebuild Foundation), Claire Pentecost, Michael Rakowitz, and Lori Waxman are all exhibiting works. A number of Chicago-based authors produced texts for the 100 Days 100 Books portion of the programs including Brian Holmes, WJT Mitchell, David Nirenberg and Jane Taylor. To have this many participants from one city would be unusual, but for it to be a city so detached from the commercial facets of art selling (gallerists, collectors, auction houses, etc) and so oriented towards political, community, and socially-engaged art is what makes the decision stand out.
Locally there has been a thriving art community in Chicago that is focused on strong social bonds, engagement with concerns and disciplines that exceed the focus of art, and political and ethical commitments around themes ranging from war and labor to housing and food. This has a long history in the city, dating back to the 1960s in terms of direct lineages with existing practices. It has developed in a particular and regionally-specific way, while art since the 1980s more generally in the United States has experienced a gradual engagement with political and social life. All over the country, but particularly on the coasts, there are art schools and universities initiating "Social Practice" focus areas for students interested in art that deals with social forms as a material in place of traditional art materials and mediums that have come to include clay, video, performance, paint, photography, sculpture, murals, and interactive websites, among many others.
Through my study of Chicago, I have observed that this turn towards "the social" is less of a turn, and more of a ever-present fascination. It has also been observed today, as well as in reflections on history that the work in Chicago has always been more serious than elsewhere. In a dialogue held at the South Side Community Arts Center, respected photographer from the Black Arts Movement  Bob Crawford spoke to his experience doing a photo show in New York City, where he observed that "the Chicago photographers' work was usually more political. And the New York photographers' work was a little more "art," narrowly."(2)
Deeply familiar with the Chicago artists and authors participating in documenta13, I traveled to Kassel last summer to see their work and consider my hometown art scene in relationship to this massive global event. Below are a few scenes from that trip.
Words+
Jorg Doerig's friends and family have joined him to go have his art critiqued. They pack into a small self-contained room, a sleek writers cottage of sorts, where Jorg unpacks his paintings of flowers, and a self portrait, and layes them out on some shelves and leaning against the wall along the floor. It was time for his appointment with the Chicago Tribune art critic and art historian Lori Waxman, who had been taking half-hour appointments with local artists in Kassel three days a week all summer. Over the visit she asks some questions, but mainly gives her attention to interpretation of the art.
"Why Paint?," she writes in response to Jorg's work. "For love of certain subjects." She concludes.
To watch her type (a mirror of her laptop monitor is displayed on a screen facing the artist and a steady-stream of passer-bys) is akin to watching a live poetry reading. Nothing else can compare to the experience of watching someone invest herself in the creative practice of another. While art criticism has become a game so detached from the making and the maker, Waxman reinvests herself in people and their artistic output. And she herself is on display, revealing the writing process, her process.
Most artists Waxman critiques in this project, titled "60 WRD/MIN Art Critic," have never had their art written about. For the most part she has executed this project in smaller towns throughout the United States with the support of a writers grant from the Andy Warhol Foundation. In these settings, her presence incites tremendous excitement.
She consults an online thesaurus. What is a synonym for "Lovingly"? Jorg stirs, he smiles and looks around at his friends. What a strange experience, to have someone craft language before your eyes about your heartfelt and time-consuming creative activities.
Stone+
In "What Dust Will Rise?" Michael Rakowitz presents an entire room of enclosed vitrines and display tables immediately conjuring the space of a museum, a special collection or an archive. Upon closer look, you notice handwritten notes in thin black marker ink on the glass panes of the display shelving. Like many artists in this installment of documenta, Rakowitz engages in the legacy of the Nazi presence in Germany and in the present military operations and occupation of Afghanistan. The building in which his installation is presented, the Fridericianum, was a library when it was bombed in 1941 and all but 15% of the books were destroyed. The artist elegantly draws a parallel between that sited history, infusing it in the present, with the interrelated history of Taliban destruction of cultural artifacts in Afghanistan – most notably the Buddha statues in Bamiyan.
Presented on the tables I encounter replicas of books destroyed in that bombing, carved out of stone quarried in Bamiyan by artisans Rakowitz commissioned in Italy. Proceeding through the space, books from other bombings, fires, and cultural assassination appear. Many of the books were original printings with intricate woven and printed cover art, shown here in rich three dimensional carvings of the cover, spine, and worn pages – all beautifully carved with precise details. Other books take the form of an open spread, drawing attention to the content through subtle and surprising connections with the form or the act of destruction that inspired the installation. Others, like the oldest lexicon of classical medieval abbreviations, are just devastating because of what they contain, and what knowledge and culture was lost.
Surprise is the crucial word for this experience. As I proceed from case to case and book to book, I keep thinking that I have comprehended the scope of the artistic gesture. And then the next object or collection startles me.  He did what? I think. He really brought some building fragments from dismantled public housing in St. Louis, the Twin Towers, and the Berlin Wall? Yes. Stone carving chisels from Bamiyan made from the remnants of exploded cars and abandoned tanks belonging to the occupying forces? Yes. Surprise after wonderful surprise, the installation unfolds with linkages and nuances that dispel an attempt at easy summary, but provoke curiosity in an unwritten narrative about our ongoing human projects of creation and destruction, war, imperialism, pre-modern and modern.
A highlight of the exhibition, this surprise echoes the best parts of documenta13, an exhibit without an overarching theme – forcing each work to be viewed for what it is.
Soil+
Entering from the garden into the narrow glass doors on the side of the Ottoneum, I am excited to see the work of Claire Pentecost in such an ideal location. Prominently and symbolically located in the the first theater built in Germany, now serving as the Museum of Natural History, the  installation is the entrypoint for an entire building full of works about seeds, science and ecology – one of the most coherent sub-themes within this massive and themeless exhibition.
Pentecost produced this work in residence at The University of Kassel Faculty of Organic Agricultural Science in Witzenhausen and following her participation in a soil workshop at the Rodale Institute in Pennsylvania.
The outcome is a multi-modal installation all centered around a proposed currency called Soil-Erg. She made dozens of drawings with pencil and mud, illustrating a heterogeneous paper money version of Soil-Erg, each depicting a different ecological scene or significant activist and research figures working with food and science. Above the two walls of paper currency, are differently sized medallions of soil. The elaborate tables at the center of the room are piled up with ingots of soil, reminiscent of fantastical gold stashes from Indiana Jones or Fort Knox.
Along the back wall is an intervention into the museum's collection – a move made by a number of artists who found inspiration in the specificity of the temporary exhibition venues. On the left there is a glass display unit from the collection of the Otteneum that shows slices of soil from different depths of the earths crust. To the right, Pentecost fabricated a similar companion unit that serves as a compost pile that will accumulate over time. The insides are equipped with microphones and through use of a headset you can literally hear the energy, heat and process of the decomposition of organic waste. On one wall of the unit, a hand-written chart depicts the phenomenon of corporate land-grabbing in the global south where North American and European companies are buying up massive farm land and even creating "soil farms" throughout Africa and Latin America.
Pentecost's participation in documenta13 is itself heterogeneous. She is one of the few exhibiting artists who also made a book for the 100 Books 100 Days project, she gave a number of lectures and workshops, made a video for the website dealing with the importance of seeds to culture, and was an instructor at the summer retreat on the theme of "retreat" at the Banff artists residency in Canada.
Wood+
The immersive "12 Ballads For Huguenot House" is spearheaded by Theaster Gates along with his design collaborator John Preus, studio manager Theo Boggs, and a rotating cast of staff from his non-profit Rebuild Foundation. Walking into the house,  I immediately feel a complex social energy. People buzzing around, up and down the stairs, posting schedules for the day's activities and consulting with one another about what the morning has in store. The video and audio pieces scattered throughout the 2nd and 3rd floors of the building are still being switched on, and some people just waking from bed.  Art tourist's are poking their heads into the sleeping quarters, asking the people clearly in bed, "do you sleep here"? The Huguenot House is undoubtedly alive with real humans and the art pieces themselves were just a small component of the overall project. It may have one artist's name attributed to it, but something this alive is the work of many.
Mobilizing people to invest in places and buildings is one of Gates' strengths. The building at 25 Friedrichsstrasse in Kassel had been empty since World War 2. Under very different historical forces, there are homes in Gates' neighborhood in Chicago, Grand Crossing, that have also been abandoned for decades (though not quite as long as in Germany). As a crucial facet of his participation in documenta13, a deal was made where a house in Chicago would be purchased and its wooden and metal guts would be converted into objects to repopulate the building in Kassel and at a later date visa versa, forming a kind of architectural material exchange. This insistence that elite cultural institutions should subsidize projects in the places where he lives and works (which has now grown to include a number of Black communities throughout the midwest through the work of Rebuild Foundation) is something Gates unabashedly names in his public presentations.
And in the case of Hugenot House, this subsidy to Chicago cultural possibilities that lie in the future of that local project, have been reciprocated with real life-force being breathed back into the long abandoned building. Throughout documenta, it has been the site of performances, daily yoga classes, community meals and what are said to be the best parties in Kassel every Wednesday night throughout the four months of the exhibition.
Conclusion: The Rematerialization of the Art Object?
As Paul Chan, another participating artist with Chicago ties, commented in a recent interview during documenta, "It is a funny time in art when making something quiet is seen as radical."(3) The expectation has been implicitly fostered through curation and critical writing that new art needs to be participatory. It is not dissimilar from trends in governance and commerce – participation is the key to the hearts and minds!
As a counterpoint to this trend, these four projects start from complex social problems and engaged in the social processes necessary to activate and engage those problems, and then they made art objects and forms. Finding material resolutions to distill the complexity of the world into a form is one of the contributions artists have historically made to the societies in which they live. The work presented at documenta13 by Chicago artists produces a productive challenge for the debates around socially-engaged art practice and its treatment in educational and art presenting institutions. Formalist reactionaries now commonly antagonize participatory art with the same odium as was applied to performance artists in the decades past while Social Practice fundamentalists claim that objects are dead and process is the new vanguard. Perhaps these artists show a third way, a marriage between the qualities artists have long attempted to capture with material forms and the complex social processes necessary to engage the complex social world in a meaningful way.
______________________________________
Footnotes:
1) Rakowitz, Michael – Conversation with the author (7/5/12)
2) Crawford, Bob – AREA Chicago (2008), http://areachicago.org/bob-crawford-and-margo-natalie-crawford/
3) Chan, Paul – Bad at Sports (2012), http://badatsports.com/2012/episode-358-paul-chan-with-john-preus/
[Special thanks to Judith Russi Kirshner, Marcia Lausen, Jennifer Reeder, Lisa Yun Lee, Carolina Ariza, Ayreen Anastas, Rene Gabri, and Scott Berzofsky]
---
So, for some reason I thought the 2014 Whitney Biennial list was supposed to be revealed in December but instead it came out today!
Congrats to all our friends and the folks we do not yet know. We can't wait to see the show.
As curated by Anthony Elms, Stuart Comer, and Michelle Grabner:
Academy Records and Matt Hanner
Terry Adkins
Etel Adnan
Alma Allen
Ei Arakawa and Carissa Rodriguez
Uri Aran
Robert Ashley and Alex Waterman
Michel Auder
Lisa Anne Auerbach
Julie Ault
Darren Bader
Kevin Beasley
Gretchen Bender
Stephen Berens
Dawoud Bey
Jennifer Bornstein
Andrew Bujalski
Elijah Burgher
Lucien Castaing-Taylor, Véréna Paravel, and Sensory Ethnography Lab
Sarah Charlesworth
Yve Laris Cohen
Critical Practices Inc.
Matthew Deleget
David Diao
Zackary Drucker and Rhys Ernst
Paul Druecke
Jimmie Durham
Rochelle Feinstein
Radamés "Juni" Figueroa
Morgan Fisher
Louise Fishman
Victoria Fu
Gaylen Gerber with David Hammons, Sherrie Levine, and Trevor Shimizu
Jeff Gibson
Tony Greene curated by Richard Hawkins and Catherine Opie
Joseph Grigely
Miguel Gutierrez
Karl Haendel
Philip Hanson
Jonn Herschend
Sheila Hicks
Channa Horwitz
HOWDOYOUSAYYAMINAFRICAN?
Susan Howe
Jacqueline Humphries
Gary Indiana
Doug Ischar
Carol Jackson
Travis Jeppesen
Alex Jovanovich
Angie Keefer
Ben Kinmont
Shio Kusaka
Chris Larson
Diego Leclery
Zoe Leonard
Tony Lewis
Pam Lins
Fred Lonidier
Ken Lum
Shana Lutker
Dashiell Manley
John Mason
Keith Mayerson
Suzanne McClelland
Dave McKenzie
Bjarne Melgaard
Rebecca Morris
Joshua Mosley
My Barbarian (Malik Gaines, Jade Gordon, and Alexandro Segade)
Dona Nelson
Ken Okiishi
Pauline Oliveros
Joel Otterson
Laura Owens
Paul P.
taisha paggett
Charlemagne Palestine
Public Collectors
Sara Greenberger Rafferty
Steve Reinke with Jessie Mott
David Robbins
Sterling Ruby
Miljohn Ruperto
Jacolby Satterwhite
Peter Schuyff
Allan Sekula
Semiotext(e)
Amy Sillman
Valerie Snobeck and Catherine Sullivan
A.L. Steiner
Emily Sundblad
Ricky Swallow
Tony Tasset
Sergei Tcherepnin
Triple Canopy
Philip Vanderhyden
Pedro Vélez
Charline von Heyl
David Foster Wallace
Dan Walsh
Donelle Woolford
Molly Zuckerman-Hartung
PS. Thanks to Jerry Saltz's facebook for the list.
---
1. Leap into the Void at The Mission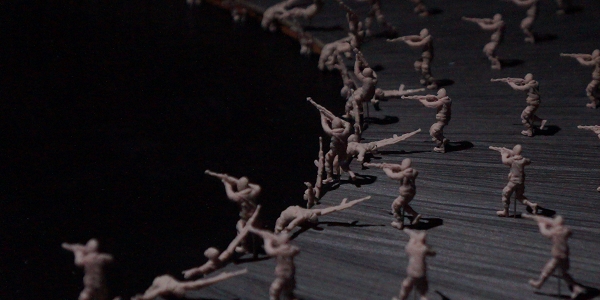 Work by Fernando Pareja and Leidy Chavez.
The Mission is located at 1431 W. Chicago Ave. Reception Friday, 6-8pm.
2. A Matter of Structure and Utility at Kavi Gupta Gallery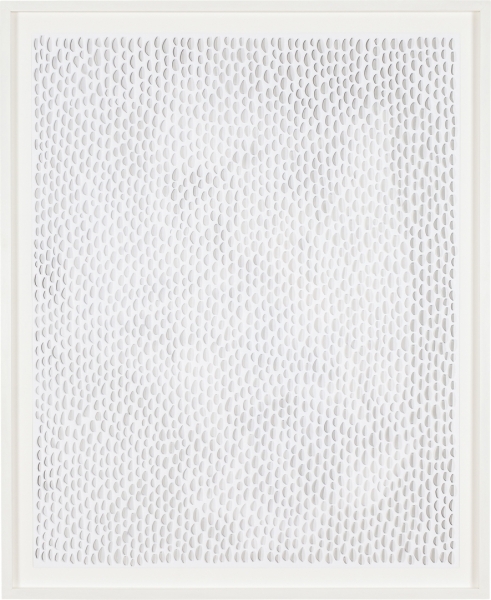 Work by Curtis Mann.
Kavi Gupta Gallery is located at 835 W. Washington. Reception Saturday, 4-7pm.
3. Journey into Whatever at Bert Green Fine Art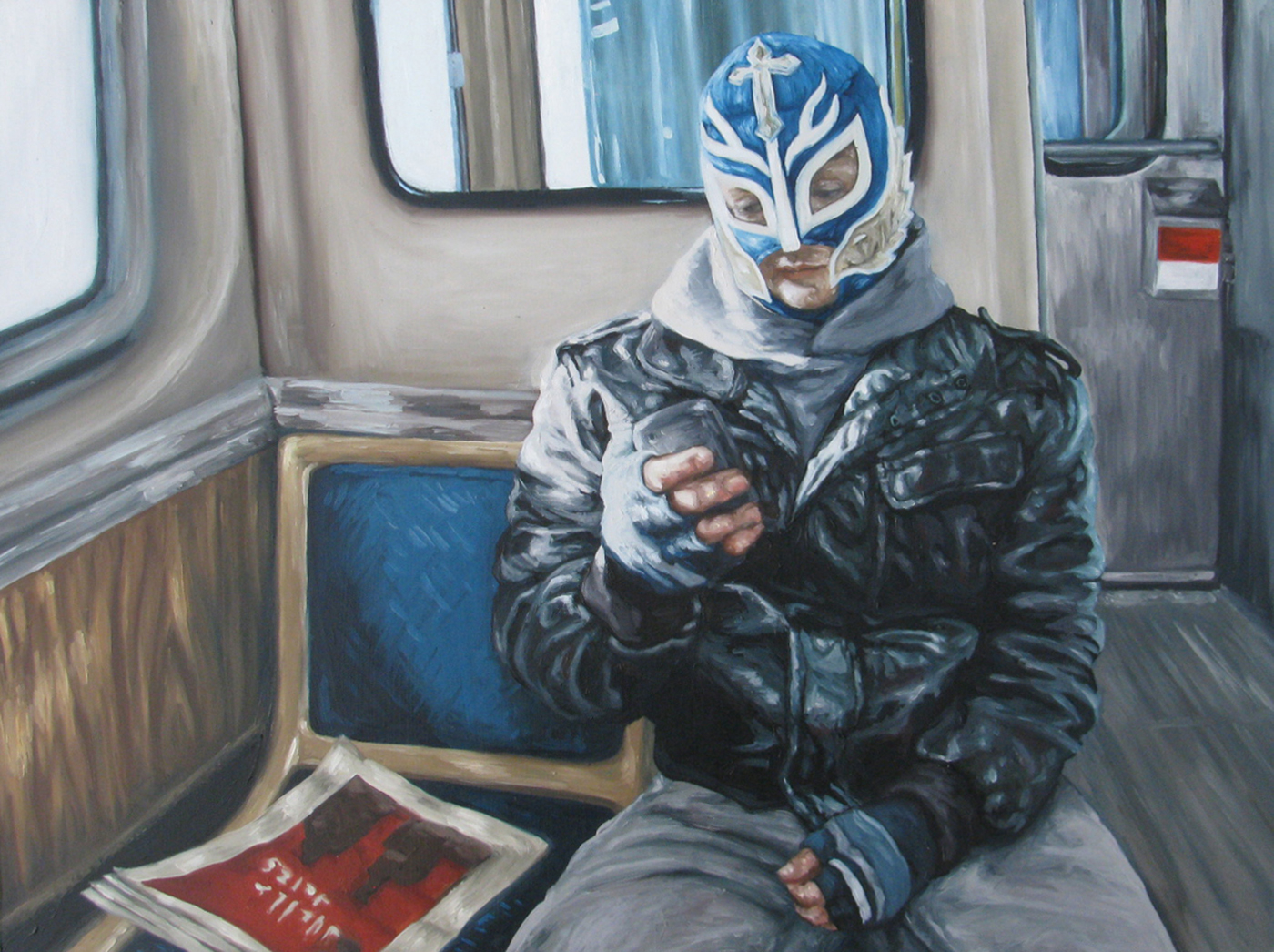 Work by Gabriel Mejia.
Bert Green Fine Art is located at 8 S. Michigan Ave. Suite 1220. Reception Saturday, 5-8pm.
4. Your implications have implications at slow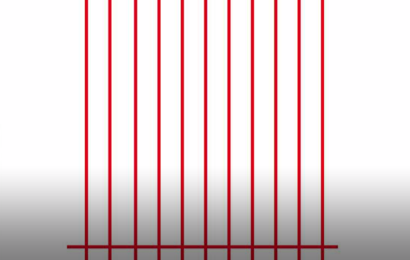 Work by Laura Davis, Michael Sirianni, Nicholas Wylie, Rami George, and Stephanie Syjuco.
slow is located at 2153 W. 21st St. Reception Saturday, 6-9pm.
5. In the Turn at Andrew Rafacz Gallery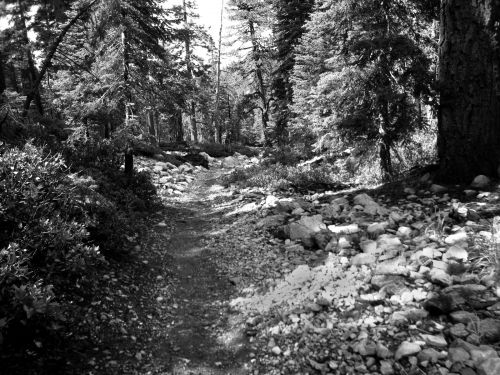 Work by Lauren Edwards.
Andrew Rafacz Gallery is located at 835 W. Washington. Reception Saturday, 4-7pm.
---
It has turned cold. Recent mornings here have felt more like February than November. The nights grow ever longer. As we prepare to turn inward, to tuck ourselves away during the coming winter months, I typically want to rest my oversaturated mind, find peace from the overwhelming and inescapable cavalcade of cultural production and consumption. I have instead found myself invigorated by and seeing anew through an analogy from Jean Cocteau.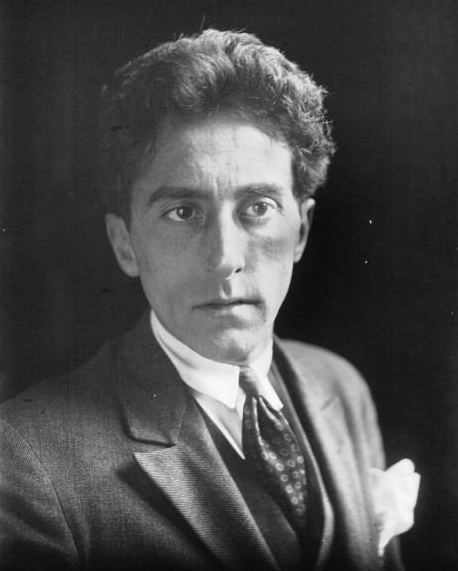 In a translation by Richard Howard, Cocteau writes:
The mechanism which imposes upon us the beauty of a picture, or, more correctly, the combination of lines and volumes capable of moving us, results from a phenomenon analogous to what triumphs over our intelligence when sexuality speaks. A kind of psychic sexuality provokes a moral erection comparable to the sexual one in that it functions without our control and gives immediate proof of the effectiveness of the forms and colors likely to convince a secret part of our organism.
I gravitate toward artwork that can only be consumed through time, that makes me think, that forces my mind in new directions and challenges my notions of what the world is. I know how to live with that work outside its context. I know how to carry it around with me as it informs the rest of my life because it has already existed in my mind through successive moments. I have a harder time knowing how to live with artworks that are immediate, nebeneinander. It might thrill me to my core, but where does it live in my brain when I leave? Why does it still influence me as I continue through my days? Its momentary nature belies its potential impact. The moral erection, the immediate, nonrational responses I have to those works shifts that impact away from my rational mind to a place I cannot see, a place all the more profound because it is unplumbable.
I can tell myself I love this video because I love doughnuts and state capitols, but my reaction lies beyond any simple intellectual explanation. I can tell myself that I love this recently completed mural for how it erases the Machado poem or that I can balance my sincere and ironic appreciation of the eagle, but, again, those explanations fall short of what happens when I see it.

I am, of course, reminded of other times I leave my rational mind behind. Cocteau sprang to mind as I was overwhelmed by the moonlight when I took the trash out last night, the light far more sublime and mortality-inducing than beautiful. He was with me as I woke from a dream that has haunted my days, my unconscious mind imprinting my waking life. He is with me as I sift through the numbing plenitude of the internet, finding flashes of light in the darkness that tug at something.
Humans have evolved to block out sensory inputs; unlike dogs we are no longer so overwhelmed by the smell on a tree that we drop everything to investigate it. We can use that saved brain power and energy to explore the mysteries of the universe, but, increasingly, we must develop ways of ignoring the hundreds of words, the thousand of sounds, the millions of things trying to grab our attention in order to know that mysteries still exist.
I hear Cocteau calling us back to a moment when we felt the psychic sexual thrill of seeing the first painting that called to us, the moral erection of that song that still stirs our heart. He reminds me to pay attention when I feel stirrings that work beyond my rational brain, past the barriers that I put in place to manage the onslaught. More than a silly or dismissive way to explain away what we like, he reminds us that the experiences that move us precisely because we cannot explain why they do are necessary and important to our complete health as mental, physical, emotional, and aesthetic beings, all the more so as the culture that confronts us screams that it is as profound and fundamental to our well being as that kind of experience.
At the very least, he sheds light on why I continually respond to and deeply love the mural I pass every day that for one reason or another hits me like a…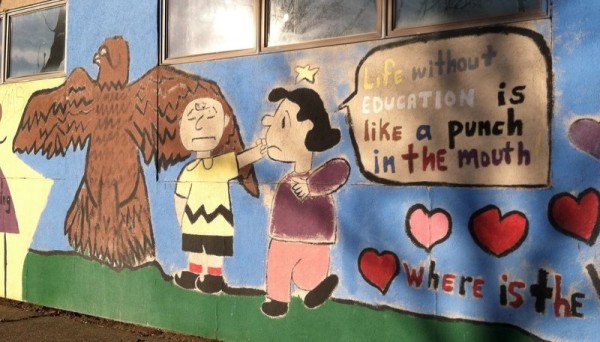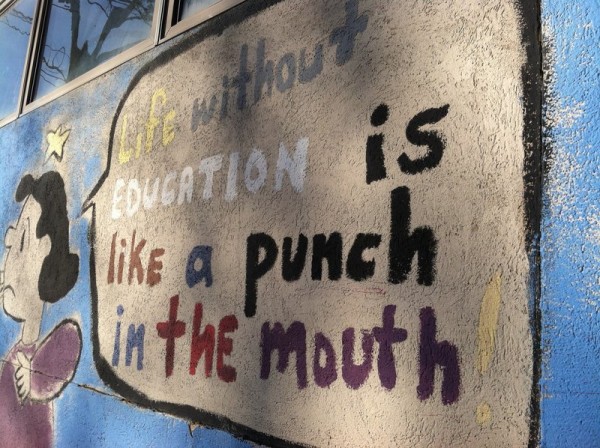 ---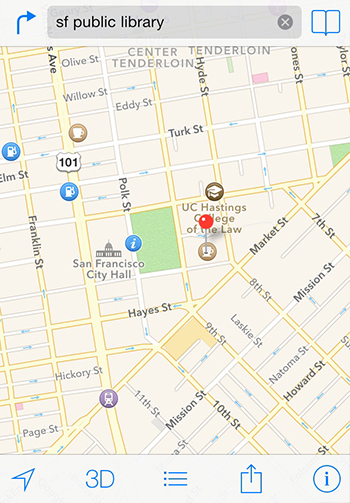 The best thing about living in San Francisco is that I can step out of my apartment and, without any planned route, find an art exhibition that I had no idea was happening.  At the beginning of every month, I like to walk my rent check to my property manager's office by the Civic Center.  The Civic Center is a cultural crown of jewels in this city with a symphony, ballet, opera, library, and museum surrounding City Hall.  SF is so cool that the city closes the Civic Center for massive events like a concert by Deadmau5 or the 2013 X Games Dew Tour complete with a skate park and dirt bike course.
On this particular rent-check-walk, I decided to check out the main branch of the SF Public Library at the Civic Center.  If you've seen the 1998 movie City of Angels starring Nicolas Cage and Meg Ryan, then you'll understand this: it's the same library that all the angels in black coats visit to read books and stand around looking creepy!  Little did I know that there would not only be one exhibition, but five!  Stumbling across these exhibitions in a space like a public library brought me back to undergrad and learning about the idea of curating.  It's an interesting position to be curating a show at a library — a local history and audience are engaged primarily with something else in the space (the books) but are somehow casually distracted, entertained, and educated by the exhibition.
The first exhibition I accidentally saw was called Three Artists Witness the Occupy Movement: A Plein Air Story.  If it weren't for the table jutting out in the middle of the walkway, I would have kept on going about my tour of the library, but I paused to see what the enclosed case had to offer.  It was lovely paintings by three different Oakland artists who documented the Occupy Oakland and Occupy San Francisco events.  The placard said "Exhibition continues in cafe wall display case, lower level," so I decided to see what else was in this show.
The painting show was a lot of fun.  It's unclear who curated the show based on the text provided, but a little googling on the Internet leads me to believe that the show was originally presented as Occupy: The Plein Air Story and curated by Eric Murphy at Oakland's Joyce Gordon Gallery last November.  This exhibition cleverly puts three different artists side-by-side for a comparison of the same subject depicted in varying styles. John Paul Marcelo's The Port Shutdown is an eerie march of shadowy dark figures, Anthony Holdsworth's Occupy the Port of Oakland (2011) is a bright pastel palette of folks walking towards the sunlight, and Jessica Jirsa's Closing of the Ports (2011) is a colorful cartoon-like gathering of characters.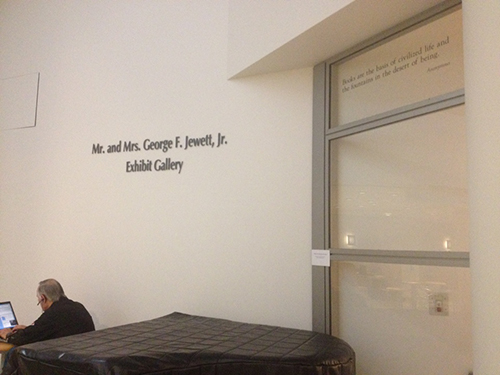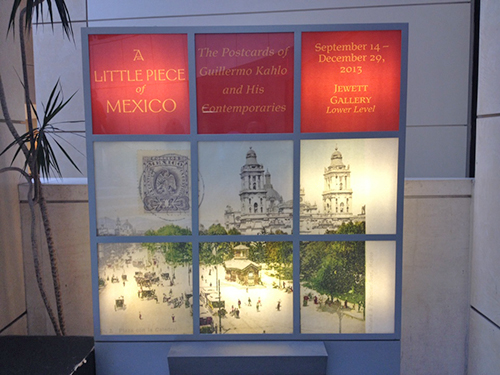 After looking at the painting show, I turned around to discover the Mr. and Mrs. George F. Jewett, Jr. Exhibit Gallery and an exhibit titled A Little Piece of Mexico: The Postcards of Guillermo Kahlo and His Contemporaries.  In a place like a library, the contributing parties to making the show possible are a paragraph in itself.  Here's who is billed as presenting the show: The San Francisco Public Library, the Consulate General of Mexico in San Francisco, the Department of Latina/Latino Studies in the College of Ethnic Studies and the Office of Research and Sponsored Programs of San Francisco State University, and City Lights Foundation.  Wow!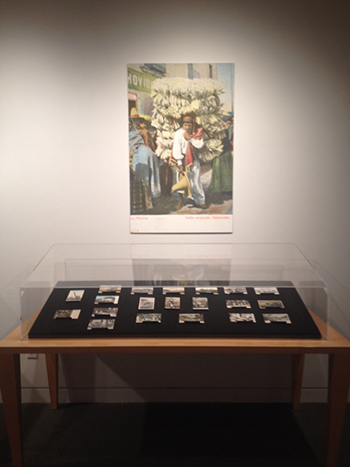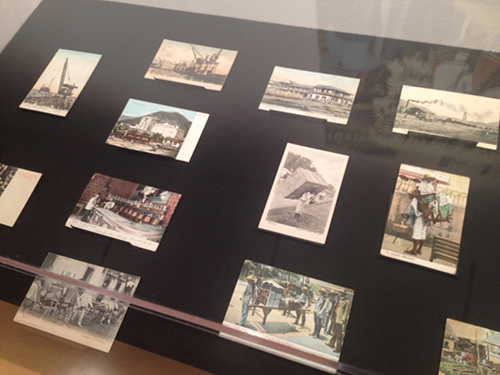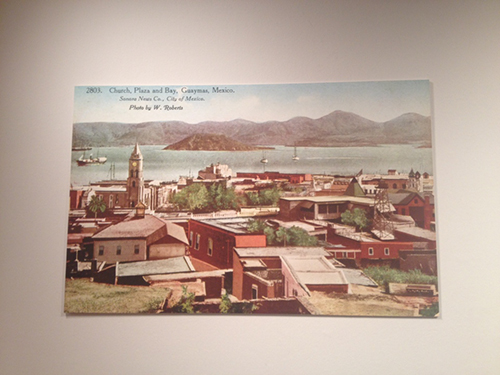 The exhibition makes a fantastic case that the cultural identity of Mexico was shaped by the popularity of the photo postcard at the turn of the 20th century.  With images from international photographers like Guillermo Kahlo, Abel Briquet, F. Leon, and CB Waite, the exhibition honors the iconic images that undoubtedly shaped the current contemporary branding of Mexico's visual identity.  The significance of this show to the local Mexican and Mexican-American population is palpable, while also revealing the country's heavy influence on San Francisco's own architecture and landscape design.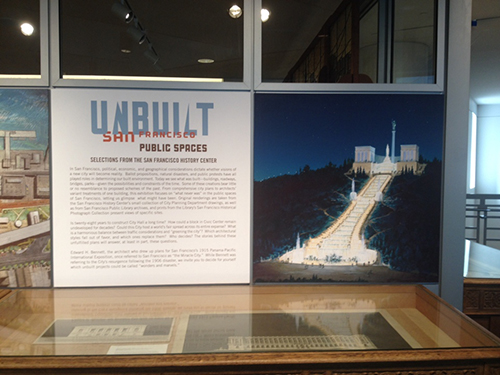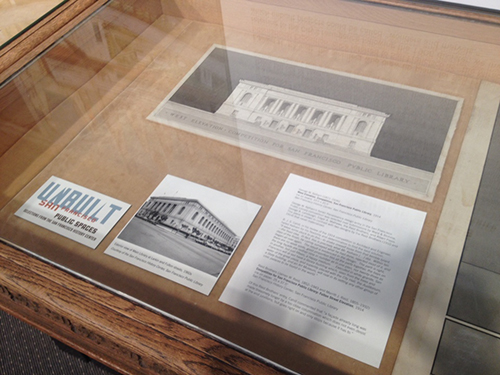 As I walked upstairs to check out a show about tennis, I noticed another show with fabulous architectural renderings.  An exhibition titled UNBUILT: San Francisco spans five venues throughout the city and presents proposals for various buildings and urban spaces within the city that were never realized.  My dad is an architect, so genetically so am I, and so this show was really interesting to me.  Architects also have the best handwriting in the world, so there's something about architecture and text that is always aesthetically amazing.  As a resident and avid walker of SF for almost five years, I genuinely appreciated seeing these renderings and sketches for spaces that I've come to call home — it's like walking into an artist's studio or flipping through your old sketch book and seeing thoughts and ideas for past work that just never made it off the page.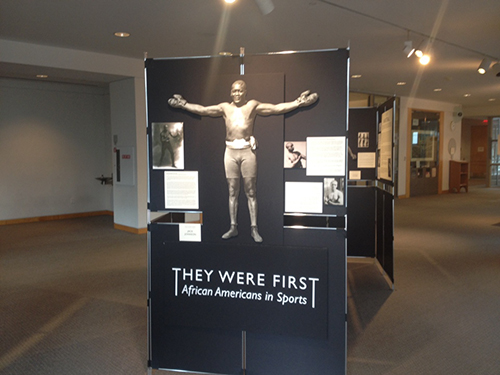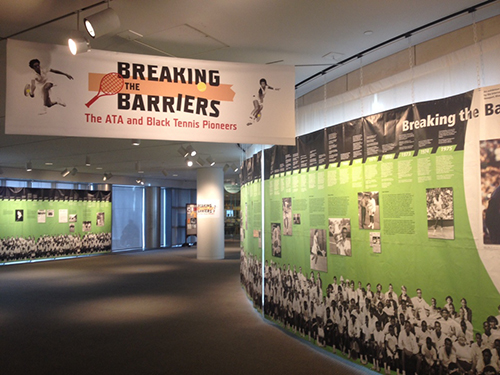 Finally, and coincidentally enough for me as a blogger for a blog called Bad at Sports, there were two exhibitions highlighting sports — They Were First: African Americans in Sports and Breaking the Barriers: The ATA and Black Tennis Pioneers.  Both exhibitions provide a more historical context (rather than visual) of the obstacles and triumphs of a marginalized group of athletes.  Simple timelines line the walls of the library with photos and text reminiscent of a history museum show or even the waiting lobby to the "Soarin' Over California" ride at Disneyland.
The best part of this entire SF Public Library multi-exhibition day was seeing artwork from the winners of an art contest for kids coinciding with Breaking the Barriers.  Northern California kids aged 7 to 18 were asked to portray how they have broken barriers.  As cynical as I've become now that I'm 30, there will always be a special place in my life in memory of the art opportunities I got when I was a kid.  Growing up, my suburban New Jersey town offered plenty of art opportunities for kids that I completely devoured: art classes at school, annual art exhibitions at the mall, and contests for different purposes like a banner at an elementary school or the yearbook cover or the town's New Year's Eve celebration logo.  How many high school students enroll in AP Art or go through the lengthy submission process for a college art application?  It's awesome that the library exhibition included this artistic component for the local kids, and its something I believe will be a special introduction for every participant, especially the winners.  Watch out Hugo Boss Prize 2035!
Conclusion?  Who knew a day at the library could be so fun and artsy!
---