Join us if you dare for a Halloween scare…….
This Halloween, ACRE invites you to eat, drink and be scary at our annual benefit at Heaven Gallery. No mere mortal could resist this thrilling evening of drinking, dancing and mischief-making! Featuring devilish cocktails by Hornswaggler,Revolution brews and a black-light inspired menu from our very own kitchen witches, this will be a Halloween to remember. Bid on artist-made raffle items from our unique Cabinet of Curiosities (curated by ACRE, Allison Quinn Peters & Tricia Van Eck) or let your soul be possessed on the dance floor by Brian Kirkbride's special horror film-inspired DJ set and the ghouls from Chances Dances. Before the night is through, you'll be bewitched by burlesque dancer Red Rum,  frightened by the antics of the mystical Sanjula and mesmerized by palm reader Mister Vibe. Come dressed in your best costume and be ready to howl and party all night!
Purchase tickets in advance at: www.artful.ly/store/events/1792
SPECIAL THANKS TO OUR SPONSORS:
---
By Kevin Blake
Josh Reames makes smart paintings. Whether he is deliberately utilizing painting tropes, such as the dripping brushstroke, or deploying obvious geometric abstraction, Reames' work acknowledges his awareness of the painting vocabulary while creating his own grammar from canvas to canvas. Reames aligns his understanding of painterly tradition with his interpretation of contemporary experience that speaks directly to the viewer through text, emoji, palm trees, and anything that seems fitting in the moment of creation. As Reames carves out his own space in the painting world, he wittingly nods his head to a history he  knows well.
Kevin Blake: You have an interest in the escapist ideal, and while those ideals are more overtly addressed in your multimedia constructions, I think your paintings, at times, depart from those ideas and allow for a more eclectic read. Can you talk about your modes of production and how those different methodologies have different relationships to your conceptual framework?
Josh Reames: Sure, I think the paintings lend themselves to an eclectic read, but only as a group. I try to keep individual paintings focused on specific ideas. I think all of the work addresses escapism, just in varied ways. The tropical imagery and psychedelic drug references are just as involved with escapism as the act of painting is. The eclectic read is a product of my scattered focus, which is probably a product of internet culture. My conceptual framework is pretty broad; if I had to describe my intentions with painting it would be to use painting as some sort of filtration device for cultural bi-product. I mean, I'm super into the idea of relativity (cultural, moral, etc.), and painting has this ability to literally flatten images and references into a rectangle. By pushing images together and composing them into a painting, you can flatten the references and remove the hierarchy of importance. So Abstraction, palm trees, emoji, drippy brushstrokes, dollar signs, cigarettes, and the Sphinx can all be flattened to the same level – composition. Either nothing is really dumb anymore, or all of it is, it's getting hard to tell.
KB: You make pictures that perpetuate your grasp of the canon of abstract painting, and I wonder if there is any escape from those parameters. When you are making paintings, how do you filter your knowledge of abstraction (historical and contemporary) to maintain something that is your own? Can artists escape the initiated forms they supersede? Can painting ever escape from itself?
JR: Maybe I'm wrong, but it seems like the need for iconoclasm is outdated. I think the idea of superseding or escaping abstraction comes from some need for a linear narrative of "this became that, then that became something else" which I think has been a legit way of understanding a progression of artists, at least for the past few hundred years. But now I think it's a little different; sampling, re-sampling, homage, and straight plagiarism are all viable forms of historical awareness in art. The drippy brushstroke has historically been an abstract tool, meant to express the presence of the artist – a remnant of the physical self. But over time, that becomes a trope, a symbol separated from it's original context. I think this is liberating in a way. It's sort of like Tarantino using the tropes of old kung-fu films like Zatoichi and Lady Snowblood; he takes an outdated thing and makes it fresh. In that sense, Robert Motherwell or Franz Kline didn't have the internet, so I have a fresh set of tools to play with.
KB: Is sampling, re-sampling, homage, and straight plagiarism unavoidable at this point?
JR:Â  I mean, all the best artists have stolen, it's just easier now. When you are completely inundated with images on a daily basis there becomes this subliminal pool of imagery and information that seeps into the studio. I don't think it's completely unavoidable, but if you are like most artists with access to the internet, it is pretty difficult to avoid. That being said, I don't think there is anything wrong with it.
KB: Your paintings reference artists like Charline Von Heyl and Christopher Wool among others and I am curious as to how you think you arrived at those influences?  What I am trying to understand from your perspective, is how you feel about so many artists drawing from the same well. The internet provides an infinite range of source material, yet the pool of imagery that seeps into your studio, seems to be oozing into everyone else's simultaneously. Fortunately, you are distilling it all in an interesting way. It is a pattern in art history for contemporary artists to be in dialogue with one another. How do you negotiate those terms and demands?
JR: I love Wool and Von Heyl, I think they are some of the most important living painters. I relate to how Wool handles abstraction, especially with the screen prints, in an almost hands-off kind of way. He takes abstraction, historically an emotionally charged way of painting, and filters it through a Warhol-ian process that removes the hand. I think there is a lot of humor there, super dry though. So good! There are only so many ways to make paintings; different combinations of styles, tropes, paint handling, tools, etc. Eventually it's not difficult to take a step back and see artists doing similar things. I'm not sure it matters though, as long as the thing being made is interesting and has some connection to the artist. After that it's all personal taste.
KB:Shifting gears a bit, I was hoping to talk to you about text in your paintings. Often times, text is integrated into the image and sometimes the text appears to be squeezed out of the tube on top of an abstract composition–your paintings "YYY" and "Land Grab" come to mind. How does text operate for you in your paintings?
JR:Text is a way to guide the viewer, to give some sort of context to an otherwise abstract painting. I always integrate the text so that the letters or symbols double as marks, either sprayed or squeezed in the same way any other mark would be made on the canvas.
KB:I'm interested in your word choices and how, if at all, you see them as a personification of yourself. Or are the words derived from language you see fitting into your escapist trajectory?
JR:I keep a running list of text ideas in my sketchbook and on my iPhone. The word combinations that get used are usually really open ended, allowing for specific/individualized reads, but also have a specific connection to me. Sometimes it fits the escapist trajectory, but others will be references to books I'm reading or words that I came across that stuck with me.
KB: Can you talk about how the array of non-traditional painting materials have made their way into your painting practice? Spray paint, airbrush, and fluorescents, to name a few, seem to be the rage. Are these materials and/or high key palettes coincidence or do you think they reflect something more concrete?
JR:In a broad sense I think non-traditional painting materials, usually applied to abstraction, are a way to make abstraction relatable. Matias Cuevas' poured paintings on carpet, or Andrew Greene's glass abstractions are good examples; they bridge the gap between a messy abstraction which really just exists as a historical trope, and everyday materials, which pulls the trope into something new. I don't think my work really fits in this category,  I think using airbrush and fluorescents aren't that uncommon; I started using the airbrush because I have no patience with paintbrushes. I'm a pretty shitty painter if you put a brush in my hand, I can never make it do what I want it to do! The airbrush is different, it's way more versatile, and quick. As far as the high-key color palette's go, I'm sure there's some coincidence there, maybe trends – personally I just like shiny things…
KB:I think you are right, these techniques are becoming more and more common in contemporary painting practices.  Maybe it relates to a culture of instant gratification, immediacy, and even escapism.  Does the pace of everyday life influence your material applications and the speed at which you make your work?
JR:I agree, I think people (artists included) generally have a short attention span and as a result, a lot of impatience. I know I do. I am always able to look at a painting that took months to complete and think "wow, that took a lot of time". But I don't think the amount of time something takes makes it any better than if it was quick. Again, my use of the airbrush is entirely about speed and impatience. I want the paintings to look meticulous, with slick surfaces and plenty of precision – but I want to make a lot of paintings, so speed is key! The pace of everyday life probably has an indirect influence on that.
KB:Speaking of the pace of everyday life, how do things look in your studio right now as you prepare for your solo exhibition at Luis De Jesus in Los Angeles this January? What do you plan to show?
JR:It's crazy in here, I just got back from an 11 day trip to NYC where I saw some pretty rad shows (Josh Smith, John McCracken, Joshua Abelow, etc.). It's great to be back in the studio working on some new paintings. I think I'm going to make a handful of emoji paintings and text paintings with text-message shorthand. The working title is THE INTERNETS. Time is such a luxury though, I've been considering hiring a studio assistant so I don't have deal with those pesky tasks like stretching and priming canvases… we'll see!
Kevin Blake is an artist and writer working in Chicago.
---
For over two decades now Judith Brotman's practice has hinged on relationships built between people. This has taken several forms over the years, and hopefully you've had the opportunity of seeing some of her recent work at Bike Room in "I Dozed, I Napped, I Writhed, I Dreamed (reviewed here by Bad at Sports's own Caroline Picard); at Slow Gallery with "New Word"; or at Gallery 400 in "Whisper Down the Lane."
For the exhibition "New Word," Brotman used the Jewish Kabbalistic prompt of finding a word to follow for the rest of your life as an impetuous to generate 1000 new words, including some of the following examples:
skibbring (milestone)
curloup (turnip)
bettergeal (cousin)
squobe (Nutella)
ifflorgi (synthesize)
Brotman relinquished some control over the piece's manifestation by "not touching the work," tasking the organizer of the exhibition to fabricate the piece by inscribing the words on the wall for her. Although many of the words are humorous sounding, and the project on the whole involves a certain amount of playfulness, it forces a certain obligation and responsibility on the viewer as well.
In her piece "93 Dreams of Summer" from "Whisper Down the Lane" she generated several texts, related to koans in both their brevity and enigmatic nature, and created a sound recording of her reading them which viewers were invited to listen to over headphones. The phrases, while often absurd, are also witty and poetic, reflecting the skill and comfort with which Brotman writes:
Dream 6. You invent a machine that can play the violin, devein shrimp, and shred documents all at the same time.
Dream 27. You live in a world where there are restrictions to saying "Good job," to your children. Saying it too often leads first to fines, then imprisonment, and ultimately the death penalty. You breathe a sigh of relief.
Dream 55. You are twelve years old, and God comes to visit dressed as a lawn chair. You say hello and sit down.
Dream 87. You legally change your name to "Tater."
In both these exhibitions, Brotman engages language— either via the written word, or words read aloud— and they also both feature words or texts generated by her. Although she has stated she's as influenced by visual phenomena as she is by literature, Brotman also views both works as engaging with that same, singular, overarching concern that continues to occupy her regardless of the medium she is experimenting with— relationships.
Her interest in relationships has translated into a focus on narratives, especially love stories. Brotman's tastes run the gamut from day time soap operas to tales of unrequited love, or unconventional, odd ball works that, while they're well known pieces of literature, may not typically be thought of as love stories (take Frankenstein for example, one of her favorites).
The pivotal moments, or moments of drama that these stories often hinge on, draw Brotman to them, and while she can appreciate the tension and theatricality that arise from their seemingly unending series of climaxes, she's as equally taken with "the possibility that things will go wrong…"
In a cruel example of life imitating art, Brotman had just such a pivotal moment this past summer, in the form of a hand injury; "…(I) lost the use of my wrist and I couldn't make anything and I didn't know if it was going to come back, and it was very depressing… and people were saying to me, this is going to be an opportunity, and I… wanted to punch them, with the good hand (of course)."
This did lead to an opportunity however, and it took the form of a long-term project that, although she claims to have no idea how it may develop over time, imagines it going on, "for the rest of (her) life."
The parameters of the project involve Brotman visiting the homes of friends and near strangers alike. She asks them to read to her aloud for forty-five minutes to an hour while she audio records them and takes some still photographs. There's a certain amount of latitude in what they may choose to read, but Brotman requests that it be a text of meaning.
"Careful what you say, because… when I started at the School of the Art Institute in the late eighties I said there is one thing I will never, ever do, and that is performance," jokes Brotman. And while her artistic overture is somewhat fluid in this project, she is still interested in the same kinds of dramatic tensions and relationship cultivation.
Generosity seems inherent in the act of inviting someone into your domestic space, thoughtfully selecting a text of meaning, and then sharing both your time and energy in reading it aloud, but the work is complicated by some of the quieter, darker reasons for Brotman's impetus for the project— a cultural critic of a fast paced, compartmentalized, multi-tasking society that listens to books on tape, reads off a tablet, and texts or emails instead of making face time.
Although the project is only newly underway, Brotman has noticed that it asks a lot of her as a listener as well, and requires a heightened level of "focus and presence." The project seems to repay careful, thoughtful and active listening, but Brotman is honest about stating that, "…pivotal moments may or may not happen." Although the action of being read to is repetitive, there's so much variation within each discrete event that it's difficult to generalize. She does go on to say that, "…many of the readings have been exquisite and some have not been. Sometimes I can't wait for it to end— and that's usually when the reader can't wait for it to end—…. And then sometimes it really is like a little love story… I have this feeling of being carried away, there's this falling in love moment, that, I don't know what else to call it, I'm inspired, I'm excited, I'm curious, I leave feeling like I have 300 times more energy then when I came in."
The act of reading aloud to someone is usually an intimate affair, but Brotman is experimenting with performing the readings publicly, and recently had the opportunity of being read to for part of "The American Dream: (W)holy Grail" in Edgewater. And although previously her site-responsive installations constructed largely from objects crafted from paper were exceedingly fragile and ephemeral, she is deriving a certain amount of pleasure from  the act of archiving, cataloguing and retaining these readings. It's clear that the performance itself, rather then it's mere accumulation, is still what's most compelling to her though; "it has stripped down to the core what I care about most." Perhaps as the project marches on, she will find herself generating love stories instead of merely listening in on them.
Interview conducted in October 2013.
The author would like to thank Judith Brotman for her assistance.
All images courtesy of the artist unless otherwise noted.
---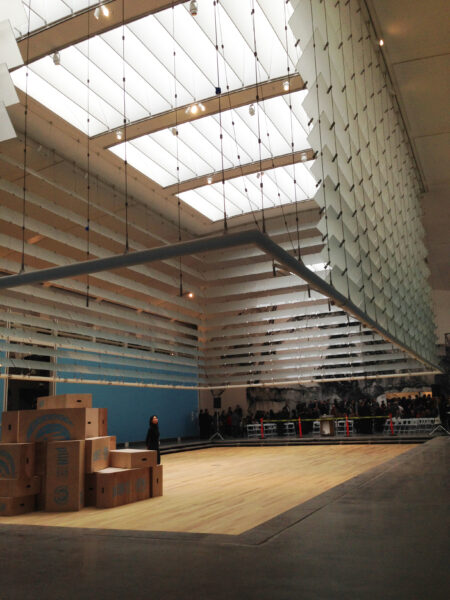 Queens Museum
This has been a pretty great fall in the borough of Queens.
From the NY Art Book Fair and Maker Faire earlier this season, to the ambitious Empire Drive-In that just closed 10 days ago, Queens – typically perceived as the dowdy counterpart to Brooklyn's thriving culture of creative professionals – is loudly staking its claim as a cultural destination in NYC.
And now the icing on the cake: the Queens Museum will open its newly renovated and designed facility on November 9th. Doubling in size to 100,000 square feet, the building, which was originally conceived as the New York City pavilion for the 1939 World's Fair, has expanded to include the space of a former ice skating rink, with a soaring, light-filled, 48-foot ceiling atrium.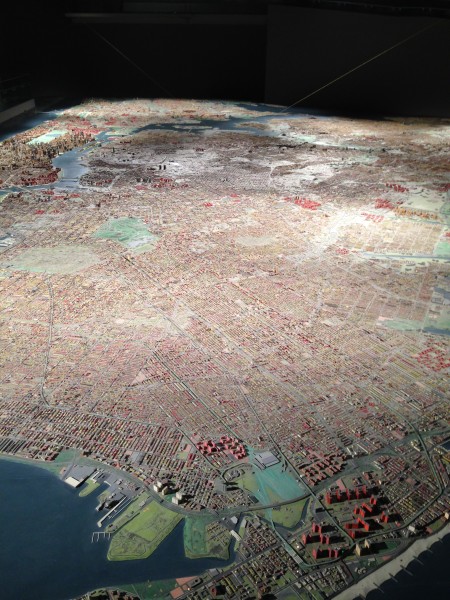 Panorama of New York City
The inaugural season at the QM includes solo exhibitions by Bread and Puppet Theater Founder, Peter Schumann, Pedro Reyes and Jeff Chien-Hsing Liao, as well as the sixth installment of the Queens International. New installations of the permanent collection galleries impress – including, of course the panorama of New York City, easily one of the museum's greatest assets.
Peter Schumann: The Shatterer is incredibly staggering, both in scale and aesthetic prowess – and in the museum's visionary curatorial decision to highlight work that is often dismissed by the mainstream, as their blockbuster opener no less.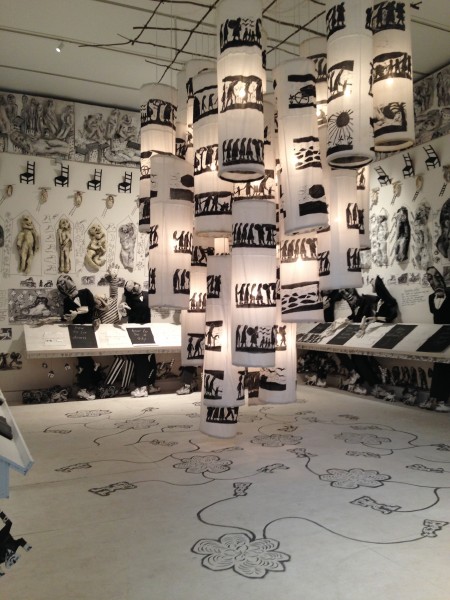 Peter Schumann: The Shatterer
Other galleries featured works representative of the rainbow of cultures in Queens including an exhibition of Cuban artists from the collection of Don and Shelly Rubin (major benefactors of the museum), and a gallery dedicated to the work of artists from Taiwan.
The museum – which has also changed its identity from the Queens Museum of Art to simply the Queens Museum – follows a one-word mission statement: Openness. As an ideology, the museum has been pursuing this purpose aggressively during the tenure of Executive Director, Tom Finkelpearl. Now, it has the physical space to complement it.
The museum will also include a branch of the Queens Borough Public Library, planned to open in 2015. This smart partnership is indicative both of the radically shifting roles that museums and libraries are evolving toward, and the leading role the QM has taken in creating a hybrid, inclusive, social space that will soon become the model for cultural institutions. From their characteristically large focus on service-based public programming and community involvement, to their collaboration with Queens College (CUNY) and the community of Corona on Social Practice Queens (SPQ) — an MFA with a concentration in socially-engaged practices — the QM is setting a high bar a new museum standard.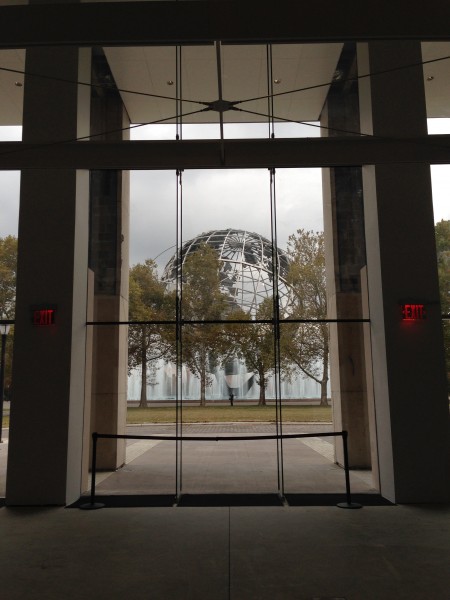 The view from the atrium
---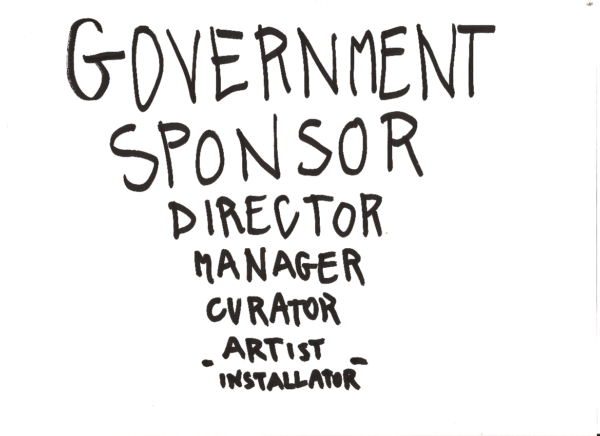 "Tumblr is a great way for people who don't create content to share content thus lending their life some kind of creative import."  This is the somewhat omniscient Jayson Musson's tweet from a couple of weeks ago.  The more I think about it – and I have been thinking about it way too much – the more I realize that he's probably right.  There are a lot of people on Tumblr and I am one of them.  And I cannot get enough.  But you know what, I don't care if these people haven't created the content they're posting, at least they're posting content – which, in of itself, is a creative act.  And it's visual, and I personally am constantly learning from it.  It's a visual literacy of the highest import.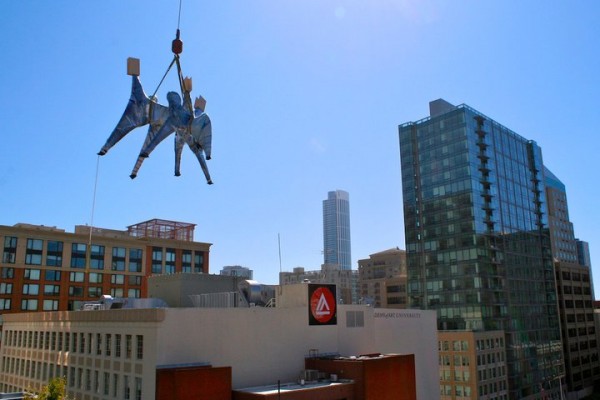 My own Tumblr, Installator, is a curated (for lack of a better term) blog of other people's content.    Installator (wrapit-tapeit-walkit-placeit) is essentially a compendium of art in a state of movement – being installed, de-installed, moved, crated, knocked down, hung, lifted, cleaned, screwed together, and on and on.  It's about art as an object, but decidedly not the object that most people understand it to be.  Not precious, or in some cases priceless, well-lit aesthetic nuggets that just seems to appear on walls, or pedestals, in fields, on buildings and above couches.  These are images of artworks that are not static.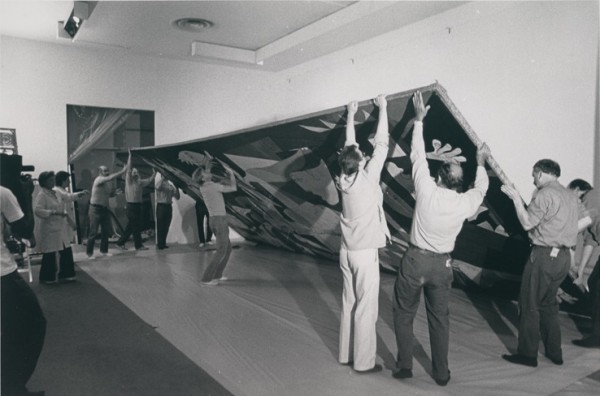 Sometimes I wonder if people who go to museums or galleries think these things just kind of magically appear overnight – like some sort of aesthetic fairy flitting down to delicately place a painting on a wall with their sparkly fairy-dusted level.  Well they don't, and there is a magical coterie of individuals who do make it happen: art handlers/preparators/riggers/etcetera.  I am not an art handler, though I have done my fair share of handling art (I'm also married to a former preparator).  It is with the utmost respect for these folks that I showcase them in the photos that make up Installator.  Other people are impressed too.  Of the many comments I do get on one photo or another – a common one is some form or another of: "I want to do this for living!"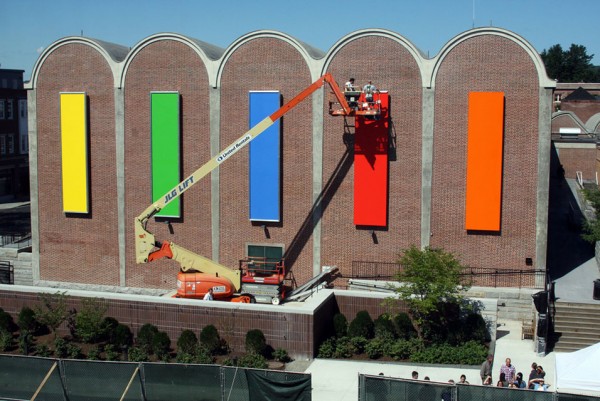 Looking for images can be a pain in the ass, but when I find a good one I get really excited.  I have a loose set of criteria that I stick to when finding them; ideally it's a large jpeg; includes an image of a person(s); is of an artwork or artist that I admire; is visually representative of the act of installing or de-installing and has to be stimulating to look at.  Funny pictures help, as do process-oriented sets of images.  I mostly start with a Google image search including an artist's name (or sometimes an artwork) and the word "installing".  Another route I take is plundering the Facebook photo albums of museums.  I find that European museums do the best job of documenting their behind-the-scenes, but there are a few museums with their own oft-updated Tumblrs, blogs and websites (the Dallas Museum of Art, Contemporary Museum of Art, Houston and the Walker Art Center are tops.)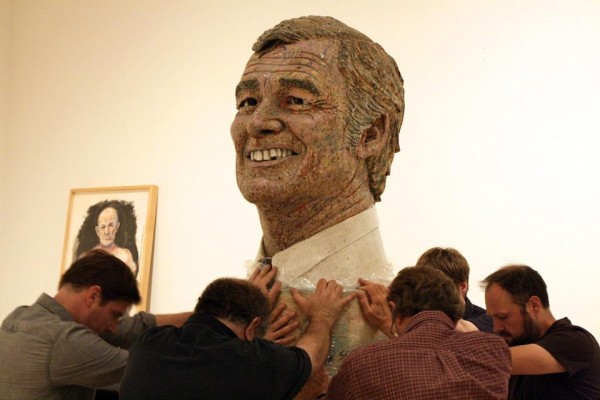 At this point it seems as though a lot of Museums are catching onto this peeking-behind-the-curtain-thrill.  Many of them are sharing much of the work that goes into setting up an exhibition, not only by posting more and more images for the public, but also using it as a form of education about the lives of artworks.  This can only be healthy.  It humanizes the pricelessness that these objects are assumed to have once they enter the institution.  It also showcases the care for these objects from a preservation standpoint.  I thought this quote from the Chrysler Museum of Art was interesting, even though the images they did post were some of the most beautiful I've come across: "We generally do not discuss anything related to the movement of art. There are lots of reasons for this, ranging from the obvious (security) to the obscure (proper protocols and handling).  …. We rarely if ever actually photograph art being moved. This is [a] field where mistakes are not an option, and a great work of art being damaged because somebody tripped over a photographer just can't happen."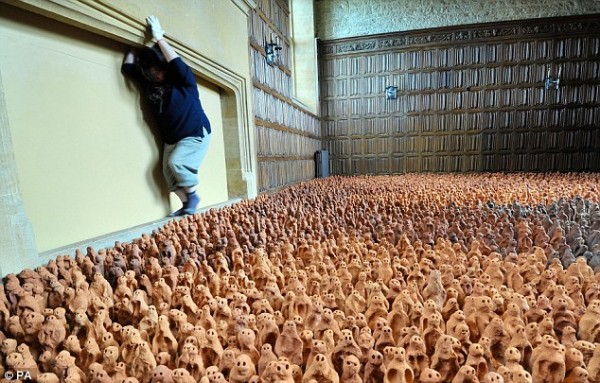 There is also what I cannot find.  I have a mental list of artists whose work I would very much like to see installed.  There are also museums that simply aren't interested in showing how work travels from the bowels of their storage to the walls of their galleries.  Outside of Instagram, commercial galleries very rarely show images of their artists work being installed (though Salon94 has a great blog that features this).  Along the same lines, it's often difficult to find images of art fairs being loaded in.  Artists who have their own websites also rarely show images of their work from this viewpoint (Sterling Ruby and Martin Eder (?) are a couple of exceptions).  Holy Grail images would include almost anything pre-1980, better yet pre-1950.   The Smithsonian's Archives of American Art (watermarks excluded) is by far one of the best resources I've found.  As far as mediums go, who knew it was so hard to find images of drawings and photographs being installed?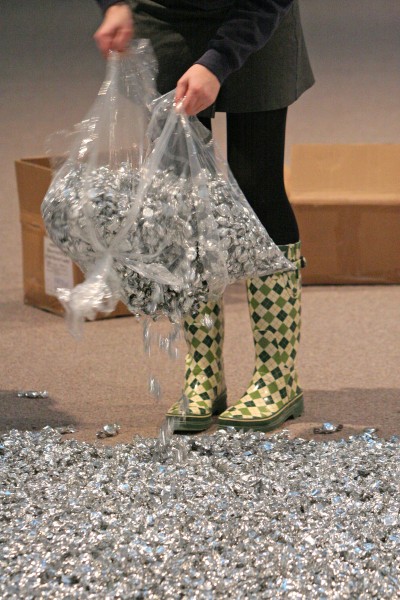 A short wish list, in case anyone was inclined to do some of their own digging and submit: Morris Louis (a good one, though this one is pretty good), Allan McCollum, Eve Hesse, Cady Noland and On Kawara.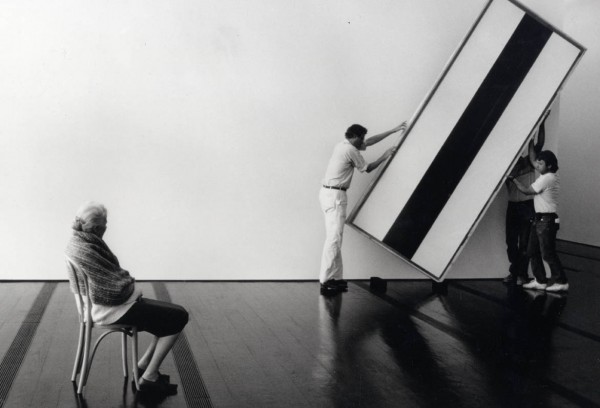 What's next? I thought an old fashion artbook might be a good way to harness a lot of what's happening on the Installator tumblr.  There is more to mine here: from the relational aesthetics of it all to the art historical precedents of installing art.  However, after looking into it and making a couple of inquiries, I realized that it would never happen.  I don't own these images and I certainly wouldn't want to deal with the red tape (from artist to gallery to museum) about ownership and rights.  Nonetheless, I do worry that with the fleeting nature of screen-scrolling, people aren't really looking.  Good old fashion page-turning sounds nice to me – maybe one of these days.  For now, I'll still be looking for content and posting it for my 137,507 "followers".
Bio: Britton Bertran ran 40000 from 2005 to 2008. He currently is an Instructor at SAIC in the Arts Administration and Policy department and the Educational Programs Manager at Urban Gateways. An occasional guest-curator, he has organized exhibitions for the Hyde Park Art Center, the Loyola Museum of Art and several galleries. You can find him trying to be less cranky about the art world on twitter @br_tton.  Stay tuned for a couple more guest posts where Britton will be waxing poetic on what's wrong with the Chicago art world circa 2013, while thinking out loud about how to fix it and another post about looking forward to 2014 (and maybe a top 10 list of sorts too.)
Above images:
"KULTÚRA NAPJAINKBAN, dan perjovschi után szabadon" (via richardlivesus)
"The Acrobatic Sculptures of the Rooftop Garden". Alexander Calder's "Man" being installed at SFMOMA
MoMA staff dismantling Pablo Picasso's "Guernica" (1937) for shipment to Spain. Photo taken on September 8, 1981 by Mali Olatunji. Image © The Museum of Modern Art, New York
"Monumental wall sculpture by Ellsworth Kelly installed on Dartmouth campus.  This major site-specific work, titled Dartmouth Panels, was commissioned by longtime arts patrons Leon Black '73 and his wife Debra, who contributed $48 million towards the creation of the center." (artdaily.org)
"This piece is made of ceramics, a medium which Robert Arneson helped bring to a full-fledged, independent art form. Typically, large-scale works such as this would be made out of bronze or marble. Luckily for our installation crew, this piece is hollow, meaning it only weighs between 500-700 lbs. Heave-ho!" (SFMOMA)
"This incredible sculpture by Turner Prize-winning artist Anthony Gormley, consisting of 40,000 clay figures, has been put on display at an empty Tudor manor house…. It took five days to place the humanoid characters into position across the ground floor of Barrington Court, a National Trust Property near Ilminster in Somerset. The installation 'Field for the British Isles', was originally created in 1993 and has been loaned to the property by the Arts Council Collection through its Trust New Art Programme."
Felix Gonzalez-Torres, Untitled (Placebo), 1991. Installation process. Image courtesy of the Williams College Museum of Art; photo by Roman Iwasiwk (curatedobject.us)
Dominique de Ménil supervise l'acrochage d'une toile de Barnett Newman en 1991. | Dominique de Ménil oversees the hanging of a Barnett Newman's painting in 1991. (Marc Riboud, circa 1991, 38 x 52 cm via Galerie Verdeau, via tongue depressors; via bruvu)
---