Introduction: Laying the Floor
This July, I participated in the gloATL Summer Intensive. gloATL is an Atlanta-based dance company that creates physical installations for the public. During the Intensive, there were six of these installations that focused on the concept of utopia for a series of "utopia stations" that was part of its series Liquid Culture: a collection of gestures and sensations from an asphalt perspective that had occurred during the summer for the past few years; this summer was the last of these installations. Lauri Stallings, the choreographer and founder of gloATL, considers these performances installations – physical and public installations; the series is described as "physical installations [that] are unveiled as public utopia stations for arriving, leaving, and staying for awhile." [1]
During the first weeks of the Intensive, Stallings described to us her interest in utopia, referencing Thomas More's book Utopia (Of a republic's best state and of the new island Utopia (De optimo rei publicae statu deque nova insula Utopia)), published in 1516. What seemed to be impelling Stallings to the notion of utopia is that the word utopia has multiple and somewhat contradictory meanings. The statement for this summer's series of utopia stations describes that "[t]here is a double-meaning in the term "utopia," being both a good place (eutopia) and a no place (outopia)." [2] The perplexing concepts of "good" and "no" together propelled me to enter the work. During this discussion with Stallings, the company, and fellow intensive participants, I mentioned that it seemed that "no place" had to be impossible. Wherever there is being, there is movement. Even between two atoms, there is an ever-so-slight vibratory motion. Animate form, or life, is exactly that, animate. It moves. [3] If "no place" cannot possibly exist, then what of the "good place"?
All of the installations involved swings, swing sets, and the encouragement of public engagement with the swings. For Stallings, this is a gesture of ultimate freedom; the ability to partake in the childlike joy of swinging within public space. Each installation also had blue astro turf designating a stage of sorts that at most times separated the dancers from the public. However, Stallings said that even this space should not be maintained as an eternal divider. She keeps in mind that a member of the public could always step over the edge of the floor and enter the space of the stage.
In looking back on this Intensive experience and observing the installations while reading Plato's Republic for my PhD comprehensive exams, I find myself in a rather perplexing state of body-mind. Both Thomas More's Utopia and Plato's Republic describe a space where all would be good – proper governance, happiness, order, common property. Both of these spaces are fictional, however, and cannot possibly exist in the real world; a confluence of the double-meaning – a good place that is no place. In encountering a work that attempts through dance to create a utopian space in the current world we live in, the troubling passages in Republic become more clear instances of the perceived dangers of artistic freedom. [4] However, maybe the utopian installations illuminate these same passages in terms of a Platonic sarcasm; since the idea has been so pushed to the edge, it has become ridiculous.
Being There
As a participant in the making of the work and also as a viewer, my experience of the series of installations straddles multiple spheres of engagement, perception, and bodily recognition. I have to admit that those three weeks of July were among the hardest I have lived yet. The physical exertion of dancing for hours six days a week was taxing. The emotional investment was more than I had expected. The mental exercising was beyond what I had encountered before. Being in a PhD program at Emory, I don't often have the opportunity to use my body as the material of my thought and production of work, so putting myself in the mode of bodily "thought" was an exercise in mental gymnastics.
Inhabiting another's work was something I had not experienced before. Taking on someone else's idea as my own and incorporating it into my own body was more of a challenge than I could have imagined. The ability to fully take on the choreographer's concept as inspiration for one's own bodily experience is a skill that I fully respect. It amazes me to see gloATL dancers express these concepts with their whole bodies; each finger is doing something special; each facial twitch is a culmination of an entirety of being. As Stallings says, "the movement is in your fingers."
Stallings process is an incredible one to witness. Starting with an idea, it traverses into often unexpected territory, blossoming into full body expression. This part of the process, called "Process" by gloATL, usually came after a warm-up led by Stallings or other gloATL dancers. This wasn't any sort of warm-up though. Called "Tools," it was an exploration of internal bodily connections that make movement manifest externally. All movement generates from the inside and radiates towards an external form that can be witnessed. Coming out of a Gaga tradition, a dance technique and vocabulary formulated by Israel choreographer Ohad Naharin, "Tools" is a way to connect to the pleasure of movement. Even when difficult, the ability to move is a pleasure in and of itself. One of the goals is to constantly search for the unexpected places in the body that initiate movement. Stallings often said that if you feel you are comfortable with a particular movement, it's time to move towards something previously undone, unthought, un/not-moved.
After finishing the intensive and going back into my usually more stationary world of reading books and writing words on a screen, I feel that the world of movement has infiltrated my world of stationary contemplation. I realize that the movement was there all along and that it's just that I have begun to accept it more fully into the life I am living.
Swinging Release
During the last installation I participated in with gloATL, I felt something inside come up into my throat. Maybe a purely physical experience, but something tells me that it was more. At the end of the installation, we invited the audience into the middle of the blue astro turf floor by leading them using our elbows as the anchor for them to hold onto. There, after looking into each other's eyes, we decided as a group to speak: "You have only to say yes." With childlike wonderment and excitement, about the beautiful swing sets, about the blue of the astro turf, about being there moving, the group performing in the installation let go with screams, laughter, and every other kind of expression that erupted from the core. At this point, something inside my body crept up to the top of my throat, something was attempting to escape through my mouth. I stopped still. If I moved anymore, that thing would exit my body onto the astro turf. I couldn't fathom that happening. It was a purging that I couldn't handle happening at that time.
I went home that night after the installation and tried to process what had happened to me. The next morning during process, we went over that moment. The same thing kept happening. Whatever was in there wanted to be let go, but, for some reason, I couldn't let it. I sat down in the hall outside the studio. My body couldn't accept what it was saying. The connections between my body, my mind, and my internal emotional existence were confused with each other. It seemed that my mental thoughts couldn't keep up with the internal movements of my emotions and body. I couldn't keep it together. I couldn't participate in the last installation. Of this, I am deeply regretful. I wish I could have made it through, but something, I'm not sure what exactly, kept me back.
Maybe it was the thought of utopia, a freedom I couldn't comprehend. That feeling deep in my belly that rose to my throat threatened me simultaneously with the "good place" and the "no place." Something in my unconscious body-mind didn't understand what that even could mean. How could I occupy that position of "good place" and "no place" at all, let alone at the same time? Maybe this is what Plato was warning against: a radical disorder. If the body, mind, and soul cannot be easily divided and categorized, what happens to that being and the rest of the world she inhabits? Music and gymnastic together as dance brought be to that precipice of disorder that was begging to erupt. This eruption of bodily order holds within it the potential for ultimate freedom from restraint, but also ultimate devastation of a creeping chaos.
This is the experience that Stallings created – for me, for the public, maybe for the other dancers themselves. Though these installations are meant for public interaction, it is rare that you see an audience member claim the space as her own. The dance floor remains a dance floor for most of the time until glo explicitly invites the public to join them. There is a timidity to dance and art viewing even with the explosion of socially-engaged and participant-driven art. However, during one of the performances at The Goat Farm Arts Center, one of the participants decided to take control of the space. He took on one of the swings hanging from the rafters as his own. He did not want to get off the swing, even when approached by glo dancers that needed the swing to perform the choreography. Eventually, with some silent, eye coaxing he got up and off the swing. In the public sphere, it is impossible to claim a particular space as purely your own. Part of the freedom the series of installations points to is the freedom to not grasp so tightly.
During the ending section performed at The Goat Farm Arts Center and The Woodruff Arts Center, we played a game of switching and racing for swings. It was so satisfying to attain the glory of the swing, but at a certain point, while swinging with pride, watching the other dancers in the middle of the floor fidget with anticipation and wide eyes, I decided to jump off the swing, give it over to another to enjoy. That might be the space of utopian contradiction – both the "good place" and the "no place" together; the space suspended in air where you joyfully float, exiting the swing in order for another to occupy it.
For more images of the installations, check out BURNAWAY's flickr sets for gloATL's Liquid Culture installations at Historic Old Fourth Ward, Goodson Yard at The Goat Farm Arts Center, and Woodruff Arts Center.
For a great review/write-up of the 2013 Liquid Culture series, check out Cynthia Bond Perry's article "gloATL's "Liquid Culture" series finds breath, simplicity, and freedom" published on Arts ATL.
Notes:
[1] Statement for Liquid Culture: a collection of gestures and sensations from an asphalt perspective, gloATL, http://gloatl.org/upcoming/whats-next/ (accessed 8.21.2013)
[2] Statement for Liquid Culture: a collection of gestures and sensations from an asphalt perspective, gloATL, http://gloatl.org/upcoming/whats-next/ (accessed 8.21.2013)
[3] Maxine Sheets-Johnstone, The Primacy of Movement, 2nd edition (Amsterdam and Philadelphia: John Benjamins Publishing Company, 2011).
[4] See for example Plato's treatment of music and gymnastic as the best tools for educating the body and soul to be temperate, courageous, and good. However, there are stipulations attached to these training methods; no innovation is allowed. Since music is claimed to be the most mimetic art, it comes with a certain power that must be controlled. I don't think it is surprising that this art form is paired with an art of the body, gymnastic. (Plato, Republic, Book II, 376; Book III, 410; Book IV, 424; and etc.) Also consider the discussion of music and gymnastic in relation to the proper form of narrative in poetry, pure third person narration, which does not inhabit the person of a character and speak through him or her. In Book II, section 377, Plato asks whether music also includes literature, and further, whether this literature is true or false. This leads the members of the dialogue to a discussion of what stories should be allowed to be told and which ones are dangerous to the ears – too influential.
---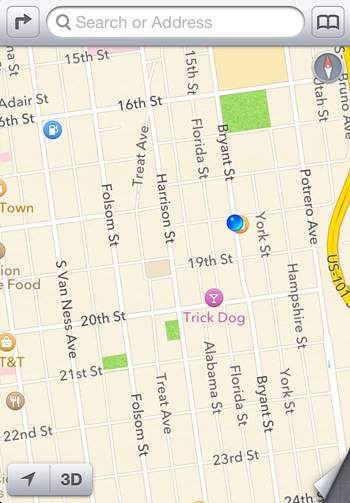 I recently saw the trailer for Woody Allen's new movie Blue Jasmine starring Cate Blanchett.  There was an exterior shot of a cafe on the block I live on in the Mission neighborhood of San Francisco.  I pass that cafe almost everyday and I never considered it to be so dramatic until I saw it in the trailer.  I was reminded how vibrant the Mission is, and so I decided to take a walk around the neighborhood to visit some great art spots.
The Mission is a cool place — home to a dense Mexican community that is quickly becoming consumed by white affluent hipsters.  Lots of homeless people in puffy down jackets slowly push shopping carts on Mission Street past tipsy Marina bros wearing aviators and the latest salmon-colored shorts.  "Artisanal" is in the name of the game in this area, with highly priced food, home, and decor products in shops along Valencia Street.
The booming tech scene has spawned the tech renaissance populated by well-educated and well-paid 20 and 30-somethings that have injected the city with so much money that San Francisco has become one of the most expensive places to live in the United States.  Private commuter bus lines for employees of companies like Apple, Facebook, and Google weave through the Mission, attracting very competitive rental fees on new and old luxury apartments.
Sprinkled throughout this urban grid are several art venues.  From private galleries to non-profit spaces, the Mission is an eclectic mix as diverse as its inhabitants.  The tech folk have yet to share and indulge their economic prosperity with the artistic community of the Mission, but eventually some kind of connection will be made.  Until then, these art venues continue to produce and shape an active voice in the shape of San Francisco's cultural identity albeit in the shadow of technology's spotlight.
Just two blocks from the cafe in Blue Jasmine is the artist-run space Root Division.  Several of my classmates from grad school have had or currently have studio space there.  From the website: "Root Division is a visual arts non-profit that connects creativity and community through a dynamic ecosystem of arts education, exhibitions, & studios".  The space constantly holds calls for submissions and proposals for future shows and delivers a wide range of educational programming.  My favorite is their annual juried exhibition titled Introductions. I'm a sucker for healthy art competition and the debut of emerging artists!
During my visit, I got a chance to check out the group show Electronic Pacific Satellite curated by Justin Charles Hoover.  Digital and time-based media fill the space, but I'm still a fan of a standout like Gabby Miller's Logistics from Sea to Land (For Giang and Nam) (2012).  A large section of a steel shipping container is painted blue on one side and leans against a wall.  Miller quotes a text from Marc Levin's "The Box: How the Shipping Container Made the World Smaller and the World Economy Bigger" that traces the shipping connection between the US and Vietnam.  I giggle when I relate the shipping container to the enormous private tech busses passing through the Mission.
Some blocks away, I see Southern Exposure.  From the website: "Our good friends THE THING will be in residence at Southern Exposure for the month of August before transitioning into their new Tenderloin storefront this fall. Six years ago, THE THING launched their first issue at SoEx; it's only fitting that they return for the completion of their 20th, conceived by Tauba Auerbach. A wrapping party for the 20th issue will be hosted by SoEx on August 15″.  The last time I was at SoEx, I participated in a wrapping party for the 19th issue by David Shrigley.  This space is all about collaboration and sharing with passionate artists throughout the city.
I keep walking and I see Kadist, but its doors were closed this day.  From the website: "Kadist Art Foundation encourages the contribution of the arts to society, conducting programs primarily with artists represented in its collection to promote their role as cultural agents. Kadist's collections and productions reflect the global scope of contemporary art, and its programs develop collaborations between Kadist's local contexts (Paris, San Francisco) and artists, curators and art institutions worldwide".  One night a couple years ago, Tony Labat invited several artists to share YouTube videos in this space.  We all gathered around a projection screen and watched a variety of odd, funny, weird, informative, and emotional videos.  The evening became the contemporary equivalent of an ancient scene of storytelling around a blazing fire.
After passing a yoga studio or two, I finally end my wandering on a block with two private galleries: Steven Wolf Fine Arts and Guerrero Gallery.  I have an affinity for Steven's gallery because I exhibited in the space last year.  The first gallery room hosts Richard Kamler's Twelve Food Trays on Ikea Shelves (1999 — Present).  The gunmetal-colored objects display the last food item requests from death row prisoners.  It's quiet in the room, and spooky and grey and I know in the other room there is a working sculpture of an electric chair by Philip Zimmerman, so I get a little uncomfortable and I quietly back out of the gallery and cross the street.
Across the street at Guerrero Gallery, Adam Feibelman shows a bunch of artwork in an exhibition titled Do with Me as You Will.  While the space is naturally bright and airy like Steven's gallery, there's a different, lighter feeling in here.  Maybe it's the hand-cut paper pieces in pretty frames that seem more familiar in a gallery space.  There's sewing thread and pattern and images of cityscapes, so I think that it could be quite uplifting, until I consider the brown edges of the cutouts to be burnt and suddenly everything looks very spooky and ghost-like.  What an intense block of artwork!
A couple hours of walking in the Mission can bring you face-to-face with the contemporary art scene of San Francisco.  The sun is always shining, and it's particularly rewarding when it seems like the rest of the city is covered in fog.  Every space has an interesting perspective and is consistently delivering the kind of work that local artists enjoy making, and local audience members enjoy discussing.  Now let's try to get the tech folk to check it out!
---
A graphic, editorial overview of art, artists, and visual art events, found in and around Chicago over the course of the preceding months. All artwork copyright original artists; all photography copyright Paul Germanos.
CourtneyBlades


Above: CourtneyBlades' partners, Mickey Pomfrey, left, and Blake Cameron Harris, right, in the gallery for the opening reception of "Definitely Living, Likely Cognitive," on August 9, 2013.

Above: "Medium Cool" art book fair organizer Ria Roberts, right, with Matthew Richardson, left, in CourtneyBlades.
Mickey Pomfrey is one of a relatively small number of people I encounter on a regular basis at gallery openings in Chicago. In spite of that fact, I'd never before brought a camera to the space (CourtneyBlades) which he runs with Blake Cameron Harris. And it was only because I happened to take photographs there on August 9, 2013, that Ria Roberts noticed me, and reminded me to attend Medium Cool: a new art book fair with which she's involved.
Bea Fremderman, Brian Khek, and Micah Schippa
"Definitely Living, Likely Cognitive"
August 9 – September 1, 2013
CourtneyBlades
1324 W. Grand Ave.
Chicago, IL 60642
http://courtneyblades.com/
Medium Cool


Above: Tom Burtonwood shares his 3-d printed book–which itself "prints" by means of being folded upon some plastic material.

Above: Yuri Stone for The Renaissance Society at the University of Chicago.

Above: Scott Speh of Western Exhibitions.

Above: Ed Panar & Melissa Catanese of Spaces Corners.

Above: Vincent Uribe feigns interest in my shenanigans while the ladies of LVL3 ignore me. In truth, everyone smiled for the first picture; this was the fifth picture.
Medium Cool
(art book fair)
12:00 — 8:00 PM
August 11, 2013
Prairie Production
1314 W. Randolph St.
Chicago, IL
http://medium-cool.net/
LVL3


Above: Chelsea Culp and Katy Cowan.

Above: Matt Nichols and Josue Pellot.
Whether called collaboration, the pairing of artists or galleries is now at least as common as food trucks outside, or bars within, our local venues.
"2 of a kind"
June 29 – July 21, 2013
LVL3
1542 N. Milwaukee Ave, 3rd Floor
Chicago, Illinois 60622
http://lvl3gallery.com/
The Mission


Above: Yhelena Hall's upper-gallery installation joining a helium-supported wooden craft with wall-mounted video.

Above: Joshua Albers' lower-gallery (Sub-Mission) projected video installation.
Yhelena Hall's da Vinci-like creation is built from fabric stretched over a frame, which method of construction reminds a Chicago resident of Linda Warren's artist Juan Angel Chavez. But, maybe, within Warren's stable the better comparison is to Conrad Freiburg–for as helium escapes its imperfect balloon, Hall's wooden machine has a self-destructive potential.
Joshua Albers and Yhelena Hall
PARALLELS / A Collaboration with ACRE Residency, Part 2
August 2 – 24, 2013
The Mission
1431 W. Chicago Avenue
Chicago, IL 60642
http://themissionprojects.com/
Linda Warren Projects


Above: The framing device "Undecagon Tripod," 2013, at the center of Freiburg's kinetic, wood installation.
Like Yhelena Hall at The Mission, Conrad Freiburg chose to present freestanding, three-dimensional objects made largely of wood, in the company of smaller, wall-mounted graphic works, which in this case are still images rather than video. Unlike Hall, around the perimeter of gallery interior Freiburg set a race, which in turn carries bearings or marbles as such activity is initiated by visitors. Four years ago, in June of 2009, Monica Herrera arranged a similar work at 65GRAND, there observed with an additional audio component: falling marbles "played" upon successive wooden elements with each drop in elevation.
Conrad Freiburg
"Before the Grave and Constant"
June 7 – August 10, 2013
Linda Warren Projects
327 N. Aberdeen (151)
Chicago, IL 60607
http://lindawarrenprojects.com/
Monica Herrera


Above: A visitor interacts with Monica Herrera's installation in 2009.
Eliza Fernand, Jodie Mack, Monica Herrera
"post-scarcity"
Curated by Thea Liberty Nichols
65GRAND
June 19 – July 25, 2009
1378 W. Grand Ave. (old location)
Chicago IL 60622-6450
Chicago Artists' Coalition


Above: Audience members interact with Jake Myers at his cardboard sports bar.

Above: Attendees model the available Mothergirl costumes.

Above, left-to-right: Jessica Harvey, Kera MacKenzie, and Jenny Buffington at the "pARTicipatory" opening on August 9, 2013.
When I hold a camera to my face and look through the viewfinder I'm blind to the room around me, so that it's especially surprising to be struck at that moment. I write here with authority as I've suffered the aforementioned indignity on multiple occasions. On August 9, 2013, for the second time at one of Myers' openings, someone threw something at me while I was taking a picture. If the games, and food, and liquor, all now frequently available at gallery openings, have served to draw in a certain sort of person then, maybe, they've done so only at the cost of another sort of person. After six years of work on this photographic project, my patience has been exhausted.
"pARTicipatory"
HATCH Projects Residents: Chaz Evans, Amber Ginsburg, Mothergirl, Jake Myers, Hoyun Son, and Latham Zearfoss
HATCH Curatorial Residents: Meredith Weber and Anna Trier, a/k/a the Happy Collaborationists
August 9 – August 29, 2013
Chicago Artists' Coalition
217 N. Carpenter St.
Chicago, IL 60607
http://chicagoartistscoalition.org/

Above: Acclaimed coronet player Josh Berman, foreground, nagged by my mother, background. It's better him than me.

Above: Nick Butcher, right, gave my mother, left, a Tecate, and she seemed concerned.
Sonnenzimmer print and design studio is Nadine Nakanishi and Nick Butcher. On July 14, 2013, Nick and Nadine held a sort-of art benefit / garage sale, during which Michael Bingaman (electronics), Josh Berman (cornet), Anton Hatwich (double bass), and Matt Schneider (guitar) played music. There, I bought a big Taschen contemporary art compendium for three dollars, and got a Design Bureau magazine for free. Everyone was cool! And John Corbett was there–because he's really good about attending these things. Even my mother was happy.
"On the patio at Sonnenzimmer"
10:00 AM – 6:00 PM
July 14, 2013
Sonnenzimmer
3605 N. Damen Ave., Rear
Chicago, IL 60618
http://www.sonnenzimmer.com/
Columbia College Chicago: Portfolio Center – Industry Events


Above: Nick Albertson

Above: Ryan Bringas

Above: Meg Noe

Above: Tim M. Johnson

Above: Rikki Levine
The scale of the event was overwhelming. The quality of almost all of the work was very high. I spent most of my time with those presenters who seemed to have a fine arts orientation. Rikki Levine, above, was something of an exception as she seemed (?) most interested in travel and documentary work. But, her book (portfolio) looked too good to ignore. Whether they knew it, not a few graduates produced material recalling John Opera or Jessica Labatte. And I should have been yet more forceful in my exhortation to go out and look at what's being made here and now.
Columbia College Chicago
Portfolio Center – Industry Events
"Photography Review"
May 16, 2013
Studio East
1006 S. Michigan Ave.
Chicago, IL 60605
Allan Sekula


Above: A visitor at the entry to "Polonia and Other Fables" seen engaged with one of Sekula's photographs during the opening reception in 2009.
Allan Sekula died on August 10, 2013 after a long struggle with cancer.
Allan Sekula
"Polonia and Other Fables"
September 20 – December 13, 2009
The Renaissance Society
5811 S. Ellis Avenue
Bergman Gallery, Cobb Hall 418
Chicago, Illinois 60637
http://renaissancesociety.org/site/
Chicago Art Department


Above: "Mr. Grief" by Meg Noe.
"&again&again"
Jeffery Austin, Marne Provost, Kimberly Kim, Meg T. Noe, Jonathan Pivovar, John Brookes Turner
Curated by Jonathan Pivovar
Supported by Columbia College Chicago's Photography Department
July 12 – 14, 2013
Chicago Art Department
1932 South Halsted #100
Chicago, IL 60608
http://www.chicagoartdepartment.org/
The timing of this exhibition is either fortuitous or tragic depending upon one's knowledge of the not dissimilar installation on Michigan Avenue, and sense of humor.
Amanda Ross-Ho
"THE CHARACTER AND SHAPE OF ILLUMINATED THINGS"
Organized by MCA Curator Julie Rodrigues Widholm.
July – November, 2013
MCA Chicago Plaza Project
The Museum of Contemporary Art of Chicago
220 E. Chicago Ave. (MVDR Drive)
Chicago IL 60611
http://www.mcachicago.org/
Frogman Gallery / Pop-Up Art Loop


Above: Dmitry Samarov (painting) at left, curator Gwendolyn Zabicki at center, and Noah Vaughn (photo print) at right, in "Never a lovely so real," opening night.
The Chicago Loop Alliance deserves credit for the good work it's done in offering such opportunities to people like Gwendolyn Zabicki.
"Never a lovely so real"
Clarissa Bonet, Dmitry Samarov and Noah Vaughn
Curated by Gwendolyn Zabicki
Pop-Up Art Loop from the Chicago Loop Alliance
Sponsored in part by Columbia College Chicago
July 11, 2013
Frogman Gallery
108 N. State St. (Block Thirty Seven, First Floor)
Chicago, IL 60603
http://gwendolynzabicki.com/home.html
Chicago Artists Coalition


Above: Jordan Martins in his projection, opening night.

Above, left-to-right: Nick Butcher (half of Sonnenzimmer), Jennifer Salim, E. Aaron Ross, and Aaron Delehanty standing in a projection by Theodore Darst at the Chicago Artists Coalition's "Natural Fallacy" opening.
"Natural Fallacy"
Noelle Allen, Theodore Darst, Brent Fogt, Jordan Martins, Nicholas Sagan, and Matthew Schlagbaum
Curated by MK Meador
July 12 – August 1, 2013
Chicago Artists Coalition
217 N. Carpenter St.
Chicago, IL 60607
http://jordanmartins.com/
threewalls


Above: MSHR a/k/a Brenna Murphy & Birch Cooper performing an electronic audio work in their installation.
Hear it on Vine: vine.co/v/hamYhHDJJ0d

Above, left-to-right: Abigail Satinsky, Lauren Basing, and Shannon Stratton, a/k/a threewalls, on the occasion of their last opening at 119 N. Peoria Street, Chicago.

Above: Edie Fake's installation, with spectators.

Above: Joe Jeffers, left, and Jeremy Tinder, right, attending the opening.
Thanks to Abigail, Lauren, and Shannon for playing along. I'm sorry that I didn't get a better shot of you three together. Good luck and best wishes…
"Binary Lore"
Edie Fake and MSHR a/k/a Brenna Murphy & Birch Cooper
June 28, 2013
threewalls
119 N. Peoria, #2C
Chicago, IL 60607
http://www.three-walls.org/
Gil Leora
"In Between Drinks"
June 28, 2013
Firecat Projects
2124 N. Damen Ave.
Chicago, IL 60647
http://www.firecatprojects.org/
It's too bad that a piece which suggests many questions related to resource allocation within the context of non-European, urban poverty, here found available for view in the lobby of a free, teaching museum, was ignored in an article entitled "Marginalizing Chicagoans' Access to Culture" at Newcity.
Gigi Scaria
"City Unclaimed"
Sponsored by BMO Harris Bank
January 19 – December 8, 2013
The David and Alfred Smart Museum of Art
5550 S. Greenwood Ave.
Chicago, IL 60637
http://smartmuseum.uchicago.edu/
EXPO / Public Chicago


Above, left-to-right: Duncan Mackenzie, Caroline Picard, Richard Holland, a/k/a Bad at Sports.
EXPO Chicago
Gallery Announcement
May 14, 2013
Public Chicago
1301 N. State
Chicago, IL 60610
http://expochicago.com/
Johalla Projects


Above: Jessica Taylor Caponigro's "There in a Darkness," 2013, coal in cast glycerine soap.

Above: Aimee Quinkert, curator, at left, and Jessica Taylor Caponigro, artist, at right, foreground; "What Was, Was I" and "II" on wall, background.
It's the third of Jessica Taylor Caponigro's installations which I've seen, each of the three having been abstracted from both architectural and also literary sources. The comparison between works made over time (a span of several years) is interesting, and maybe best reveals her intent.
Jessica Taylor Caponigro
"Black Damp"
Curated by Aimee Quinkert
May 11 – June 2, 2013
Johalla Projects
1821 W. Hubbard St., Suite 209
Chicago, IL
http://www.johallaprojects.com/
Fred Sandback: Sculptures
April 26 – June 1, 2013
Rhona Hoffman Gallery
118 N. Peoria St.
Chicago, IL 60607
http://www.rhoffmangallery.com/
Columbia College Industry Events BFA Open Studios


Above, left-to-right: Columbia College BFA Seniors Brianna Baurichter, Corinna Cowles, and Nicki Penz with artwork.

Above: Madeleine Lowery with artwork in studio.
Columbia College
Industry Events
Fine Arts Open Studios
5:00 – 8:00 PM
April 18, 2013
1006 S. Michigan Ave.
Chicago, IL
The Storefront


Above: An overhead view of Erik Wenzel's Artforum installation "Fernweh," as seen within Brandon Alvendia's The Storefront gallery, on the show's opening night.
Wenzel, like Fake, above, and Andre, in the previous article, has made use of the floor for the purpose of presenting modular units in a grid pattern. Here the invitation to the audience to walk upon the artwork is wanted to be especially cheeky: an institution (magazine) and a commercial appropriation of culture resources (gallery ad) are both trodden upon, which action symbolically mimics Wenzel's own "progress" through the real and metaphysical worlds of art.
Erik Wenzel
"Fernweh"
April 20 – May 12, 2013
The Storefront
2606 N. California Ave.
Chicago IL 60647
Vertical Gallery


Above: Work by Dmitry Samarov, center; Steve Seeley, at right.

Above: Vertical Gallery, exterior.
"The Economics of Art 2013"
Dmitry Samarov, Ian Ferguson, Julie Murphy, Steve Seeley, and Jimmy Bunnyluv, along with Anthony Freda, Dave Pressler, David Cooper, El Gato Chimney, Hernan Paganini, Klub7, Raudiel Sanudo and Ruel Pascual.
August 3 – 31, 2013
Vertical Gallery
1016 N. Western Ave.
Chicago, IL 60622
http://verticalgallery.com/
---
Audio clip: Adobe Flash Player (version 9 or above) is required to play this audio clip. Download the latest version here. You also need to have JavaScript enabled in your browser.
This week: 8 years!!! We wrap up season 8 with the Artist as Arbiter panel from CAA 2013.
Moderators:Â Duncan Mackenzie, Columbia College, Chicago/Director, Bad At Sports AND Shannon R. Stratton, The School of the Art Institute of Chicago, Chicago/Director, threewalls
Panelists:
Anthea Black
With our powers combined: queer collaboration, distribution, intervention, gentrification
Independent artist, curator and critic
Laurie Beth Clark & Michael Peterson
Where's the art? Hosting/Framing Creativity
University of Wisconsin & University of Wisconsin-Madison
cafeallonge.net
spatulaandbarcode.net
E. G. Crichton
Migrating Archives: how I became a matchmaker and archive activist
University of California Santa Cruz/The GLBT Historical Society
Reni Gower
Parallel Practice: The Artist as Curator
Professor, Painting and Printmaking, Virginia Commonwealth University
Philip Von Zweck
On Nested Authorship
Columbia College, Chicago
---
As I was walking through the Modern Wing at the Art Institute of Chicago not long ago, I noticed a late Donald Judd, Untitled, 1989, on view. A wall-mounted, boxy, red and black sculpture, vacillating between image and object, I found myself walking around it, going from side to side, taking it apart in my mind. Despite its seeming simplicity, the work drew me deeper into the implications of its facture. From a slight distance, it looks virtually immaculate – by the standard of most artistic mark making, it is. Of course this was typical of minimalist work from this artist and others of the 1960s. The shapes have a certain predictability verging on total blandness, like a Steelcase office desk. One reads about the importance of the gestalt of this experience from artists like Robert Morris, which he believed lead to a more holistic, unified apprehension of the object. "Unitary forms do not reduce relationships," he says. "Rather, they are bound more cohesively and indivisibly together."[1] On the one hand, the rectangles empty out the object, being everything and nothing, though they might lead to some kind of mathematical spiritual reverie. Yet on the other, in this particular work by Judd, we can perceive a distance from aspirations toward a unified experience in a few ways. Looking closer at the surface – the fasteners, the corners, the paint – I feel a certain fascination for its proximity to, and utter failure to join, that virtual phantom world of forms. The "resemblance" to an imagined perfection makes the distance from this realm seem all the greater. The corners in the metal have a diameter. There is nothing instantaneous, simultaneous, intersecting, coexisting. The screws, though each meticulously tightened and turned to top dead center[2] ("dead" in that turn of phrase being particularly appropriate to the general inertia), announce their absurdly disruptive presence, like boulders being dropped in a glass-smooth pond. The surface of the paint, machine-even, still betrays the slightest speck of dust or fluctuation in thickness. And the colors, well, they don't actually seem like they follow any particular logic at all, save that they were commercially available as is. In the sphere of this type of artwork, these aspects are magnified from being mere details to critical features. We go from what is presupposed ("it's held together somehow") to what is foremost in our consciousness ("the screws are exposed and meticulously turned"). This leads me to thinking in general about an aspect of the art that I am often drawn to, and the art I like to make, where one looks for ways to investigate the liminal areas of the process of making and enlarge upon ways of becoming. Beyond the physical, it seems important to consider how the object's resulting attitude relates to issues outside of itself – whether it wants to or not – allowing the work to be permeated by contextual notions. We can observe a world where the particular diameter of a metal corner is a metaphor for the problem of actually doing what one thinks. The speck of dust on the surface can be what happens when ideas are tested, moved around, creatively misread and complicated by personal and social circumstance, material, process, and even broader subject matter.
In the 2011-2012 exhibition at Chicago's Museum for Contemporary Art, The Language of Less: Then and Now, we were reminded of how the echoes of minimalism are still felt in vital, current artistic practice. I take Gedi Sibony, whose personal biography of being the son of a contractor seems to have informed much of his often slight, provisional work[3] as a prime example. Included in the exhibition, The Cutters, 2007/2010, a dry-walled portal adorned with sketchy paint, spackle and loose canvas, seems quite direct in its relationship to the artist's life experiences, though the manner of its presentation leaves us at a definite remove from these facts. There is a way the work slips past us and lets us wander without being pinned down, though no doubt the particulars are also what charge it with presence. The title for the show and catalog actually derive in part from conversations like the one between Sibony and curator Michael Darling, where the artist wanted to avoid the term "minimal" to describe his practice. Instead, he talked about "maximizing space".[4] While I might hesitate to go that far in describing his work, there is doubtless a greater assertion of content and experience through the use of spatial relationships, involving somewhat idiosyncratic motivation, and more particularity than one would expect from something in the minimalist canon.[5] On the other hand, what Sibony seems to draw from this tradition is its ability to make us notice not only the space we're in and how we relate to it, but to make us look more intensely at what is actually there – as with the fasteners on the Donald Judd. So what we have here is something more like a methodology of focus, than that of reduction, per se.
In my own practice, small perturbations are to be multiplied and dilated; brought forward to be enlarged. Fissures between potential and imagined, present and executed are widened. Any time I can find a troubled intersection of intention and doing, imagining and becoming I want it to be fore grounded. Prioritizing space, form and material rather than image, metaphor and text doesn't preclude the latter, but allows me to focus on what is happening in the made object, what happened during its making, and how bringing that experience to bear in the viewing situation acts a kind of demonstration but also as a site for instigating and considering ideas and their implications.
Things should stop short of anything too transcendent or settle only for what is concrete or commonplace. Dealing with the facts is important, but I don't expect things to stay put there. Better to look for an experience that shuttles back and forth between something like the transcendentalism of Suprematism and the facticity of the readymade – a dyad of artistic renunciation of the temporal and embrace of the spirit and intellect.[6] On some level, things should be a little dirtier, interfered with and multifarious. I mean by "dirt" a sense of something that isn't necessarily supposed to be there by some tenet or other, or is in a way incongruous with it; a complication that has a complication.[7] So with regard to some framework, the artwork should take a step in and a step away. Something meticulously "designed" in a CAD system can be made by hand with rudimentary tools. Painting can be done with "brushes" that are whole images, letting them interact on the surface in a way that multiplies context, so expression is built up not only from each successive mark but from the baggage the marks carry. Personal histories and studio histories can be starting contexts. A finished piece is a context for another through it actual use in part or whole. The branches in the process of construction can be turned toward another project. Perhaps this is a version of the deliberate cataloging that R.H. Quaytman does, except it's not being declared so such as much as its being done genetically, so to speak, in chains of production that cause each other. Even more than this I see reason for exhibitions containing objects that are out of phase rather than exhibiting a single end point of a creative stretch of time, avoiding monolithic bodies of work to be shown at once. Perhaps two, three or even five different aspects of a view on things is called for. The problematic for me here is a kind of foreshortening effect of cultural production and its vacillations. Taking a cue from Walter Benjamin's ruminations on the melancholic,[8] no particular idea becomes overly reified, nor is there too much trust lain in detached universals. It is a basic predicament not only of importance to art, but in life. Ideas are placeholders, and reality is often beyond our tenuous grasp. We can perhaps hope to try to widen the island we stand on, but we can never know the ocean.
Of course, a countervailing force to whatever direction I'm headed need not only be found in bodies and processes external to the one I begin with, but can be discovered inside them. Things contain their own undoing or re-emergence. For instance, repetition is a well-recognized minimalist impulse, but it can be used not to eliminate the presence of the unique and idiosyncratic, but as a means for things to transform and estrange themselves, taking them to another place perhaps even opposite of where they started. For example, a repeated line, a layered image or a structure turned on itself can be made to collapse and then crystallize into a different appearance or meaning. To borrow a word Chicago artist Steven Husby has been fond of using, we could call this type of repetition or self-transformation recursion. It's a term used in mathematics and in the study of nature. What I take from it is the notion that sometimes doing the same thing repeatedly doesn't produce the same results; that feeding something back into the same process can cause it to change exponentially.
I think here of Eva Hesse and some of her not-quite primary, post-minimalist forms. Even her relatively simple structures, like boxes, cylinders and lattices were greatly complicated by the potential readings of their fabric, latex or metal components. Especially interesting here is a piece like Accession II where what the material could do took it well beyond its default reading as plastic or steel. In particular, the way the plastic tubing is inserted into the structure, piece-by-piece, generates an altogether different experience. It is holistic but of a totally different order than early Robert Morris' geometric gestalt. The entirety is radically different from the parts as opposed to the parts servicing the entirety, or even the parts just fitting into the whole, which was a complaint Morris had about painting.[9] This is an aspect that makes her work not only post-minimal but potentially instructive for us today as it opens up the end-gamesmanship of minimalism for future use – again, the aforementioned methodology of focus rather than less. But it's not at all the formalized focus of a hierarchical academicism, but the character of a certain specificity of the experience. Other transformative uses of material that take minimal precepts beyond even this to other subject matter to include the likes of Felix-Gonzales Torres' candy installations, with their heartbreaking references to loss and Janine Antoni's Chocolate Gnaw, 1992, a form reminiscent of Tony Smith's Die, 1962, made thirty years hence from chocolate with large bitten-off chunks taken out of it, subjecting the austerity to obsessions over body image.[10]
A local, contemporary artist who fascinates me with subtle material play in a fixed framework is Samantha Bittman. It's a very close game of ruffled repetition in her textile-based painting-like pattern works. We've seen many attempts at the dialectic of image/object, painting/support in our time, but very few demonstrate a consistent talent for intertwining these issues in such a cohesive and distinctive way. There are patterns painted and patterns woven in the support and neither quite adds up to the other, as they incessantly confuse their figure ground relationships. The patterns themselves really are only pseudo patterns since the actual weave is nearly as varied in warp and weft as a gesture and the painted overlay is often equally complex in a more macroscopic way. At times the painted surface is almost indistinguishable from the support, but a tension always remains; a serene overall surface threatening to break apart from itself and its background. The material and its differing implications disappear and reappear into each other like sfumato ten times removed, born of a seemingly cosmic sense of humor.
From the standpoint of the process, we could take cues from artists like Hans Haacke or (former) team of Peter Fischli and David Weiss. Haacke takes variously hidden or opaque critical stances toward larger institutional issues in his workings with natural phenomenon, such as in Condensation Cube, while Fiscli and Weiss deal not so much in formal visual tension but the actual tension of gravity in their photography and film, especially with the filmed running of a highly complex Rube Golderg machine in The Way Things Go. I will often consciously interleave some sort of external chance or physical process into things, ala the fluctuating Cube, so that whatever I'm thinking is shifted or channeled if not completely determined by it. The incorporation of a complex event like a crushed object, or the grain in a piece of wood can spin things around formally while the determination to involve bodies, events, and physics in this way is critical to the desire to foster interplay between idea and outcome, connotation and fact. Alternately, Fischli and Weiss' film is not only another example of physical phenomenon (gone hilariously absurd) but that it was filmed and edited, to the point where we really have to question what did and did not happen, is of great interest. At several points the artists seem to hide their transitions in plain sight. The viewer can be convinced – by the extremely well worn and nearly invisible trope of the dissolve transition in film – that two connected takes really do match up with the same chain of cause and effect. Letting yourself pause on it, the realization comes that it probably went all wrong and they had to kick start it. These breaks transition us between natural and cultural facts; the will and desire to make the system keep going, or at least make it appear to keep going despite contrary realities.[11] This sense of dealing with gaps, losses, and non-sequitirs enters my work on a regular basis.
Looking closer at this, I see my sculptures, for instance, as reactions to broken, self-contradictory and attenuated geometric structures. As I work with them, I'm trying to bring them to a place beyond themselves, to have the initial breakdown re-emerge as some new cohesiveness that in its own way seems kind of inevitable, but really is more like one of many potentialities. There are cascading decisions to make. First, I have to think about the sculpture being a practical object that can hold together physically. Some forms of sculpture contain tabs, rods and armatures, but I will tend to make those parts that bear the structure a part of the form that one sees. Having a certain range or degree of relief is important for the objects status as something for the wall or floor. I consider whether they are balanced or unbalanced, try to involve myself in convolutions or extricate myself from them in some way, and try to recognize a character that emerges. This character can appear after one or two moves or after 50 moves, or even on the last touch. In one case, with a piece I called Double-Sided Painting, I didn't realize what it was until I tried to hang the piece on the wall and noticed that both sides of it fought to be the "front". So I hung it on a mount that suspended it in space so each aspect could have its say, not to mention point toward something like traditional panel painting which often involves using both sides to tell a story or perhaps simply to recycle a costly wood panel. Other times, the character involves a certain sense of gravity or volume, a particular structure that presents itself as needing to be built "around" or is relevant to something I had to do to the piece to make it "go". One I titled Twoohsix really had something to say to me after I stood on it with all of my weight to make it do something – the compressed words of the title being my approximate body weight.
Living between polarities, looping through historical and contemporary artistic practice, taking an ending as a beginning: these induce for me a constant state of movement in the art. On a personal level, for whatever reason, life has led me to change my place of residence a number of times over the last several years. So in a way I feel like these disruptions, beginnings and endings have become a bit ingrained in my psyche as much as it has been a part of my art practice. One apartment was on the 6th floor of a building in Edgewater that had a view of the lake. The vista was framed by a couple blocky apartment buildings. It made for a striking image of nature and construct and I would regularly take pictures of the sunrise as filtered through these concrete monoliths. Looking at the images over time, I thought if you didn't know the time and location, it might be hard to tell if it was morning or evening. Astronomically speaking, it all may look much the same – the star bears a relationship to the horizon of the planet earth from my vantage point that produces a characteristic range of hues in the sky. The sun being 18 degrees below the horizon, according to accepted standards, defines both. Those are the facts. Most likely our circadian rhythms or some other such way finding apparatus make it easy enough to distinguish dawn from dusk as you're there in it. And to me that's the part about spending time in the studio that will probably never get old for me is not quite knowing what will spin the one into the other until it is experienced, whether it's something in front of me or something from history considered from a given moment now. The title above was taken from the first line of the R.E.M. song Low, released on the Green CD in 1988. The video for that song has always struck me for its imaginative use and technological reanimation of La Confidence, c. 1880, by Elizabeth Jane Gardner. It complicates and broadens the experience of an otherwise rather academic scene of innocence and intimacy, combining "high" and "low" impulses and values of visual production. The very meaning of the painting seems vastly different by this act of recycling.[12] As I've related elsewhere[13], this sort of play of past and future, and how something upon which the sun has set can be given new life, is a cornerstone to my own practice.
[1] Robert Morris, Notes on Sculpture, essay, first published in Artforum, February, 1966.
[2] On even closer inspection, I think one screw isn't at the same angle on this piece!
[3] Michael Darling, The Language of Less, essay, in the exhibition catalog for The Language of Less: Then and Now, 2011, Museum of Contemporary Art, Chicago, curated by Michael Darling. p. 27.
[4] ibid., p. 23.
[5] Even when looking at the usual suspects like Morris, Judd, Flavin, LeWitt, McCracken, etc. there are a lot of different approaches, some even opposed, such as Morris' and Judd's differing views on whether ideas of painting and sculpture can be commingled or not. At least early on, Morris seems to have taken a hard line against the admixture, though I'm left wondering – for another place and time – about his felt reliefs for the wall.
[6] For an interesting discussion of this, see Barbara Rose, ABC Art, essay, 1966.
[7] See Brazil, a film written and directed by Terry Gilliam, 1985: http://youtu.be/KyHilwSRo28
[8] Such as he ponders in works like The Origin of German Tragic Drama, 1925. (See, for instance, the translation by John Osborne, London: Verso, 1998, paperback edition, pp. 138-142.) It is important for me to note a fascinating passage later in the chapter on the the ancient views of the saturnine disposition being countered by the influence of Jupiter, or Jove, the origin of jovial. For starters, making art is, to me, in itself a jovial thing to do. This is the dialectic I'm touching on, not to take melancholia as some kind of prescription.
[9] This seems to be alluded to in Robert Morris, Notes on Sculpture. The issue was also discussed in Michael Fried's Art and Objecthood, Artform, 1967.
[10] Minimalism, ed. By James Meyer, Phaidon, paperback edition, 2005, p. 42.
[11] I am indebted to Jeremy Millar's book from the Afterall: One Work series, Fischli and Weiss: The Way Things Go (Afterall Books, published in 2009) for his excellent, in-depth analysis of the artists' film.
[12] http://youtu.be/QqVI_CHlFAI
[13] See my post, The Outward Spiral, published on Bad at Sports art blog, June, 2013. http://badatsports.com/2013/the-outward-spiral/
---