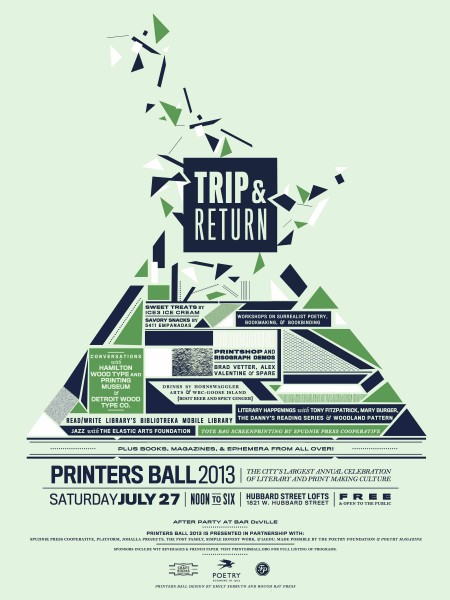 1. Artist Residency Program is open for applications at the Experimental Sound Studio:
ESS is extremely pleased to announce the next installment of the Artist Residency Program, thanks once again to a generous grant from the National Endowment for the Arts. We will offer four 40-hour residencies through the 2013-14 Artists Residency Program (ARP). Candidates must be US residents; at least three of the residencies are for Chicago area artists, and one residency will be open to a non-Chicago US artist. Each residency includes access to the ESS recording facilities with engineering assistance. http://www.experimentalsoundstudio.org/pages/artist_residency_program/24.php

2. Apply to the Propeller Fund! Gallery 400 at the University of Illinois at Chicago and threewalls announce a call for applications to the Propeller Fund, entering its fourth year as a granting opportunity for independent visual artists, curators, and visual arts groups in Cook County, IL. Applications are due August 1, 2013, with 15 grantees announced in October 2013. A total $50,000 will be disbursed in 2013. More about that on their website here.
3. And this from Edra Soto on facebook:Â OPEN CALL – WIND CHIMEÂ 
As part of the events taking place during the Chicago Artists Month, Garfield Park Conservatory will be hosting the exhibition WIND CHIME. Garfield Park Conservatory has made available 30 trees to display wind chimes for this exhibition. THE PURPOSE OF THIS CALL IS TO:• Complement the art & music programs taking place during the Chicago Artists Month at Garfield Park Conservatory.• An opportunity to promote your organization events during the East Garfield Park weekend of art sponsored by Chicago Artists Month and New City.• Strengthen the relationship of the East Garfield Park arts communities.ELIGIBILITY:This call is open to artists with residence in East Garfield Park and artists affiliated to the following neighborhood organizations: Switching Stations, Albany Carroll Studios, West Carroll Avenue Studios, West Side Cultural Arts Council, The Golden Dome, Adds Donnas, Devening Projects, The Hills Esthetic Center, The Franklin, Julius Caesar, Peregrine Program, East Garfield Park GUILDHOW TO APPLY:• Submit a comprehensive sketch on jpg format no bigger than 1240 x 1240 dpi that illustrates your idea accompanied by a word document with that includes: your name, phone number and email; a brief description of the concept and materials you will be using to create your project; your affiliation to East Garfield Park community.• Send applications to edrasoto@hotmail.com• Open call starts Wednesday, July 17, 2013 and ends Saturday, August 23, 2013 CRITERIA:• Original, artistic quality. • Safe materials.• Strength of build sculpture /weather resistance. Your work will be exposed to unpredictable types of weather. GPC is not responsible for damaged work.• Works needs to be delivered ready to install. • All sculptures will be displayed suspended high off the ground.
I'm admittedly inspired by today's Printers Ball (hence the poster above), and as a result the following calls are a bit unusual for a visual art blog. However, I think the following publications could offer interesting avenues for the publication and dissemination of your visual work/research practices/writing. I'm always interested in finding bridges between disciplines. So with that disclaimer in mind:
4. Â Journal of Artistic Research:
We invite submissions to JAR from all fields and disciplines in which artistic research may be relevant, including areas that may not usually be conceived of as 'artistic'. Although the journal has emerged as a result of demand in the academic field, JAR welcomes submissions from practitioners with or without academic affiliations. 

The key problem for many involved in artistic research is 'writing' and its authority. In response to this, JAR introduces a new format for publishing artistic research, the 'exposition', a multi-media document that can combine and interlink text, image, film and audio material on one or more scrollable pages. Go here to read more about their submission process and see examples of the work they have published in the past.
5. Cabinet Magazine:Â Deadlines for forthcoming issues for which we are accepting submissions:
Issue 52 (Winter 2013–2014, with a themed section on "Celebration"): 15 September 2013
Issue 53 (Spring 2014, with a themed section on "Stones"): 15 November 2013
Issue 54 (Summer 2014, with a themed section on "The Accident"): 15 February 2014
Issue 55 (Fall 2014, with a themed section on "Love"): 15 May 2014
Issue 56 (Winter 2014–2015, with a themed section on "Sports"): 15 August 2014
Issue 57 (Spring 2015, with a themed section on "Catastrophe"): 15 November 2014 

Details on their guidelines and submission process here.
6. Hobart 15 (a print anthology) — HOTEL CULTURE
We're reopen for print! And… you know the deal. We rock a theme issue every other issue, which means we're due for a theme. Our theme: HOTEL CULTURE.

What that means: open to your interpretation.

Reminder: we love both fiction and nonfiction. Oh! Also: art.

Finally: we're reading everything blind. Don't put your name on your submission. If your name's anywhere on the doc, it (and you) will be disqualified. (I guess, also, no need to be clever or impressive in your bio, as we won't be able to see them anyway.) More info here.
---