OPEN CALL FOR PROPOSALS: DUE AUGUST 15th at MIDNIGHT
October 26-28th, 2012 at the Geolofts
Friday October 26, Vernissage
Open Saturday October 27 and Sunday October 28, 12-6 PM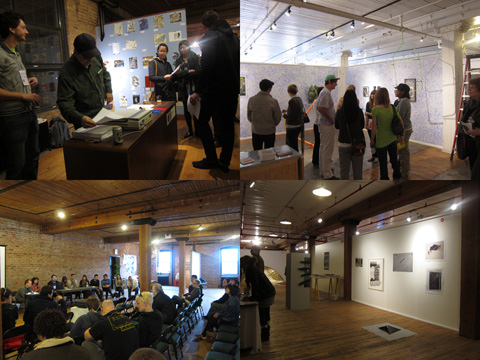 The MDW Fair invites proposals for its fall showcase at the Geolofts in Bridgeport. Formed in spring 2011 as a collaborative project between the Public Media Institute, document, Roots & Culture and threewalls, the MDW Fair is a showcase for independent art initiatives, spaces, galleries and artist groups, highlighting artist-run activities and experimental culture locally, nationally and internationally. The MDW Fair is the world's premier event for grassroots and independent art culture.
MDW invites curatorial proposals from not-for-profits, artist-run spaces, emerging galleries, collectives and independent curators across the United States and around the world. MDW also invites proposals for performances, programming and independent publications.
PROPOSALS ARE DUE AUGUST 15, 2012 AND SUCCESSFUL APPLICANTS WILL BE NOTIFIED BY SEPTEMBER 10, 2012
Proposals for booths:
Groups are required to send 10 images of the curatorial premise they wish to focus on at the fair. Number of artists is not limited, proposals will be judged on quality of the premise and the artists' work. Deadline is August 15th. Images should be sent as a zip file along with a short mission statement/bio about the presenters and 500-word curatorial statement. Successful applicants will be notified by early September with details. All booth spaces are 300 sq feet/$400. Successful applicants will be included in the MDW Catalogue, published by Public Media Institute and designed by Plural.
Proposals for publications:
We welcome exhibitors that produce and publish artists' books, art periodicals, artist zines, or independent art-book culture in all forms, including fiction, non-fiction, and poetry. Interested publishers and booksellers should send a 500 word or less description of their organization or project. Tables cost $50.
Proposals for programming:
Proposals can be for lectures, panels, performances, music, or any other kind of experimental action. Picnics, tours, public interventions, artist-led workshops and discussions as well as creative disturbances in public space are also welcome.  Performance artists and event producers of all stripes are welcome. Please send a 500 word or less description of program, time limit, and preferred time slot during open hours on Saturday and Sunday.
Submissions for the MDW Fair can be emailed to: mdwfair@gmail.com
Questions about submissions can be submitted to Aron Gent at: arongent@arongent.com
Design by Plural
For more information, please visit mdwfair.org
Abigail Satinsky is the associate director at Threewalls in Chicago where her work includes editing Phonebook (a national directory of artist-run spaces and projects), and co-founding Hand-in-Glove, a national conference on grassroots arts organizing. She is also a founding member of InCUBATE and co-initiator of Sunday Soup, an international micro-granting project. InCUBATE's work has been shown nationally, including with Creative Time, Eyebeam Center for Art & Technology in New York, CEPA Gallery in Buffalo, SKYDIVE in Houston, Autzen Gallery at Portland State University, the Devos Museum at Northern Michigan University and the Smart Museum of Art at the University of Chicago. She is a regular contributor to the Bad at Sports podcast and her writing has appeared in the Journal of Aesthetics and Protest, AREA Chicago, and Proximity. She recently finished editing the book Support Networks, published by the School of the Art Institute of Chicago and University of Chicago Press, on the history of socially-engaged and artist-run initiatives in Chicago, which will be released in Fall 2014 and teaches at SAIC on social and curatorial practices.
Latest posts by Abigail Satinsky (see all)