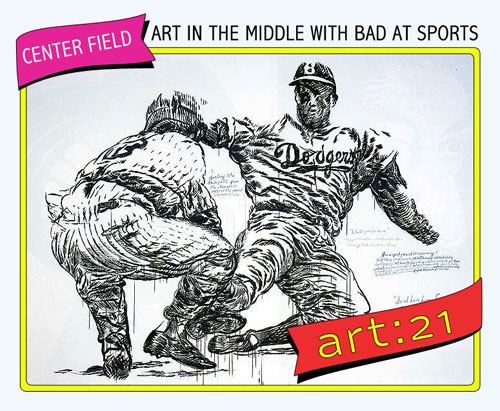 The latest episode of "Fielding Practice," the Chicago-centric podcast/gabfest featuring Duncan MacKenzie, Dan Gunn and me has just been posted on the Art21 Blog as part of Bad at Sports' ongoing Centerfield column.  This week, regular panelists Duncan MacKenzie, Dan Gunn and I discuss the demise of Next/Art Chicago–which up until last week had been the US' longest-running art fair –and the subsequent rise of Expo, a new Chicago-based art fair slated to debut on Navy Pier in September 2012. We also review current exhibitions by Laura Letinsky at the Museum of Contemporary Art, Chicago, and Molly Zuckerman-Hartung, whose show Negative Joy is on view at Corbett vs. Dempsey gallery, plus we offer some "best bet" picks for the coming month in Chicago. As an added bonus, this week we keep the conversation blissfully short, at a running time of approximately 38 minutes — as always, thank you so much for tuning in!
Click here for Fielding Practice Episode 12 on the Art21 blog.
Claudine Isé has worked in the field of contemporary art as a writer and curator for the past decade, and currently serves as the Editor of the Art21 Blog. Claudine regularly writes for Artforum.com and Chicago magazine, and has also worked as an art critic for the Los Angeles Times. Before moving to Chicago in 2008, she worked at the Wexner Center in Columbus, OH as associate curator of exhibitions, and at the Hammer Museum in Los Angeles as assistant curator of contemporary art, where she curated a number of Hammer Projects. She has Ph.D. in Film, Literature and Culture from the University of Southern California.
Latest posts by Claudine Isé (see all)