download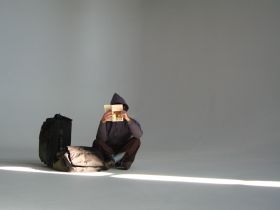 This week: Duncan and Abigail talk to Sam Gould.
Sam Gould is co-founder of Red76, a collaborative art practice which originated in Portland, Oregon in 2000. Along with his work as the instigator and core-facilitator of many of the groups initiatives, Gould is the acting editor of its publication, the Journal of Radical Shimming. He full-time visiting faculty within the Text and Image Arts Department of the School of the Museum of Fine Arts Boston, as well the Director of Education for the Institute of Contemporary Art at the Maine College of Art in Portland, ME. Formerly Gould was a senior lecturer at the California College of the Arts in San Francisco, Ca. within the Graduate Fine Arts Dept. for Social Practice. He is a frequent guest lecturer at schools and spaces around the United States and abroad, and has activated projects and lectures on street corners, in laundromats, bars, and kitchen tables, as well as through collaborations with museums and institutions such as SF MoMA; the Walker Arts Center; the Drawing Center; the Bureau for Open Culture; Institute for Art, Religion, and Social Justice at Union Theological Seminary; ArtSpeak; Printed Matter; the Cooper Union; the New Museum/Rhizome; Manifesta8; and many other institutions and spaces worldwide. He was one of nine nominees for the de Menil Collection's 2006 Walter Hopps Award for Curatorial Achievement, is a founding "keyholder" of MessHall in Chicago, IL., and was the 2008 Bridge Resident at the Headlands Center for the Arts.
Christopher Hudgens is the Operations Manager for BaS and works in various other capacities for other organizations in the Chicago Art & Culture scene. Most recently as Business Operations Manager for the Bridge Art Fair and currently an advocate for all things art & technology.
Latest posts by Christopher (see all)