So. Â Lots has been happening around Chicago and we've hardly had time to keep up both textually and physically. But there is a lot of important news that we have not had a chance to post – some of it involving us. So, here it is, in all its glory, a winners post for many of the big midwestern fall-ish awards; Artadia, Art Prize, Propeller Grants, and New City's "Best of the Year." I should note before we go any further that we, your friends at Bad at Sports, were delighted to have received a propeller grant and a mention on New City's list.
Congratulations to everyone from your friends at Bad at Sports.
Artadia:
The two recipients of Artadia Awards 2012 Chicago at the $15,000 level are: Tirtza Even and Deb Sokolow. The five recipients of the $3,000 awards are: Samantha Bittman, David Hartt, Lisa Lindvay, Heather Mekkelson, and Ian Weaver. (See attachment for images and descriptions of the awardees' work.)
Art Prize:
The top winners included Adonne Khare from Burbank, Calif. for her large-scale graphite on paper drawing, Elephants, which took the $200,000, publicly decided ArtPrize Award, and Design 99 from Detroit, Mich., for Displacement (13208 Klinger St), a found artifacts installation, which was awarded the first-ever, $100,000 Juried Grand Prize. Other winners include… Alois Kronschlaeger, ABCD 83, Complex Movements, Dale Rogers, Paul Amenta, and Ann Morton. Popular vote winners… Richard Morse, Mark Carpenter and Dan Johnson, Dan Heffron, Kumi Yamashita, Dennis Harris, Sandra Bryant, and Chris LaPorte.
Prop Grant (a list we are honored to be on)
America/n, Area Chicago's Issue #13, Art Patch Project (APP), Chicago Alternative Comics Expo (CAKE), The Chicago Television Project,Comfort Station, A Day Without Public Art in Pilsen, Extinct Entities,  The Franklin, GLI.TC/H, Bad at Sports, Prison-Neighborhood Arts Project, Rooting: Regional Networks, Global Concerns,  Splitbeam, and Southside Hub of Production (SHoP)
New City Best of Chicago (another list we are honored to be on for the full break down check out Dan Tucker's list here.)
Best international showing of Chicago artists
Documenta13 in Kassel, Germany
Best dinner party with Fascists, Anarchists and Feminists
Feast at the Smart Museum
Best marching band documentary by the best Chicago artist that is not a Chicago artist
Cauleen Smith at the MCA
Best art museum that is not an art museum
The Jane Addams Hull House Museum
Best conceptually complicated exhibition to be mounted in what is essentially an office
"PROGRAM / SUFFER / ABSTAIN / DEPROGRAM" Presidents Gallery at Harold Washington College
Best art interview LP
Bad at Sports
Best political art performance reenactment
Iraq Veterans Against the War
Best shout out to the Black Power poet Amiri Baraka at EXPO Chicago
Anthony Romero and Jillian Soto reading
Best art reading
"MORE" curated by Laurie Palmer at Threewalls.
Best critical art project in Chicago this year
Chicago Torture Justice Memorials project
Full Best of here.
So there you go folks! Next time we will be faster about the posting.
---
My wife and my new daughter and I celebrated our first Thanksgiving in Cedarburg last week in the manner her family has for decades; by dressing up as pilgrims, Indians, and a single dubiously distinguished guest donning a turkey costume. As I held my daughter in that turkey costume, I wondered how tasteful or relevant the pilgrim/Indian myth was in 2012, but bit my lip in order to avert a sensitive issue.
Instead, as my child ramped up to a feeding, right when we were sitting down to eat, a heated discussion about breast vs. formula feeding leaped into the vacancy that would've been more comfortably filled by an argument about stereotypes and outmoded mythologies.
Having lived the past decade in bourgeoisie precincts of Brooklyn, I was unprepared for the onslaught from my older relatives. I've never been exposed to an enclave of formula supporters – everyone I know who's had a child in the past decade has opted for breastfeeding with the righteousness that one might a when opting for a reusable shopping bag or when signing a petition to end human trafficking. If you listened to any segment on New York's NPR station about the city's plan to offer free formula to new mothers, you'd have thought that the city was offering them Four Loko.
But apparently there is another side to the argument. And it was made at our Cedarburg dinner table by my older in-laws as they paused periodically to help themselves to canned cranberry sauce – a side dish I dismiss as totally as they do breastfeeding. The pros they presented were scattered and grasping, in the manner that rituals persevered by fashion and habit often are. Still, I would never dismiss an practice simply because a few of its practitioners defended it incoherently. There's usually an underlying logic to any ritual, even when none of devotees can remember what it is. I know this from years of having to defend contemporary art to students.
Defenses like: 'breast milk makes a child gassy'; 'mother's get anxiety about not producing enough milk, which affects their relationship with the child'; 'the child may be susceptible to the effects of the mother's sherry consumption.'
As the excuses flew scattershot over the dinner table, I fixed my eyes on my great-uncle-in-law (a staunch formula supporter) slicing the shapely gemstone of canned translucent cranberry into perfect coins. Another neat medallion was shaved from the dwindling cranberry cylinder by a great aunt whose pro-Similac pitch beamed through the metaphysical prism of the jellied side-dish and split the resounding argument into its fundamental components.
"Why wouldn't you want something that was measured and the same every time you served it? That's why they call it formula."
Yes indeed. F-O-R-M-U-L-A. Â As regular and unwavering as any myth meant to sort out the unknown and uncontrollable vicissitudes of chaotic reality into manageable pieces.
As the Similac-supporting crew whittled down the cranberry plug, they unwittingly revealed their deep appreciation for an entire age when cylindrical foodstuffs – the Primary Structures of food – signified industrial and technological progress. And conversely, an age when eating a farm-raised, grain-fed bird or a bundle of gnarled, irregular carrots was represented a wanting or lack of access to the post-war bounty of articulated metal and mass production.
The discussion dwindled after a half-hour and the drama of the Lions game took its place. The wedge of cranberry finally toppled as the hand-made cuts took their toll, its concentrically ringed ass ending up in the air. Still close to perfect from behind though. Take the plate away, put the glassy, scarlet disc in a white cube at the Green Gallery 50 years ago, and it would've been a minor masterpiece. A sweet 'n tangy Craig Kauffman, perhaps.
I'm sure none of the cranberry feasters know or care who Craig Kauffman or Donald Judd is, but their taste lets me know that they do in a deeper sense. They lived the same fantasy of industrial routinization exulted by Harley Earl, Kauffman and Judd alike. They helped shape and were shaped by a cultural milieu a half-century ago that has given way to one that yearns for the past they relinquished. One with dusty farms, knotty wood and fresh churned butter. And one with breast feeding. They left behind an untamed and less-regular past for one that could guarantee perfect cylinders of gelatinous, processed fruit that tastes either like irrefutable progress or oversimplified reality depending on who you ask.
---
Audio clip: Adobe Flash Player (version 9 or above) is required to play this audio clip. Download the latest version here. You also need to have JavaScript enabled in your browser.
download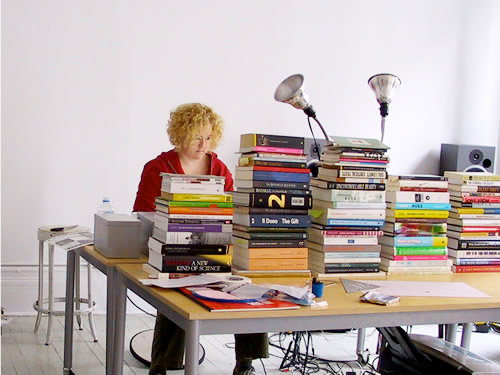 This week: More SoPra! From the Open Engagement 2012 Duncan, Abby Satin Sky, Randall, Jesse, and Brian team up against Sal Randolph!
Sal Randolph lives in New York and makes art involving gift economies, social interactions, public spaces, texts, and instructions, including Opsound, (a site for the exchange of copyleft music) the Free Biennial and Free Manifesta (a pair of open guerrilla 'biennials'), Free Words (a book infiltrated into bookstores and libraries), and Money Actions (an ongoing series of interventions in which she gives away money to strangers.
Her Money Actions have been part of the 2011 Ljubljana Biennial, the Live Biennale in Vancouver, Art in Odd Places, and textual version have been exhibited at Christina Ray Gallery. Other projects have taken place at Manifesta 4, Roda Sten, the Palais de Tokyo, Burofriedrich, Art Interactive and Pace Digital Gallery. In early 2012 she was an artist in residence at Proteus Gowanus in Brooklyn where she offered members of the public free tickets to unknown destinations.
Recently she has also performed live with her manual typewriter as part of 'And the Winner is Nick Kahn' at the Cantor Fitzgerald Gallery at Haverford. Her work has been commented on in Olav Velthius' Imaginary Economics; Contemporary Artists and the World of Big Money, Eileen Myles' The Importance of Being Iceland, as well as on National Public Radio and in The Art Newspaper, Tema Celeste and the Village Voice.
She is currently investigating games, recipes, algorithms, codes, and texts, playing video games, and writing about about experience, participation, and value in art.
---
Porno-Graphics: The Shame of Our Art Museums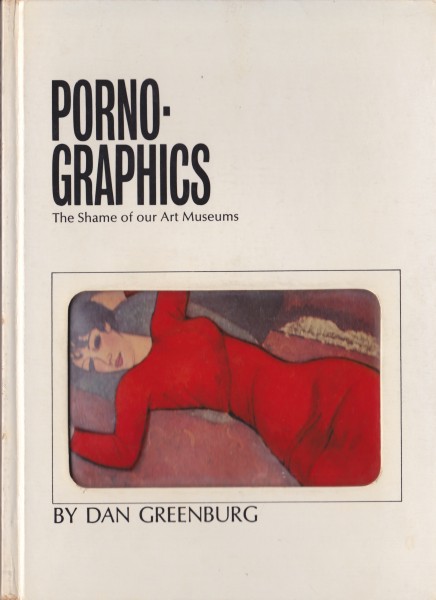 by Dan Greenburg
Remember those interactive pop-up books from when you were a child? Lift tab A to reveal this. Or pull lever B to reveal that. Dan Greenburg used just this method in his charming 1969 book Porno-Graphics: The Shame of Our Art Museums. This small gift book at first looks like a children's book with board pages. Save for the two-page Prologue, the book contains no text, only images of famous works of art. The conceit of the Porno-Graphics is best explained by Greenburg himself:
"Artists and art historians and art critics and art museum directors and other perverts have been perpetrating a cruel and devious and immoral hoax upon us for the last few centuries, and it is high time we recognized it and did something about it. These people have been pretending t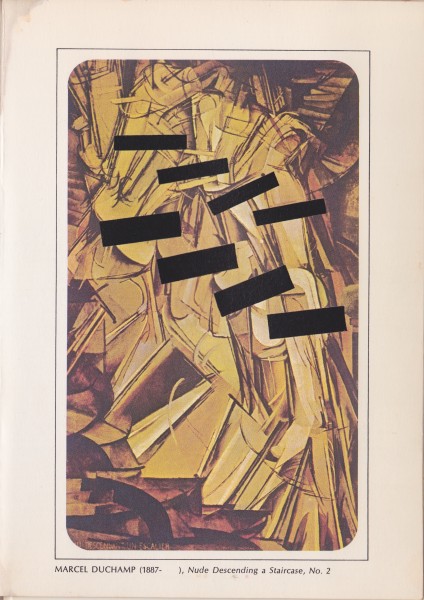 o us that a painting of a naked lady without a stitch of clothing on—in which you can see every single part of her body absolutely undressed—is great art and should be allowed to hang in a public art gallery and to be reproduced on a public postcard instead of insisting that it be sold under the counter and leered at in a sleazy underworld store in some red-light district and prosecuted to the fill limit of the law along with other hardcore pornography as it deserves…"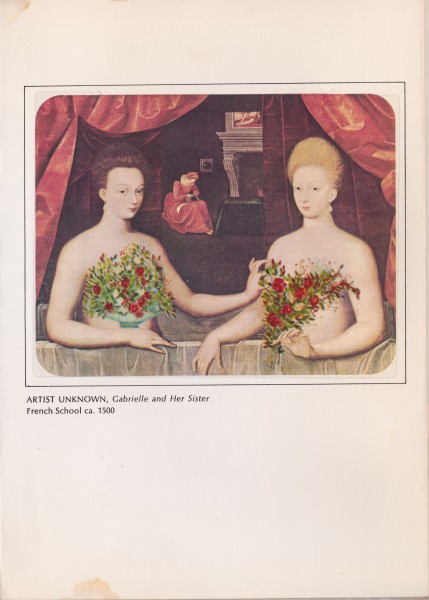 Thus Greenburg proceeds to take some of the Western world's most famous art and cover it up. The effect is funny and smart. Often these "improvements" turn what was once a beautiful nude into something that is actually dirty. While Porno-Graphics might not make any great statement about the nature of contemporary art, it did make me honestly reconsider the nude in art, and surprisingly made me question just what I view as obscene.
This really is a ridiculous little book, but with this being Black Friday and all, why not consider buying this quirky gift book for a friend. As of this writing it is available from both eBay and Amazon at less than ten dollars.
Porno-Graphics: The Shame of Our Art Museums
Dan Greenburg
Random House, hardcover, 1969
---
Audio clip: Adobe Flash Player (version 9 or above) is required to play this audio clip. Download the latest version here. You also need to have JavaScript enabled in your browser.
download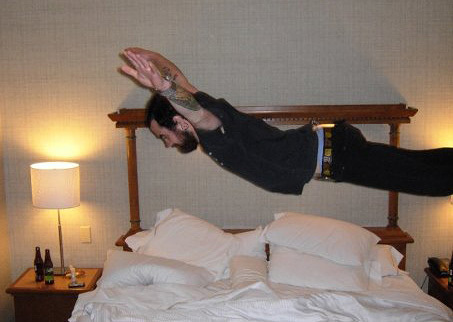 This week: Duncan, Brian, Abigail Satinsky and special guest host Jacob Wick (MFA candidate in social practice at CCA in SF, he has a hot dog stand and it's art….kidding….kidding) talk to Sean Joseph Patrick Carney about @socialmalpractice, Fuck James Franco and more more more! Everyone gets silly, editing was exciting. After that Richard and Max report live from the Chicago Toy and Game Fair. Max thinks the Star Wars nerds from the 501st are scary as hell.
Sean Joseph Patrick Carney is an artist, educator and writer living and working in Portland, Oregon. He has exhibited original work and performances nationally and internationally in New York, San Francisco, and Amsterdam, amongst others. Carney's interdisciplinary art practice includes stand-up comedy, sculpture, performance, sound, critical writing, satire, and public happenings. He is the founder and director of Social Malpractice Publishing, an artist book distributor. In 2011, he co-founded the Conceptual Oregon Performance School (C.O.P.S.), a free, artist-run summer institute focused on contemporary performance strategies and critical theory. Carney earned a BFA in Printmaking with a Minor in Secondary Education from Arizona State University in 2004, and an MFA in Visual Studies from Pacific Northwest College of Art in 2009 where he now works as an arts administrator in the Graduate Studies Department and as a faculty member in Intermedia.
---