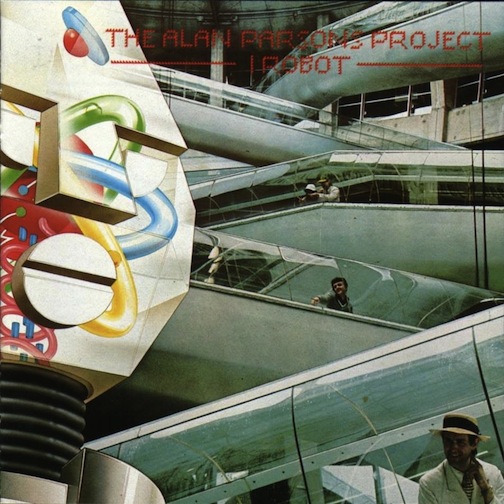 There's so much I have to tell you.
First of all, I moved to California, so, that's what On Moves is about now.  Get it?
This is reporting from the field, as it were.
Lately:  The Alan Parsons Project.  Jean-Luc Ponty.  Gentle Giant.  That's right.  FUSION.  I am a fusionista.  Ok, so maybe the APP and GG aren't quite fusion, but they've got undeniably fusionic tendencies within their respective progs.
Actually, as I write this, I'm listening to APP's "I Robot" from the album of the same title.  Not only is it an amazing album cover (shout out: visual concerns, Bryce Dwyer, airbrush techniques) but dang if it isn't just all sorts of futuristic groovy, occasionally menacing, and always smooth as syrup.
This is a record I could have been listening to the other day when I went to get my car washed.  It needed to be washed, sure, but that's not why I washed it.  I washed it because I wanted to sit in my car, having shifted luxuriantly into neutral, and be carried through a bizarre multisensory ride of a quality the so-called "Imagineers" at Disneyland couldn't even begin to fathom.  (No disrespect to Imagineers though, in all seriousness.  A truly noble class in an frequently ignoble world.)
Check back to my articles on proximity.  What is a world?  What constitutes the delineated object or environment?  Does delineation turn environment into an object?  What is the agential capacity to compose an environment, situation, aesthetic experience?  For me, it was an incredibly hot day.  I chose to put on my jazziest elastic-waist shorts, get in my car (which, although covered in bird shit, sap, various earth boogers and barnacles, I must insist: I would have let get worse.  I was not going to the car wash to wash my car, it was merely a cosmically ticklish bonus, an opportunity for wet, gleaming metal in the sunlight.), put on Hot 92.3, drive to the corner of Sawtelle and National, and pay $8.99 for the #4 car wash, the cheapest, my tires would not be polished.
I shouldn't be spending $8.99 on a car wash, let me tell you.  Hell, the last few times I washed my car, I reveled in my own hairy shouldered perversion of the beefcake-with-the-boombox, putting on my red mesh tank top and blasting Death's Sound of Perserverance while I inefficiently and water-wastefully hosed down the old Bad Luck Truck.  That occasion, itself, a classic example of radical experimental proximity in action, a case of amateur Imagineering, to be sure.  Again, Bergson's "Any Moment Whatever," but maybe switch Moment with Monument and let's call it a sculpture because it is a very fine mesh indeed.  Today, the very block of marble from which We Might Chiseleth, is different, and thus our response to said chiseling must be quite different.  Today, my boy, we go to the Car Wash.
(I'd like to report that Parsons is still killing it, this record is pretty heavy…but even as I write this, a thoughtful and groovy nod to gentleness and soul-baring.)
So, initially, I'm powerfully moved by the kindness emanating from the gentleman who takes my money.  Even the fact that he asks me, when I tell him I'd like the #4, if I wouldn't like the #5 instead  (the one where I get my tires polished), feels unimposing, truly motivated by kindness, just checking my man.  I say no thanks and he grins: "Right on."
I drive forward onto the tracks, stop, put my car in neutral.  The tunnel shaped machine kicks in.  A quick blast of water and suds is the first thing.  Art Laboe takes some shout outs as a mellow electric piano pulses quietly in the background.  Then the long flat foam rectangles, blue, from the ceiling, flop abjectly onto my windshield, crudely vogueing in slips and slurps through the water and glass.  Now it is darker.  It is loud.  The track is carrying me lovingly upon its weird lurch and various sprays peek through my car's new and wet blue dreadlock wig.  I smear out from beneath the blue floppers and am set upon by textured foam tubes, rotating on larger tubes, attached to the wall somehow.  I'm not really clear on what was going on at this phase, but it looked great.
Finally some more tubes, all of different sizes.  (I Robot, side 2)  Kind of like symmetrical pipe organs, white and blue.  White and blew – air, that is.  My car was being dried.  Anyway, a video might have been better to show you all what this thing was like, but I'm sure you can imagine.  Maybe for the next column, I'll have made a video of it.  Maybe I'll do a Kickstarter to fund the $8.99 for the cost of the wash, or maybe if even more folks donate than I initially need, I can get the #5.  Maybe even the #6.
Arend sent me this link to a recent interview with William Gibson that appeared in Wired.  There's a great passage that I'm going to quote.  It's really stuck with me and so I thought maybe I'd share it with you all, especially in light of the carwash and some thinking I've been doing about why our current time-slice has become such a relevant Any Moment Whatever for a renewed science-fictive vigor.
Says W.G.:
By the end of All Tomorrow's Parties, which was my sixth novel, I was starting to be haunted by a feeling that the world itself was so weird and so rich in cognitive dissonance, for me, that I had lost the capacity to measure just how weird it was.
Without a sense of how weird the present is — how potentially weird the present is — it became impossible for me to judge how much weirder I should try to make an imagined future. And so those last three books were — whatever else they were — were me building myself a new yardstick for the weirdness of the decade we've gone through while I was writing those books. And to judge by the book I'm writing now, for my purposes, I was successful because I now find myself able to extrapolate from this weirdness into another level of imaginary weirdness entirely….
So, in conclusion,don't worry, I'm making the most out of my time in California and I'll see you in two weeks.
Very best,
Sam
Post Script: At the time that I write this, the Alan Parsons Project has gone full on Stockhausen, atonal and dissonant, rhythmically formless choirs wail as strings and flutes stab with a creepy and creeping urgency.
Ok now it's gurgling deep analog synth drone.
Ok now funky groove drums and electric piano came in and it kind of sounds like Fred Myrow and Malcolm Seagrave's sound track to Phantasm.
Ok, goodnight.
---
At the end of August, Chris Hammes has an exhibition, Twenty-OneMotorcycles, at the Hills Esthetic Center. One of my favorite things about the show was probably the sound it created. I walked into a pitch black exhibition space and instantly zoned in on three different kinetic sculptures; flickering lights defined the bounds of each. In the first instance, I saw a stack of recognizable VHS tape player screens, recognizable only because of the disembodied digital numbers. The players themselves were subsumed in darkness and the numbers seemed to hang, like little electronic ghosts. To the right of the door, I saw a dizzy red,digital clock face spinning. And then, in the far corner, a spinning circle of colored light that looked almost like string. Each machine whirred, cranked and croaked in the darkness. It was white noise in darkness. Lights and sound in tandem created a mesmerizing effect. Every piece was engaged in its own, personal orbit, exhibiting a repeated, kinetic energy that was somehow calming rather than frenetic. It made the darkness full, as a house during the summer in the middle of the night. Fans I could not see, spun lights and pushed air. The various motions of these objects created a complex oral texture. In the following interview, I had a chance to ask how Hammes' came to create a dark exhibit, where his interest in hypnotism has come from, and why he's compelled by motorcycles.
Caroline Picard: What is it like to make work for the dark? How do you anticipate what you will see and what you are building (in the light, presumably)?
Chris Hammes: I didn't actually consider these works to be made for total darkness, it was a decision we made when the show was installed.  I made the work in the light and had intended to have some low-wattage spot lights on the pieces, but when we looked at the works in the space we realized that each piece has a pretty bright luminescence, and viewing in darkness just made it more intense.
CP: I know you have an on-going interest in hypnosis where did that interest come from and how does it manifest in your practice? 
CH: When I was in high school I picked up a book on self-hypnosis and experimented with it on my own, tape recording myself and then listening back. It was fun but I didn't see any use for it so I didn't really do anything with it. I studied sound at SAIC which lead to improvised electroacoustic performances, which lead to working as a producer and "talent" on a radio show called Blindspot, where I conquered some stage-fright and developed an interest in things like writing and performing for monologue and narrative. About four years ago I started experimenting with hypnosis again. I read a few books and realized this was a really fertile place to develop a collaborative practice that combined a lot of different disciplines that I wanted to explore. After some feeble first attempts, I was lucky enough to meet a professional hypnotist that took an interested in my work, and became somewhat of a mentor that examined my technique and gave me critical input to help me improve. I'm also lucky enough to know some very adventurous artists, so when I needed volunteers they weren't hard to find.
CP: When you hypnotize people, do you think of it as a kind of performance? What does that say about the artist i.e. artist-as-hypnotist?
CH: These sessions are a form of collaboration that often manifests as a performance, where the goal is to facilitate new experiences that can lead to the production of a narrative, sometimes music, an object or an image, while exploring the power-relationship between the collaborators. It involves seriously different roles on the parts of the collaborators, and can result in a power imbalance that's difficult to manage. And this power balance is something to battle against, follow or fall into unexpected places. In preparation I write scripts based on what we mutually want to accomplish in the session, but it's always an improvisation. For me as an artist, it's a tool for steering desires and perception towards an unusual creative place.
CP: I saw a connection between your work with hypnosis and the Harley Mandala. Can you talk a little bit about that?
CH: The Harley Mandala is one of two works in the show I've made using the Harley-Davidson logo, looking into the cultural significance of the Harley brand. Harley seems to possess a notion of freedom fused with rebellion that puts optimism in conflict with pessimism. Considering motorcycle culture symbolized by the Harley logo, I wanted to raise the logo to a spiritual place.
The Harley Mandala piece spins at about 1000 RPMs, which transforms the spinning Harley Davidson logo into concentric circles of light, similar in appearance to a circular mandala. This is one of two spinning pieces in the show composed of modified fans.  Part of the motivation with these two kinetic pieces is to exploit the limitations of vision by spinning an object so fast that it masks the true shape and appears to be something else.  Along with looking like a mandala, it also has that mesmerizing effect of the spiral use by hypnotists in movies. This mesmerism can happen when you know an object is different than what you're perceiving, which is similar to a perceptual shift that can happen with hypnosis. Maybe that's the connection.
CP: I also understand that, with the namesake sculpture, Twenty-One Motorcycles, you modified the interior of VHS machines, causing them to rattle and whir. VHS machines have such a curious presence — they're like these obsolete but very nostalgic machines. Somehow, by making them whirl especially loudly, you're connecting them to movement—specifically the open road, the motorcycle: can you talk more about that connection? 
CH:Â I attached metal tines to the spinning player head that reads the magnetic tape in a way that allows the machine to still function, but sound as if it's broken. When I press play, the motor slowly starts up and gains momentum, sounding like a much larger motor. It occurred to me that this kind of noise-making is similar to the pretending that a child does when attaching a playing card to the spokes of a bicycle, transforming it into a motorcycle. This ability to transcend through pretending feeds back to the VCR as another formative presence in the youth of my generation. The sound is created by this circular movement, but unlike the other work in the show with visible motion, this is announced by a screeching mechanical drone. They're stacked up at a height of a little under 7ft because I wanted it to be the height of a really tall, intimidating human. These machines still work as well as they always have, but nobody wants them anymore. The drone sounds aggressive, like a scream.
CP: The last thing I wanted to ask, in some way I feel like my questions have been leading up to this, but I was interested in the place of Romanticism in your show. Calling forth the specter of Voltaire and connecting them to motorcycles in Candide-Voltaire Motorcycles (as though they had a specific shop somewhere and fixed up bikes) or too, with Enlightenment, where one can drink a shot out of a resin cast shape of Voltaire's head….how does Romanticism play into this? I can't help feeling like there are ideas about justice and liberty, also connected to the open road, and a sense of space and nature—all of which come together here in a very Romantic, and especially American, fantasy. Maybe a better way to ask this question is, what does Voltaire's motorcycle shop look like?
CH: I hadn't thought of a motorcycle shop run by a mechanic team of Candide and Voltaire, but I love the idea.  I'm picturing modified pantaloon coveralls, maybe a mesh John Deere cap on top of Voltaire's powdered wig.
I'm not sure if it's Romanticism I'm interested in as much as a pairing of symbols of different cultural value.  Candide is valued European literature while Harley is working-class America, and both can be Romantic for different reasons. I've made a number of works that reference Candide by Voltaire to signal a division between Optimism and Pessimism. The novel is famously pessimistic, but also a political satire against the theological optimism of the Enlightenment era. It describes youthful naivete in a chaotic and malevolent world. I'm pairing Candide-Voltaire with Harley-Davidson to represent a similar conflict between optimism and pessimism.  Harley always reads as patriotic  and American. It was one of a few companies supplying motorcycles to WWII, and the formation of motorcycle gangs comes in large part from the post-war alienation felt by veterans returning home. On the surface, there's an obsession with death imagery, black leather, skulls and flames. Underneath is a clear corporate marketing presence and commodities feeding these images. This logo can read as a celebration of fearlessness, a burn out before you fade away kind of freedom. But it can also invite fearfulness, playing into the dark-side of outlaw motorcycle clubs engaging in organized crime, drugs, violence, prostitution, human trafficking, ritual initiations, etc. We know the motion picture Easy Rider, and we know the Hells Angels at Altamont. With both symbols there's a spiritual aspect, and a separate blunt reality to contend with.
---
Audio clip: Adobe Flash Player (version 9 or above) is required to play this audio clip. Download the latest version here. You also need to have JavaScript enabled in your browser.
download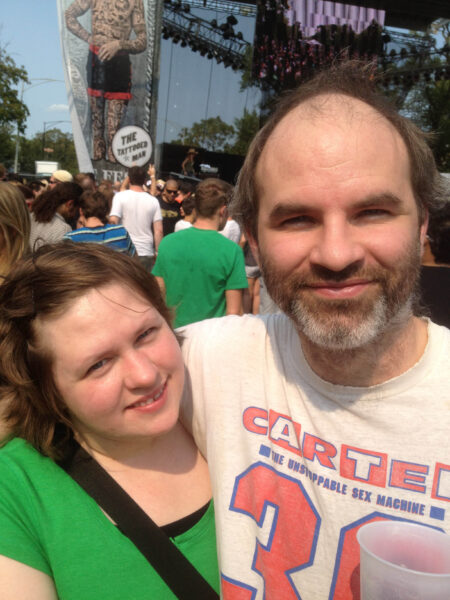 This week: Richard talks to Tom Burtonwood and Holly Holmes, about their work individually, collectively, and their current gallery What it is.
Tom will be in the Bad at Sports booth with Makerbot Madness and EXPO this week!
---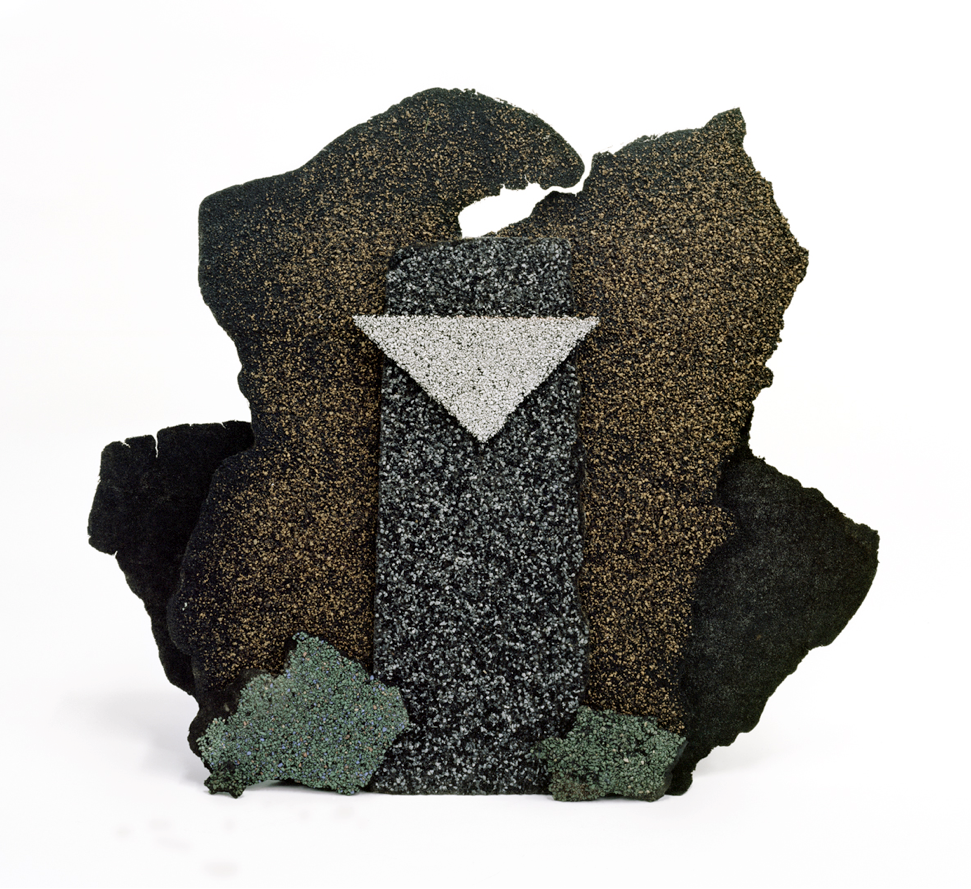 Work by Alberto Aguilar, Peter Fagundo, Julia Fish, Michelle Grabner, Jessica Labatte, Nick Ostoff and Allison Wade. Organized by Michael Milano and Jeff M. Ward.
Adds Donna is located at 4223 W. Lake St. Reception Sunday, 4-7pm.
2. Ill Form and Void Full at Valerie Carberry Gallery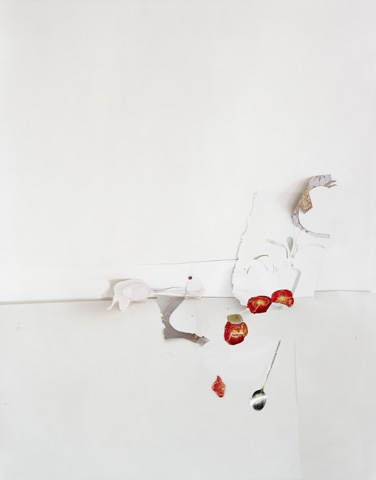 Work by Laura Letinsky.
Valerie Carberry Gallery is located at 875 N. Michigan Ave. #2510. Reception Friday, 5:30-8pm.
3. Blood Work at the International Museum of Surgical Science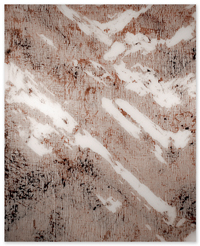 Work by Jordan Eagles.
International Museum of Surgical Science is located at 1524 N. Lake Shore Dr. Reception Friday, 5-9pm.
4. The Great Refusal: Taking on New Queer Aesthetics at Sullivan Galleries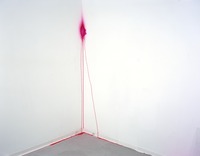 Curated by Oliverio Rodriguez, with work by Jordan Avery, Beatriz Aquino, Shandi Hass, Kiam-Marcelo Junio, Nicole Ricket, Jackie Rivas, Hannah Rodriguez, Ali Scott, Jannah Tate, Dana West, Sky White, and Nikki Woloshy.
Sullivan Galleries is located at 33 S. State St. 7th Fl. Reception Friday, 4:30-7pm.
5. Alleys and Parking Lots at moniquemeloche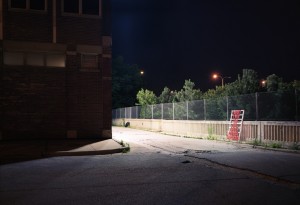 Work by Joel Ross and Jason Creps.
moniquemeloche is located at 2154 W. Division St. Reception 4-7pm.
---
Venerable New Yorker film critic Pauline Kael is often misquoted as having said she couldn't believe Richard Nixon won the 1968 presidential election because she didn't personally know anyone who voted for him. This sentiment has long been deployed by conservatives as a symbol of Northeastern liberal out-of-touchness.
It's September and school is back in session, which means I'm a frequent flier and again wearing slip-on shoes to get through security easier. I was thinking about Ms. Kael's statement, and of availability bias when one of the TSA agents in Milwaukee blurted  "you're not going to vote for Obama now are you?" He laughed after he said it, but only to indemnify himself. It struck be as strange that he would pick me, coming from New York, to needle. He must have noticed the box clipping I tote around of a Chia Obama I found under the seat of a rental van 4 years ago, though I have it as a good luck charm, not a political symbol. As far availability bias, not only can I not name a colleague in Brooklyn who voted for John McCain in 2008, I'm not sure I know anyone there who knew anyone else who didn't consider the McCain-Palin ticket as anything more than fodder for Lorne Michaels. Yet, over 50 million Americans disagreed. And it appears one of them may work in security at General Mitchell airport in Milwaukee.
Last Tuesday in my Cedarburg, WI studio the furnace maintenance guy barreled in as I was prepping panels. Though it was 79 degrees my father-in-law had called in a pre-emptive strike against what he thinks will be the "most severe winter on record." Funny, because everyone in New York seems to think this year's winter will be even warmer than last – which was one of the warmest on record – due to the effects of global warming. For the record, I believe in global warming; however, I also believe that many now tend to forecast weather with politics instead of meteorology, hoping it's warm in January if only to rub salt in the eyes of those who they see as apologists for unregulated industrialization. And, of course, vice-versa – I tend to believe my father-in-law is personally willing on a cold winter so he can show all the hippies in Massachusetts that the sky isn't falling.
Anyway, he sent the furnace guy to my studio to make sure everything was ready for the coming ice age. And without provocation and for means of introduction while we shared semi-intimate space together, he blurted, "Did you watch that convention last night, (referring to the DNC) Crazy stuff, huh? If we don't get Obama outta there soon, some shit's going to hit the fan."
I'll never reveal where I personally stand on politics, but you can be sure that if am ever invited to a dinner with your family I won't kick off the exchange by asserting my opinions about religion, politics or sex.
The only possible explanations for furnace dude's remarks are: 1. That he's incredibly tactless, or 2. He's so insulated from anyone who would find what he said unreasonable that he considered his remarks as safe as any platitude about the weather, or 3. My father-in-law coached him to try to figure out my politics. If you're reading this, dad-in-law, you're out of luck, because I'm a vault.
I agreed that the world was descending into the abyss and kept sanding.
This past Friday I returned to New York for the weekend and went to see a documentary about the artist Wayne White called "Beauty is Embarrassing." It was an engrossing and surprisingly uplifting 90 minutes of chilly theater time, and the second time in three weeks I had gone to see a show at IFC. The other was for Mike Birbiglia's "Sleepwalk With Me." At the end of both shows I embarrassed myself by trying to exit just as the Q and A sessions with the film's subjects were commencing.
Especially in the case of "Sleepwalk With Me," I felt a mild unease with the nature of the post-film discussion. Ira Glass and Mike Birbiglia fielded questions graciously and humorously, but were conspicuously on message – they were there to spread gospels to their disciples and encourage dissemination to those in the deprived hinterlands. They actually encouraged us to use the social networks at our disposal to disseminate our praises to those outside of New York.
This smacked of desperation to me. "C'mon, you're Ira Glass and Mike Birbiglia, do you really have to pander like buskers with hats out? It's not becoming of superstars to beg like hobos."
I just got back into Cedarburg today and am prepping for class tomorrow. As we do every Sunday, my father-in-law picks me up from the airport and drives me through the main drag of Cedarburg to see what's new. Nothing ever is, really, that's the charm of the city. It's actually kind of ironic that he's so bent on seeing what's new, when in fact he's actually trying to reinforce how not new everything is.
Well, actually one thing is new every week: the movie showing at the one-screen, second-run theater in town, the Rivoli. It's usually something that plays well with families. Maybe an "Alvin and the Chipmunk, the Squeakquel," or a Pixar movie. This week it's "The Amazing Spider Man." I hadn't even recalled another Spider Man being made – it must have gotten lost in my mind with all the Tobey Maguire sequences and the whole "Afraid of the Dark" fiasco.
We circled the town one more time, detouring by the fire station to see a new truck that he's showed me each of my last four visits, before we arrived safely at the homestead. At home I spread out in the living room floor like a fat Labrador to prepare for class. But only before procrastinating with some Art Fag City gossip and looking up box office receipts for some recent motion pictures.
The Amazing Spider-Man                                             Sony                $260,005,361
Alvin and the Chipmunks: The Squeakquel             Fox                  $219,614,612
Sleepwalk with Me                                                          IFC                           $535,948
I thought, Two hundred million dollars? How did it make that much money. I can't name a single person who paid to see Alvin and the Chipmunks!!!"
You know, it's hard to teach about Postminimalism with the box office totals for a Chipmunks movie weighing on your mind.
As I placed Eva Hesse images into a Powerpoint, Alvin went on heckling me in a high-pitched voice.
"We're winning. We're winning big, Mr. Shane. Bigger than Nixon in 68. Bigger than Nixon in 72."
---