1. The Dragon is the Frame at Gallery 400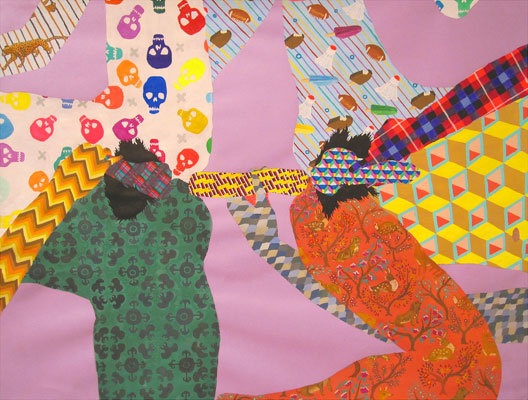 Work by Mark Aguhar, Claire Arctander, Nina Barnett, Jeremy Bolen, Elijah Burgher, Edie Fake, Pamela Fraser, Tiffany Funk, R. E. H. Gordon, Steve Hnilicka, Kasia Houlihan, Mark Kent, Young Joon Kwak, Andrew Mausert-Mooney, Marianna Milhorat, Tim Nickodemus, Aay Preston-Myint, Juana Peralta, Macon Reed, Colin Self, Michael Sirianni, Nathan Thomas, Neal Vandenbergh, Xina Xurner and Isaac Fosl-Van Wyke, Allison Yasukawa, Gwendolyn Zabicki, and Latham Zearfoss.
Gallery 400 is located at 400 S. Peoria St. Reception Friday, 5-8pm.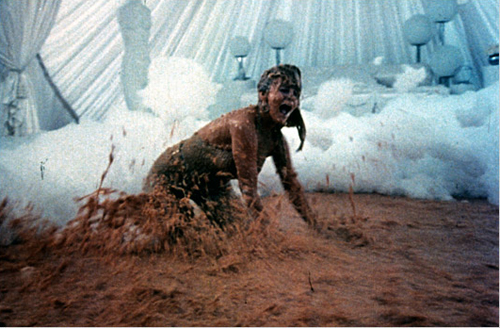 Curated by Shannon Stratton, with work by Laura Davis, Carson Fisk-Vittori and Julia Klein.
Threewalls is located at 119 N. Peoria St. #2C. Reception Friday, 6-9pm.
3. KLOSS/STOLTMANN at New Capital

Work by Mike Kloss and Kirsten Stoltmann.
New Capital is located at 3114 W. Carroll St. Reception Saturday, 7-10pm.
4. Inner Self at Prak Sis Gallery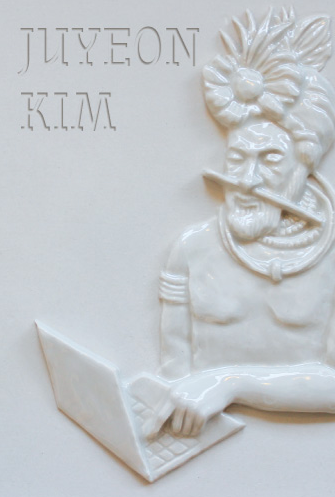 Work by Juyeon Kim.
Prak Sis Gallery is located at 1917 W. Irving Park Rd. Reception Saturday, 5-8pm.
5. Bowling Alone at Andrew Rafacz Gallery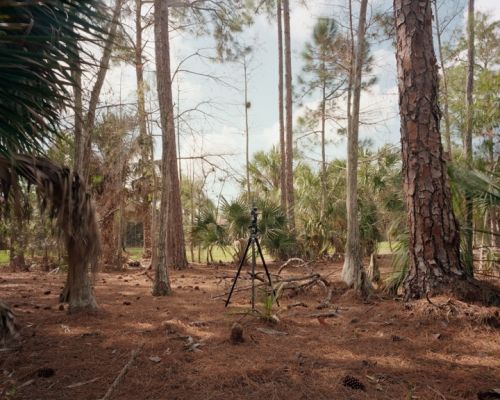 Work by Brandon Anschultz, Daniel Baird, Benjamin Funke, Sarah Mosk, Eileen Mueller, Aay Preston-Myint, and Min Song.
Andrew Rafacz Gallery is located at 835 W. Washington Blvd. Reception Saturday, 4-7pm.
---
OPEN CALL FOR PROPOSALS: DUE AUGUST 15th at MIDNIGHT
October 26-28th, 2012 at the Geolofts
Friday October 26, Vernissage
Open Saturday October 27 and Sunday October 28, 12-6 PM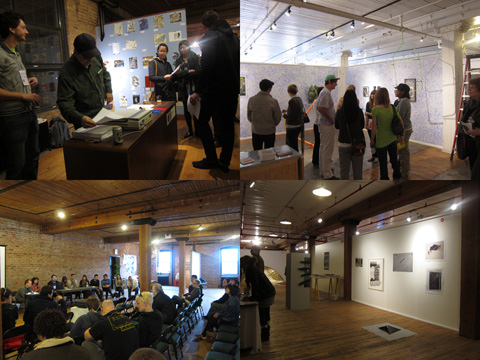 The MDW Fair invites proposals for its fall showcase at the Geolofts in Bridgeport. Formed in spring 2011 as a collaborative project between the Public Media Institute, document, Roots & Culture and threewalls, the MDW Fair is a showcase for independent art initiatives, spaces, galleries and artist groups, highlighting artist-run activities and experimental culture locally, nationally and internationally. The MDW Fair is the world's premier event for grassroots and independent art culture.
MDW invites curatorial proposals from not-for-profits, artist-run spaces, emerging galleries, collectives and independent curators across the United States and around the world. MDW also invites proposals for performances, programming and independent publications.
PROPOSALS ARE DUE AUGUST 15, 2012 AND SUCCESSFUL APPLICANTS WILL BE NOTIFIED BY SEPTEMBER 10, 2012
Proposals for booths:
Groups are required to send 10 images of the curatorial premise they wish to focus on at the fair. Number of artists is not limited, proposals will be judged on quality of the premise and the artists' work. Deadline is August 15th. Images should be sent as a zip file along with a short mission statement/bio about the presenters and 500-word curatorial statement. Successful applicants will be notified by early September with details. All booth spaces are 300 sq feet/$400. Successful applicants will be included in the MDW Catalogue, published by Public Media Institute and designed by Plural.
Proposals for publications:
We welcome exhibitors that produce and publish artists' books, art periodicals, artist zines, or independent art-book culture in all forms, including fiction, non-fiction, and poetry. Interested publishers and booksellers should send a 500 word or less description of their organization or project. Tables cost $50.
Proposals for programming:
Proposals can be for lectures, panels, performances, music, or any other kind of experimental action. Picnics, tours, public interventions, artist-led workshops and discussions as well as creative disturbances in public space are also welcome.  Performance artists and event producers of all stripes are welcome. Please send a 500 word or less description of program, time limit, and preferred time slot during open hours on Saturday and Sunday.
Submissions for the MDW Fair can be emailed to: mdwfair@gmail.com
Questions about submissions can be submitted to Aron Gent at: arongent@arongent.com
Design by Plural
For more information, please visit mdwfair.org
---
Dear Chicago, please allow me to let my nerd flag fly today. The entity known as Columbia College apparently has a Center for Book and Paper Arts, which is already pretty cool, but on top of that they are accepting proposals for two $10,000 commissions. This reminds me of the NMWA's Fellow's artist program, which then reminds me of the Women's Studio Workshop residency. On the other hand, maybe you don't make books but live in Brooklyn. In that case you should participate in Brooklyn Museum's new community-based initiative.
Let's talk BKLYN.
GO: a community-curated open studio project
Artist registration ends on June 29!
GO is a new project from the Brooklyn Museum, taking place in neighborhoods throughout Brooklyn. During GO, Brooklyn-based artists are asked to open their studios to the community on September 8-9, 2012. Community members registered as voters will visit studios and nominate artists for inclusion in a group exhibition to open at the Museum on Target First Saturday, December 1, 2012. Â Visit the GO website to learn about how you can take part in this borough-wide project.
www.gobrooklynart.org

In book news…
Columbia College's CBPA Commision
Deadline: September 15th, 2012
The Center for Book and Paper Arts, a program of the Interdisciplinary Arts Department at Columbia College Chicago, recently received a $50,000 Arts in Media grant from the National Endowment for the Arts in support of a new electronic publishing initiative, Expanded Artists' Books.  This grant will support an award of two $10,000 commissions for new artworks for the iPad. These will have physical counterparts that intersect, modulate, or inform the digital components of the artwork.
Super boring downside: "In addition to the quality of the concept, the criteria for selection of proposals will include the artist's demonstrated facility with the digital tools (prior iPad development experience highly valued)"
Silver lining: You have more than 2 months to master the "facility" of the iPad.

Brief nerdy mentions if you are a book artist or have made a book or like artist's books in general:
A while back I mentioned the Library Fellows' Award from National Museum of Women in the arts. It exists in essence to encourage and support the creation of artists' books and to benefit the Library and Research Center. Anyway, the deadline is June 30th and if you're a hardcore talented genius, I suggest you put in a proposal in the next four days. If you're maybe a little more humble about yourself, it's a biennial sort of thing and so there is always the year after next to apply.
In the same vein of identifying as a woman and being a book artist, there is of course the Women's Studio Workshop—a visual arts organization with specialized studios in printmaking, hand papermaking, ceramics, letterpress printing, photography, and book arts. P.S. WSW is the largest publisher of hand printed artists' books in the country. They offer grants, fellowships, residencies, internships and studio space in a pretty dreamy part of New York state.
Last but not least, one of my favorite websites to spend time on is The Independent Photobook. And, I think he's douchebag, but Alec Soth's LBM website has a great list of resources to check out for the emerging and well acquainted book-minded.
---
I spent last Saturday providing unwanted color commentary to my wife as she shopped for gifts at the Renegade Craft Fair in Brooklyn. For those who don't know, the RCF is a craft-based flea market, whose proprietors and patrons share an affinity for tights-as-pants, non-menacing tattoos and, of course, crafted nostalgia. It was started in Chicago in 2003 and has since cropped up in other bourgy hotspots like Austin and San Francisco.
I might have indulgently added a paragraph here with some of my more searing moments in the booth—those comments that forced my wife to jab me in the ribs with her elbow—but taking shots at the embroidered-owl-tea-towel set just doesn't have the impact it did before Portlandia. So thanks Fred and Carrie for stealing my thunder. You do it so well.
Because my wife wasn't having my shtick, I wandered off through the city of tents and made like a social anthropologist for a few hours, in the process devising a crude hierarchy of crafter quality, based on degrees of transformation.
Creative Level 1 (Sedimentary): Any combination of two or more conventional images or objects that transform neither the components nor the final product. This includes eco-tote bags screenprinted with hedgehogs or bumble bees, onesies screenprinted with frogs, letterpress greeting cards and posters spelling out B-R-O-O-K-L-Y-N over a graphic of the street grid.
Creative Level 2 (Igneous): A recognizable object or image transformed into a new, distinct object or image, often characterized by the simplicity of the final form. This includes Nancy Drew books turned into memo pads, old records heat-formed into bowls and vintage beer bottles cut to become tumblers.
Creative Level 3 (Metamorphic): Material or objects transformed into another object or system of objects where the transformation is either:  1.) motivated by the material (in the Robert Morris sense) 2.) poetic/metaphorical (such as, Interventionist board games, where the rules and terms have been manipulated to better match the game's theme…like, drawing the wrong card in the game of Life might lead to an actual cold sore)  3.) figuratively and literally transformed into a unique product (like, a telescope made out of Can't Buy Me Love Beta Cassettes.)
Looking at all the plants potted in split Wiffle Ball bats and homemade lemonade soap and dishes formed from old Dr. Seuss books made me realize how structurally similar the craft world is to the art world. Sure, the posturing is different, but they share a creative foundation.
Jasper Johns famously said of art making, "Take an object. Do something to it and then do something else to it."
Art, like renegade crafts, like rocks, and like enlightenment itself, is about transformation.
But a transformation to what?
Among some fish pillows made from old flannel shirts, I had a vision back to the rural, homespun version of the Renegade Craft Fair: Maxwell Street Days in Wisconsin. Also taking its origins in Chicago, from the original Maxwell Street, Days is more a flea market than a craft fair, more raw material than refined product. The last time I attended, I discovered a terrific steel drafting table in a booth run by mustachioed dude named Mike and his bang-ed wife, who, despite having a similar haircut, wouldn't have known Zoe Deschanel from the current Under Secretary of the Interior. After chatting with Mike about hardwood and milling for twenty minutes I made him an offer on the desk and expressed my reservations about transporting the piece to the car. Mike gave me a good deal and then a hand carrying the piece out to the street, a cigarette in his mouth and a bottle of beer in his back pocket the whole time—he stuck it there when he realized he needed both hands to carry the desk. The beer sloshed around as he shuffled. I remember staring at the muskellunge on his ratty tank top to avoid awkward prolonged eye contact. It occurred to me, standing on the Brooklyn waterfront last Saturday that from a crude description of this couple, one might envision them as the types who play kickball in McCarren Park on Sundays, when in fact they'd sooner be getting their sun on a pontoon boat on Lake Geneva.
The old hubcaps, worm-eaten barnwood planks and antique washboards spawned from Midwestern garages, symbolize a past that my generation considers to be more redeeming than the one we've inherited. The symbolic power of vintage miscellanea to artists and craftsmen is that it evokes a nostalgia and wholesomeness of the past..of our youth. But maybe more importantly of youth in general and of innocence unspoiled by self-awareness.
If Maxwell Street is the metaphorical ore for the more refined products of the Renegade Craft Fair, that guy, Mike, in his artlessness is the ore for the artists of the urban set, whose transformative Odysseys are mostly additive, while their destinations – purity, authenticity and cultural virginity – are decidedly reductive.
Indeed: take something, do something to it, then do something else. Do yoga, read Proust, paint pictures, but also: somehow find naked, raw, aching originality at the same time. That second part is more difficult for the cultivated soul.
It makes me think of Stephen Daedalus in A Portrait of the Artist as a Young Man:
"The artist, like the God of the creation, remains within or behind or beyond or above his handiwork, invisible, refined out of existence, indifferent, paring his fingernails."
Thus:
Creative Level 4 (Precious Stones): Marked by an individual transformed from sophistication back into a pre-Creative Level 1 state of virtue (we might call it "Earth"), who has started making art from scratch, again. This includes: magical contradictions of all sorts, yet to be determined.
So, a transformation into what? It's like that Potter Stewart quote about porn, "I'll know it when I see it."
---
Audio clip: Adobe Flash Player (version 9 or above) is required to play this audio clip. Download the latest version here. You also need to have JavaScript enabled in your browser.
download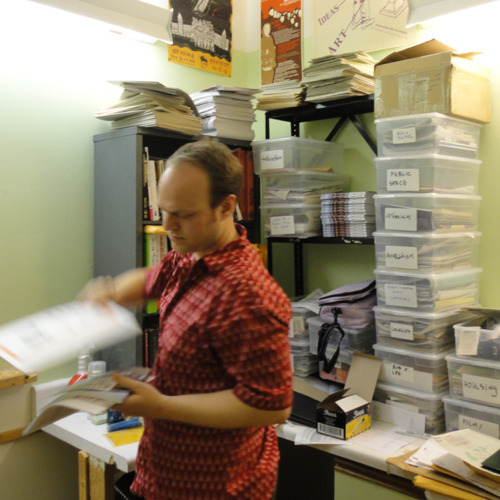 This week: Artist, founding member of Area Chicago, singer Daniel Tucker.
Also, after the show Duncan tries his hand at announcing top 40 radio.
---