This weekend, Chicago's Poetry Foundation plays host to FJORDS, an exciting multimedia adaptation of Zachary Schomburg's book of poems of the same name. A collaboration between Manual Cinema and the Chicago Q Ensemble, the production features all manner of performed silhouette, shadow puppetry, and multiply-sourced projections with an accompanying score. Composer, musician, and Manual Cinema member Kyle Vegter wrote the score for the Q Ensemble, a forward-thinking and collaboratively-minded string quartet.
The Poetry Foundation shows are mostly sold out (though day-of tickets may be available at the door). Schomburg's tumblr hints that an encore show may take place on Monday. I'll update this article if/when more specifics are revealed. Tour dates can be found here.
Schomburg's poems have been published all over and with good reason. Â FJORDS Volume 1Â will be released by Black Ocean on March 5th. Additionally, he is one of the three editors behind the small poetry press Octopus Books, co-programs the Bad Blood reading series in Portland, and teaches at Portland State University.
I was privileged to experience Vegter's site-specific composition/installation for the Chicago Composer's Orchestra in the Palm House of the Garfield Park Conservatory in December of 2011. The work utilized the tremendous room, with subtle, textural tones mirroring the space's. His work with Manual Cinema (Julia Miller, Drew Dir, Sarah Fornace, Ben Kauffman, and Vegter) has included the much heralded Ada/Ava and The Ballad of Lula del Ray. This is their first collaboration with the Chicago Q Ensemble, whose Ellen McSweeney I interviewed about the collaborative process.
Please describe the kind of work you typically do.
As a quartet, we perform a combination of contemporary music — often by Chicago composers, like Kyle — and works from the classical string quartet repertoire, like Haydn, Beethoven, Brahms, Shostakovich. That's the stuff we got all our advanced degrees studying.
Our process is pretty simple: we'll rehearse several pieces of music intensively, just the four of us, for a period of months before presenting it to the public. Occasionally we'll play for coaches (master teachers/mentors) to help us take the performance to the highest possible level.
While collaborating for FJORDS is definitely the most "outside the classical music box" project we've ever been part of, collaboration is a part of our mission statement, so it's very much in line with that our priorities are and the direction we want to go in.
Please describe how this project came to be and how you became involved.
Kyle and I first met while working together on a concert for Homeroom — I played one of his pieces. I later interviewed Kyle for my blog and we became friends! My first Manual Cinema experience was The Ballad of Lula Del Ray. I was completely enchanted. I was so mesmerized by the show that I had absolutely no idea what was happening; for example, I didn't realize the puppets were being manipulated live. So I've been a fan of their magic-making for a long time.
When it occurred to me that Chicago Q could actually collaborate with Manual Cinema, I called Kyle out of the blue one day and basically said, "We have to do this!" It turns out it was the perfect time for them to start thinking about it, as they were looking to do a more music-centered project. We started meeting together — all nine of us! — to talk about what the collaboration would look like. It just goes to show you that sometimes it's work making that call
I think when Kyle told us about Zach's book, FJORDS, the project really just started to take off. All the creative minds of Manual Cinema were drawn in by his work and started to create amazing worlds around it. On our end, we began to get to know Kyle and his music better.
Please discuss, as you'd like, adaptation, adaptation as collaboration, and collaboration.
Funny enough, around the time that you emailed me, I wrote a blog post about why collaboration is so challenging, and so essential, for classical music ensembles. In our field, there's a conservative attitude that if you're playing a great musical masterpiece, you shouldn't need anything else on the stage. There's a fear that other elements will distract the listener from the greatness of the music. This project is working from the opposite assumption: that, if you do it right, we CAN marry elements of theater, poetry, and chamber music in a way that lifts them all up, as opposed to cheapening them.
One of the sad things about being a classical violinist is that you aren't often treated as creative artist. You receive a score, and your job is to execute it as written. Sure, there's some flexibility, and your technical knowledge and performance ability matter a great deal. But as performers, we often enter the picture after the creative process is over.
This project has started to defy that "post-creative" role a little bit. Kyle has been exceptionally open to our feedback and ideas about what he's writing. And now that we're rehearsing with Manual Cinema, in front of the screen, we are absolutely a part of the creative process. Because we know Kyle's scores extremely well, we have strong ideas about what the mood of the music is, and how it can help increase the drama and emotional resonance of what's on the screen.
When Q and Manual Cinema first sat down together, I declared that I wanted us to be creative partners, not mere technicians, as instrumentalists are often asked to be. That dream has totally come true and it's an amazing experience so far.
What are the ideas, stories and interior logics of this work about which you felt most strongly? How important to you is it that certain elements of the source were carried through to the performance? What is most challenging/exciting about the wordless rendering of a poem? 
We've really deferred to Kyle and MC on these fronts, and we weren't really a part of the adaptation process.
Music and poetry have been working together for a long, long time. I find when I read a great poem, it's a like a tiny capsule that evokes an entire world. There's so much AROUND the text of the poem, so much just outside the boundaries of what's been written. Music is a natural way to express that world that's being evoked: the textures, feelings, colors. I think Kyle did an amazing job creating a musical world for each poem, and it's a lot of fun for us to embody that world as we play our instruments.
Much of the revitalized Poetry Foundation's mission is to "discover and celebrate the best poetry and to place it before the largest possible audience." While this doesn't specifically mention finding new forms and modes for poetry (as a way of enabling its position before a larger audience), I'm curious how conscious you are of trying to expand poetry's audience. And, relatedly, how conscious you are of trying to expand contemporary classical/string music's audience. 
Absolutely. Expanding the audience for contemporary music/classical music/the string quartet is probably the most important part of our mission.
It's amazing how much excitement this project has generated. People are really intrigued by the possibilities of the project. And I think there's a tremendous excitement for us, for Zach, for MC to be engaged in something that's very ambitious and very different for us. And it's amazing how much we are all benefiting from the risks we've taken. All four shows are now sold out, and hundreds of folks — who might never have come to a regular string quartet concert — are going to be engaged with our playing. The project has been a huge learning experience for me about the power of working together as a team — not going it alone, but finding others to support you and work with you.
Should more string quartets tour? Should string quartets tour more?
Sadly we aren't touring with the show — they'll tour with the amazing recording of us that Kyle just produced! But we definitely would like to tour more. Turning our ensemble into a full-time job that can sustain us is a gradual process, but we're getting there!
Another tidbit about touring: I think people in string quartets are a little fussier than rock bands. Sounding "perfect" and being at your best is a strong pressure in classical music, so we somehow think that touring should involve comfortable travel and accommodations. We should learn from the whole "band in a van" thing, get our hands a little dirtier, and we'd probably tour more.
What (historical) collaborations informed this project? Are there other productions involving/engaging poetics that you felt were especially useful? 
I like knowing we're in good company with that ensembles like Fifth House, who are very committed to "musical storytelling" and having huge success with it. I'm inspired by some of the more off-the-walls collaborations that eighth blackbird has done. Obviously, the Kronos Quartet were a huge breakthrough force; all the crazy stuff they've done over the past few decades has paved the way for classical ensembles to venture into new territory, both musically and theatrically.
But honestly, I'm still figuring out what our role is in this show. Are we in the pit at an opera house? Onstage movement artists with instruments? I think we're making our own way, trying to figure out what's going to create the best possible experience for the audience.
---
Audio clip: Adobe Flash Player (version 9 or above) is required to play this audio clip. Download the latest version here. You also need to have JavaScript enabled in your browser.
download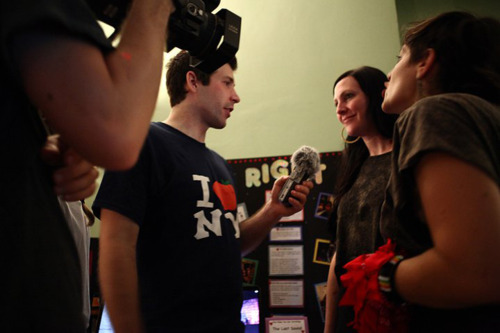 This week: Special guest contribution magic from Ben Peterson of BenPR!
BenPR is an interview series created about people doing creative work with a public or social dimension.
---
My late-night Bushwick experiences over the past seven years have merged into a single composite memory: I get dropped off by a gypsy cab on a dark street named after a Dutch aristocrat, search for a DIY gallery-opening in the basement of a basement of an abandoned warehouse that I heard about from a friend who heard about it from an art handler at his LES gallery, and afterwards I head to Kings County Bar and continue to drink Yuenglings until early in the morning and then walk back to Greenpoint along Morgan Avenue avoiding shadowy drunk strangers and feral dogs.
Given this surreal recollection, it felt very strange to go to an opening last Friday night in Bushwick at Luhring Augustine Gallery, held in a large, manicured, out-in-the-open building. The blue-chip Chelsea mainstay recently joined the East Brooklyn slummer party by opening a spacious franchise at 25 Knickerbocker Ave.
The venerable gallery hit the party scene running by hosting a blow-out opening reception of Charles Atlas video projections that was almost like watching Darren Aronofsky's "Pi" minus Clint Mansell's score. As I milled about on the sidewalk I saw the the well-heeled segment of the art world having a midlife crisis. This was its Fiat convertible and the cool young mistress with forearm tattoos riding shotgun.
Bellwether or Outlier, one couldn't help wonder. My friend and I considered the dissonance between the gallery clients' Citarellas on the Upper East and the Dominican bodegas dotting the streets around us.
"Does this move mean that Chelsea is the new 57th Street; the Lower East is the new Chelsea; Bushwick is the new Lower-East and Ridgewood is the new Bushwick?"
"What would the New Ridgewood be?"
"A pile of bedbug infested mattresses behind a KFC in Hollis, Queens."
"Maybe a sinking trash barge in Long Island Sound. Extra exclusive because the whole abject scene would be time sensitive; if you got there too late you'd be both out-of-the-know AND dead."
"Funny because it's not that far off."
I didn't end up at Kings County until 3 AM that night because I had to fly back to Wisconsin early the next morning to attend an art opening of a family friend at the Cultural Center back in Wisconsin. My mother-in-law was helping out with the decorations for the Medieval-themed art exhibition, complete with barrels of mead, monks, minstrels, and, despite my warnings that they were New World animals, oversized turkey legs.
Unlike most galleries in Bushwick, merely finding the Cedarburg Cultural Center isn't edifying; It's intentionally easy to locate and its target audience is anyone who can fit through its well-decorated doors with close-toed shoes. It has a large sign out front and amply distributed posters at every diner, curio and fudge shop letting everyone who passes through town, young and old, square and hip alike, know when a spectacular cultural event will take place.
That evening I headed from my in-laws house to the Cultural Center – not a three-minute walk even if I was obstructed by rogue dogs and drunken streetwalkers. When I arrived I chatted up several of the volunteers who were still prepping for the opening, rolling antiqued, walnut stained wine barrels and draping tables in scorched burlap to give the Sheetrocked and acoustic ceilinged interior the patina they must have imagined glazed the Middle Ages. It all seemed a bit like a stage production or scene from a Monty Python movie; even so, it was such an earnest and unpretentious spectacle that Guy Debord himself might have granted them amnesty.
Drinking from flagons and picking turkey from my teeth, I had to wonder whether such a charade, especially one which professed to be art, was without pretense. If pretense is false display, this exhibition was both pretentious and spectacular by Guy Debord's own standards about represented reality. High crimes in some high-cultural precincts.
Throwing back the last of my grog and adjusting my coffee filter hat, I wondered whether it was more pretentious to prove how resistant one is to the spectacular by entering a race to the obscurest of bottoms, or to have an art exhibition in 2012 based on a theme lifted from a Bugs Bunny cartoon, especially when art has suffered through a 150 years of modernist purification and 75 of Frankfurt School warnings about the implications of received culture.
When the antiqued barrels were finally emptied of their spiced wine and the turkey legs were gone, me, a jester and a monk headed out for a nightcap. Looking down Main Street our choices were illuminated in the night: "C. Weisler's" "R.J. Thirsty's" and T.J. Ryan's." Their signs radiated like supernovae, practically beseeching our company. No secret doors, no back alleys. I imagined how weird our motley cast of bouzingots would have looked shuffling down a desolate Bushwick street searching unmarked doors for the one opening to a secret demi-paradise of artfully crafted drinks and conversations.
With all this on my mind I dropped a joke. "How many hip intellectuals does it take to screw in a light bulb?"
A collective head shrug.
"It's an obscure number you've probably never heard of!"
A collective 'huh?'
Dave the monk ended the radio silence, "Did you hear about the artist who starved to death?….He didn't have enough MONET to buy food."
Harmonious laughter.
So obvious, I thought. So obvious, indeed.
A monk, a jester and an artist walk into a bar…
---
1. Living By Example at Northeastern Illinois University Fine Arts Center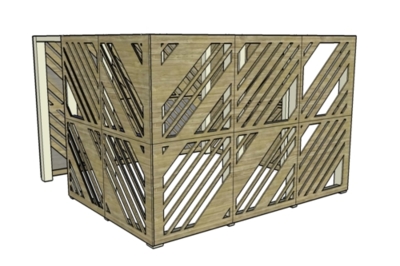 Work by Jeroen Nelemans, Ryan Richey, Ryan Travis Christian, Molly Zuckerman-Hartung, Deborah Boardman, Dana Carter, Kirsten Leenaars, Zachary Cahill, Ann Toebbe, Melissa Oresky, Alberto Alguilar, Corinne Halbert, Meg Duguid, Heidi Norton, Paul Nudd, Maria Gaspar, Mindy Rose-Schwartz, Eric Brown, Catie Olsen, and Michael Rea.
Northeastern Illinois University Fine Arts Center is located at 5500 N St. Louis. Reception Friday from 6-9pm.
2. the big stink moves like a moth towards the light at HungryMan Gallery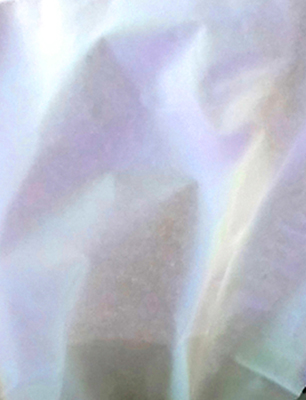 Work by Ethan Cook, McKeever Donovan, Michael Hunter, Andrew Laumann, Mallory Anita Lawson, Sofia Leiby, John Roebas, Letha Wilson, and Eric Veit.
HungryMan Gallery is located at 2135 N. Rockwell St. Reception Saturday from 7-10pm.
3. The Warmest Guest at Autumn Space Gallery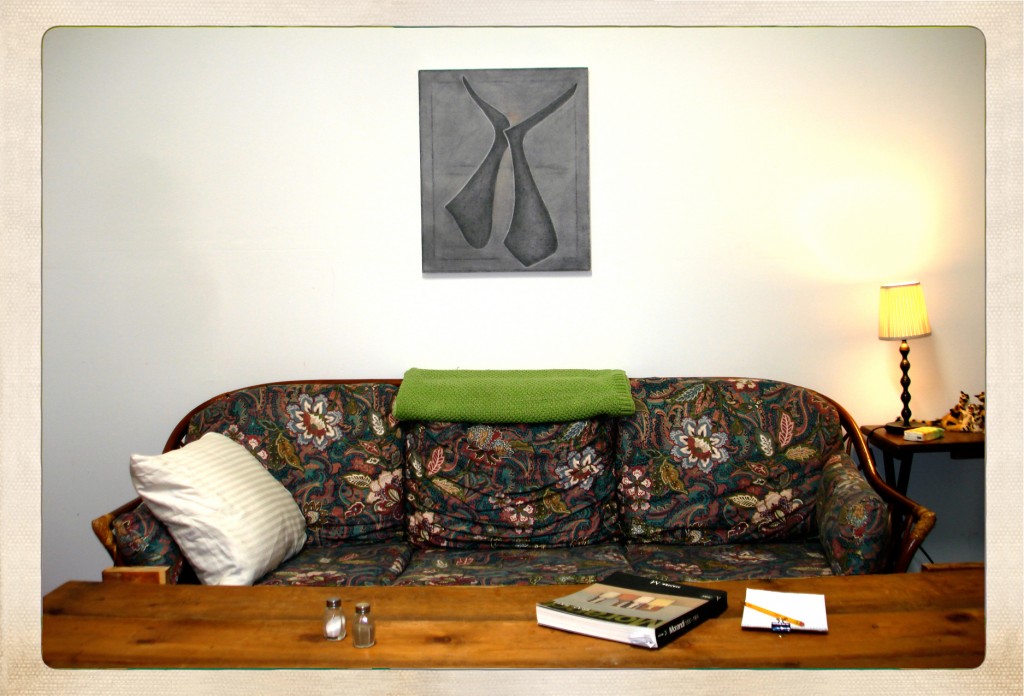 Work by Magalie Guérin.
Autumn Space Gallery is located at 1700 Irving Park #207. Reception Saturday from 6-9pm.
4. Honk If You Love Painting at Terrain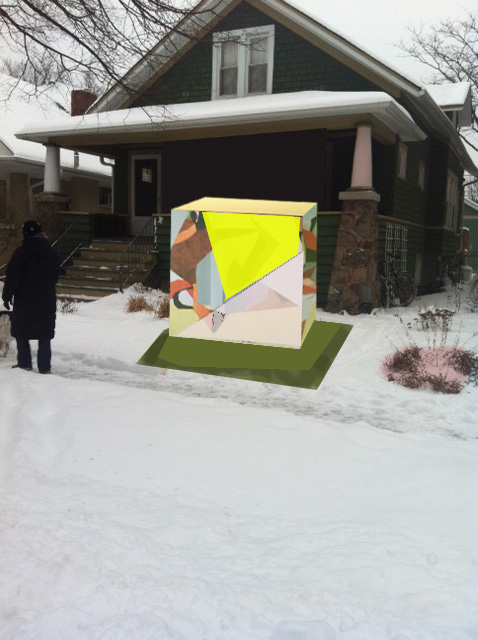 Work by Anna Kunz.
Terrain is located at 704 Highland Ave., Oak Park. Reception is Sunday from 2-4pm.
5. Accidents in Gravity at ACRE Projects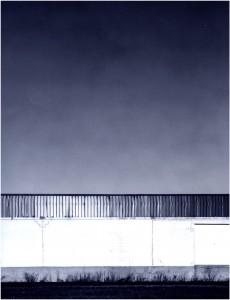 Work by Michelle Anne Harris.
ACRE Projects is located at 1913 W 17th St. Reception is Sunday from 4-8pm.
---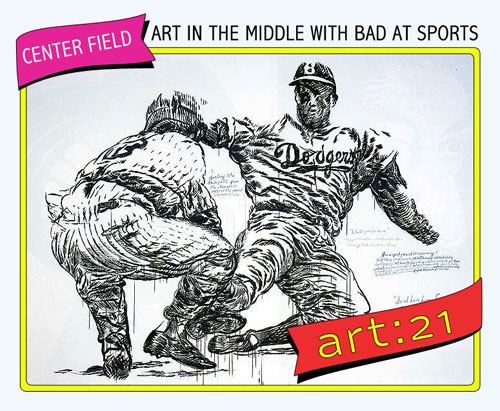 The latest episode of "Fielding Practice," the Chicago-centric podcast/gabfest featuring Duncan MacKenzie, Dan Gunn and me has just been posted on the Art21 Blog as part of Bad at Sports' ongoing Centerfield column.  This week, regular panelists Duncan MacKenzie, Dan Gunn and I discuss the demise of Next/Art Chicago–which up until last week had been the US' longest-running art fair –and the subsequent rise of Expo, a new Chicago-based art fair slated to debut on Navy Pier in September 2012. We also review current exhibitions by Laura Letinsky at the Museum of Contemporary Art, Chicago, and Molly Zuckerman-Hartung, whose show Negative Joy is on view at Corbett vs. Dempsey gallery, plus we offer some "best bet" picks for the coming month in Chicago. As an added bonus, this week we keep the conversation blissfully short, at a running time of approximately 38 minutes — as always, thank you so much for tuning in!
Click here for Fielding Practice Episode 12 on the Art21 blog.
---