1. Twice Removed: A Survey of Take Away Work at Golden Age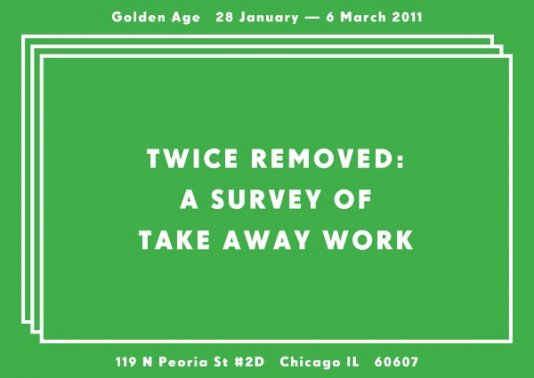 Organized by Karly Wildenhaus.
Golden Age is located at 119 N Peoria St. #2D. Reception is Friday from 6-9pm.
2. Zak Arctander at The New Gallery
Work by Zak Arctander presented as part of the ACRE Exhibitions program.
The New Gallery is located at 1344 W. 18th Pl. Reception is Friday from 6-9pm.
3. (Fig. 4) at Pentagon
Work by Anthony Creeden, Bret Schneider, Liam Murtaugh and Xavier Jimenez.
Pentagon is located at 2655 W Homer St. Reception is Saturday from 7-10pm.
4. Winter Experiment: Ben Fain and Shannon Stratton at moniquemeloche
Artist talk with float builder extraordinaire Ben Fain and 3Walls co-founder Shannon Stratton.
moniquemeloche is located at 2154 W Division St. Artist talk is Saturday at 1pm.
5. SWWMYOSBL Hall of Fame at Happy Collaborationists Exhibition Space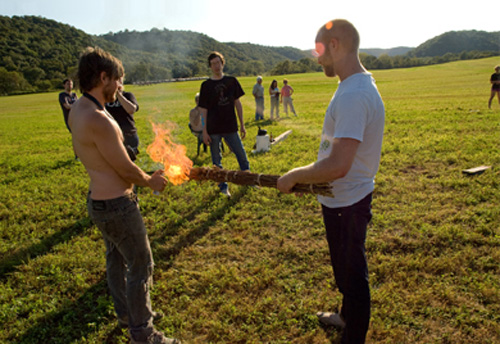 Work by Erik L. Peterson presented as part of the ACRE Exhibitions program.
Happy Collaborationists Exhibition Space is located at 1254 N. Noble St. Reception Saturday from 6-10pm.
Stephanie Burke was born in Nevada City, CA in 1984. She received her BA in Studio Art and Anthropology from Humboldt State University in 2007, and her MFA in Photography from The School of the Art Institute of Chicago in 2009. Currently she makes work, teaches photography at Wilbur Wright College and Hyde Park Art Center, writes for Bad at Sports and works as Managing Editor for Art Talk Chicago and Chicago Art Magazine.When not making, teaching, looking at, or writing about art, she enjoys running around in the woods, drinking beer by bonfires, and target shooting.
Latest posts by stephanieburke (see all)