1. FIGHT NIGHT at Octagon Gallery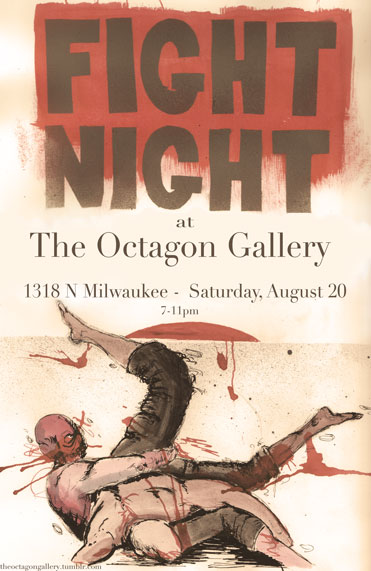 Work by Jesse Avina, Michael Garcia, Ryan T Dunn, Jim Zimpel, Stephanie Burke, Jeriah Hildewine, David Ayling, Mary Ayling, Jake Myers, John Myers, Jeremiah Myers, Lara Stall, Joe Sepka, Bo Totten, Christa Donner, and Jarard Novacain Nathaniel.
Octagon Gallery is located at 1318 N Milwaukee Ave. Performance is Saturday from 7-11pm
2. PREVIEW & Time Signatures at Chicago Artists' Coalition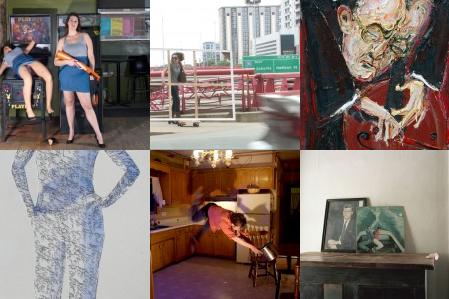 Work by BOLT residents and CAC artists, respectively.
Chicago Artists' Coalition is located at 217 N. Carpenter St. Reception is Friday (tonight) from 6-9pm.
3. Don't think you can change our evil ways at Heaven Gallery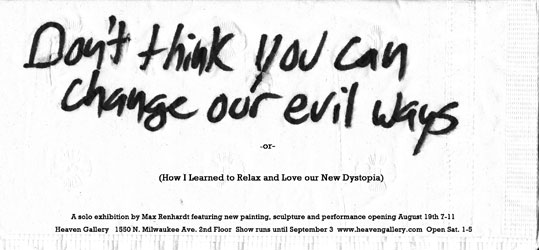 Work by Max Reinhardt.
Heaven Gallery is located at 1550 North Milwaukee, 2nd Fl. Reception is Friday (tonight) from 7-11pm.
Stephanie Burke was born in Nevada City, CA in 1984. She received her BA in Studio Art and Anthropology from Humboldt State University in 2007, and her MFA in Photography from The School of the Art Institute of Chicago in 2009. Currently she makes work, teaches photography at Wilbur Wright College and Hyde Park Art Center, writes for Bad at Sports and works as Managing Editor for Art Talk Chicago and Chicago Art Magazine.When not making, teaching, looking at, or writing about art, she enjoys running around in the woods, drinking beer by bonfires, and target shooting.
Latest posts by stephanieburke (see all)