Now that Christmas is almost here, I have a lot of time on my hands. Not, of course, enough time to do all the reading I'd like before the world begins again in January, but time nonetheless. S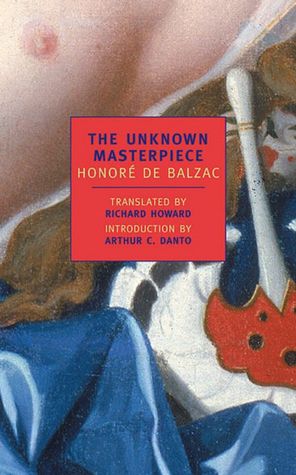 o I'd thought I'd recommend to you one of my favorite novellas—something short enough to read in one sitting, yet compelling enough to read in ten minute increments if you tend toward distraction.
The Unknown Masterpiece (also translated as The Hidden Masterpiece) by Honoré de Balzac tells the story of three painters, all in pursuit of what I can only call perfection. The young painter Nicolas Poussin, comes to the studio of the accomplished and finically successful painter Porbus. While there, Porbus and Poussin are joined by the master painter Frenhofer, who proceeds to describe to the painters how to make a painting come to life. His ultimate goal, to see his painting "breathe." Later Poussin and Porbus join Master Frenhofer in his studio to view the painting he has spent the last decade creating. Now, not give anything away here, but it is the reader's interpretation of the painting itself, that is at the heart of this story. Either this story is some amazing happy accident, or Balzac was more prescient than anyone could ever have imagined.
The Unknown Masterpiece has an interesting history. Supposedly, Picasso was so taken by the story that he came to rent a studio at the same address Porbus'. It is in this studio that Picasso painted Guernica. Written in 1832, yet set in 1612, The Unknown Masterpiece might seem to be based on the real life of Nicolas Poussin, but I am assured it is not. Still, it doesn't hurt to approach the book as a novelistic imagining of the early life of a master.
If there's still someone you need to buy a gift for (even yourself), there is a lovely edition with a new translation by New York Review Books. But if it's just a story you want, it is available from Project Guttenberg in HTML, ePub, and Kindle editions all for free. (The Unknown Masterpiece here. The Hidden Masterpiece here) There is also a film based loosely on the story called La Belle Noiseuse (1991), which is worth watching.
Happy Holidays! Happy Reading!
Terri Griffith has published fiction and criticism in Art21, Bloom, Suspect Thoughts, and BUST, as well as in the anthologies Without a Net: The Female Experience of Growing Up Working Class (Seal Press, 2003), Are We Feeling Better Yet? (Penultimate Press, 2008), and Art from Art (Modernist Press, 2011). Since 2006, she has been a literary and culture blogger for Bad at Sports. Griffith is the author of the novel So Much Better (Green Lantern Press, 2009) and the co-editor of The Essential New Art Examiner (Northern Illinois University Press, 2012). She teaches writing and literature at the School of the Art Institute of Chicago.
Latest posts by Terri Griffith (see all)