GUEST POST BY HEATHER MCSHANE
I arrived late in the evening to the opening of Jason Lazarus's The Search at Andrew Rafacz Gallery. Left were the previous climbers' footprints on the white-painted steps of The Search, which resembles a pyramid. Wearing a skirt and heels, I hesitated to ascend the stairs, but the footprints enticed me—and thankfully—because at the top awaits a surprise, an opening down into which a ladder leads to a space where two chairs and a table sit, illuminated by a hanging lamp. The night of the opening, two people occupied this denlike interior; one of the people seemed absorbed in drawing on the pages of, I later learned, the ledger for the signatures and comments of the pair of interlocutors. I looked on briefly, feeling voyeuristic.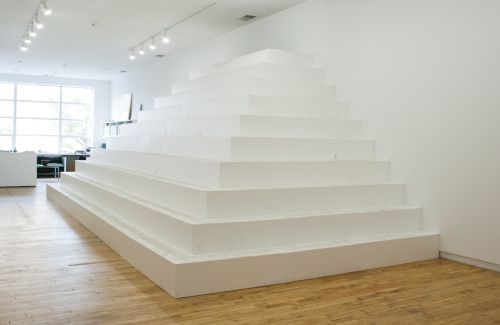 The same night, outside the building, a friend introduced me to Lazarus who, upon learning I am a writer, invited me to be paired with a stranger (of a different vocation) and talk with the stranger inside The Search. (This proposition was perfect for me—I love talking to strangers.) A few days later, I received the formal invitation in my inbox to participate. Near the end of the email I read:
"I'm asking you to be onto The Search.
You are invited to be in conversation with:
Name:  Scott Hunter"
From googling "Scott Hunter," knowing from his email address his affiliation with the University of Chicago, I learned he is Scott J. Hunter—notice the J—an Associate Professor of Psychology and Pediatrics there. After a few email exchanges with him to coordinate a date and time—Lazarus had instructed us to meet for up to an hour—and Hunter befriending me on Facebook, on September 30, around 5:00, I recognized Hunter (from Facebook), approached him on the sidewalk as he paid the parking meter fee, and introduced myself. He was impeccably dressed, his patterned shirt crisp, tucked in, and he smiled and talked easily. We chatted with each other and with the employees of the gallery before we were allowed entrance to The Search. Upon our arrival, it was still occupied with two other people, who were eventually politely told their hour was over, emerging happy, almost jubilant.
Then it was our turn. We climbed the stairs and each awkwardly brought shoe to ladder rung and lowered ourselves into The Search. (Me first, again in a skirt, probably the same skirt.) Inside, it felt cozy—the warm, inviting, natural-colored wood of the walls; the soft light; the comfortable chairs—and perhaps this setting helped for the ensuing conversation. However, during the conversation, I did notice Hunter occasionally shift in his chair, I caught myself sometimes fidgeting with my pen, but these movements seemed more natural than uneasy.
Although I'm inclined to reproduce the conversation as fully as possible, Lazarus did not intend for the dialogues in The Search to be recorded. I did not bring a recording device into the space, nor did I write much in my notebook (see the image below). The following snippets—from my faulty memory—are meant to give an idea of the conversation.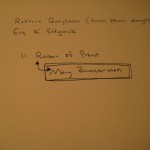 For example, as initial how-do-you-know-who's go, I learned Hunter knows Lazarus through his art because Hunter is an art collector in addition to being a psychologist. A future purchase, he hopes, is a photograph taken by Lazarus of the ceiling from Sigmund Freud's couch.
We talked about Hunter's work as a child psychologist. Many of his patients are cancer survivors. Radiation, chemotherapy, and other procedures performed to rid the patients' bodies of cancer can be detrimental to the patients' learning and thought processes. I started to think about how visceral fear is, how frightening it would be to have cells in my own body attack other cells, how fear hampers learning. I told him the original word for bear in German has been lost because to utter it, was to call it and so a euphemism was used instead.
Our discussion turned to other animals, the animals in Chicago—squirrels, opossums, foxes, wolves—yes, wolves. Hunter and his old 40-pound dog—he didn't tell me the dog's breed—encountered a city wolf before, running along train tracks.
Despite seemingly wild jumps in topics, most talk revolved around memory, language, and attention. Marcel Proust's In Search of Lost Time was brought up often. We discussed Freud again (his psychoanalysis and idea of the uncanny). We talked about words as metaphors, active versus passive reading and writing, learning versus teaching, and attention spans and text in the digital age. Hunter remarked he felt refreshed after our conversation ended. He included as much in the ledger.
Later, upon reflection, having mentioned David Antin to Hunter, I thought more about how talking can be writing. I like how the following recording begins with Antin saying "with the search . . . " (he's talking about The Tempest, but listen on for a great story about a woman who lives her life poetically):  David Antin
And later still, I remembered one of the first questions I asked Hunter about his own photography—whether he preferred to work by chance or to construct a setting. My experience with The Search involved both.
The show continues through Saturday, October 15.
Heather McShane is an associate editor of Dear Navigator and a regular blogger for The Lantern Daily. She worked as an editor at World Book Encyclopedia before earning an MFA in Writing from the School of the Art Institute of Chicago.