There sure have been a lot of storms this week. My power went out twice. While it would make sense for me to recommend some books to read during the next deluge that is expected to start Sunday, when it's storming all I want to do is curl up on the sofa and watch a good movie. With this in mind, I am recommending three documentaries, all of which I have seen more than half a dozen times. These films are informative, sure, but mostly they are lovely to look at and transporting, unusual traits for documentaries.
Visual Acoustics: The Modernism of Julius Shulman (2008) focuses on the life and work of architectural photographer Julius Shulman. When I first heard about this film, Shulman's name was unknown to me, so you can imagine how surprised I was to find that I had seen his work my whole life. Try this: Conjure any amazing picture of a mid-century house or building that you can remember. Okay, Julius Shulman took that picture. Well into his 90s, Shulman reminisces about the architects that influenced him. He talks about his start with Frank Lloyd Wright and there is even a scene where an uncustomarily humble Frank Gehry credits Shulman for helping launch his career. The film is rich with architectural history and beautiful, mostly black and white shots of Shulman's work. Really though, this film is just modernist porn.
Objectified (2009) by Gary Hustwit takes a close and surprisingly loving look at industrial design. Throughout the film, we are shown everyday objects and then follow the origin of that design. Objectified features rock stars of the industry, like Dieter Rams of Braun, the designers at Smart Design, and Jonathan Ive of Apple. In fact there's a little Apple love letter embedded in the film. Words like "extrusion" and "machined parts" somehow come together to paint a warm portrait of the tools we use everyday. Hustwit has a knack for illuminating items that are so common they are invisible. If you don't believe me, be sure to watch his first film, Helvetica (2007).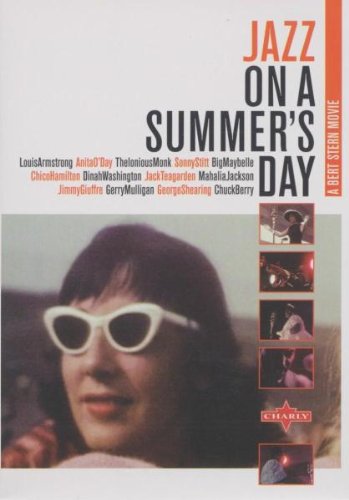 Jazz on a Summer's Day (1960) is less like a traditional documentary or concert film, and more like a home movie. Well, a home move if your dad is Bert Stern, sixties stylin' photographer to the stars. Sort of the Tom Ford of his day. He's probably best known for Marilyn Monroe's final photo shoot. Jazz on a Summer's day documents the 1958 Newport Jazz Festival and is filled with all your favorite fifties performers. Dinah Washington, Thelonious Monk, Mahalia Jackson, and Louis Armstrong. By '58 most Americans were snuggled into the bosom of cool jazz. The Newport Jazz Festival certainly demonstrated this with bands like the Gerry Mulligan Quartet, but much of the music in the film is New Orleans style jazz. This is purportedly a jazz film—and it is, I'm not denying that. But even though this was filmed with high-fidelity sound (unusual for the time), the magic comes in the visual. Lush, long shots of the audience. Hot, sweaty, and well-dressed in their 1958s way. Suit jackets, red lipstick, ties, pumps, and cigarettes. Smoking never looked as sexy. While the music is excellent and the reason I watched this film the first half-dozen times or so, it is Sterns imagery that sets Jazz on a Summer's Day apart. The last time I had a party I ran this sensual film without sound and provided my own soundtrack. This is one of the most beautiful films I've ever seen. The next time you've had a stressful day at work. Pour yourself an iced tea or a glass of wine, watch this film, and feel your everyday worries slip away.
All three of these movies are readily available streaming though Netflix, on Apple's iTunes, and whatnot. When you're rained in next week, believe me, these films will set you free.
Terri Griffith has published fiction and criticism in Art21, Bloom, Suspect Thoughts, and BUST, as well as in the anthologies Without a Net: The Female Experience of Growing Up Working Class (Seal Press, 2003), Are We Feeling Better Yet? (Penultimate Press, 2008), and Art from Art (Modernist Press, 2011). Since 2006, she has been a literary and culture blogger for Bad at Sports. Griffith is the author of the novel So Much Better (Green Lantern Press, 2009) and the co-editor of The Essential New Art Examiner (Northern Illinois University Press, 2012). She teaches writing and literature at the School of the Art Institute of Chicago.
Latest posts by Terri Griffith (see all)