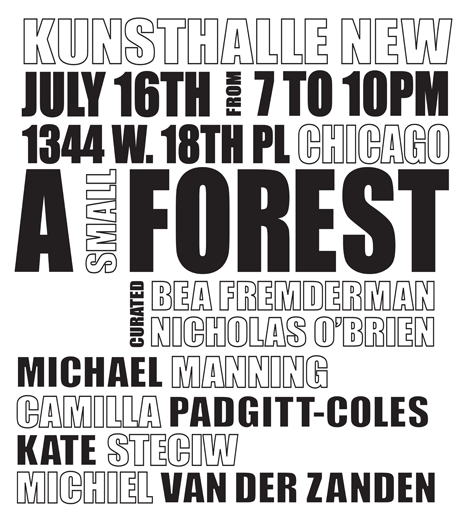 Just popping in on this beautiful Friday afternoon to give a heads' up about a one-night only exhibition event at Kunsthalle New this Saturday (that means tomorrow) night, July 16th, from 7 to 10 pm. Titled "A Small Forest," it includes the work of artists Michael Manning, Camilla Padgitt-Coles, Kate Steciw, and Michiel van der Zanden. The show is co-curated by Nicholas O'Brien and Bea Fremderman, and focuses on "delicate landscapes manipulated by the space of the screen" – love this premise! Full details below; and remember, its a one-night event so catch it this Saturday evening!
A Small Forest
artist included:
Michael Manning
Camilla Padgitt-Coles
Kate Steciw
Michiel van der Zanden
Co-Curated by Bea Fremderman and Nicholas O'Brien
A Small Forest explores delicate landscapes developed and appropriated by artist that have been found and manipulated within the space of the screen. The scale and focus of these environments varies between each maker, however the underlying self-reflexiveness of each participant is reflected in the tenderness of the spaces that they shape. Manning employs gifs to create delicate animation loops that reflect on a recent past, a distant landscape, and the resulting forgotten emotion that was once occupied but now remains abstract. The lush super-saturated moments found within Padgitt-Coles' digital images linger in an ambient realm that only appears in discarded or neglected VHS b-roll footage from backyard nature documentaries. The abstract nostalgia of Manning and Padgitt-Coles is countered by the physical reconfiguration of Steciw's rug which reminds us our physical presence in the space of the screen. Lastly, van der Zanden's machinima employs a humorous approach to tackling the issue of land and its representation in digital frameworks. Together these artists create a suite of subtle works that slow the otherwise rapid navigation of the networked world, and give pause to allow for the sublime properties of land to take precedence when entering screen space.
http://kunsthallenew.com/
http://www.facebook.com/event.php?eid=182888091770847