I might be late to this party, but I recently fell in love with photographer James Bidgood. Bidgood is what they call a "re-discovered" artist, though he was re-discovered more than a decade ago. That term always makes me nervous. I'm not sure why. Maybe because re-discovered is often masking something else more sinister lurking in the era from which the artist was supposedly lost, like hostility or worse, indifference.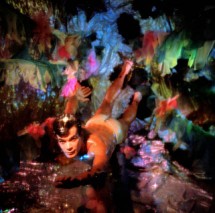 In 1999 Taschen released Bidgood's first and as far as I know only monograph, then in 2009 it was re-released as well as heavily discounted, which really does matter because, man, art books are expensive. The whole book is a delight. It's huge and lushly illustrated with photos that are themselves lush. Bidgood got his start in the physique magazines of the early 1960s. He produced stunning, elaborate pictorials for magazines such as Muscleboy and The Young Physique. All of his images are of men who I really want to call boys because they are all so innocent and wide-eyed, and oh yea, nude. On the interwebs people often refer to his work as "erotic." Seems to me that this is based mostly on the nude part. His work doesn't seem particularly erotic to me, perhaps because the photos are so filled with fantasy and whimsy. I would call his work sensual (in every sense), even his later work that is more explicit.
Bidgood shot most of these quasi-narrative pictorials in his tiny Manhattan apartment. Fabricating the ocean from yards of lamé, luminous cave walls from tin foil, and sinewy seaweed from everyday waxed paper, Bidgood often lived for weeks in his creation until the shoot was completed. You can see the ghost-image of James Bidgood on Pierre et Gilles and the portraits of David LaChapelle.
If you haven't seen Bidgood's work, you can check it out at his gallery CLAMPART or read the book James Bidgood by Bruce Benderson.
Latest posts by Terri Griffith
(see all)