I'm super psyched to introduce two new additions to our blogging team, Terri Griffith and Abigail Satinsky. For podcast fans, Terri is already a known factor – she and Joanna Torpor Mackenzie are BAS' literary correspondents, and did those fabulous book review segments which were often my favorite parts of the podcast. Terri will now be blogging here about books, art, and culture twice a month on Fridays (check out her first post on James Bidgood today), and Abigail will be checking in with us each month with notes and reports on the social practice scene in Chicago and beyond. A little background info: Terri's writing has appeared in publications like Bloom, Suspect Thoughts, and Bust, as well as in the anthologies Without a Net: The Female Experience of Growing Up Working Class and Art from Art: An Anthology of Fiction Inspired by Art. She's also the co-editor (with Janet Koplos and Kathryn Born) of the forthcoming anthology The Legacy of The New Art Examiner: Thirty Years of Independent Arts Journalism. And she just published her debut novel, titled So Much Better (it's available from Green Lantern Press). Abigail is a founding member of InCUBATE, a research group dedicated to exploring new approaches to arts administration and arts funding (Bad at Sports interviewed InCUBATE on Episode 195 of the podcast). Abigail has also written for Proximity Magazine, AREA Chicago, The Journal of Aesthetics and Protest, The Artist-Run Chicago Digest and other places, and currently works as the Director of Programs at threewalls in Chicago.
Terri and Abigail's interest in literature and art, and social practice issues, respectively, help round out the content that current bloggers Nicholas O'Brien and Caroline Picard have been providing us for a number of months now. Nicholas is a new media artist and curator specializing in net art – he's been bringing us fantastic interviews with internet practioners that, in their form, brilliantly reflect the interview's subject matter itself (check out Nicholas' interview with "Kool Aid Man" Jon Rafman –conducted inside Second Life — to see what I mean). Within the next few weeks Nicholas will debut a brand new, as-yet-untitled column for Bad at Sports dedicated to analyzing and exploring current issues in net art. It's gonna rock, people. Caroline Picard, an artist, writer, arts administrator and publisher (best known as the main force behind Green Lantern Press) will now be contributing on a weekly basis each Wednesday starting in March. Caroline's work is slow blogging at its best  – and lucky for us, she'll continue to post in-depth, wonderfully nuanced interviews with artists working in and outside of Chicago alongside essays musing on art, culture, and lived experience. And of course, every Thursday Stephanie Burke continues to feature her Top 5 Weekend Picks of the best exhibitions opening in Chicago over the weekend (it's an especially great resource for checking out what's happening at smaller apartment galleries and alternative spaces) so you can plan your gallery crawl accordingly.
And oh yes, there is even more: to keep things fresh, we're also stirring a series of guest bloggers into this mix. Next week, Julia V. Hendrickson, an artist, writer, and the gallery manager at Chicago's Corbett vs. Dempsey gallery and a teaching assistant at the Marwen Foundation will guest blog, bringing us an interview with Mark Pascale, a curator in the Department of Prints and Drawings at The Art Institute, a peek into the Prints and Drawings study room at the AIC, a talk with John Corbett and Jim Dempsey about the history behind their gallery and a bunch of other fun stuff from her world. Julia is an active member of the Chicago Printers Guild, and has a solo show up right now at Anchor Graphics (Columbia College Chicago) titled FANTASTIC STANZAS, on view through March 26th.  After Julia, we'll be featuring guest blogs from Chicago curator and arts writer Thea Liberty Nichols and artist Dan Gunn, among others. So, archaic though may be to put it this way…please do stay tuned!
Also, apropros of absolutely fucking nothing, I just came across a picture of this t-shirt, which made me laugh really hard for about five different reasons. Please to enjoy: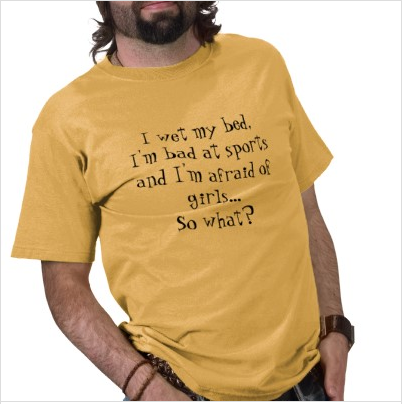 Claudine Isé has worked in the field of contemporary art as a writer and curator for the past decade, and currently serves as the Editor of the Art21 Blog. Claudine regularly writes for Artforum.com and Chicago magazine, and has also worked as an art critic for the Los Angeles Times. Before moving to Chicago in 2008, she worked at the Wexner Center in Columbus, OH as associate curator of exhibitions, and at the Hammer Museum in Los Angeles as assistant curator of contemporary art, where she curated a number of Hammer Projects. She has Ph.D. in Film, Literature and Culture from the University of Southern California.
Latest posts by Claudine Isé (see all)