With Thanksgiving behind us, it is now undeniably the "holiday" season. As the B@S Book Advocate, I at first planned to write about literary gifts for your artist friends. But then I realized there was no way I could read through enough books this month to give any kind of reasoned recommendation. After all, with the change in time and change in season, what I really wanted to do was curl up on the couch and watch a decent holiday movie. As I started making a list of these films, it became clear that all my favorite holiday films are about creative workers, with the notable exception Elf–unless, of course, you consider snowball fabrication and toy construction creative work. So here they are, three holiday films that will help you kill a chilly winter afternoon.
Christmas in Connecticut (1945)—We've all read those homekeeping magazines. You know, the ones that tell us how to make the perfect turkey, or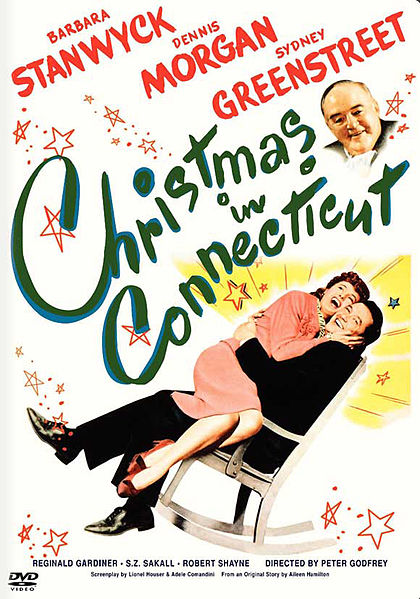 decorate our homes so that they look like the inside of snow globe, and most likely we all fall short by comparison. Good thing for Jefferson Jones (Dennis Morgan), handsome military man, hospitalized after his boat has been sunk by the Germans, that lifestyle writer Elizabeth Lane (Barbara Stanwyck) has a husband, a new baby, and lovely farm in Connecticut. When Lane's publisher asks her to host Jones for Christmas, everyone's a winner, right. Unfortunately for Elizabeth Lane, she isn't any of things she's been pretending. She's a scrappy, single, struggling freelancer who lives in a tiny New York apartment. You can probably see where this is going…Lane must procure a husband, baby, and farm in Connecticut all by Christmas and still have time to fall for the hot guy. (Steer clear of the 1992 remake with Dyan Cannon, Kris Kristofferson, directed by Arnold Schwarzenegger.)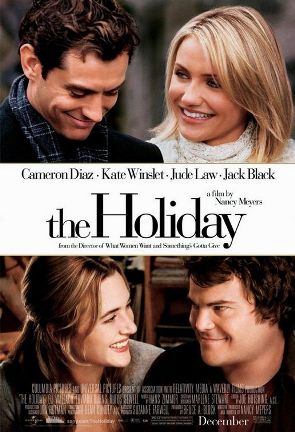 The Holiday (2006)–Life sucks when you're a successful producer of film trailers and your boyfriend is a philandering jerk. This is the circumstance Amanda Woods (Cameron Diaz) finds herself in. Despite seeming to have it all, what she really wants is to get the heck out of Los Angeles. To rectify this situation, Amanda goes to a house swap site. And who is desperately waiting on the other side of the interwebs? Iris Simpkins (Kate Winslet), an editor at The Daily Telegraph with poor taste in men and a charming little cottage outside London. The great thing about Amanda and Iris's houses is that they both come with sweet guys, Miles DuMont (Jack Black) and Graham Simpkins (Jude Law), who help make these women's holiday a little more merry and bright. As an added bonus, you'll learn all about how a classic romantic comedy is constructed from Amanda's neighbor, old time Hollywood romance writer Arthur Abbott (Eli Wallach). The Holiday is by Nancy Meyers who also made It's Complicated and Something's Got to Give, which should immediately tell you if this is your kind of movie or not.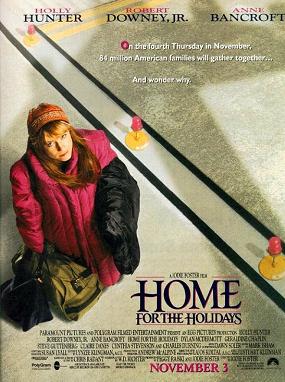 Home for the Holidays (1995)–Claudia Larson (Holly Hunter) has had a really bad day. After getting fired from her job as an art restorer at an unnamed, venerable Chicago art museum, she makes out with her boss. Kitt, Claudia's teenage daughter (Claire Danes), drives her mom to the airport and as they arrive, announces to her mother that she plans on having sex for the first time while Claudia is back home visiting her own parents. On the plane Claudia, calls her brother Tommy (Robert Downey Jr.) and confesses all of her troubles to his answering machine. And this is all within the first ten minutes. Most of the story takes place on Thanksgiving day, when the family comes together and pretty much misunderstands each other for the next hour and a half. Claudia's parents are aging and their adult children deal with it in their own ways. If there is a theme to this movie, that would be it–we all get older. There's a romantic subplot in which Tommy brings a handsome young man (Dylan McDermott) to Thanksgiving and Claudia thinks he's Tommy's new boyfriend, when really he is a gift for her. Home for the Holidays delivers the kind of family arguments expected in this kind of holiday film, but does it in a way that somehow feels authentic. My favorite line in the whole film is shouted by Claudia's sister, "I'm the only normal person in this family!" I mean, haven't we all felt that way at one point. I hated Home for the Holidays the first time I saw it, but over the years it has become my favorite holiday movie. This ensemble cast also features Geraldine Chaplin, Anne Bancroft, Cynthia Stevenson, and Steve Guttenberg, and is directed by Jodie Foster, all favorites of mine.
So, here it is Black Friday. Take an afternoon and watch one or maybe all of these films. Beyond enviable jobs held by all four of the protagonists, what really binds these films together is the feeling they leave you with. Not just a happy ending, but that all in all, everything will be all right.
Terri Griffith has published fiction and criticism in Art21, Bloom, Suspect Thoughts, and BUST, as well as in the anthologies Without a Net: The Female Experience of Growing Up Working Class (Seal Press, 2003), Are We Feeling Better Yet? (Penultimate Press, 2008), and Art from Art (Modernist Press, 2011). Since 2006, she has been a literary and culture blogger for Bad at Sports. Griffith is the author of the novel So Much Better (Green Lantern Press, 2009) and the co-editor of The Essential New Art Examiner (Northern Illinois University Press, 2012). She teaches writing and literature at the School of the Art Institute of Chicago.
Latest posts by Terri Griffith (see all)