Mr Hirst spent the evening playing snooker, but on being told the sale figures, he pronounced: "I think the market is bigger than anyone knows. I love art and this proves I'm not alone. And the future looks great for everyone." (Economist, 2008).
1. FOR THE LOVE OF GOD
We arrived in Florence last February and stayed for about five days. It was cold and damp in the mid-50 degrees, reminding me of San Francisco. A friend we were visiting said the city was built on a swamp and we climbed up a hill to a Franciscan chapel where the original alabaster windows were still in place. Through the translucent stone, the light shone dark and brown and because it was colder inside than out, we didn't stay long but climbed back down the hill to wander through the city once more. During those five days I felt a little like a pinball bouncing around a Renaissance amusement park. A classy Medieval Times with boar instead of mutton. Regardless of our haphazard path we inevitably ran into something famous: Dante's church, for instance, or a squatting boar fountain—even those churches that hadn't made it on the map still contained gravestones embedded in their walls or floor—some of these dating as far back as the first or second century. History was everywhere and it was bigger than us.
On the third day a bus passed with an advertisement for Damien Hirst's bedazzled reminder of death. I burst out laughing.
The last thing I  expected to see was Hirst's glimmering, gaudy skull in a city that seems in constant worship of its past.  Nevertheless, the city seemed to love it. There were banners and posters all over the place. Everywhere it said, "For the Love of God," and why not?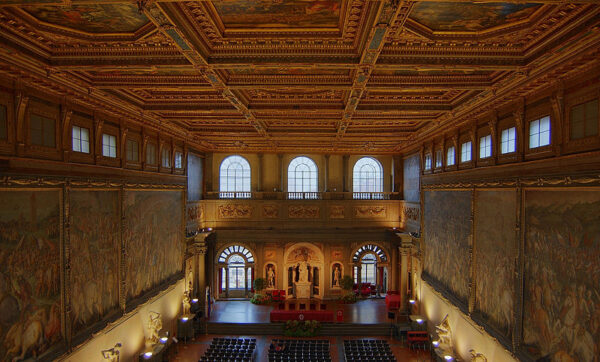 The skull was on view in the Palazzo Vecchio—an old city hall, adjacent to a square full of fountains and sculptures and ice cream shops. Walking past the David replica, we bought tickets and wandered upstairs to the second floor. There, we entered a giant ballroom. The dimensions of the room itself were astounding—170×75 ft—not to mention the similarly massive tapestries on the walls, or the several larger-than-life sculptures that lined the room. While the tapestries themselves are phenomenal, they are nevertheless replacements for work never made by Michelangelo and Leonardo DaVinci; both had been commissioned to make work for the room and both, for various reasons (Da Vinci's fresco allegedly melted when he tried to heat up the drying process with hot coals) were unfinished. In their stead, Giorgio Vasari's war paintings hang with astonishing authority, depicting a series of Florentine victories in battle. They are massive, complete with impeccable detail. Horses so plump they are cherubic, with lords in armor on their backs, holding spears as shorter personalities–midgets and boys–hustle at their feet replenishing arrows and running swords or torches every which way. In these tapestries everything is in focus, each curious figure serving its own distinct purpose that nevertheless reinforces a greater compositional whole. There is no focal point, rather the harmony stems from the a series of active constellations.
But of course, the room boasts even more cultural capital. The ceiling is indescribable. It's full of different panels of paintings and due to their detail it feels a little closer than it actually is. Additionally, larger-than life sculptures pepper the room.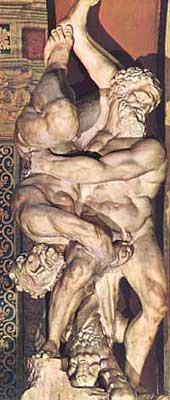 Among those sculptures, six statues by Vincenzo de'Rossi depict the Labors of Hercules. As the story goes, Hercules was enraged (by Hera) to kill all of his children. After waking from his madness and discovering what he'd done, he went to the Oracle of Delphi to seek atonement. There he was set to 12 impossible tasks. These he accomplished. He is also attributed with making the world a safer place, in that he killed all of its monsters.
All of these works and figures depicted in the ball room were larger than life for the feats they captured, the size of their depiction and their (to me extreme) historical vantage.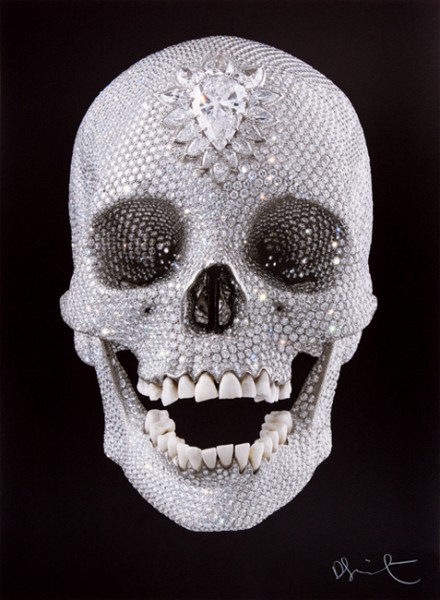 Two ticket attendants stood in the far corner of this room. They clacked our tickets and pulled back a velvet rope so we could step behind them and passing through a very narrow, subsequent room I had the impression  we were walking through an old fashioned toilet, or cloak room. Built-in benches lined the walls. Each surface of this wooden vestibule was also painted and close, so that I could have reached up to touch the ceiling with my hands. After no more than four strides, someone pulled back a velvet curtain. I could not make out this person's face, only their white gloves. Beyond the curtain lay another small, light fast room no more than 8ft squared. In the center of this room Damien Hirst's skull sat on a plinth encased in glass. Aside from the very small flashlight of the skull's attendant, the diamonds were the only thing illuminated in (and illuminating) the small cloak-and-daggers space. We were permitted to walk once around the glittering mask—enough that I could enjoy the diamonds in the roof of the skull's mouth, the curious third eye and the gritty unglittered teeth—before the same faceless attendant pulled back a second curtain and emphatically (as seen with the rigorous flash light motion) ejected us back into the grand ballroom.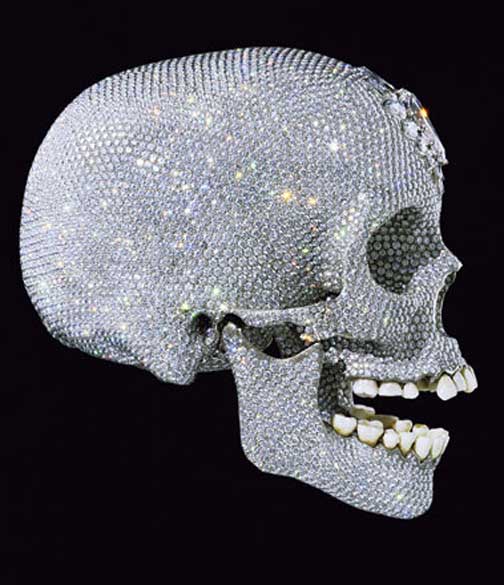 2. Hercules
A few weeks ago I found myself at the Lyric Opera House, on the third floor balcony watching Hercules; it was a pretty psychedelic experience. Tiny figures with massive voices paraded around a massive stage. Whereas in Italy I'd been small with respect to the work, here I could cover anyone's head with my thumb.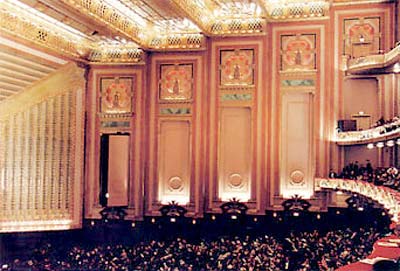 The opera is not personal, it's archetypal. The characters don't have personalities so much as they have roles and musical motifs to enact. Except for their voices, they might as well be cardboard cut-outs. In this instance Hercules has returned from war. Peter Sellars took Handel's four-hour opera and reduced it to 2 with one intermission. The libretto is full of repetitive phrases and the performers trilled through those like song birds. The set did not change shape; most of the stage contained a landscape of rock that no one walked upon with pillars and a pathway around it. Depending on the emotional tempo of the performers, the rocks gleamed in different colors. Sellars' interpretation pulls out a story of Post Traumatic Stress Disorder; the repeating phrases underscore that intent, as each character is constantly reliving their experience. Hercules has returned from battle with the spoils of war–including a young woman who just watched him kill her father. Hercules may or may not be interested in her and his wife, Dejanira, cannot connect with her husband; she remains perplexed and frustrated that, after so much waiting, she would remain alienated in her husband's presence. She is jealous of the young woman he brought back. They argue. She tries to win him back by dosing his coat with the blood of a centaur. The centaur told Dejanira that his blood was an aphrodisiac where it turns out to be an acidic poison. When Hercules puts the coat on, he burns alive.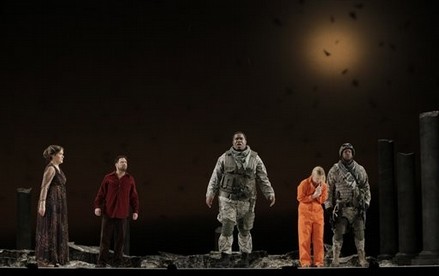 While I don't think about Hercules often, I think even less about his death. It seems that his death is the greatest problem, in a way. No one knew what to do with him once he had been admitted in Olympus. There is an awkward encounter between Hercules and Odysseus, for instance, when Odyseuss has to differentiate between Hercules the God and Hercules' ghost.
"And next I caught a glimpse of powerful Heracles—
His ghost I mean: the man himself delights
in the grand feasts of the deathless gods on high…
Around him cries of the dead rang out like cries of birds
scattering left and right in horror as on he came like night…"
Somehow these thoughts coalesced then. I started thinking about how one must be large when facing the death of heroes; how the import of these legacies is both essential and arbitrary. Hercules is part of a scaffold that makes meaning. Florence is an early pillar in that scaffold; its Renaissance established a criteria that is still resonating today–whether under Sellars' directorial agenda (during which one can experience over and over and over again the death of Hercules), or in Hirsts' work, where, it seems, the hero is dead and the market remains.
"The speech of an elder in the twilight of his life is not his history but his legacy; he speaks not to describe matter but to demonstrate meaning. He talks of his past for purposes of his future. This purpose is the prejudice of his memory. He remembers that which has been according to what could and should be, and by this measure sifts the accumulation of his memory: he rejects the irrelevant event, elaborates the significant detail, combines separate incidents of similar principle. Out of physical processes he creates a metaphysical processional. He transposes the chronology of his knowledge into a hierarchy of meanings. From the material circumstances of his experience he plots the adventure for the mind which is the myth," (Divine Horsemen, Maya Deren).
3. History
The diamond: something that has been marketed to represent eternity, who's value is based almost exclusively on market control. Until 1870, diamonds were rarely found in South American riverbeds. Thereafter they discovered huge diamond mines in South America. In order to protect the value of the diamond, these jewel harvesters had to band together to "perpetuate the illusion of scarcity" (Atlantic Magazine, Edward Jay Epstein,February 1982). This is where the value of Hirst's skull comes from, which is interesting given his consistently unconventional use of auction houses as primary exhibit halls.
The focus of Hirst remains fast on the potentials of an immediate future. He has utilized the auction house as a kind of performance filled with its own intrigue. In one article, there was a mysterious Russian who participated by phone. Everyone is complicit in the staging of this wealth. "Sotheby's was keen to build its own brand around a celebrity artist rather than the usual assortment of inanimate objects. The sale was marketed on YouTube and through the media around the world, part of a conscious effort to broaden international demand for the work. Sotheby's filled its exhibition rooms with Hirsts. Never had so much of his art been seen in one place. Many art-world insiders saw the sale as an artistic event," (Economist, 2010). And of course, like diamonds, the value of the work lies in the demand.
In some way, I want to posit the idea the emphasis is on the market because, contextualized by such predecessors, it is impossible to participate on their terms. If Hercules can die, what is there? I have heard that Hirst has a storeroom of corpses with which he can replace deteriorating sculptures. I have also heard, in response to the suffering market, he has considered opening his own museum, to house his own work. Those are unfounded rumors, but I like them. In the context of that great hall, Hirst's skull struck me like a peep show at a carnival; it was gaudy and feeble and small. Titillating because of its impeccable surface of expense. A trashy sex kitten with black teeth: perhaps the perfect face for death. Yet here too, we've seen the market is not "bigger than anyone knows." If anything the last couple of years have demonstrated real limits to capital.
Caroline Picard is the Executive Director of The Green Lantern Press—a nonprofit publishing house and art organization—and Co-Director of Sector 2337, a hybrid artspace/bar/bookstore in Chicago. Her writing and comics have appeared in publications like ArtForum (critics picks), Everyday Genius, Hyperallergic, Necessary Fiction, and Tupelo Quarterly. In 2014 she was the Curatorial Fellow at La Box, ENSA in France, and became a member of the SYNAPSE International Curators' Network of the Haus der Kulturen der Welt in Berlin in 2015. Her first graphic novel, The Chronicles of Fortune, is due out from Radiator Comics in 2017. www.cocopicard.com
Latest posts by Caroline Picard (see all)