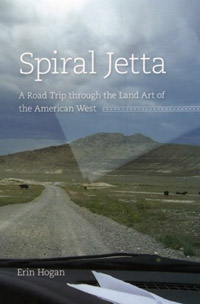 An email just popped into my inbox announcing that during the month of August, the University of Chicago Press is giving away free e-books of Spiral Jetta: A Road Trip Through the Land Art of the American West, the terrific road trip/memoir hybrid written by Erin Hogan (yes, the same Erin Hogan who's a PR honcho at The Art Institute). Spiral Jetta is a first-person account of Hogan's "pilgrimage" to see the masterworks of earth art: Robert Smithson's Spiral Jetty, Nancy Holt's Sun Tunnels, Michael Heizer's Double Negative, James Turrell's Roden Crater, and Walter de Maria's Lightening Field (she also makes a stop in Marfa).
I don't always plug the U of C Press' freebie selections (though they're always worth checking out) but this one…this one you gotta take advantage of, if you haven't already purchased Hogan's book (you should! you should!). At the risk of coming off as if I'm trying to kiss some Art Institute ass,  I can't recommend this book strongly enough. It's really in a category all its own–part memoir, part art history lesson, part field guide.
I read the book several years ago, not long after it first came out, and I remember feeling a sense of trepidation starting out because a) I am not into memoirs and b) I don't read art books for pleasure. But I decided to give this particular one a try because the premise was intriguing–let's face it, not many of us have the chance to see so many famous works of land art in person, and I thought it might be interesting to at least do so second-hand, by riding around in someone else's eyes. And Erin Hogan's eyes, as well as her narrative voice, turned out to be wonderful company. She's intelligent, has a wry sense of humor, and seems completely unpretentious. She's just a really swell literary companion; reading Spiral Jetta felt like I was making a new best friend. There's an intimacy that comes with reading first-person memoirs, and I liked Hogan's companionship so much I found myself wanting that road trip to go on forever.  I actually felt sad and even a bit lost when I finished reading the book, because I knew that Erin and I wouldn't be hanging out anymore. (Don't worry, I have resisted the temptation to stalk Ms. Hogan and convince her to be my new best friend IRL. I think literary fantasies should remain literary fantasies, no?).
At any rate, your experience of the book will certainly be different from mine, but I promise reading Spiral Jetta will be worth it – and it's a relatively short read, at about 176 pages. (You can read an online excerpt here, and an interview with Erin Hogan here). And for all of August, it's free, goddammit! So go download it already. It may even inspire you to make Hogan's journey across the landmark land art of the American West your own.
Latest posts by Claudine Isé
(see all)