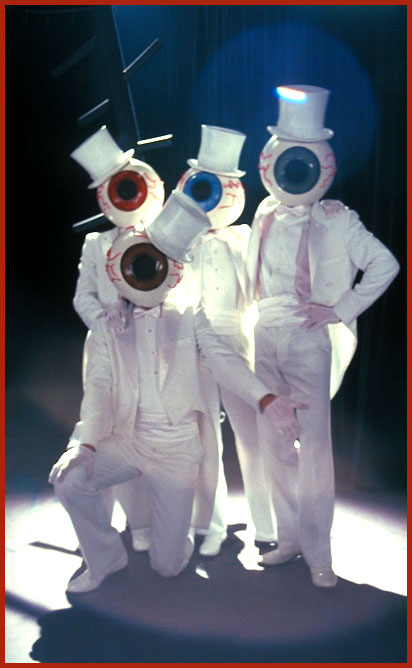 This week's entry from the Bad at Sports archives is Richard Holland's interview with Hardy Fox of the Cryptic Corporation, who acts as the agent of The Residents, an American art collective best known for avant-garde music and multimedia works.
"The definition of a band is generally thought of as a guitar player meets a drummer and they decide together…and gradually form a band. In this situation you have idea people who are not interested in one form of media over another. They're more interested in what's possible, idea wise, and to create projects. It's a band not of musicians, it's a band of idea people, and certainly one of the things they do is music, and they've always had the point of view that if the project calls for a band they'll be a band, but they are still not a band in the traditional sense. They like to be thought of as a group…. The way it's defined is that anyone who works on a project is a Resident. If there's a tour and there's a bus driver on the tour, then the bus driver is a Resident. They're residents of that project…. The Residents like to stay fresh, they have to take each project as a whole new fresh project every time and a reinvention not only of who they are but of what is possible."–Hardy Fox, Cryptic Corporation, agent of The Residents.
Claudine Isé has worked in the field of contemporary art as a writer and curator for the past decade, and currently serves as the Editor of the Art21 Blog. Claudine regularly writes for Artforum.com and Chicago magazine, and has also worked as an art critic for the Los Angeles Times. Before moving to Chicago in 2008, she worked at the Wexner Center in Columbus, OH as associate curator of exhibitions, and at the Hammer Museum in Los Angeles as assistant curator of contemporary art, where she curated a number of Hammer Projects. She has Ph.D. in Film, Literature and Culture from the University of Southern California.
Latest posts by Claudine Isé (see all)