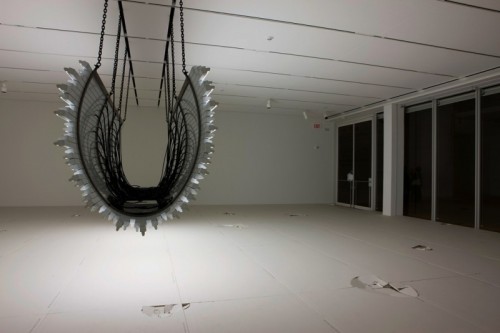 This week, we pull Duncan and Richard's 2009 interview with Monica Bonvicini from the archives, conducted during Bonvicini's exhibition Light Me Black at The Art Institute of Chicago.
"I think that perception goes through the body. I want people to come into the space not knowing how to walk, and get blinded by the work…I kept reading about Renzo Piano saying [the Modern Wing] is a temple of light. Walking around I see there are so many windows everywhere, but they're all covered up. What is all that light for?" – Monica Bonvicini interviewed by Bad at Sports.
Click here to listen to the podcast.
Claudine Isé has worked in the field of contemporary art as a writer and curator for the past decade, and currently serves as the Editor of the Art21 Blog. Claudine regularly writes for Artforum.com and Chicago magazine, and has also worked as an art critic for the Los Angeles Times. Before moving to Chicago in 2008, she worked at the Wexner Center in Columbus, OH as associate curator of exhibitions, and at the Hammer Museum in Los Angeles as assistant curator of contemporary art, where she curated a number of Hammer Projects. She has Ph.D. in Film, Literature and Culture from the University of Southern California.
Latest posts by Claudine Isé (see all)