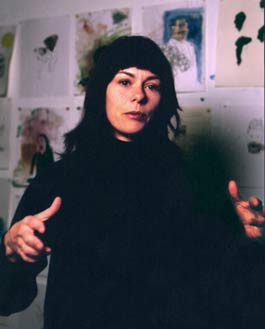 For this week's look back into the Bad at Sports archives, we've pulled a 2008 interview with Meg Cranston, conducted by Duncan MacKenzie and painter Pamela Fraser on the occasion of Cranston's exhibition at He Said/She Said, Fraser and partner Randall Szott's now-closed exhibition space in Oak Park, Illinois.
"There's a work in the show that's an ass drawn to look like it's encased in a block of ice. The title is I froze my ass and then I moved to California. It's a true story – when I was a kid growing up in New York, I froze my ass everyday in the winter. My parents were very thrifty people and they just wouldn't turn up the heat. My brother and I developed what I called heat lust. And I don't think it's hyperbolic to say that for me as a child heat was like love, and maybe better." — Meg Cranston interviewed by Bad at Sports.
Click here to listen to Episode 166 with Meg Cranston.
Claudine Isé has worked in the field of contemporary art as a writer and curator for the past decade, and currently serves as the Editor of the Art21 Blog. Claudine regularly writes for Artforum.com and Chicago magazine, and has also worked as an art critic for the Los Angeles Times. Before moving to Chicago in 2008, she worked at the Wexner Center in Columbus, OH as associate curator of exhibitions, and at the Hammer Museum in Los Angeles as assistant curator of contemporary art, where she curated a number of Hammer Projects. She has Ph.D. in Film, Literature and Culture from the University of Southern California.
Latest posts by Claudine Isé (see all)