download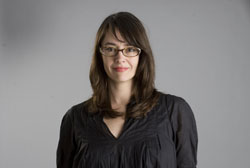 This week: Duncan, Brian, and Abigail Satinsky in conversation with Christine Hill at the Open Engagement conference, which took place from May 13 to 15, 2011 at Portland State University.
Open Engagement is an initiative of PSU's Art and Social Practice MFA program that encourages discussion on various perspectives in social practice.
Hill has exhibited and lectured widely internationally. She has been the subject of numerous publications and she shows regularly. Recent solo exhibitions include Ronald Feldman Fine Arts, New York; Galerie EIGEN+ART, Berlin; the Museum of Contemporary Art Leipzig; the MigrosMuseum in Zurich and the Martin-Gropius-Bau in Berlin.  She was included in documenta X in 1997, and has participated in numerous international group exhibitions. Her work has been reviewed extensively, including in Artforum, The New York Times, The Village Voice, Art in America and in considerable international publications. The ³Volksboutique Style Manual² is in the collection of the Museum of Modern Art, New York.  The Volksboutique project ³Minutes² was included in the 2007 Venice Biennale under the curation of Robert Storr. A forthcoming review of Volksboutique sculptural work will be shown at the New Museum in Weimar, Germany in April 2012.
The current Organizational Venture, The Volksboutique Small Business, is housed in  her studio's storefront in Berlin's Prenzlauer Berg neighborhood and is open to the public. For more information and opening hours, you can contact smallbusiness@volksboutique.org
Christopher Hudgens is the Operations Manager for BaS and works in various other capacities for other organizations in the Chicago Art & Culture scene. Most recently as Business Operations Manager for the Bridge Art Fair and currently an advocate for all things art & technology.
Latest posts by Christopher (see all)