download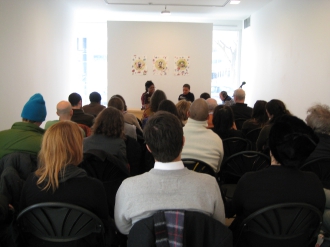 This week: A conversation with Ebony G. Patterson & Tumelo Mosaka at Monique Meloche Gallery. Patterson (Jamaican, born Kingston Jamaica 1981, lives Lexington, KY) will have a dynamic mixed-media installation that investigates Jamaican dance hall culture in the gallery's window facing Division Street. Mosaka included Patterson in his 2007 exhibition Infinite Island: Contemporary Caribbean Art at the Brooklyn Museum of Art where he was formerly Associate Curator of Exhibitions. Recently, Mosaka has become the Contemporary Art Curator at the Krannert Art Museum, Champaign, Illinois. Patterson's installation Gully Godz in Conversation-Conversations Revised I, II and III will continue through March 26 as our 4th on the wall project.
link to series…
http://moniquemeloche.com/winter-experiment-2011/
Christopher Hudgens is the Operations Manager for BaS and works in various other capacities for other organizations in the Chicago Art & Culture scene. Most recently as Business Operations Manager for the Bridge Art Fair and currently an advocate for all things art & technology.
Latest posts by Christopher (see all)