Chicago loves big ideas. We love big buildings, big architects, and big plans. Why? Well, I suppose because they all have the power to stir the hearts of men. (Oh yea, and some women, too.) In the new book Design on the Edge: Chicago Architects Reimagine Neighborhoods, seven locations are tackled by the rock stars of Chicago architecture. Represented are: John Ronan, Jeanne Gang, Doug Garafalo and Xavier Vendrell, Sarah Dunn and Martin Felsen, Patricia Saldana Natke, Ross Wimer, and Darryl Crosby. The project is simple, each of these architects (or team) is assigned a neighborhood designated by an L stop, and they create a visionary design for the site—a way of rethinking what is already there.
Design on the Edge is really an exhibition catalog, but this one succeeds where others fail to be anymore than a memento of a past event. The book is divided logically into chapters  centered on each of the neighborhoods that are considered: Loyola Red Line, Addison Red Line, Addison Brown Line, Western Blue Line, 18th Street Pink Line, Midway Orange Line, 35th Street Green Line. With a short introduction by the architect or team, each section is full of images of the site reimagined as well as the sort of architectural renderings one would expect from a book like this. Although all of the sites have their points of interest, a few stand out as exemplary.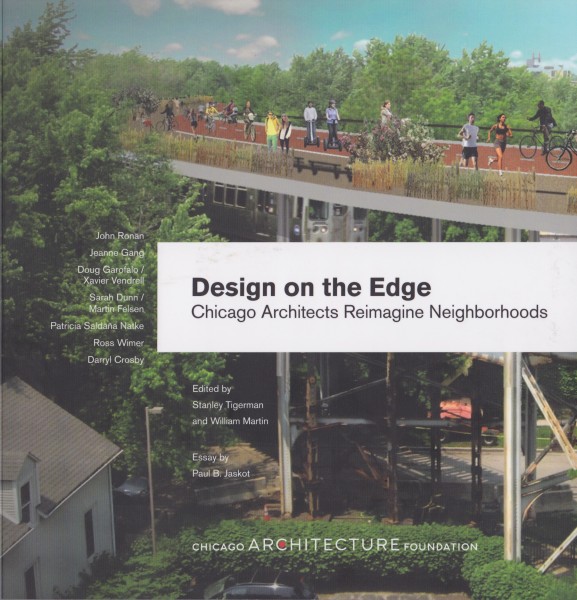 My favorite of these is the project by Ross Wimer of Skidmore, Owings & Merrill. He was assigned the Orange Line stop at Midway. Now, if you've even taken the L to Midway, then you know what an uninspiring bit of city the terminus of the Orange Line is. Since the site can't actually be expanded, Wimer envisions ringing the airport with an attractive facade that invites the community to look into the airport. This reimagining includes restaurants and shops designed to bring the neighborhood into the airport. The specific thing I like most about this plan, is that at no point is Wimer trying to hide the airport or make it something that it is not. Instead, he wants to reframe Midway to highlight the way people used to conceive of it, as a gateway to the world. A place that is exciting in its own right. A place of neighborhood pride.
The most important thing to keep in mind with this catalog and the exhibition that it accompanies, is the intention of this project is not to implement these ideas. The heart of this project is really about imagining a different future, a different way things could be. I'm not sure what the contributors thought as they crafted these projects, but to me it seems that it must be liberating to create in a purely visionary way, to unmoor from the practicality of actually having to build project. If you love the city of Chicago, this book will be fascinating. The exhibition runs through July 1, 2012 at the Chicago Architecture Foundation. Design on the Edge will give you a whole new way to envision our neighborhoods.
Design on the Edge: Chicago Architects Reimagine Neighborhoods
edited by Stanley Tigerman and William Martin
Chicago Architecture Foundation
paperback, $20
Terri Griffith has published fiction and criticism in Art21, Bloom, Suspect Thoughts, and BUST, as well as in the anthologies Without a Net: The Female Experience of Growing Up Working Class (Seal Press, 2003), Are We Feeling Better Yet? (Penultimate Press, 2008), and Art from Art (Modernist Press, 2011). Since 2006, she has been a literary and culture blogger for Bad at Sports. Griffith is the author of the novel So Much Better (Green Lantern Press, 2009) and the co-editor of The Essential New Art Examiner (Northern Illinois University Press, 2012). She teaches writing and literature at the School of the Art Institute of Chicago.
Latest posts by Terri Griffith (see all)