GUEST POST BY RACHEL MASON
Note: this is the last in a series of three posts guest-blogged by artist Rachel Mason centering on fellow artists, makers and exhibitors in NYC.
A few years ago I came across Cleopatra's (or the idea of it anyway) because of a project that Lisa Cooley was organizing with the artist Frank Haines. (An incredible artist)   She talked to me about doing a performance, which I thought would have been a lot of fun,  but for one reason or other it didn't end up happening and I ended up thinking that Cleopatra's was a rock club or maybe a theater. I had no idea it was a gallery.
I started hearing more and more about this gallery space run by several women in Greenpoint, Brooklyn. When I finally ventured over to 110 Meserole Avenue, I experienced the reality of Cleopatra's.  It's about 15 x 35 square feet and in addition to having a space in Greenpoint, earlier this year they expanded to a space in Berlin. There's something about Cleopatra's that I found instinctively exciting. I haven't met Erin yet, as she lives in Berlin and runs the space there, but if she's anything like the two Bridgets (Finn and Donahue) and Kate McNamara, who are the original women of Cleo's, then I have complete confidence in what she must be doing too.
First off, the fact that they can do all this using a collective approach is a feat. My experience with collaborations is limited to playing in bands. Its a miracle when it functions and flourishes. Theirs is a story of early commitment–apparently they took on a 10 year lease never having met in person! Kate and Erin met at the lease-signing!
Even though all three women come out of the art world, and still are very much employed by it, their own approach really seems to me to be to try out a variety of ideas with regard to what it means to create an exhibit, as revealed by their recently closed exhibition by Montserrat Albores,  Lynne Cook: Three Shows, which, as they state on their website, "aims to unravel the curatorial practice of Lynne Cooke."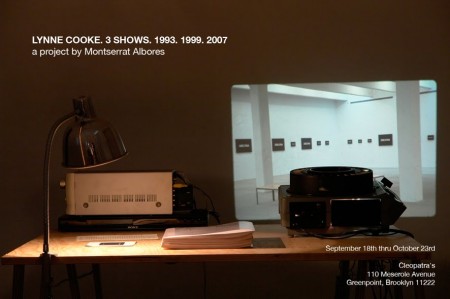 At first I didn't understand what I was looking at when I went to the gallery, but then Bridget Finn opened up a black folder with pages and pages of emails and handwritten notes, markings on slide sheets, invoices, catalog essays, personal letters. These are the inner-workings of a museum curator's world. This is how huge retrospective shows happen. The project, organized by curator Montserrat Albores, presents the archive of materials that Lynne Cooke amassed in presenting "Three Shows" from the years 1993, 1999, and 2007.
There was a moment when I thought that the most fascinating thing about the gallery was how many projects seemed to negate the gallery, like Tyler Coburn's show, which after three years of existing in several other forms finally became a gallery show. Published as a short story and then made into a radio episode, and then finally, and lastly, landing as a gallery show.
But then I realized with this show, that you can't just look at anything online really- the gallery has hard copies there for you to peruse, like an old-fashioned library. There isn't any way to document it and put it online, even though its information ultimately came through the internet (like emails and airplane ticket records). You have to go to the gallery to see printouts if you want to see how much On Kawara's artist fee is, or the original artist's proposal to the museum director. How do these things happen? What gets the ball rolling? (Chantal Ackerman's proposal was over 10 pages long!).
Alberes's show is about a show, which is about a show, which will travel and become another show- and maybe a catalog, a book, or who knows. Its layers of meta- make perfect sense for a space like Cleopatra's and I'm excited to see how they continue to play with the idea of being a gallery.
This summer I had the chance to work with them- which is what led me to write this piece. The two events they invited me to participate in were FLOAT, a curated show of performances at Socrates Sculpture Park and Eye In The Sky at the Re-Institute upstate in Millerton, NY.
Most people that perform have to check and cross check about 4 times all of the tedious technical details and the smallest thing can completely derail a show…and I was a little nervous heading out to the Re-Institute that there could be problems at this huge outdoor barn with multiple on-going performances happening all at once, but when they said "the PA is going to function and it will work and there will be someone there when you get there", they meant it. They made these things happen. Even if that meant one Bridget (Finn or Donahue) hoisted an extension chord over a barn door while another directed 50 people over to a campground and somehow all the pieces come together including a gigantic yurt, by Chris Verene, Â who is presenting it again at Postmasters Gallery in NY.
I just want to express an appreciation of what I've seen as incredible and genuine teamwork… and how rare that is… and I feel like the artists and art which get created within Cleopatra's reflects this thrilling spirit of excitement and comeraderie.
I think its why the gallery is a success and will continue to be one, and has been an incredible launchpad for artists and artists love them. I also think that they are redefining what a gallery is. And I think it is the future.