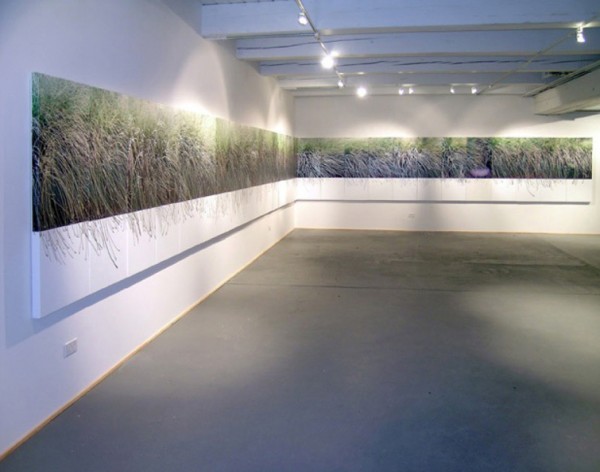 We wanted to pass this along to our readers, as it seems like a great opportunity all the way around: there are just a few days left to take advantage of Chicago Artists' Coalition's Bolt Residency Application / Membership deal – artists who apply for the Bolt Residency before April 22nd (that's this Friday, folks) will receive a $20 discount on CAC Membership (all applicants must be CAC Members). Full information on the Bolt Residency and application process follows below:
The Bolt Residency is a highly competitive and juried artist program housed in the former FLATFILEgalleries, an 8,000 square foot space in the vibrant, art-centric West Loop neighborhood. Bolt Residency is a one-year artist residency program consisting of nine subsidized studios and professional exhibition space with daily, ongoing professional development programming and support from CAC staff.

All artists applying to Bolt must be current CAC members. Artists who apply before April 22 receive a $20 discount on CAC membership. If you have any questions about membership, please contact the CAC office (773.772.2385) or email Alyson Koblas (alyson@chicagoartistscoalition.org).

Bolt Residency is an investment in YOUR artistic career, providing ongoing dynamic, in-depth collaborations with prominent curators, cultural institutions, visiting artists, gallery directors, dealers and collectors.

Open House

CAC will hold two open houses with tours of the space, every 15-20 minutes. Tours will take place at 217 North Carpenter on  Sunday, April 10 from 2-5pm and Tuesday, April 19 from 5:30-8:30pm.

Vision

Bolt Residency seeks to create a supportive environment that promotes and evolves artists' professional and artistic practices; providing ample space for the development of groundbreaking work.

Programming

Critical to our partnership with artists in residence are ongoing dynamic, in-depth collaborations with prominent Chicago curators, cultural institutions, visiting artists, gallery directors, dealers, and collectors. Bolt Residency hosts vital services and programs that provide artists with opportunities to build new audiences and meaningful connections to industry and business leaders throughout the Chicagoland area. Bolt Residency engages the Chicago arts community and its public in critical dialogue about contemporary art. CAC programs foster community and stimulate invention, risk and innovative artistic practice.

CAC will work closely with Bolt Residents to:

Develop a customized professional development plan based on your vision and personal goals.
Provide one-on-one monthly studio visits and workshops by the following partners (with more to come):

Candida Alvarez: Interim Dean of Graduate Studies/Professor, SAIC
Lynn Basa: Artist and Instructor, SAIC. Author of The Artist's Guide to Public Art: How to Find and Win Commissions
Elizabeth Chodos: Associate Director, Oxbow, SAIC
Romi Crawford: (Ph.D.) Assistant Professor, SAIC, Former Curator and Director of Education and Public Programs at the Studio Museum in Harlem
Chicago Art Dealers Association
Robyn Farrell: Gallery Manager, Donald Young Gallery
Mark Jeffrey: Adjunct Associate Professor Contemporary Practices & Performance, SAIC. Curator. Artist.
Nancy Jones: Executive Director of Learning and Interpretation, Detroit Institute of Arts (DIA)
Charlotte Marra: Assistant Director, Rhona Hoffma
Monique Meloche: Owner/Director Monique Meloche
Jackie Terrassa: Assistant Director of Public Programs, MCA


Coordinate open studios and exhibition openings  with the West Loop's gallery walks
Showcase your studio to interested parties.
Market exhibitions and special events to the press and arts community.
Provide full and free access to CAC's Art.Business.Create (A.B.C), a series of intensive educational workshops and consultations designed to build artists' professional business skills (worth over $500)
Offer competitive studio rental rates with the option to share/divide or use space individually.
Create evaluation and sustainable exit plan, post-residency

Bolt Residency Studios


(5) Front Room Studios: $455 for 260 sq.ft.
(1) Private Studio: $525 for 300 sq.ft.
(2) Back Room: $390 for 260 sq.ft.
(1) Side Studio: $225 for 260 sq. ft.
Open floor plan, work-only (non-residential)
Move in date: June 15, 2011. Security Deposit: TWO months' rent

Important Dates

April 29 (12pm): Application and supplementary materials are due via email to cortney@chicagoartistscoalition.org

May 18: Announce finalists selected by jury

May 23-May 27: Finalists interview with CAC staff

May 31: Announce Bolt Residents 

June 15: Bolt Residents move in to 217 N Carpenter

Move In Date


Move in date: June 15, 2011. Security Deposit: Two months' rent.

Selection Process


Submissions are evaluated by a jury of four professional peers from Chicago's leading cultural institutions: Romi Crawford, Tricia Van Eck, Monique Meloche and Allison Peters Quinn.

Jury selected finalists will be interviewed by CAC staff.

Artists who wish to apply as collaborators or apply to share space must apply individually and send individual fees, application and support materials (collaborators must include a separate page describing your collaborative proposal).

Types of Disciplines: painting, works on paper, photography, new media, installation and film. Sculptors,performers and sound artists are encouraged to apply, but may be limited by materials. Please contact Cortney at cortney@chicagoartistscoalition.org.

We do not discriminate on the basis of race, religion, national origin, color, sex, age, veteran status, or disability.

TO APPLY

Applications are available online by clicking here.

Applicants must be Current CAC members. To check on status or to join, please contact Alyson Koblas at alyson@chicagoartistscoalition.org. (Artists who apply before April 22 receive a $20 discount on CAC membership.)

Applicants need to reside in the Chicagoland area during residency.

Applications must be emailed to cortney@chicagoartistscoalition.org AS ATTACHMENTS and include:

Completed Application (available online HERE)
Resume (as PDF attachment)
Work Samples (max 10 images, SUBMITTED ONLY AS JPEG's, no larger than 72dpi) as attachment. WORK SAMPLES MUST INCLUDE: TITLE, DIMENSIONS, DATE AND MEDIUM.
Non-refundable $25 application fee (paid via our secure online terminal)

To keep up to date with Bolt Residency, sign up here to receive CAC's e-newsletter.