I hate to break it to you, but summer's over. The good news is that any moment it will be fall. Time to put away the madras shorts and halter tops, and bust out the corduroy and oxfords. September is also the perfect time to go on a Chicago Architecture Foundation tour. CAF is probably best known for their boat tours. Whenever I have out of town guests, I always get tickets for one of these. It's impressive and occupies a couple of hours, which is especially great if you're entertaining people  you don't know very well. But when I want to do something with my friends, just for fun, I sign up for a walking tour.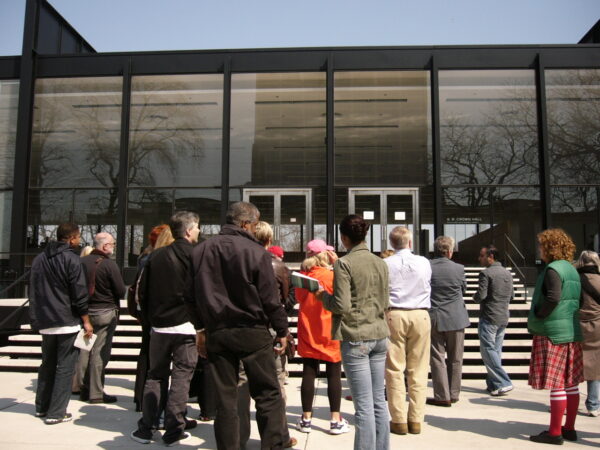 You might have seen a CAF walking tour while you where in the loop. They're easy to spot—a group of people blocking the sidewalk and usually they're all looking up. There are quite a few of these tours available: Historic Downtown, Modern Skyscrapers, Downtown Deco, Millennium Park Revealed, and many more. I have been on all of them, and each is fascinating in its own way. CAF's docents are responsible for the content of the tours, so no two tours are alike. There's nothing better on a beautiful fall day than to walk around downtown looking at the buildings that comprise our vibrant city. More than a dozen tours are offered everyday, seven days a week. Try a 7:30 AM Early Risers tour of Chicago Skyscrapers. Too early? What about a lunchtime building tour? And who doesn't like a little drinky-wink at the end of a long workday. For those folks there are even 5:30 Happy Hour Tours that end at a downtown watering hole.
CAF has bus tours too. I've been on nearly all of those as well, but I like to save those for winter when it is too bitterly cold to go outside. These tours are fantastic. They just drive you around in a narcotically warm bus, where you can sip a latte, press your nose against the window, and try to remember a time when it was warm out. Every architecture tour I've been on has been a love letter to Chicago. If you are ever on a tour and see a woman in a green down vest, say "hi." It's probably me.
Terri Griffith has published fiction and criticism in Art21, Bloom, Suspect Thoughts, and BUST, as well as in the anthologies Without a Net: The Female Experience of Growing Up Working Class (Seal Press, 2003), Are We Feeling Better Yet? (Penultimate Press, 2008), and Art from Art (Modernist Press, 2011). Since 2006, she has been a literary and culture blogger for Bad at Sports. Griffith is the author of the novel So Much Better (Green Lantern Press, 2009) and the co-editor of The Essential New Art Examiner (Northern Illinois University Press, 2012). She teaches writing and literature at the School of the Art Institute of Chicago.
Latest posts by Terri Griffith (see all)