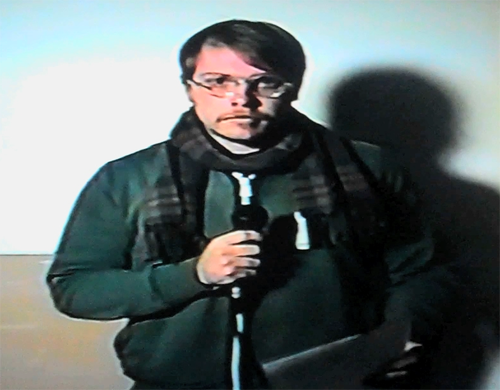 Artist, writer, new media curator, and BAS' own "Hyperjunk" blogger Nicholas O'Brien is visiting Chi-town, and if you live here you can see and — best of all — talk with the man yourself if you head on over to the Nightingale Theater tonight, Wednesday March 23rd, at 8pm. Full details on the action-packed events below…pecha-kucha style lecture?? This will be good.
I am Back: Nicholas O'Brien at the Nightingale Theater: Nicholas O'Brien will weave a conversation and lecture around his recent screen based works. These routes will range from a reading of an online conversation about mediated spatial awareness, screening samples from an ongoing video blog, presenting a pecha-kucha style lecture on the show Breaking Bad, as well as showing a VHS love letter sent to a distant, yet familial, stranger. The evening will enfold over the course of interlinking monologues discussing loss/return, finding sincerity in flippant formats, discovering self through cultural history, excavating digital landscapes, and employing wit to both disarm and embrace.
Claudine Isé has worked in the field of contemporary art as a writer and curator for the past decade, and currently serves as the Editor of the Art21 Blog. Claudine regularly writes for Artforum.com and Chicago magazine, and has also worked as an art critic for the Los Angeles Times. Before moving to Chicago in 2008, she worked at the Wexner Center in Columbus, OH as associate curator of exhibitions, and at the Hammer Museum in Los Angeles as assistant curator of contemporary art, where she curated a number of Hammer Projects. She has Ph.D. in Film, Literature and Culture from the University of Southern California.
Latest posts by Claudine Isé (see all)