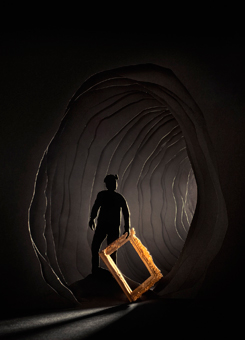 We received a plea to get the word out from Jay Kelly of TimeLine Theater, who are looking for artists who are also Chicago-area union members (service employees, road workers, teachers, glazers, painters, CPS art teachers, etc. etc.) to submit works of art for their lobby display in conjunction with Time Line's current production of "The Pitmen Painters" (September 6 – December 4th), a play "based on a true story about union miners in the 1930s who took an art appreciation class, discovered they had talent, and became the unlikeliest of art world sensations." Right on.
The hitch is, you've gotta submit your proposed work via email by tomorrow, Friday August 19th at midnight. Jay Kelly contacted us in the hopes we'd spread the last-minute word, because thus far they haven't received enough submissions to create an effective exhibition.  So, if you or someone you know is interested in submitting your work – go for it, and do it now! Click here for more information on the play itself, and see below for full details on how to submit artwork for the exhibition.
UNION MEMBERS ART EXHIBIT DETAILS

HOW TOÂ Â Â Â Â  Artists who submit their work must be current members in good standing of

APPLY:Â Â Â Â Â Â Â Â  Chicago-area union

Artists must submit a hi-res photo, preferably jpeg or TIF format of artwork.

Each submission must include:

1) Artist's name and contact information

2) Union affiliation(s) and how many years of membership

3) Year artwork was created

4) Dimensions of artwork

5) Estimated value of artwork

6) Artist statement of 100 words or less

There is a limit of three artwork submissions per artist

NOTE: Submitted artwork must be able to easily mount on a wall (paintings, drawings, photography, mixed media are all welcomed; sorry, due to space limitations, we cannot accept sculptures, video installations or anything that requires electricity)

DEADLINES:Submissions must be received via email by midnight on Friday, August 19, 2011. Send to info@timelinetheatre.com

Artists will be notified as to whether they will be invited to be a part of the exhibit during the week of August 22, 2011. Deadline for artwork to be received by TimeLine is Monday, August 29, 2011.

OTHER INFO:Artists must be willing to lend their artwork to TimeLine Theatre for the duration of the run of The Pitmen Painters.

There is no financial award given for participation.

Artwork will not be available for sale at the theater. However, TimeLine can help facilitate communication between artists and any interested purchasers as appropriate.

Submissions will be curated by a small team, to include (but not be limited to) TimeLine Theatre staff, the director of The Pitmen Painters and the theater's lobby design specialist.
Claudine Isé has worked in the field of contemporary art as a writer and curator for the past decade, and currently serves as the Editor of the Art21 Blog. Claudine regularly writes for Artforum.com and Chicago magazine, and has also worked as an art critic for the Los Angeles Times. Before moving to Chicago in 2008, she worked at the Wexner Center in Columbus, OH as associate curator of exhibitions, and at the Hammer Museum in Los Angeles as assistant curator of contemporary art, where she curated a number of Hammer Projects. She has Ph.D. in Film, Literature and Culture from the University of Southern California.
Latest posts by Claudine Isé (see all)