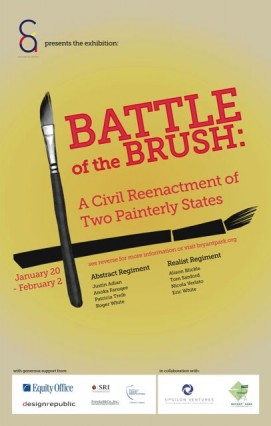 This event looks like a lot of fun. Those of you in the NYC-area should definitely check it out! Bad at Sports' own Tom Sanford has a painting entered in the fray, which is reason enough to brave the chill. THE BATTLE OF THE BRUSH is  a group show of paintings organized and curated by Alex Glauber.  Tom tells us there will be a reception, and though will  be cold in the park, there will be hot coco and heat lamps provided.
BRYANT PARK – JANUARY 20th thru FEBRUARY 2nd (24 hours a day)
OPENING RECEPTION (with heat lamps and lots of hot chocolate) THURSDAY JANUARY 20th 6-8PM on the Southwest porch on the 6TH Avenue side of the park.
They are hoping to organize artist tours of the work on SAT JAN 22 & SAT JAN 29 – details TBA
Corporate Art Solutions in collaboration with Bryant Park and Upsilon Ventures is pleased to present "Battle of the Brush: A Civil Reenactment of Two Painterly States," a contemporary painting face off between realism and abstraction on view in Bryant Park from January 20th – February 2nd. Utilizing the existing template of Upsilon Ventures' kiosks from The Holiday Shops at Bryant Park, two of the booths will be retrofitted with the help of painting conservators into temporary climate-controlled exhibition vitrines. These vitrines will be used to exhibit paintings for the first time ever in Bryant Park and in the process reveal how public art can be innovated through the creative adaptation of existing resources.
In an attempt to playfully reconsider the historic painterly debate between realism and abstraction, "Battle of the Brush: A Civil Reenactment of Two Painterly States" draws upon Bryant Park's history as an encampment for soldiers during the Civil War. In using this little known historical fact about Bryant Park as a conceptual theme, the exhibition takes a tongue-in-cheek look at how one of the painting community's most persistent antagonists in the 20th century was itself; specifically, the aesthetic and ideological divide between realist and abstract painters. More than just a question of style, this polemic has historically symbolized the tension between tradition and innovation. One such example was the boycott of the Metropolitan Museum's 1950 exhibition titled "American Painting Today – 1950" by eighteen abstract painters who claimed the show's jury was "hostile to advanced art." Their ardent opposition earned them the name 'Irascible Eighteen.' These days, we are much more civil than irascible. Therefore in the same way that Civil War Reenactors come together to imitate a moment in history when they stood apart, so too does this exhibition in order to reveal some of the more interesting directions realism and abstraction are being taken today.
Participating artists include:
REALISM REGIMENT: Alison Blickle, Tom Sanford, Nicola Verlato, and Eric White
ABSTRACT REGIMENT: Justin Adian, Anoka Faruqee, Patricia Treib, and Roger White
Latest posts by Claudine Isé
(see all)