I used to be a painter. I was never a really good painter, so the discontinuation of that part of practice some seven years ago was not a big loss. That being said, I am often reminded of how much I owe to my humble/clumsy painting beginnings. While still in my post-painting undergraduate studies, I would often frequent the Art Institute's Abstract Expressionist rooms for comfort and solitude between classes or after an emotionally draining critique. I distinctly remember visiting a long, narrow room that existed upstairs in the pre-modern-wing building that housed only five or six paintings at a time. This room would often rotate works by Ad Reinhardt, Joan Mitchell, Mark Rothko, or Paul Kline. However, a permanent fixture in this space were always two massive, wall-sized paintings by Clyfford Still.
Both works – which are currently not on display – employed Still's signature nocturnal black, but one was interspersed with scars and crevices of cream, red, and yellow; colors that now seem "out-of-the-tube" but were hand mixed by Still in the early 1950s. These two pieces were fantastic evidence of Still's meticulous pallet knife work, and the dense murky black of 1951-1952 (almost none of Still's work had titles) the heavy layering created a remarkable sombre darkness that would engulf a viewer, creating a void primed for personal exploration and meditation. I would sit on the bench that bisected the room longways feeling as if a white noise reverberated between these two pieces; a stoic frequency bounced between them that only a metaphysical shortwave radio could dial into. During ideal viewing sessions – times when the museum was near closing hours, or during particularly cold winter weekdays that deterred visitors – the power of sitting between these facing works would create the perfect mental vacuum to delve into deep contemplation. In those moments, I felt as if the subtlety of texture and composition that existed in these works acted as mirrors for the complexity and nuance of my own burgeoning artistic voice. That sense of belonging amidst those two works would bring me back countless times, and made me a life-long appreciator of Still's oeuvre.
So, perhaps needless to say, it is with some bias that I came to the press preview of the Clyfford Still Museum in downtown Denver. The dense concrete cube, designed by Brad Cloepfil of Allied Works Architecture, is located just behind the iconic Hamilton Wing of the Denver Art Museum almost serving as an architectural antithesis to Daniel Liebeskind's hyperactive bravado. The subdued practicality of the museum does a great service to the new home for 94% of Still's life work, allowing for the fabled 300 days-a-year Front Range sun to filter through the perforated ceiling with the help of motorized shades and diffusing glass. During the press conference, Cloepfil discussed how he imagined the materials of the building being "compacted" into the earth to ground the museum in an act of homage to the organic palette found within the 2400+ pieces of the collection. The density of the concrete delicately avoids being cumbersome due to the airy quality of the nine galleries found on the second floor. Almost all elements of the building – from the low ceiling lobby, to the publicly available storage facilities – faithfully serve the ambition and sincerity of Still's six decade career that started in the prairies of Alberta and ended at his isolated farm in central Maryland.
The galleries are delicately filled with key selections from the estate for the inaugural exhibition, and many works on view have had extremely limited public appearances until now. Although the initial galleries that you approach are a bit cluttered with early semi-figurative work from Southern Canada and Washington State, the care taken by adjunct curator David Anfam and museum director Dean Sobel with Still's more iconic work truly accentuates their undeniable arresting prescience. I was fortunate enough to be led on a guided tour by Anfam of the various facilities that are housed in the museum complex, including a preservation center, a research library, and an interactive timeline. While on the tour, Anfam frequently emphasized how Still, unlike his contemporaries, always prioritized personal cerebral exploration over exhibition and public notoriety. Anfam also took many opportunities to dispel the misreading of Still's work as masculine grandiosity, and instead argued that the colossal paintings that comprise a majority of his later output came instead from a sincere inward-looking sensitivity to the ways in which post-war America politics and culture were in a state of radical change.
In this way, the inaugural exhibition is incredibly successful – to rewrite the dominant narrative of American AbEx is no easy task, and the lasting impression of the museum that has followed me since my visit is that Still's conscientiousness is evident in an unexpected and rare display. This is not to say that the museum leadership should reward themselves with single handedly changing the contemporary perspective of High Modernism, but the reward of the nearly seven year process it took between the gifting of the collection from Patricia Still to the completion of the museum is unfathomable. The immediate benefit of the museum's opening is to finally allow for a more wide recognition for an artist – when compared to other giants in the American AbEx pantheon – whose work contains transcendent empathy for the world around him. This quality shines through in Still's opus, providing a much needed counter to the otherwise stale or remote machismo that typically dominates Abstract Expressionism.
The current showing at the museum provides a very faithful testament to a man incredibly in touch with his cultural surroundings; a figure of his era often overlooked but always lingering. Still was not only a contemporary of those more lauded, but was considered amongst that community to be one of the the most generous of teachers and mentors to those around him. Pollock is famously quoted for saying his work made "the rest of us look academic." However, Still's tremendous control over how his work could be shown prevented him from becoming a household name. In 1951 he severed ties from Betty Parsons Gallery and for the rest of his career was notorious known for respectfully declining invitations to participate in exhibitions. One famous account documented in the catalog of the museum is a short reply to Peggy Guggenheim to thank her for his representation at The Art of This Century Gallery and her efforts in championing American AbEx painters, but deciding to cease his relationship with the gallery.
This prolonged self-excommunication that spanned Still imposed upon his career is undeniably reflected in the commitment he put into his paintings. As a result the serene – at times overwhelming – spaces that are created within the paintings on display are so enveloping that the very act of removing one's gaze from their aura is a reeling task. In short, the work chosen by the museum for its first outing is undoubtably mesmerizing and entrancing in their profound melancholia and enlightened earnestness. Where writers and critics of the past have judged these paintings as aloof, remote, and antagonistically abstract, I'd instead argue the opposite and claim that the empathy and humanity found within these paintings remains remarkably poignant, particularly in an artistic age so bereft with pastiche and indifference.
---
Audio clip: Adobe Flash Player (version 9 or above) is required to play this audio clip. Download the latest version here. You also need to have JavaScript enabled in your browser.
download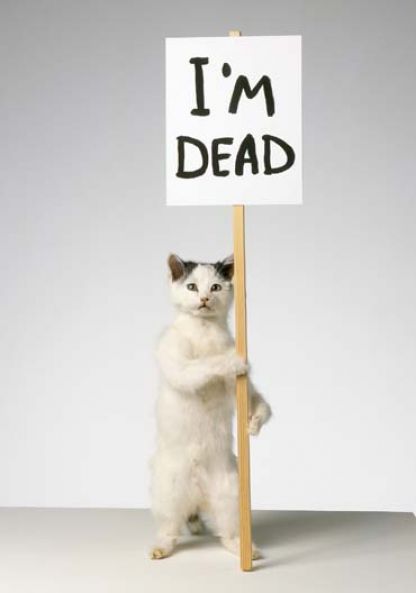 This week: After an inappropriately long and silly intro Duncan talks to artist and hilarious person David Shrigley.
David Shrigley was born in 1968, in Macclesfield, England. He studied Fine Art at Glasgow School of Art from 1988 to 1991. His work encompasses drawing, sculpture, photography, animation and music. Recent exhibitions include Galleri Nicolai Wallner, Copenhagen; BQ, Cologne; Anton Kern Gallery New York; Carnegie International, Pittsburgh; Bergen Konsthall, Norway. His drawings have appeared in newspapers and magazines such as Esquire (Japan), Donna (Italy), Arena (UK), The Gaurdian (UK), Le Monde (France) Suddeutsche Zeitung (Germany), New York Times (US). He has produced animated pop promos for Blur and Bonnie Prince Billy and has produced album artwork for artists such as Deerhoof and Malcolm Middleton. In 2006 he produced a spoken word album Shrigley Forced To Speak With Others and in 2007 released a compilation album Worried Noodles featuring 39 artists invited to create songs based on his lyrics originally published in a book of the same name. The project included contributions from David Byrne and Franz Ferdinand amongst others. Shrigley is the author of numerous books of drawings details of which can be found at redstonepress.co.uk, He now lives and works in Glasgow and is represented by the Stephen Friedman Gallery, London. More information can be found at davidshrigley.com
Go buy his book, now!
---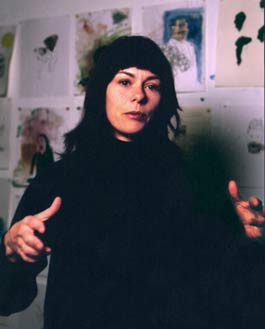 For this week's look back into the Bad at Sports archives, we've pulled a 2008 interview with Meg Cranston, conducted by Duncan MacKenzie and painter Pamela Fraser on the occasion of Cranston's exhibition at He Said/She Said, Fraser and partner Randall Szott's now-closed exhibition space in Oak Park, Illinois.
"There's a work in the show that's an ass drawn to look like it's encased in a block of ice. The title is I froze my ass and then I moved to California. It's a true story – when I was a kid growing up in New York, I froze my ass everyday in the winter. My parents were very thrifty people and they just wouldn't turn up the heat. My brother and I developed what I called heat lust. And I don't think it's hyperbolic to say that for me as a child heat was like love, and maybe better." — Meg Cranston interviewed by Bad at Sports.
Click here to listen to Episode 166 with Meg Cranston.
---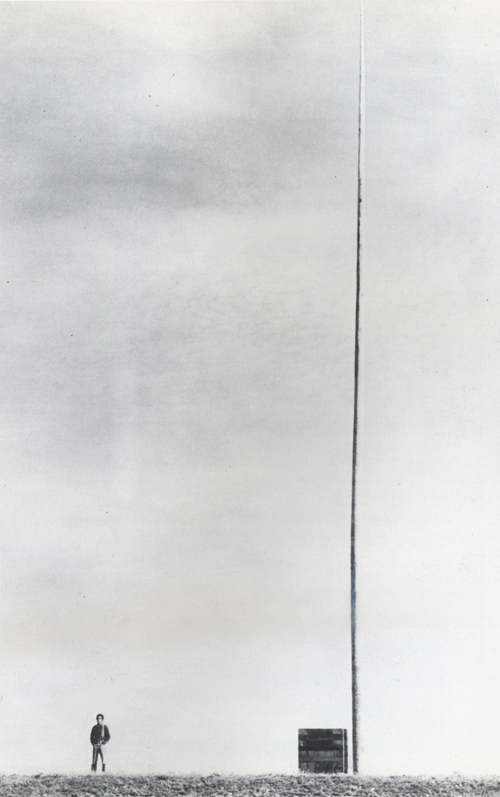 When I was about 14, I had a figure-drawing teacher in a local after-school program, a brilliant and hyperactive man who compared the honing of our representational practice to the training of a chef.  To hear him tell it, a really good chef can taste a dish and say, "ah, yes, I taste this ingredient prepared in this way harmonizing with that ingredient prepared in that way, NICE MOVE."  As artists who – whether arriving in the form of training or proximity – have at least been exposed to enough art to deconstruct according to a similar model, the recognition of moves and their subsequent naming (and occasional pocketing) should sound familiar.  It was with this in mind that I embarked two weeks ago on this admittedly incomplete cataloguing of moves, not as a How To or a Why, but as a What Is and a Where.
In my last column, I used a chess analogy to explain my premise.  One expression of this analogy was of the finished and total game as both catalogue of and as principally manifested from the moves that constituted its play.  When considering the particular totality of a finished game, both representing and represented by its contained moves, we are able to read its progression with a focused linearity, each move in dialogue with the move preceding it and the move following it.
Within the relative totality of a work of art, while we may be able to perceive the moves constituting its actualization, the linear narrative of their implementation is often lost.  This is by no means a value judgment.  With all of the moves now existing on the same plane, their dialogue expands beyond their teleological neighbors-in-time and into interaction with every single other move now sharing the plane of totality.
While the moves residing upon this plane of distribution certainly contribute to the manifestation of a totality, it is the relationships occurring between and thus around the moves that necessarily form the edges of this totality and therefore our perception of it as a totality.  The relationships generated between and around these points form a container or theatre for these interactions and it is at the edges of this between-and-aroundness that we find our image of the total work and the point of our most immediate interaction with it.
Proximity is crucial to these generative internal relationships.  By the model of totality established above, wherein the relationships contained manifest the Thing Itself, the Proximities defining those relationships become an essential factor of that manifestation.  Differing Proximities establish different relationships and produce fundamentally different totalities.  Proximity as move.
***
More context:  That which exists in a vacuum may not, in fact, exist at all.  If it does, we are afforded two possibilities.  In the first, we are all (in the non-anthropocentric sense) That-Thing-Taking-Up-The-Vacuum and as such, the intricacies of our collective existence as that thing puts said vacuum beyond the limits of our perception.  In the second possibility, the existence of this thing inside the vacuum precludes our exclusion by the very nature of vacuum-ness.   So, given that this is not a metaphysical proposition, This Thing exists outside of our ability to interface with it and outside of any sort of possible sharing of reality-space.  As Far As We're Concerned, the thing does not exist.  Therefore, whether we like it or not, Proximity is not an option.  It is a fact.
Furthermore, if we are to reject the vacuum of pure autonomy, logic follows that the edges of these proximal relationships do not necessarily manifest totality, as I stated earlier, but merely reinforce an idea of perceived totality.  This perceived (yet no less real) totality works within a pragmatic model of delineation, one which enables embodiment and day-to-day materiality.  In short, these relationships of Proximity have no law enforcing their internment, their edges are not a given; they could go on forever.  It is only by an inherently creative practice of "picking and choosing," that totality is even a possibility in an endless sea of relationships and proximities.  Without a doubt, so much of artistic practice revolves around "Knowing When It's Done," a process that can be at once intuitive and prefigured, and a process certainly engaged with creative acts of choice and delineation.  Creative acts of agency.  The selection and cultivation of proximities.  Once again, Proximity as move.
***
Let's look at a proximate relationship existing between two things.  Take, for example, Martin Puryear's 1977 sculpture, Box & Pole, represented in the photograph above, a four-and-a-half-foot-square wooden box and a 100-foot-tall wooden pole installed directly next to each other at the Earl W. Brydges Artpark State Park in Lewiston, NY. The title of the piece describes its contents and the closeness of the two forms enables our viewing of box and pole simultaneously, thus enabling our ability to both verify and interpret the relationship made plain by the ampersand in the title.  While the formal discrepancy between the two shapes is made evident and made novel by the nature of their Proximity, what is it about this Proximity and its relationship to the "total work" that enables these effects?
What is it about the piece's interior proximities that manifest its totality?  What if the box was out of sight, implied in the title but located elsewhere in the park?  The pole, surely visible from a distance, might indicate that at least half of the title was true and either manifest the box as an imaginary-implied or rather as a prize to be sought out during a walking tour of the grounds.  What if there were two boxes and two poles?  The Box & Pole of the title might then become the Platonic box or the Platonic pole, with each set of twins rallying to represent its singular ideal.  What if the piece was untitled or the box was on top of the pole or the pole was on top of the box or the pole was horizontal rather than vertical?  All of these relationships of Proximity manifest a necessarily different totality, a necessarily different narrative not merely describing the thing before us but actualizing the work itself.
In Jean Baudrillard's doctoral dissertation, Le Système des Objets  (The System of Objects) (1960), he introduces a useful structure of autonomous and relational value.  With regard to (bourgeois) interior decoration, Baudrillard posits that where some one-of-a-kind painting may possess a high autonomous value, a mass-produced commercial print of the same painting, while possessing a lower autonomous value, possesses a much higher relational value as it pertains to interaction with the objects around it.   Surely this model persists when the plane of totality consists of more than merely mass reproductions or further iterations of a single object.
As Box & Pole becomes Boxes & Poles and then Boxes & Poles & A Photograph & A Marzipan Pear & A Calculator Tied To A String, Martin Puryear becomes Rachel Harrison or Isa Genzken.  The work itself becomes a theatre for the performance of a cornucopia of relationships, all subsuming their relational values into the autonomous value of the whole, the total object both generated by these relationships and functioning as container for these relationships.  As more and more parts are accreted to this whole, we must reconsider it with each new addition and as the makeup of its totality is changed.  White added to blue makes a lighter blue but it does not stay light blue when we add yellow.
Proximity as a tangible substance functions both as a move itself and in between moves.  At the heart of any notion of Proximity is the relationship it enacts.  Implicating some spatial or otherwise positional affiliation, Proximity cannot exist in a vacuum or as a property belonging to singularity.  Proximity relies upon proximal points.  For the artist, as these contingencies gain intention and subsequently some form of materiality, we must not ask how these proximal points change 'conceptually,' that is, poetically, metaphorically, or symbolically by virtue of their Proximity.  We must ask how they change ACTUALLY: How, by the Proximity contributing to their relationship, the points themselves actually change and take on not merely new meaning but new BEING.  A new totality as a work of art.
---
1. Hungry Bellows Of The Minotaur at FM*Gallery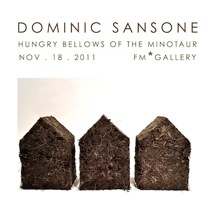 Participatory installation by Dominic Sansone.
FM*Gallery is located at 310 N. Peoria St. Reception begins at 7pm on Friday.
2. The Domestic Partnership of Heaven and Hell at Monique Meloche Gallery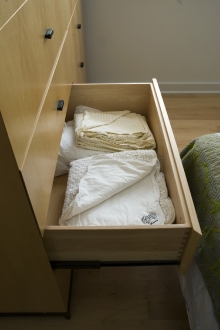 Work by Karen Reimer.
Monique Meloche Gallery is located 2154 W. Division St. Reception Saturday from 4-7pm.
3. Let me not to the marriage of true minds admit impediments at Terrain

Work by Stephanie Brooks.
Terrain is located at 704 Highland Ave. in Oak Park. Reception Saturday from 3-6pm.
4. Mind and Reality at Roxaboxen Exhibitions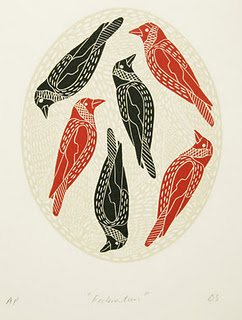 An International Print Exchange between Chicago and Sydney, Australia.
Roxaboxen Exhibitions is located at 2130 W. 21st. Reception Friday from 7-10pm.
5. Contingent Conventions at Eel Space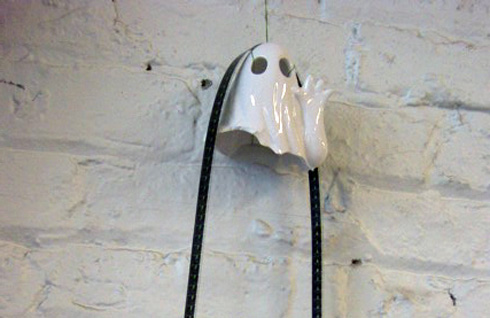 Work by Alejandro Jimenez, Marilyn Volkman, and Scott Campana.
Eel Space is located at 1906 S Throop St #2F. Reception Saturday from 6-9pm.
---