Bonnie Fortune and Brett Bloom are artists and former Chicagoans that make their home in Copenhagen these days. While many artists lend the same creative abilities to their homes as their practice, we rarely get a glimpse of what goes on there. Often, what goes on locally at home—the apartment, the neighborhood, the city—can feed back into a practice until the boundaries of artwork and lifework are comfortably confused. Fortune and Bloom use their blog Mythological Quarter to share their experience of making a home in a new place. This includes reviewing books about homesteading, recounting experiences making work in a new place, documenting instances of neighborhood ingenuity, and sharing creative experiments made in their apartment. Bonnie and Brett's blog impressed me with the energy, enthusiasm, and commitment brought to all of their projects, whether it's meant for an art festival or the living room. I sent Bonnie a few questions to chew on over email.
Bryce Dwyer: Where does the name "Mythological Quarter" come from?
Bonnie Fortune: Mythological Quarter is the name of a group of streets in the Nørrebro neighborhood of Copenhagen that are all named for Norse gods. Our street is Baldersgade. Balder was the son of Odin. Because our blog is primarily about hyper-local ecology and what people can do to live closer to and learn about their local environment, we thought it was a good idea to name it after our neighborhood. We also liked the imaginative possibility of the name, which is good because in the few short months since we started the blog it has morphed beyond the initial mission statement and intent. We started by detailing a lot of projects that we were doing in our home but have since evolved beyond that. We'll return to that on occasion, but the focus is now a little broader.
BD: I don't think it's a leap of faith to believe that some of the same creative experimentation that happens in a conventional artist's studio is at play in the home of an ecologically-oriented urban homesteader. Of course, the output of these impulses varies. In one scenario you might end up with a presentable art project, in the other, a batch of worm castings to feed your houseplants. How do you think of these different outcomes of artful living in relation to one another? 
BF: This is a good question because it relates to the slow morphing of the blog's purview. I have a reluctant affection for the idea of urban homesteading. Certainly, I look at and am inspired by those authors that would put themselves in that category, but I also question their efficacy having tried, and continue to try, many of their DIY projects. My interest in homesteading ideas is research into how to become more connected to my immediate environment.
So many of us live in cities now that the question becomes how can one deal more directly with where one lives rather than put the environment or an idea of the natural world at a distance—as something that exists elsewhere.
I am very interested in incorporating ecological thinking (i.e. considering how we are part of rather than separate from the environment we live in) into my daily life and routines. Sometimes it's achieved and sometimes I feel alienated by what living in a city really means—being removed from your food production, waste disposal, electricity, natural gas, etc.
Because I am trained as an artist, I automatically look at things from the perspective of producing culture. I think about how I can use my skills to make an improvement in the overall environment of the world. What does that look like if one of my main skills is cultural production? Making posters, writing, connecting people, making exhibitions, and making projects. The blog gives me a focused research platform that allows me to connect with other artists, but also scientists and those working with the contemporary environmental movement. But there are times when MQ veers off topic and focuses solely on art projects. Just as there are times when we can't figure out the perfect indoor compost system and end up throwing away our table scraps.
BD: Do domestic experiments ever leave the house and become projects-at-large?
BF: Yes, our domestic experiments do become projects outside of the home. To start with MQ is a project somewhat outside of the home in that it is in the public sphere of the Internet. Currently we are planning a way to frame certain aspects of our research on MQ to make a book. MQ, as a project, is more about research and development—talking to others, reading, trying things and documenting those experiments. It is a testing ground for larger projects. For example, through an interview project for MQ, I met a group of local naturalists and biologists who helped me immeasurably in making a recent poster project for the local art fair.
BD: You and Brett have been collecting great resource books and making them freely available for a while now. What are some of your "desert island" books?
BF:
How to Build Your Own Living Structures by Ken Isaacs
Wild Fermentation by Sandor Katz
The Book of the New Alchemist, Edited by Nancy Jack Todd and E. P. Dutton
Toolbox for Sustainable City Living by Scott Kellogg and Stacy Pettigrew
Ecology textbook, Edited by Began, Harper, and Townsend
Permaculture: A Designer's Manual by Bill Mollison
I started collaborating with Brett on a project called the Library of Radiant Optimism for Let's Re-make the World. The project collected books from the late 60s and early 70s. Several of these books like the The New Alchemists, The Environmental Design Primer, and How to Build Your Own Living Structures focused on how to transfer ideas from the environmental movement to daily living—the beginnings of the green design movement.
Reading these books, collecting them together, and writing reviews led us to wonder about what people were doing now or how we could make our own experiments.  MQ stems directly from that collaboration. It is a more streamlined, less nostalgic version of that project.
What to take to a desert island? The problem here is that I think too literally about this. I would say How to Build Your Own Living Structures, but you need a hardware store to build some of these things and that's not on a desert island. In fact when we moved to Denmark we had to leave a huge part of our library at home, so in a sense it was moving to a desert island (well, Copenhagen's on an island anyway). Leaving our books at home was a hard decision but one determined by the economics of international flight. We've since started to rebuild our collection. As we do, I'm adding to the Book Reviews portion of the blog.
BD: What are the things that you've learned through amateur pursuit of useful knowledge that you might not have acquired anywhere else? Where might people have acquired this knowledge previously and can you speculate on some reasons for the change?
BF: I consider my artistic practice to be a research-based endeavor. Part of this is having gone through an academic system of art training, part of it is the way contemporary art making has evolved. I make art about what I am interested in, what I care about, and what I am passionate about. This is amateur in a sense, but also a professional pursuit of knowledge. For example, it has lead me to talk to scientists about how to properly conduct a survey of the biodiversity of an inner city empty lot so that I can make a poster about the process. I am not a scientist, I'm an amateur there, but I am still approaching the project with a level of professionalism. And I am genuinely curious about making sense of the world around me, in that sense it's not an amateur pursuit of knowledge.
Another example: before moving to Copenhagen, Brett and I did a public art project for the city of Urbana where we built bat houses. We were interested in how to encourage wild habitats that are within and more integrated with the built environment of a city or town. We didn't know what bats liked before starting the project, so we learned about them and their habitat needs to fully realize the project.
As to where people acquired knowledge previously: The Internet has obviously changed how we gather and share knowledge. This makes me think of Bill McKibben's book Eaarth: Making a Life on a Tough New Planet. First of all, he suggests that our planet needs a new name, Eaarth, because global warming has reached a point of irrevocably shifting the planet we knew as Earth. For the rest of the book he lays out how climate change happened and how it's shaping the world. He concludes with what is being done and what can be done in the present day environmental movement. McKibben suggests that small-scale initiatives—things like Community Supported Agriculture, bartering systems, and generally doing things on a smaller scale—is the way to acclimate to living on Eaarth. Within all of this, he points out that the Internet is something that will continue to be a useful tool for connecting and sharing information between the world of self-sufficient and small-scale communities he imagines as the answer. This conclusion stuck with me because it was not what I expected him to write because he had already written about supporting hyper local initiatives (local farming, food sharing, etc) and the Internet seemed the exact opposite of this. Introducing the Internet into the system contradicts focusing on the local and also, by McKibben's way of looking at it, a way to support and encourage the system.
We began Mythological Quarter (and other projects) trying to think about our immediate environment—the apartment, the neighborhood, etc. that we live in—the hyper-local. It is now a means for us to research, gather information, and share it with others. It's a knowledge project on the edge of local and global.
---
Riding the wave of ridiculously good buzz the Museum of Contemporary Art, Chicago has been receiving from the local press concerning all the big changes there as of late, the MCA today announced that it has named Dieter Roelstraete as its new Manilow Senior Curator. Roelstraete is currently the Curator of MuHKA, the Museum of Contemporary Art (Museum van Hedendaagse Kunst) in Antwerp, Belgium, and will join the MCA in February 2012. The MCA's press release on the hiring follows:
Michael Darling, James W. Alsdorf Chief Curator of the Museum of Contemporary Art (MCA), Chicago, announced today that Dieter Roelstraete has been appointed the new Manilow Senior Curator at the MCA. Roelstraete is currently the Curator of MuHKA, the Museum of Contemporary Art (Museum van Hedendaagse Kunst) in Antwerp, Belgium, where he has organized large-scale group exhibitions and monographic shows. He will assume his new responsibilities at the MCA in February 2012.

"Dieter is a wildly productive and extraordinarily smart curator who has addressed a wide range of art — geographically, generationally, materially — in his writings and exhibitions over the past several years, says Darling. "We felt his range of knowledge and broad curiosity would be perfect for the MCA in our attempt to cast as wide a net as possible in seeking out the most compelling art from around the world. Importantly, I first started hearing about him from artists who found in him a sympathetic and intelligent translator of their projects, and that kind of endorsement is very important to us. He brings with him an international network of colleagues and collaborators which will extend the MCA's reach far beyond Chicago; but at the end of the day, he is also a really charming person who we are all very much looking forward to working with."

Originally trained as a philosopher at the University of Ghent, Belgian-born Roelstraete has worked at the MuHKA since 2003. His curatorial projects there include Emotion Pictures (2005); Intertidal, a survey show of contemporary art from Vancouver (2005); The Order of Things (2008); Auguste Orts: Correspondence (2010); Liam Gillick and Lawrence Weiner – A Syntax of Dependency (2011); A Rua: The Spirit of Rio de Janeiro (2011) and the collaborative projects Academy: Learning from Art (2006); The Projection Project (2007); and All That Is Solid Melts Into Air (2009). He is currently preparing a retrospective of Chantal Akerman, opening at MuHKA in February 2012.

In 2005, Roelstraete co-curated Honoré d'O: The Quest in the Belgian pavilion at the 51st Venice Biennale. He has also organized solo exhibitions of Roy Arden (Vancouver Art Gallery, 2007), Steven Shearer (De Appel, Amsterdam, 2007), and Zin Taylor (Ursula Blickle Stiftung, Kraichtal, 2011), as well as small-scale group shows in galleries and institutions in Belgium and Germany.

Roelstraete is an editor of Afterall and a contributing editor to A Prior Magazine, and has published extensively on contemporary art and philosophical issues in numerous catalogues and journals including Artforum, Frieze, and Mousse Magazine. He is one of the founders of the journal FR David and a tutor at De Appel in Amsterdam. In 2010, his book Richard Long: A Line Made By Walking was published by Afterall Books/The MIT Press, and a volume of his poetry will be published by ROMA in May 2012. He lives in Berlin with his wife Monika Szewczyk.
---
It's that time of year again and experimental media artists all around the globe are gearing up for GLI.TC/H 2011. The conference/symposium/exhibition/performance series is originally developed and organized by Nick Briz, Evan Meaney, Rosa Menkman, and Jon Satrom, all of whom joined me in a group chat last year for B@S. This year the activities and festivities have spread across the pond and will include unique tandem events in both Birmingham (UK) and Amsterdam. Below is a more detailed schedule of activities as well as some "bumpers" that act as trailers for what to expect this year.
—
Thinkers and artists; Makers and breakers converge to celebrate technological catastrophe. A glitch is a moment known to everyone, yet rarely celebrated. GLI.TC/H brings together those inspired, curious, and provoked by glitches and provides a platform to break things, share thoughts, and develop ideas.
GLI.TC/H 20111 will include works from over 100 participants from more than a dozen countries and will be taking place in virtual-space at http://gli.tc/h and in real-space:
[Chicago, US]
THU: Nov 3 7pm — GLI.TC/H Gallery Opening @MBLABS
FRI: Nov 4 7pm — Real-time Performances/Executables/Events @ENEMY
SAT: Nov 5 11am — Lectures & Performances @theNIGHTINGALE
1pm — Workshops @theNIGHTINGALE
6pm — GLI.TC/H Screening Program @theNIGHTINGALE
8pm — Real-time Performances/Executalbes/Events @ENEMY
SUN: Nov 6 noon — Politics in/of Glitch [panel + open forum] @MBLABS
[Amsterdam, NL] NOV 11 – 12
[Birmingham, UK] NOV 19
—

by hellocatfood

by Clint Enns

by pixel noizz
---
Chicago loves big ideas. We love big buildings, big architects, and big plans. Why? Well, I suppose because they all have the power to stir the hearts of men. (Oh yea, and some women, too.) In the new book Design on the Edge: Chicago Architects Reimagine Neighborhoods, seven locations are tackled by the rock stars of Chicago architecture. Represented are: John Ronan, Jeanne Gang, Doug Garafalo and Xavier Vendrell, Sarah Dunn and Martin Felsen, Patricia Saldana Natke, Ross Wimer, and Darryl Crosby. The project is simple, each of these architects (or team) is assigned a neighborhood designated by an L stop, and they create a visionary design for the site—a way of rethinking what is already there.
Design on the Edge is really an exhibition catalog, but this one succeeds where others fail to be anymore than a memento of a past event. The book is divided logically into chapters  centered on each of the neighborhoods that are considered: Loyola Red Line, Addison Red Line, Addison Brown Line, Western Blue Line, 18th Street Pink Line, Midway Orange Line, 35th Street Green Line. With a short introduction by the architect or team, each section is full of images of the site reimagined as well as the sort of architectural renderings one would expect from a book like this. Although all of the sites have their points of interest, a few stand out as exemplary.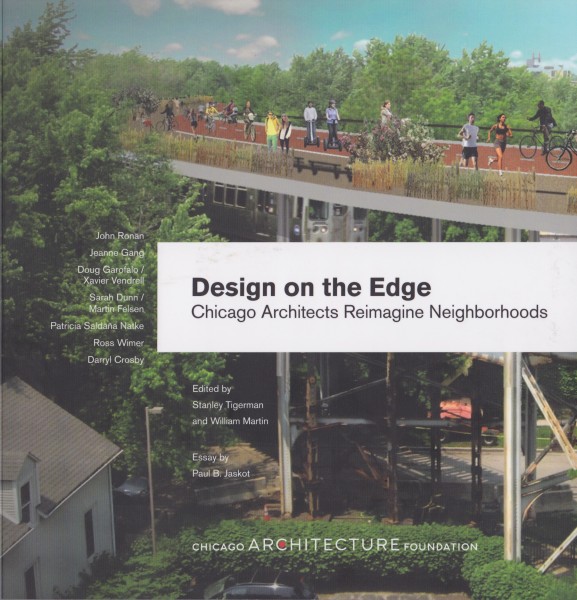 My favorite of these is the project by Ross Wimer of Skidmore, Owings & Merrill. He was assigned the Orange Line stop at Midway. Now, if you've even taken the L to Midway, then you know what an uninspiring bit of city the terminus of the Orange Line is. Since the site can't actually be expanded, Wimer envisions ringing the airport with an attractive facade that invites the community to look into the airport. This reimagining includes restaurants and shops designed to bring the neighborhood into the airport. The specific thing I like most about this plan, is that at no point is Wimer trying to hide the airport or make it something that it is not. Instead, he wants to reframe Midway to highlight the way people used to conceive of it, as a gateway to the world. A place that is exciting in its own right. A place of neighborhood pride.
The most important thing to keep in mind with this catalog and the exhibition that it accompanies, is the intention of this project is not to implement these ideas. The heart of this project is really about imagining a different future, a different way things could be. I'm not sure what the contributors thought as they crafted these projects, but to me it seems that it must be liberating to create in a purely visionary way, to unmoor from the practicality of actually having to build project. If you love the city of Chicago, this book will be fascinating. The exhibition runs through July 1, 2012 at the Chicago Architecture Foundation. Design on the Edge will give you a whole new way to envision our neighborhoods.
Design on the Edge: Chicago Architects Reimagine Neighborhoods
edited by Stanley Tigerman and William Martin
Chicago Architecture Foundation
paperback, $20
---
Print shops are inherently communal. The overall expense and maintenance of printing equipment is generally only possible when shared. Being in this space, the smell of ink alongside a regular hammering of various machines (there was a particularly well-used off-set printer) reinforced one of the things I love about print making — its communal backbone, something that seems ever present in the proliferation of posters and brightly colored images. While at this print shop, I ran into an old friend, Andrew Oesch. I met Andrew for the first time years ago in Chicago. Oesch is a printmaker who, at the moment, teaches comic book production. In the following conversation we talk more about Providence and the enduring exchange of influence between generations.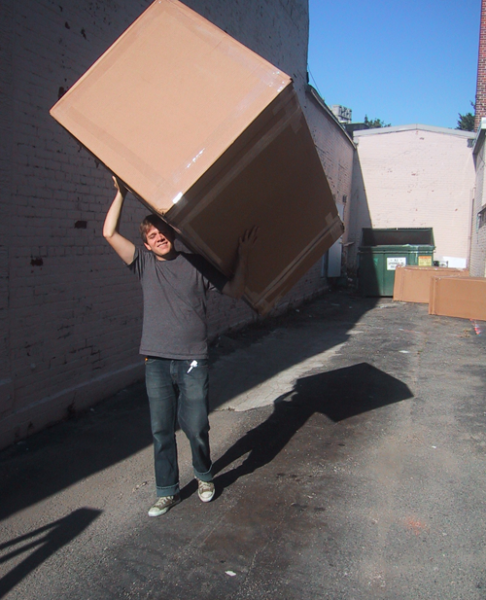 Caroline Picard:Â We first met when you came out for a show that Anne Elizabeth Moore had curated at The Green Lantern. That show was my first introduction to Providence and I was struck by the seeming resonance between the project you and Meg [Turner] installed, ("We Built This City Together") and my later impressions of Providence itself. For instance, you had some amazing stories about the physical place you living in at the time: cavernous rooms in old warehouses with smaller rooms built inside and space heaters. A lot of communal creative space that at the same time was somehow hyper aware of its (specific) urban context. In We Built This City Together, people were invited to take pre-printed stickers of buildings, color them in and paste them on a wall. It was sort of like a social experiment to see how people would respond to one another. It sounds very much like what those communal living situations must have been like. Â I'm starting to ramble, but can you talk a little bit about that?
Andrew Oesch: I hadn't thought about the ways that communal living might have been affecting my projects before. To put things in a little perspective artists have been living in large amounts of shared space for a while, it's not a phenomena which is unique to Providence, right? Those opportunities often form along peripheral conditions…artists move into provisional spaces that are in transition or of unclear purpose. In my personal work I do look to  architecture — both its planning and history — for a lot of insight to the culture of a place.
A lot of the architecture and culture of Providence is informed by the industry at the beginning of the 20th century. There was a lot of manufacturing — textiles, tools, and costume jewelry. So there's a fair amount of large brick mill complexes and a surprisingly dense amount of housing. In the early 1900s the peak population of Providence was around a million people.
With those historical notes in mind we come to the turn of the 21st century and all the large manufacturing is gone. The hemorrhaging of those industries started in the 70s and after a couple of decades the city is fairly depressed and its population is a quarter of what it once was. Some of the large mill complexes are there, though there are large vacant lots like broken teeth where a building might have burned down or was demolished. The buildings which remain are utilized in a variety of ways. Some have light manufacturing, some have small studios, some are flea markets, some are abandoned. The rent is cheap and landlords are permissive, so artists move in and things like Fort Thunder happen, and then they unhappen when the Real Estate market gets crazy.
One thing that I remember someone saying about why they live in these sorts of spaces is that unlike a house, these mills aren't made for people to live in. So it feels weird to live in them; she chose to live in them to continually remind herself that she wasn't normal, so she could remember that she feels weird.
I don't what that says about my practice… I feel weird and temporary? And to answer my own unsure rhetorical question I would say, yes. I am interested in the how Robert Smithson talks about entropy. The city is a system that shifts over time. I don't think it is moving towards an equilibrium…and it's not a closed system, but I can create finite systems and invite people to participate in them through various art making methods. Does any of this thinking make me a good housemate? That might be me starting to ramble.
CP: What kind of space does printmaking have in Providence? Has that changed over the years? And how has it influenced your own printmaking practice?
AO:Â 
Well, I wouldn't have a print making practice if I didn't live in Providence…maybe that's not true, but I began printing because I saw prints everywhere, and I was like "Oh, I wanna do that…"Print making and this place for the last 15ish years has been shaped by the 
Dirt Palace
, and other less permanent industrial mill living places. It just so happens that many of the folks who live at these various places make screen prints. The biggest way these practices continue to change is because the sprawling mill living spaces are less common. Buildings have been renovated, demolished, or just outright condemned. And this hasn't stop people from making, but it adds a provisional quality to everyones living situation. So that's why places like the Dirt Palace are really important: it is owned by two artists committed to keeping the world weird, loud, and rad. The AS220 prinshop is important in a similar way because it represents another place of stability. The contrast is that at the Dirt Palace every surface is covered by something else — old packing, glitter, show flyers, doodles, old paper mache projects…the space amorphously switchs from personal space to cooking space to work space to library to printshop to dance party and back again, while As220's printshop walls are more neutral. Their space is more obviously a printshop.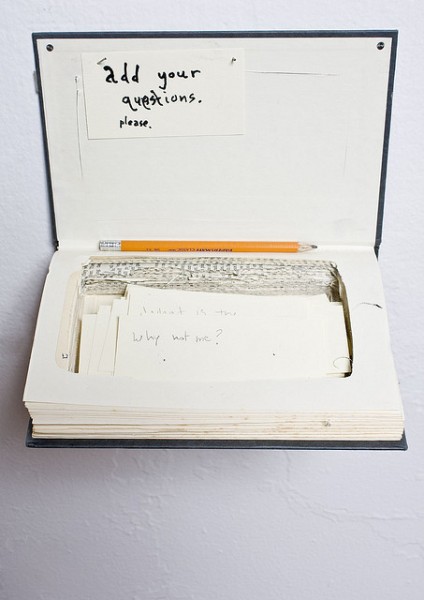 CP: While in Providence this summer, I noticed an interesting relationship between the city's educational institutions and the non-commercial, in many cases DIY, art spaces. Like the Dirt Palace got some kind of cartoon-making-machine because Brown no longer needed it. Do you feel like the universities have enabled the art-making community somehow?
CP: Yeah, Brown, RISD, & Johnson+Wales impact the city a lot. In mundane ways there is (what I imagine to be typical) resentment of the impact the universitys have on the tax base, and universities can gobble up real estate, and are touted by business leaders+politicians for innovation. But I think your observation is totally spot on;for the a certain section of the art scene universities have excess resources artists can mine. There are some  proposterously giant ways that happens and a lot of small ones too. All the Youth Arts programs I have been involved with have a few hand-me-down silk screens from RISD's print making department. And often at the end of the year there is a dearth of printing ink too.
But beyond the physical resources and material surpluses, these institutions have supported and spawned various organizations in town. 
New Urban Arts
, 
Community Music Works
, and 
AS220 Youth
 all ride a paradoxical relationship. Having been incubated by Brown, they nevertheless came into being because there was something that Brown was
not
providing. They exist because resentment and anger built up around the universities' inability to engage with a corrupt under city. Resources were mis-appropriated by a twice imprisoned mayor (and many others) while the public school population had 80% of its kids receiving free or reduced lunch (the school bureaucratic euphemism for "really poor"). Even with that resentment, these folks were able to start their respective organizations with the support of fellowships from Brown, and a few key mentors, and the large pool of potential volunteers who attended those same universities. Now these organizations and programs are a little over a decade old and they are the compelling civic leaders to offer something outside of the ways in which Brown, RISD, and Johnson&Wales do public engagement.

So what does this mean for our city's art scene? There is a generation of people who have grown up making art and hanging out with artists and mentors at these organizations; now grown up, that generation participates as emerging makers+artists+staffers, working and making alongside their former mentors. This is beautifully exemplified in this photo I really love of The "What Cheer?" Brigade, a loud and rowdy local brass band, taken by a young person who was a participant in AS220's Youth Studios, where a couple other members of the band were running a street band workshop. The photo has one of the trumpet players filling up most of the frame and foreground of the image, and in a the soft focus of the background there's another trumpet player and a trombonist, it's a good image, but those three members pictured are no longer in the band, and the photographer is.
CP: How did you start teaching comics? 
AO:Â 
So the last two years has been a slew of new jobs. My friend, 
Walker Mettling,
 was one of two artists who were written into a grant to run comics workshops in the 
Neighborhood Branch Librares
 in Providence. The other artist ended up dropping out, and both of them asked me to fill his place so I did. Probably the most important thing about  both Walker and me is that neither of us is a practiced comics artist. We're approaching the whole endeavor with a weird mixed bag of story-telling, print making, collage, busted graphic design sensibilities, and a general sensibility of fostering collaborative engagement. While working with Walker is new, and co-organizing workshops about comics is new, generally the project is a lot like my previous experiences as an artist educator and in that way it has been awesome!
Walker and I have been connecting kids and adults through 
The Providence Comics Consortium
. Admittedly there are a lot of things that we can not claim credit for. We draw on a pool of artists/friends/peers who are pysched about the ideas and images that kids create. Students in our class love to see their work adapted and amplified by adults. This simple equation of strong mutual appreciation/adoration is the essential bond that makes the project kinda magical. Kids come up with outlier ideas that adult artists are captivated by. There is peculiar way kid artists funnel their attention, which is revealed in the details they obsesses over and the aspects which are direct and simple. Walker and Myself are really just go go betweens them and the adults.
One of the ways we started off creating a dialogue between kids and adults was to try out our lesson ideas with a group of our friends. We would sit down and try out what we wanted to do in class with a couple of friends, this provided us with some feedback and refinement for our plans, but it also generated some awesome examples.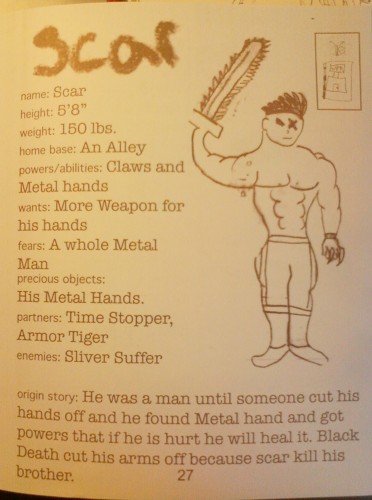 One of the critical story-develop tools and the primary visual vehicle between adults and kids is the series of character books we create. There are a variety of prompts and exercises we have utilized to start the germinating a character. My favorite thus far has been a process of hybridization where we start off asking the kids to draw two types of things. A pretty typical pair is "a food" and "a type of job." The kids make these individual drawings, we put the drawings into bags and everyone picks a pair which they have to combine into a character. This abstract visual mathematics can be confusing, but inevitably leads to good places… a memorable example is "The Apple Wedding Planner." The boy who drew these from the bags was confused at first, somewhat uncertain about what a wedding planner does… but that didn't matter because he could make his own meaning out of the random pairing he had drawn. The next phase in the character-develop is typically drawing a short strip using this character. After that little bit of narrative exploration with the character, we give them a worksheet with prompts to list the character's friends, enemies, special powers, height, weight, fears, and a little bit more narrative about the characters origin story. We end up retyping these stats and combine all the drawings and write-ups into a booklet. Compiling and re-distributing that book has two effects: One, it gets the participants super excited because they see there work in print! And two, the kids get super inspired by each others' creations. They start to utilize other students' creations, creating other characters in response.
Then we give those books to adults, who are equally as excited. We ask them to create adaptations using student characters. Soon we are going to put out our first anthology which features the student work and adult adaptations, so keep an eye out for that. (You can visit Secret Door Projects, to see how Ian G. Cozzens developed the Scar character).
---