Guest Post by Jeriah Hildwine
I first met Conrad Freiburg in what must have been the Spring of 2008, while I was living out in Belmont Heights (about as far west as you can go and still be in the city limits) and working at an Ace Hardware in River Grove. A friend my wife Stephanie Burke had made while we were living in Baltimore was dating a guy from Chicago, a friend of Conrad's. Unfortunately, I had to work at the hardware store while the rest of them went to visit Conrad's studio, but when I got home from work, Stephanie described to me what she had seen: a big wooden roller coaster, down which one rolled a bowling ball. She said it was awesome.
I didn't know it at the time, but the piece Stephanie had described to me was "The Slipping Glimpser," its name taken from a quote by de Kooning, apparently famous although I hadn't heard it before Conrad told me about it, fairly recently: "…When I'm falling, I'm doing all right; when I'm slipping, I say, hey, this is interesting! It's when I'm standing upright that bothers me: I'm not doing so good; I'm stiff. As a matter of fact, I'm really slipping, most of the time into that glimpse. I'm like a slipping glimpser."
The Slipping Glimpser is a 160-foot track roller coaster, made of ash and hickory.  Conrad's carpentry skills give a level of high craft and polish to everything he makes; at his recent exhibition It Is What It Isn't at the Hyde Park Art Center, I was amazed by the precision and craftsmanship that he put even into the wooden bracket which held the camera with which he was documenting the operation of the Self-Contained Unit of Entropy. The Slipping Glimpser's track is designed to accommodate a bowling ball.  Conrad had some custom-made clear bowling balls, like the one that Ernie McCracken (Bill Murray) used in Kingpin (with the rose inside), only instead of a rose, the balls used in the Slipping Glimpser contained fragments of a previous sculpture: The Ball Dropper.
The Ball Dropper (2006) was a simple ramp in which a bowling ball was loaded into one end, rolled down the ramp to gain velocity, then hit a "ski jump" at the end to launch it over a short trajectory onto a pre-sighting target landing zone. Objects to be destroyed were placed in this landing zone, and were destroyed by the impact of the ball. The Ball Dropper was put to work as a busking device, audience members paying a small fee to have an object of their choosing destroyed by the machine. This kind of performative panhandling fits into Conrad's work ethic, which he described to me (when he was the
visiting artist at Co-Prosperity School) as "Everything I do has to provide me with food, shelter, or art."
Conrad has a weird, frugal humility, living simply and downplaying the significance of everything he does, which really comes across in an essay he wrote for Studio Chicago, called "The Great American Loserdom." Many months ago, Stephanie and I visited Conrad's studio to see what he was working on; it was a prototype of his drawing machine, a "harmonograph." He showed us the rough prototype, about the size of a sewing table, pendulums weighted by coffee can-sized chunks of concrete, which when set to moving created spirals or more complex shapes, bow ties and butterflies of line.  Conrad fed us dinner, an unexpected combination of rotisserie chicken (inexplicably, he had a rotisserie cooker in his studio), chickpeas which he had sprouted himself in a Mason jar, and oatmeal. It was strangely satisfying, and a perfect illustration to what he had been telling us, about a life in which he made do with very little, in order that nothing be allowed to get in the way of his making art.
Cut to this May, an event called Drink, Draw, and Destroy. I was running a drawing workshop and drinking martinis, but afterwards I was free to go see what Conrad was up to. He was the "Destroy" component of the event. The Self-Contained Unit of Entropy used a dropped weight to destroy small wooden sculptures that had been made by visitors to the event. I sat down at a vacant station to make one; a wooden "sled" served as the platform that would deliver my sculpture to the machine to be smashed. I went with a classic "log cabin fire" type setup: a pair of sticks (balsa wood being the material provided) laid parallel, then a second pair laid across them, and so on, each set getting slightly smaller, until the whole thing had the shape of a step pyramid. I saw another visitor making a very similar arrangement, and I must admit his reached a far more impressive height. But mine would serve, and so it was delivered to the machine.  The aforementioned digital camera documented its "before" state, and then the weight was dropped, smashing it. An "after" picture was taken, and the work was complete.
This destructive device has a precedent, not only in the Ball Dropper, but also in the first work of Conrad's I ever saw in person. A few months after we met, Conrad's show "A Great Daydream" opened (on Friday, September 5th, 2008). "A Great Daydream" refers to Gore Vidal's description of the Declaration of Independence. That document is central to the work in this exhibition: thirteen (as in original colonies) wall sculptures each illustrate a passage from it, and the large, central sculpture consists of a table and suspended concrete weights with their aspect ratios derived from the Declaration. The sculptures were interactive in many ways, for example in one piece the viewer can pull a cord which causes a hammer to strike a block of concrete, chipping it away very slowly.  The centerpiece, though, was the large table containing fragile wooden sculptures. A crank on the wall lowered (very, very slowly) a massive concrete weight, which if lowered far enough would destroy the sculptures. Stephanie and I, after having a few
glasses of Linda's trademark vodka punch, took turns working the crank, desperately trying to lower the block enough to destroy the sculptures, and every once in a while Linda would come out, shoo us away from the crank, and work it the other way, seeking to delay the inevitable destruction of the sculptures. It added a fine sense of drama to the whole affair, and by the time Steph and I called it a night, the sculpture was still standing.
Conrad recently had another show at Linda Warren, this one called "The Blind Light, The Pyre of Night." The Blind Light is an eleven-sided form (an undecagon) which serves as a performance chamber, concealing a musician inside. The form of the structure is intended to suggest a space capsule such as Apollo or Gemini, bobbing in the ocean after returning to earth. The performer (when I saw it, it was Conrad himself, although he had several guest musicians perform in it as well) is concealed from the audience's view, simultaneously eliminating the visual distraction of the performer's appearance from the
musical experience while creating a "what's going on in there" kind of fascination. The other works in this show include a sculptural representation of the amount of fuel it takes for a spacecraft to reach the moon, and "Burning Stars" which are incense burners with constellations of holes drilled into their aluminum covers. The whole affair, like all of Conrad's work, has a mystical, spiritual, pseudoscientific feel to it, a cross between 19th Century Spiritualism and the Museum of Jurassic Technology.
When I think now about Conrad's career, I keep coming back to a piece which I've never seen, but which he old me about during his presentation at Co-Prosperity School:  Catapult For A New Millennium. Built during what must have been Conrad's last semester of Undergrad at SAIC (Fall 1999), this project was a catapult installed in a soybean field in Paris, IL on New Year's Eve, on the border between the Eastern and Central time zones. For one hour, it was after midnight in Indiana but before midnight in Illinois, and the catapult could launch objects across the time zone and into the new millennium. He describes the purpose of the catapult as having been to launch his career through time and space, into the future. His great modesty aside, it seems to have succeeded.
Jeriah Hildwine is an artist, educator, and art writer for Art Talk Chicago and Chicago Art Magazine.  Jeriah lives and works in Chicago, with his wife Stephanie Burke.
---
New Yorkers: Tonight, make sure and check out this show that features our own Amanda Browder from 7-9 pm. Full details below!
Culturefix, an alternative and multidisciplinary gallery, presents "Opening Reception". This exhibition presents a series of one night solo shows by artists who work in alternative mediums. As a gallery and event space it is only during opening events in which the audience is acutely conscious of the artwork that our installation possibilities display. The five artists in this exhibition: David J Merritt, Audra Brandt, Stephan Moore, Amanda Browder, and Joe McKay will each take over the gallery for a one night and one day solo exhibition which utilizes the entire space, a feat which is impossible amongst our regular programming. Surrounding these temporary solo exhibitions will be 2 dimensional works created by the participating artists representing their process, exhibiting preliminary sketches and documentation of the 3 dimensional works. To fully represent alternative mediums, the 5 artists showcased each represent a different alternative medium: sculpture, new media, film, installation, and sound art.
Through the mediums each artist uses, the space will be transformed. David J Merritt's mass of tactile sculptures reminiscent of amulets and idols will be scattered among the space. Stephan Moore's ephemeral sound installation of oscillating fans and other junkyard objects creating a cacophony of broken down technology will fill the space from a set of 6 speakers. Amanda Browder will transform the physical space using a mass of brightly covered cloth leaving little trace of the gallery environment. Joe McKay's interactive game of killing virtual cockroaches will cover the gallery walls. Audra Brandt will be projecting a series of super 8 films whose mechanisms will become structural, causing a multi- sensory and non-traditional experience of film viewing.
This constant evolution of the culturefix gallery parallels its mission of allowing inhabitants to define the culture of its space. Over a twelve day span, culturefix gallery will host 5 opening receptions, one from each participating artist. Between one-day exhibitions, the gallery will be open to the public to peruse the group exhibition on the walls of the gallery. By exhibiting the sketches and documentation of the pieces being showcased, Opening Reception also explores ideas of time – exposing the past, present, and future of an artwork.
Friday 29th of July 7-9pm
CULTUREfix – 9 Clinton St. between Houston and Stanton, NYC
enjoy a picnic and beverages…
---
1. Landlocked Blue at Julius Cæsar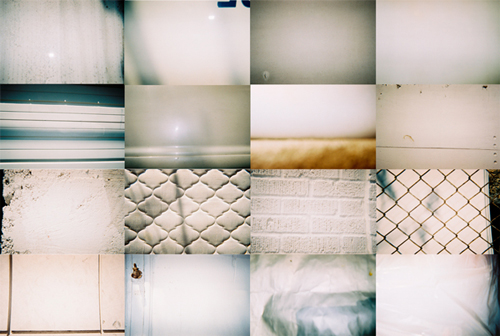 Work by Holly Murkerson
Julius Cæsar is located at 3311 W. Carroll Ave. Reception Sunday, from 4-7pm.
2. Shredded Sensibilities at Firecat Projects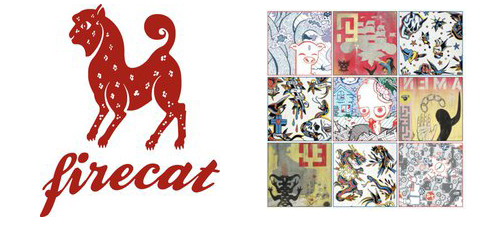 Work by Justin Graham, Adam Shrewsbury, and Andrew Stickler
Firecat Projects is located at 2124 N. Damen Ave. Reception Friday, from 7-10pm.
3. This Means A Lot at LOOSE SPACE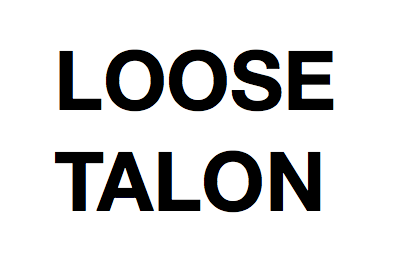 Work by Andy Faulkner, Taryn McMullen, Sarah Mosk, Vincent Stemmler, and Michelle Villarreal.
LOOSE SPACE is located at 2730 W Armitage Ave. Reception Friday, from 8-11pm.
4. Spunky Funky at La Llorona Art Gallery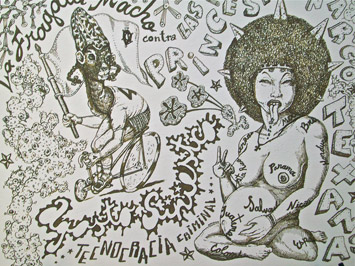 Work by Diana Solis and Alfredo Matus.
La Llorona Art Gallery is located at 1474 W. Webster Ave. Reception Friday, from 6-11pm.
5. Calculated Aesthetic Image at Alderman Exhibitions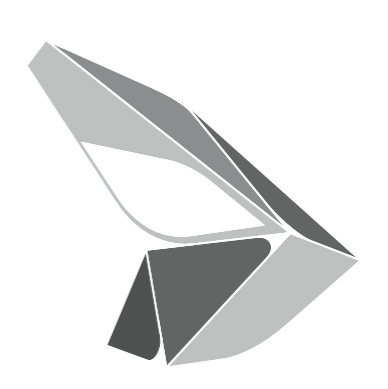 Work by Stephen Coorlas and Dominic Peternel.
Alderman Exhibitions is located at 350 N Ogden Ave, 4E. Reception Friday, from 6-9pm.
---
Andrew Norman Wilson and I had a chance to flesh out some of the strategies that he employes in a webinar video conference that spanned several weeks of intensive workshopping on ideas circulating around digital/virtual labor, how to stabilize and exist in permanent transience, and how to make actual the metaphoric states that usually occur in online environments. Through our conversation and networking session, we highlighted some key issues concerning how one works within network space can reveal variable points of access and distribution to creative cultural practices.
Andrew Norman Wilson performs in a playful yet poignant role discussing labor hierarchies within digital-corporate entities like Google and virtual assistant service providers like Get Friday. By choosing to activate the occasionally troubled arenas of distributed labor, crowd sourcing, and prefabricated aesthetic experiences that can be found within airport lobbies and stock footage, Andrew Norman Wilson creates dense narratives about how one can exist in an perpetually compromised and privileged location of Western Civilization while maintaining criticality and self-awareness. The subversion of pond5 as a platform for default and/or corporate aesthetic experience are used in videos such as Global Countdown to illustrate both their pervasiveness in our visual language but the absurdity of their absolute abstraction.
In recent work, Andrew Normam Wilson has been exploring the creation of more deliberate performative spaces and installation environments for maximal leisure. The documentation for these spaces has developed into a series of videos called Flow Spot, and show Andrew Normam Wilson employing the products and services of these imitation spas as a way "acknowledging our complicity in commercial products cycles" as a segue to talk about our unwillingness to be critical about the transience of labor. During our workshop, we discuss how the space that we traverse and occupy, both online and off, no longer belongs to the once "civic openness" of a pervious area, but instead have become dominated and sustained by an unsustainable "middle class culture, characterized by increasing mobility, mass consumption, and mass recreation."
Please join us in the above webinar networking session for more details, and for the full text of our conversation click here.
---
Recently I had the opportunity to interview Matthew Goulish on the Art21 blog. Much of that conversation centered around a performance by Every house has a door that took place this last June. I wanted to reenact some aspects of that performance through writing. Memory is like a muscle, in a way, and what follows is an exercise of memory. 
"The body (its matter) is eternal; the soul (the form of the body) is transitory" - Bela Bartók (1881-1945)
We met at the poolhouse in Holstein Park. It was a humid summer day—due to the heat we were asked to stay outside before the show. There was concern the room might get too hot from our cumulative body heat; the longer we could avoid its accumulation, the better. So we gathered around a bench, following incomplete conversational paths, subjects pursued to pass the time and, if necessary, abandon altogether should the doors open unexpectedly. In these preceding moments I realized, for the first time this year, that it was summer: a time for slow and amicable drifting.
Imagine you sit on this bench with us. You look at your watch; people have started to filter indoors. You follow them. You purchase a bottle of water from a vending machine and climb a set of stairs. I am just in front of you. The banister is wrapped with caution tape but you use it anyway. At the top of the stairs we enter a small, half-court gymnasium. Windows surround the upper third of the room. They are old fashioned, connected by a single metal bar; if you turned a specific rod, all the windows would open at the same time. Through the open windows, you hear the sound of children playing in the swimming pool outside. Sometimes you hear a car from the street. The room stills in anticipation of a beginning. You notice the sweat in your palms. It is very hot. Sun brightens the room and when you follow my gaze look through the windows, the sky is a Midwestern blue.
Hannah Geil-Neufeld approaches the microphone. The performance is beginning. It has begun. She begins to read from a rehearsal journal. Like the rest of the audience, we listen to her voice and thus enter the process that created the performance we have come to see. Her voice admits us back stage. She quotes Wallace Stevens. "The poem must resist the intelligence almost successfully," she says.
The rehearsal journal ushers an experience of intimacy. It welcomes the audience. It calms us with stable, descriptive footing. But of course this is a performance and we are in a theater watching people who have rehearsed the ensuing movement multiple times. This diary is also a practiced devise. It is a grounding point, coherent and personal and common. It opens the door providing a lens through which to see the rest.
Three men come to the stage. They wear coats and ties. Brian Torrey Scott is not among them. He has been struck from the rehearsal journal as well. Scott was one of the original dancers; he was in the preview of this same performance put on a year ago at the Cultural Center. He moved away, I heard, and Jeff Harms took his place beside Goulish and John Rich in this performance. Harms appears in the rehearsal journal as though he had been there from the beginning. His dance movements are the same–you remember for instance, the comic flop Scott enacted periodically. At the Cultural Center the arms out, face down semi-dive made people laugh. In the gymnasium we laugh at different moment.
In the gymnasium, these men enact a dance. The gestures comprise a vocabulary because they are specific and repeating and sometimes traded off. Each dancer opens and closes his body differently, as a kind of breath. A delicate syncopation, they execute repeated patterns of movement, weaving in and out of one another. Harm's flops down and up. Goulish wraps his arms inward and twists. Rich rotates, turning back and forth on an ankle. While the movements themselves are coherent  and descriptive, it is impossible to translate their meaning into words. The letters of this language are limbs. The body almost resists the intelligence. Someone coughs at your shoulder. There are people sitting on gymnasium mats and I feel fortunate to have a chair. By watching the dancing men, you feel cooler. Because they must be very hot.
Charissa Tolentino sits in the center of the room with an economical table. She plays music from her computer, blending organic, forest sounds with varied samples. The samples weave in and out of one another. You catch a phrase from Iggy Pop and catch my eye. I drink some water. The bottle is perspiring also. The various beats of Tolentino's music mix with the dancers'Â claps and stomps, making the room's noise greater than that of the children outside. And after a built-in rest (the men stand on the side lines breathing noticeably while Tolentino's soundscape fills the center of the room), the dancers bring scores and music stands to the middle of the gymnasium. John Rich is the only one who keeps his coat on. He gathers with the others, resuming the focal point of the stage to read and perform the notes inscribed. Here we see the body as an instrument and movement becomes its muscular folk music.
The body is also a diary in which memories are embedded, bound by tissue and variously noticeable tensions. It can be inspired, unexpectedly. The tri-tone stirs the body even when it's listeners resist (John Rich jumping up and down with a red plastic devil's fork. His feet make stamping sounds when they land on the otherwise squealing wood).
The tri-tone, Bartok and Barry Goodman are all characters in this performance. They linger in the air, as spirited figments, swooping down to possess the dancers periodically. Bartok was a pioneer of ethno-musicology. He collected folk songs like the Grimms collected fairy tales, traveling through the countryside with an Edison phonograph. The ease of his travel was impeded by the fall of the Austro-Hungarian Empire but he continued to visit what became Romania, trapping voices in an historical box. Folk singers regularly used the tritone without any evil associations and Bartok used it in his own compositions, smuggling the diminished fifth symphony halls. His violins were retuned to play dissonant notes on open strings and his audience was curiously moved in ways they didn't understand. Americans were similarly afraid of Jazz (it made the young people dance) but in 1938 the Goodman Band played at Carnegie Hall, what had otherwise been a site for classical performance. By drawing you into this gymnasium, I am trying to conjure the ghost of experience. Now we have these figments between us, as they were in the gymnasium.
And so we come to the final act. Goulish approaches the microphone and begins to read from the rehearsal diary again. He describes the movements of an opera. He returns to the idea of mothers while describing an after-rehearsal walk. We have left the center of the performance. In leaving the center, we approach the bounds of its circumference and crossing that line will mark the end. Goulish conjures a looming maternal presence–a presence that seems to have always been in the room, lurking in the shadows of each and every one of us, ill-defined until it was named. Mothers are the beginning of material experience. Her multiple facets standing like a grove of aspens with one single root system. This is the forest we have been walking through inside of this bare-bright gymnasium. The wooden floors, rife with patterns to measure court games, collecting sweat like a forest floor. The performance is a delapidated road and by its enactment it wants to mend itself.
But first, there will be a death scene. In the first month of summer, in the middle of a very warm day, you watch three dancers die while thinking of an opera you have never seen. Goulish describes the opera as I am here describing their performance. Their bodies jerk differently as they imagine themselves drowning in this dry heat and when they leave they exit out the gymnasium door. Goulish drowns last.
We cannot tell if it is really over, which is what happens with death. Material bodies are stupefied when they can no longer move themselves. The room begins to applaud. Performers come out from their backstage retreat to bow. The Director, Lin Hixson, is called out from where she has been watching in the audience with a smile. The room applauds with a bigger noise.
Back down the stairs you realize the banister you'd been using for support is only partially screwed into the wall. Thus the cautionary tape. In addition to the memory of the performance, you also remember (perhaps by accident) the faces of those sitting around you. The same faces you walk down stairs with. Strangers watching a partially silent music.
---